15 things you can do today to organize your email inbox
Let's face it, your email inbox is a complete disaster. Here's 15 tips you can try today to clean it up.
Emails are often the most hated method of online communication there is. People say that they are difficult to manage, spam-ridden, and there's just too many emails arriving into the inbox, making this communication channel ineffective.
While this is partially true, a lot of email-related problems disappear once you actually start managing emails effectively. Most of the problems you can solve using the built-in Gmail email management capabilities, while others might require some additional tools.
Emails aren't going away anytime soon. To relieve the stress of organizing emails in Gmail and making your work more productive, here are some of the best organization tips for email inbox.
Best Email Management Tools
Unsubscribe from useless newsletters
Depending on your job, you're probably receiving dozens or even hundreds of emails a day. But how many of those are not newsletters from that one service you've tried out two years ago and it's still sending you newsletters? A majority, probably. The first thing you need to do in organizing Gmail is to get rid of all that clutter and simply don't receive the emails from services you're not interested in. Surely there's an Unsubscribe link at the bottom of the newsletters that follow the CAN-SPAM Act of 2003, but it would be bothersome to go through the messages one by one. Plus you don't actually know which services you're subscribed to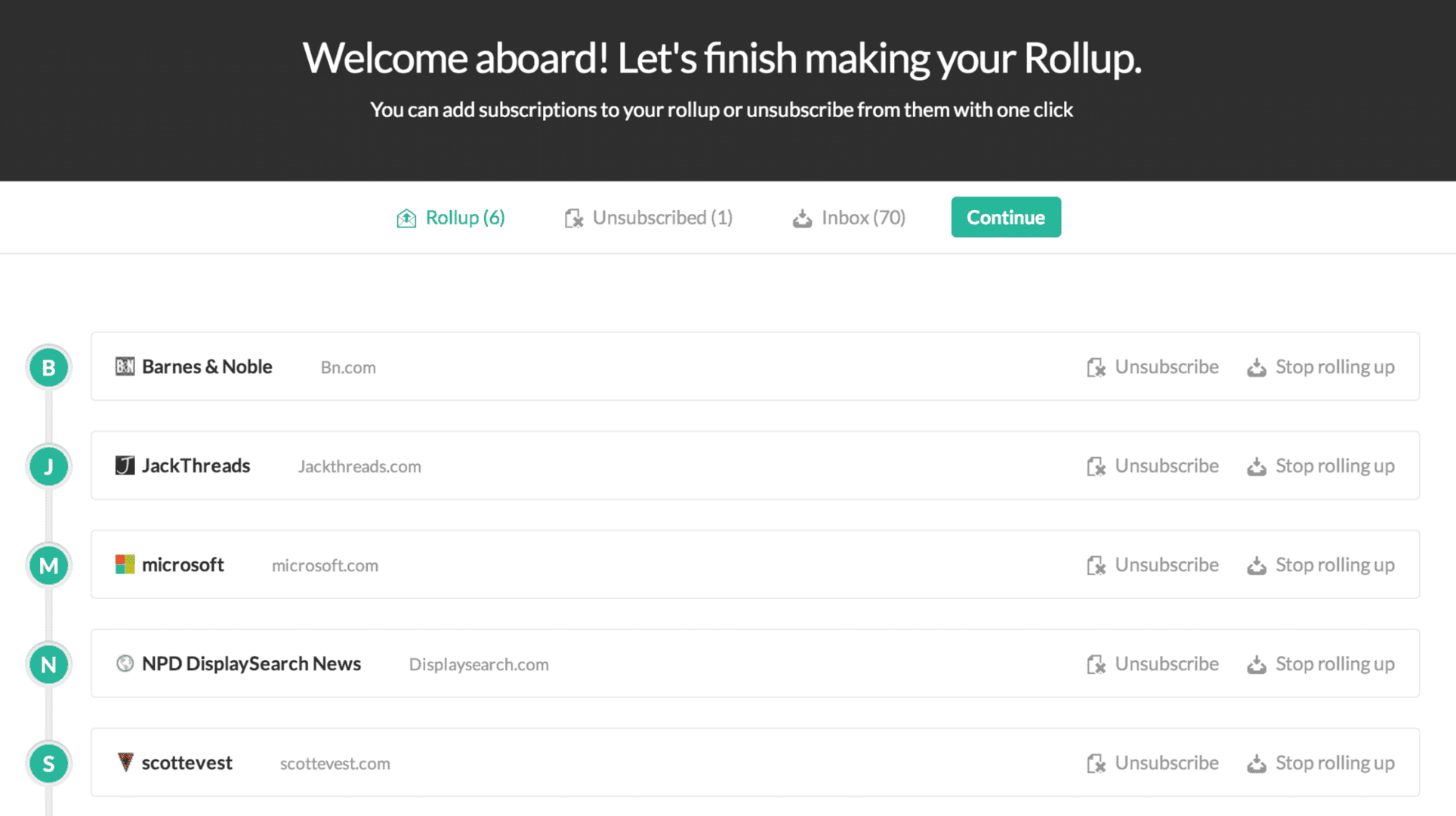 This is where Unroll.me help a lot. This service will scan your inbox for the services you're subscribed to and is allows you to unsubscribe from all the noise in several clicks. What's good, it doesn't automatically unsubscribe you from everything there is so you can leave the newsletters from the services or products you're actually interested in. Unroll.me is dead simple, but reduces one of the biggest cluttering reasons.
Use Gmail as a CRM for business
Face it, if you're in sales, project management, marketing or any other job with a lot of online communication, Gmail is one of your most important tools. With all your connections and communications there and other Google Apps, it's almost a CRM system, though a little less structured and a lot less complex.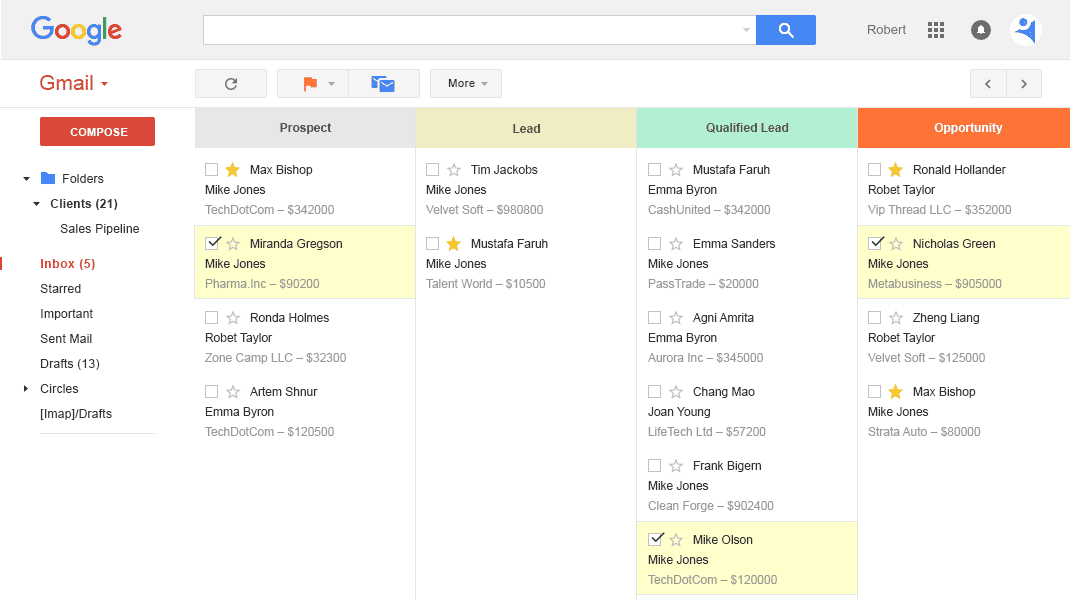 You can actually use you Gmail inbox as a customer relationship management system with NetHunt CRM for Gmail. NetHunt lets you create the CRM records based on the emails. You can link multiple emails, add descriptions, contact data, notes, etc. You can manage such records kanban-style, as the sales pipeline, sort and group them even better than Gmail can sort messages. This is the simplest and easiest way to organize emails and conveniently use Gmail in your business.
Add a signature
What do you do when you need to provide the people you're emailing with the necessary contact information. You can continually mention it in the body of your message (in case you don't forget to), but that's not very convenient and even less memorable. It's much better to get yourself an email signature. The one with all the site and social media links, your important job title, and a cheerful photo. On the other side, isn't it more enjoyable to receive letters which radiate style and professionality? Creating a beautiful and effective signature natively in Gmail is quite a chore, but there are simpler solutions. This is where Wisestamp can gradually help.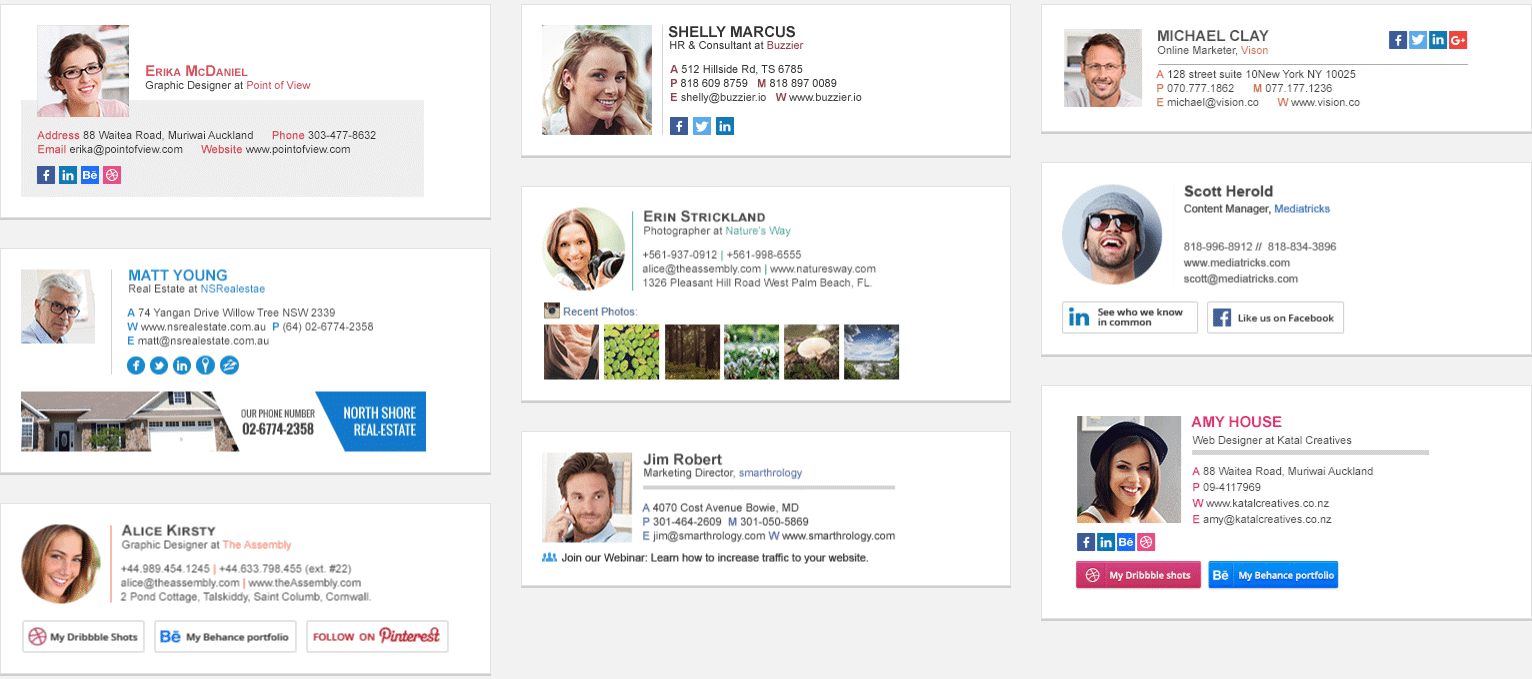 Wisestamp adds a nice and informative signature to your emails. The signature is easy to customize and setup. With it, you can add a photo at the bottom of your emails, contact data, links to your social media profiles (with their icons), add a short bio or call to action. Wisestamp is a free service, but you can always upgrade for some additional features.
Learn Gmail shortcuts
Productivity is all about accomplishing more in less time. Managing your inbox isn't difficult per se, but it definitely eats away a chunk of your work and free time. But using the correct Gmail shortcuts will allow you to organize email inbox faster. Instead of moving your hand from the keyboard after typing and navigating to the correct button in the Gmail UI with a mouse you can quickly hit two or three keys to achieve the same, but faster. Some might argue that it just saves a second or two. While technically true, it's those small things that help you to work more effectively.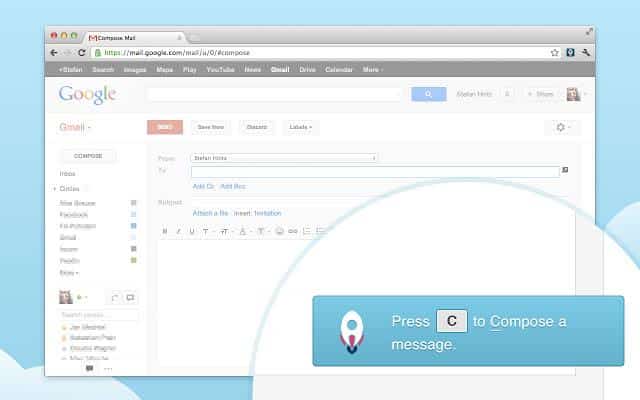 To use the shortcuts, first, you need to enable them. Simply go to the Settings and in the General tab Enable Keyboard shortcuts. There you can also learn what shortcuts are available, but there's a better way to master them. Keyrocket will show you a keyboard combination which would have done the same thing you just did with your mouse. For example, after you've composed an email and hit the Send button, Keyrocket will let you know that you could have used the Ctrl+Enter shortcut to send that message.
Get instant notifications
Gmail and Chrome do a decent job at notifying their users about the new incoming emails. But the notifications that pop up in your browser are pretty basic and can't do more than notify that there's a new message and open that message. But it could have been more useful as proved by Gmail Checker Plus.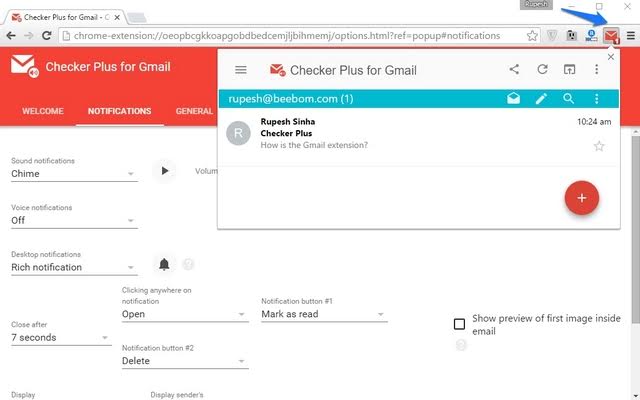 Gmail Checker Plus is a better notifications system for Gmail. When a new email arrives, the notification is completed with the sender's avatar, the message itself and the buttons to quickly delete or mark that message as read. Also, Gmail Checker Plus displays a number of unread emails in the Chrome toolbar, so if you've missed a notification, you'll at least know that there's something new in the inbox.
See tracked messages
Email tracking has stirred many discussions when it was introduced to the broad public some years ago. This functionality, provided by mostly marketing software, allows you to receive a notification once a person you've sent an email to opens it. Some services went even further allowing marketers to know if you've downloaded the attachment or clicked on a link in the message. Email tracking is somewhat of a gray area – there's nothing particularly wrong or harmful about it, but it makes some people feel uneasy.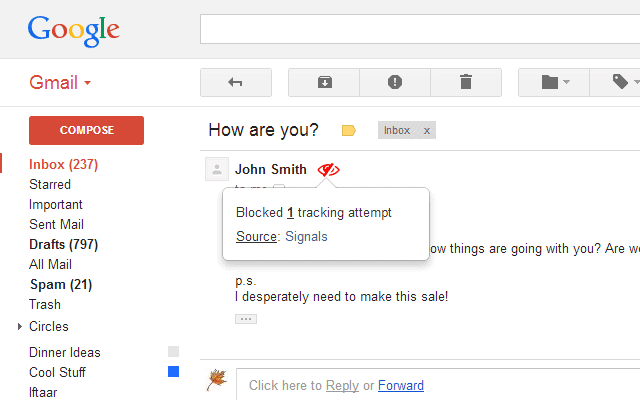 There are several ways to save yourself from being tracked. One of them is turning off the receiving of images in the messages (because that's how email tracking works), but that's quite an overkill. Another solution is to use an extension called PixelBlock. This extension will let you know if an email is being tracked and it will also disable this tracking.
Add quick actions to Gmail
When you look at the Gmail UI, sooner or later you'll understand that the inbox was designed to manage emails not one by one, but in bulk. This is evident by the fact that you can't quickly delete a conversation from inside the inbox, except for opening that thread and manually deleting it. The only way to delete emails while inside the inbox is to place a checkmark on a thread and the additional action buttons (such as delete, archive, mark as important, etc) will appear.

If you often find yourself doing the same action again and again (for example, archiving old messages) the lack of a one-click way to do so in the inbox is rather inconvenient. You can solve this with an extension called Actions for Gmail. This extension adds a quick action (button) of your choice next to every email in your inbox. You need an Archive button to quickly organize emails in Gmail? Now you can have it!
Native Gmail Features
Block Chinese spam
Another inbox cluttering perpetrator is spam. Unlike newsletters, you can't unsubscribe from it and such unsolicited emails can often be malicious for your computer or privacy. Gmail does a pretty good job at fighting spam, but even with all of it processing powers, you'll still be receiving a lot. Usually, the most frequent spam message you'll be receiving in Chinese, it often contains attachment of, allegedly, invoices, scanned document and other important files you might be compelled to download and open. First of all, never do it!
Thankfully, there's a way to sort out all of the Chinese spam in Gmail. Presuming absolutely no one would be contacting you in Chinese, you can create a filter which would include the most popular Chinese characters and would automatically delete such messages. Go to your Gmail account Settings, click on the "Filters and Blocked Addresses" tab and Create a new filter. Enter copy and paste this into the "Has the words":
的 OR 是 OR 否 OR 要 OR 不
After you click on Create, you can choose to make it Spik Inbox (just in case you'd like to go through it later) or simple Delete it automatically.
Enable preview pane
If you've previously used Outlook, the default layout of Gmail may be not something you're used to. When you open an email, the UI switches so you don't see the list of messages you came from. In outlook and some other email clients, you're able to open emails on a "half" of the screen, creating a three-pane view: the navigation sidebar, the list of emails (inbox) and the opened email. This is known as a Preview pane and you can actually turn it on in Gmail.
To enable this Gmail UI mode, go to Settings and find the Labs tabs. These are the Gmail features that are still in testing, but they work pretty well, so you shouldn't have problems. Find the Preview Pane option and Enable it (don't forget to Save the changes to enable them). Now when you're inside your inbox, on top of it there will be a new button which allows you to enable vertical or the horizontal pane for reading the messages.
Master advanced search
Your Gmail probably holds hundreds, thousands or even more messages. Most of them are certainly read and you're just ignoring the archive button. So how are you expecting to find that one important email with a document somebody sent you several months ago and you need it again now? Well, Google is the master of search, so it's no wonder that you can search your inbox as thoroughly as the web itself.
Gmail features the advanced search capabilities. The essence of it is available by clicking on the drop-down arrow next to the search button on top of the inbox. This will open a filter for your search, allowing to look for the messages containing certain words, were received during a certain period of time or have some sort of attachment. This is already enough to find what you're looking for, but if the search results are not precise, you can go even deeper. This Gmail help page lists every search operator there is, allowing you to enter such narrow search criteria that you'll sure to find that message.
Show unread messages first
As you've probably have noticed by now, Gmail is great at sorting messages, but it can't all of the work for you. Certainly, the most urgent and important part of your inbox are the unread messages, so it's better to keep them front and center. Simply remember those occasions when your Inbox counter says that there's still one more message left unread and you can't find it anywhere. It's frustrating, to say the least.
You can actually split the Gmail inbox into two parts, the first one on the top would display every new unread message there is, while others would be right underneath them. Simply hover over your inbox and click on the drop-down arrow to see several inbox sorting options. Choose "Unread first" and they will always stay on top of all the other messages.
Send and archive
After you've exhausted the conversation topic and answered all the questions, there's no need to keep that conversation hanging in your inbox. It's always better to archive the finished conversations as they won't occupy the precious inbox space, yet would still be searchable and you can access them later if you must.
If you find yourself sending and then consequently archiving the conversations, Gmail Labs have yet another useful solution for you. Go to Settings and the Labs tab, then enable the "Send and Archive" feature. Now, with this new button, each time you send an email or a reply, it will be automatically archived and won't bother you in the Inbox.
Mute conversations
This is probably the simplest tip on this list, but it's no less effective. When you're a part of a conversation with a large group of people, you'll get constantly bombarded with notifications each time a new message is added to the thread. Nothing serious at first, but if it's some discussion about where you and your colleagues are going to party and you're not particular interested in it, the notifications and new unread emails will quickly become annoying and quite distracting.
You can mute any thread to avoid notifications and make incoming messages in this thread skip your inbox. You'll still be able to take part in the discussion if you'd like to or scan through it later when you have time, but it won't be constantly distracting you from your work. Simply click on the More button in the thread and click on the Mute option in the drop-down menu.
Delete old attachments
If you didn't notice, your storage space of 15GB is shared among Gmail, Google Drive, and other Google Apps. What this means is that there are multiple ways to reach this limit and you'll have either to pay for more storage space or delete the files you don't need. Emails usually don't take much space, but once you start receiving big files as attachments, the table turns. Such files might include PDFs, audio and video files, various archives, etc. Little by little they'll eat up your storage space
The easiest way to clean up some storage space is to remove the big attachments stored inside your Gmail inbox. Or, at least, you should check if you have them at all. The search capabilities of Gmail can help here. Click on the arrow in the search bar to open the search filter. To find large files, set the "Has attachments" criteria and start searching for files Greater than, for example, 5MB. Check the search results to make sure that there's really nothing important and bulk delete the messages.
Canned responses
How often do you receive the same questions or requests via emails and have to give the same answers over and over again? For personal communication, this isn't the case. But if your work demands it (say, tech support or sales) then you're probably typing the same answers over and over again. Or, at least, copying and pasting your previous answers from the Sent messages. There's a better and simpler way to send commonly used messages.
Canned responses is another Gmail Lab feature you can enable in the Settings. This would allow you to save your texts and reuse them later when they are appropriate. When composing an email, click on the bottom left arrow button and open Canned responses. There you'll be able to save a new response or paste in one of the previously saved ones. If you saved templates for repeating responses, this is the simplest and one of the most effective choices.