3 lease accounting software use cases you'll need in 2022
We're looking at the three software offerings Trullion has for account leasing and how they're used.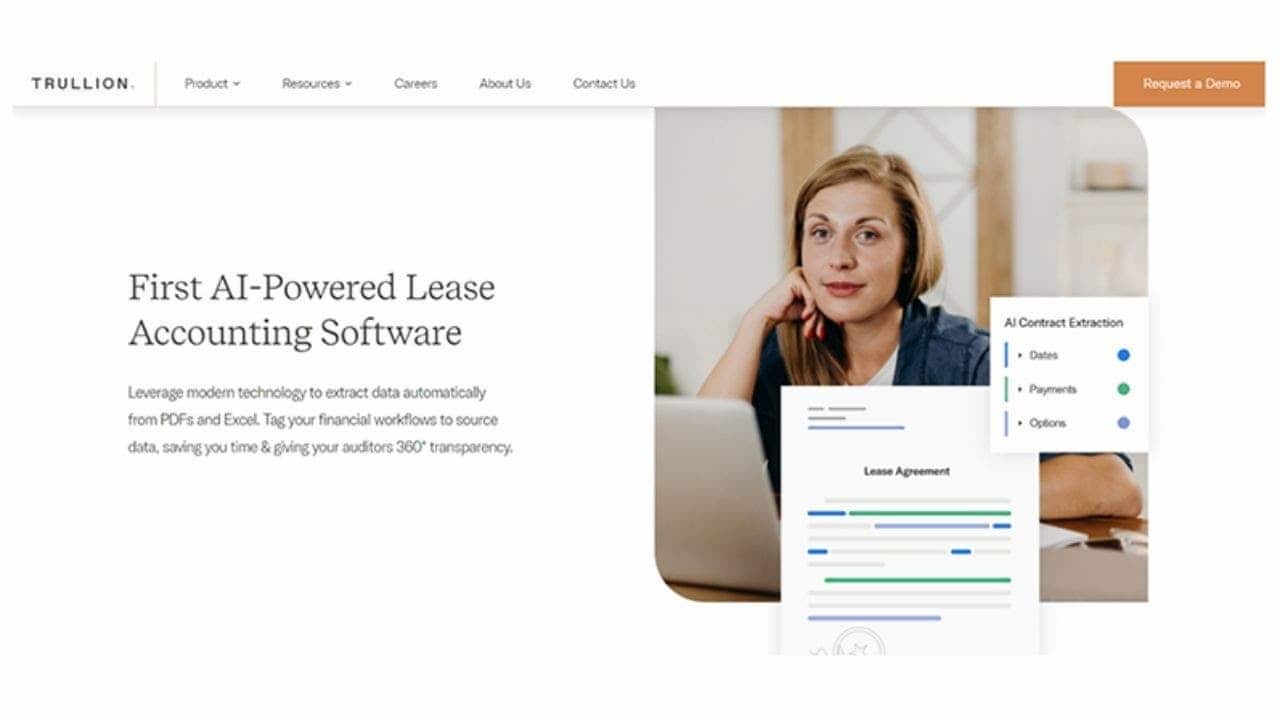 As you may know, the FASB (Financial accounting standards) and the IASB (international accounting standards board) introduced a set of new guidelines for the financial reporting of leasing transactions in 2016.
As a result, the new accounting standards – ASC 842, IFRS 16, and GASB 87 impact how companies manage their balance sheets. Interestingly, a lease accounting survey indicated that 23% of public companies are still working on aspects of their lease accounting implementation, despite already being subject to the new rules.
Another finding of the same survey reported that for those who had implemented systems to manage these new standards, 31% were still searching for ways to optimize their post-compliance needs.
It's clear that even companies that have managed to get past the implementation stage still need better lease account management.
READ MORE: Why you should be using a mobile accounting app for your small business
In answer to this, Trullion offers a solution for efficiently managing compliance with these new standards while also supporting companies during the post-compliance stage of their workflow.
That's why today, we're looking at the three software offerings Trullion has for account leasing and how they're used. Hopefully, by the end of this review, you can make the best choice for your lease accounting requirements.
There are lots to cover, so let's dive in:
Trullion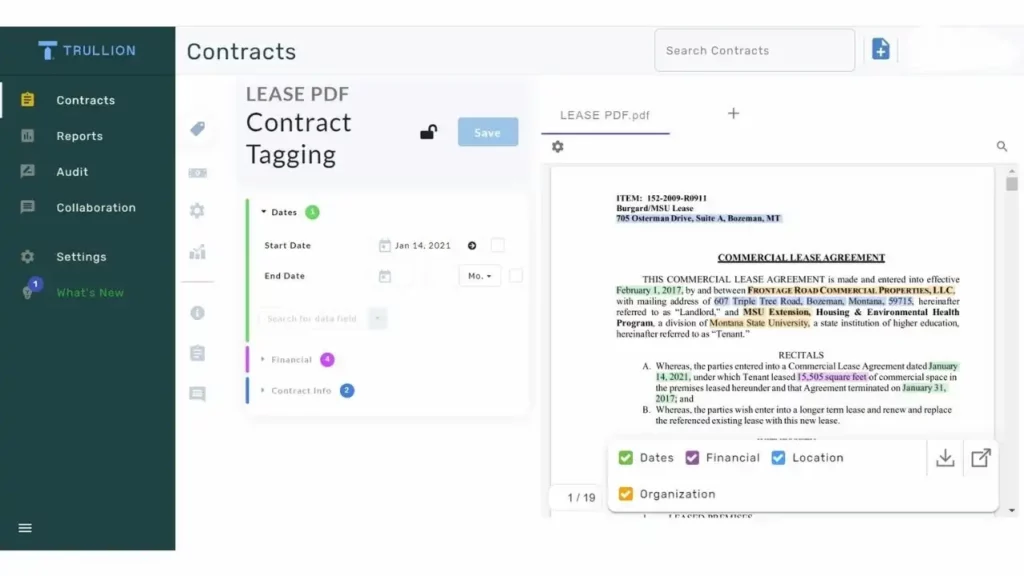 First, let's introduce Trullion: a software service provider that uses AI-powered automation tools to streamline accounting workflows for controllers, CFOs, accountants, and auditors.
This provides a valuable way to unify financial workflows, save time on data entry, and prevent costly errors for lease accountants. In addition, Trullion can also read PDF and Excel documents and integrate them into the workflow so that the data source is never more than a click away.
Main Features
Trullion's main features are as follows:
Compliance: Trullion automatically generates auditable journals that record all the critical data points and disclosures. It can derive these journal entries directly from PDF contracts and Excel sheets. Also, when fresh files are uploaded, the software can detect new, changed, and modified leases.
Automation: As mentioned, data can be automatically extracted from PDFs and Excels. The software will also tag your data sources, which saves lots of time and effort and clarifies to auditors where entries come from.
Reporting: The software quickly puts together rolling reports, ERP-ready journal entries, and other business intelligence metrics. If you already have an existing ERP system, you can quickly transfer and integrate files across your system. The generated reports also support KPMG SOC 1 & SOC 2 audits.
Collaboration: Structuring financial workflows with connected data sources makes it much easier for others to collaborate with you. The software places all your leases in one centralized location so your whole team can access reports. The software also conducts automatic analysis and offers tools for seamless working with your team and auditors.
Interface: The software comes with an easy-to-use UI. Its clean and modern approach is built explicitly for the financial sector.
Now that we've discussed the basics, let's dig a little deeper into this software:
ASC 842
Lease assets are now required to recognize the assets and liabilities for the rights and obligations caused by leases with terms greater than a year on their balance sheets.
This impacts several stages of the workflow, most notably:
New processes
Training
Upgrading technology
More detailed reporting requirements
Technical accounting assessments
That said, let's take a look at how Trullion helps manage each of the aspects.
To begin with, companies need to find new systems to manage these processes, which means better, more sophisticated technology that can handle increased workloads. Manually working with leases isn't only a laborious and time-consuming task; it's also rife with human error and, by extension, non-compliance.
This is where Trullion comes into its own. With the help of AI, it can read and understand leases and sales agreements in any format. It then takes this data and extrapolates it into meaningful data for your transactional workflow. As a result, the data becomes easily quantifiable, automatically sifts out errors, and can be used to create technically detailed reports.
IFRS 16
The IFRS 16 impacts nearly all leases on the balance sheet associated with the right-to-use asset and liability payments. As such, we see some common problems emerge:
Redefining financial metrics
Cross-functional implementation
Disclosures
Identifying lease modification
The recognition and classification of liability and right-to-use assets have redefined many standard financial metrics. For example, almost all leases under this regulation are treated as finance leases. Therefore, they must be reported on the balance sheet. As such, these metrics must be recalculated to provide accurate disclosures about financial statements that have changed due to these new standards.
In that same vein, ongoing lease modifications have to be quickly identified, which means processing large amounts of data. Often, this also requires a cross-functional workflow where different team members are kept apprised of the changing information.
Trullion creates a clear audit trail that's accessible to both your internal team and external auditors. It also ensures that lease modifications are updated in real-time so that the whole team can respond effectively. Finally, linked data points make it much easier to consolidate disclosure reports.
GASB 87
Lastly, let's turn to GASB 87. Under GASB 87, the transfer of ownership indicates that you don't have a lease but rather a financed purchase arrangement for a lessee or a sale of the asset.
As a result, this will affect how government entities report their leases under the US GAAP standard.
The main issues surrounding this concern:
Gathering the data
Defining the term and discounted lease rates
Finding embedded leases
With embedded leases, some may appear to be service contracts. Still, in reading the contract, you'll find you're also getting an asset to use, such as equipment. This problem largely factors into how data is gathered and categorized.
Fortunately, Trullion's AI-powered data entry can simply and automatically extract key data points directly from PDF contracts and Excel files to generate the necessary IFRS 16-compliance reports with just a click. These data points also allow for better estimates concerning discount rates and the determination of lease terms.
Set Up and Onboarding
One of Trullion's most valuable features is its quick setup time. Trullion promises that you can comply with the above standards in just 30 days or less.
In addition, you can install the software with minimal time and effort without costly integrations between your current ERP system.
Lastly, Trullion also takes a hands-on approach to onboarding. First, their team will take you through the setup, so you shouldn't need a lot of support from your IT department. Then, once it is installed, the Trullion support team will happily provide any assistance you require.
Trullion: Our Final Thoughts
If you're still considering whether Trullion is suitable for you, take a look at what their customers have to say:
Trullion is:
"Time-saving"
"Accurate"
"Fast"
"Cost-effective"
These are unbiased reviews from G2. The company is rated 4.9 out of 5 stars and has also been awarded the title of high performer 2021.
Have any thoughts on this? Let us know down below in the comments or carry the discussion over to our Twitter or Facebook.
Editors' Recommendations: