30 examples of good content for digital signage
Remember that digital signs can enhance your workplace and help improve your brand image. Not every sign has to double as a store salesperson.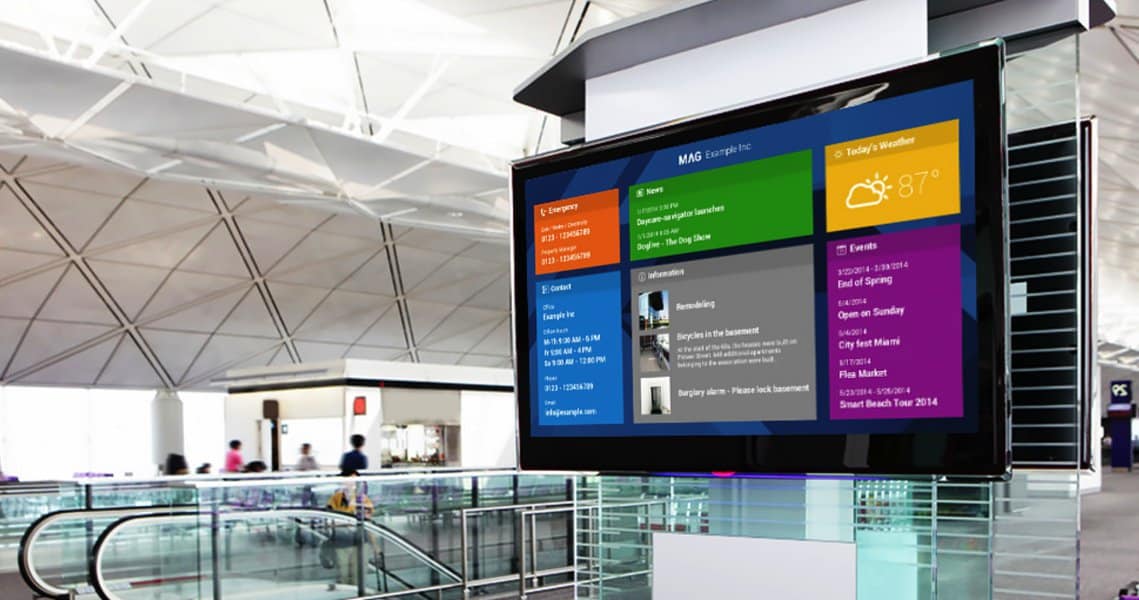 If you are in the market for some new digital signs and digital signage software, then you are probably looking for a few ideas for content.
In truth, you have a lot of options when it comes to digital sign content, but most people seem to settle on simply using their digital signs for advertising.
Remember that digital signs can enhance your workplace and help improve your brand image. Not every sign has to double as a store salesperson.
Here are a few examples of content ideas you can use for your own digital signs
Internal Communications Between Management and Staff
Promotions Set in Real Time With Ticking Clocks
Sales Videos With a Comic Book or Flip Book Setting
Emergency Notices For Staff or Employees
Showcases of Work During Meetings or as Training Examples
General Information For Staff or Employees
Employee Profiles For People At Work Right Now
Digital Menu Boards in Restaurants and Fast Food Outlets
Quick Notices For Orders, Transfers or Dispatches
Video Content Featuring Product Comparisons
Sponsorships That Are Mixed With Social Media Content
Staff Recognition Where Appropriate
Social Media Apps and Dashboards
Live Travel and Weather Information
In-Store Active Promotions For Each Department
Project Management Insights or Targets
Inspirational Quotes and Thoughts For The Day
Competitions and Quizzes to Keep People Guessing
User Generated Content Submitted Online or In Store
Leader boards For Staff Members in Staff-Only Areas
Advertising For Add-On and Upgrade Services
Comments and Chat Highlights From Online Users
Current Events and News Information Where Relevant
Portions of the Company Website
Industry Specific News For Staff Members
Building Maps and Directories
Multi-Purpose and Meeting Room Signs
Notifications of Time-Sensitive Sale Events
Customer Quotes and Reviews Left By Customers
There is a degree of success that is dependent on how these examples are executed and deployed. For example, notifications of time-sensitive sales events also pre-supposes that people are already interested in your products.
If they are not, then your video needs to do the extra legwork involved to make people interested. Also, having staff leader boards is fine, but deploying them in the lunchroom where many non-sales staff congregates, may not be the best use of your digital sign.
Consider Solutions For Problems
The best digital sign content is born from people trying to fix problems rather than trying to force their digital signs to become more profitable.
For example, some people put digital signs up near their changing rooms to show people when changing rooms are free.
This was not an idea born from a need to make money, it was probably born from the recurring problem of staff members leaving their post when they are supposed to be monitoring the changing rooms.
Having signs in your window in order to attract people's attention is a fairly common and effective use of digital signs, but you can expand the notion far further than simply attracting attention.
Your window area is a finite area, which means you can only show a certain number of products in a single day. However, the number of products you can show on a digital sign in just one day is massive.
Essentially, as your signs flip their content from one product video to the next, you are displaying yet another item in your window.
Plus, there are plenty of marketing books that tell you a store window should be changed weekly so that people notice it, but with a digital sign, the content can be changed every few minutes.
Have any thoughts on this? Let us know down below in the comments or carry the discussion over to our Twitter or Facebook.
Editors' Recommendations: