5 resolutions for your Dynamics 365 sales (CRM) solution
Your company can leverage the benefits of Microsoft Dynamics 365 for sales only if your employees know how to use it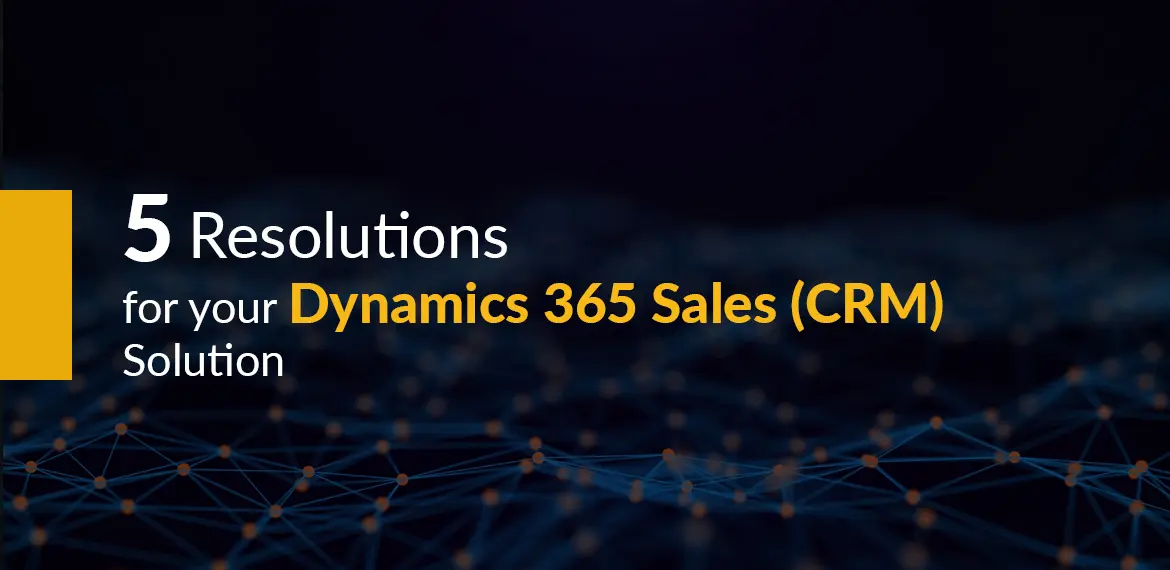 Microsoft Dynamics 365 stands tall as a leading platform, combining ERP (Enterprise Resource Planning) and CRM (Customer Relationship Management) capabilities to improve business activities.
It brings together diverse applications and services, enabling the transformation of customers, marketing, operations, and sales activities.
Microsoft Dynamics 365 sales is one of the most popular apps in Microsoft 365 that helps businesses build strong customer relationships, take insightful actions, and manage sales pipelines easily.
The new features and functionality of Dynamics 365 sales make it the best fit for businesses looking to digitize sales processes, get visibility into sales performance, and improve customer relationships.
Have you already opted for Dynamics 365 sales solutions? That's great! Here is how you can get the most out of Dynamics 365 solutions for sale in 2022:
Update Your Contacts
Marketing efforts without any targeted approach can't reap the required results. That's why you should keep your contacts list up to date before kick-starting any marketing campaign so that your marketing efforts reach the target audience on point.
It can be a tedious and time-consuming task. But thanks to personalized CRM views that can help filter contacts based on various options, like 'last modified' date, etc. So, the new year with a new marketing approach also demands up-to-date contacts to get the best results.
Look for Integration Options
So, it's time to ask your Microsoft Dynamics partner for the best available integration options and make them part of your Dynamics 365 sales.
Review the Process Bar
The process bar is like the driving force behind facilitating the use of CRM as it gives users a roadmap and guides them. But it can only give guidance if it is aligned with the company's operations and processes.
So, you should review and update it according to the changing reality of the business after every few months. That's the best way to use the process bars as a guiding source through every step.
Maximize Engagement with Dynamics 365 Portals
Don't know anything about Microsoft Power Apps and how you can use it to build portals for clients to communicate with the sales team?
It is the right time to know it! It maximizes and improves client interaction and helps the service and support teams take a sigh of relief. If you haven't deployed a direct client communication portal, 2022 is the right time to do it!
Work on User Training
Your company can leverage the benefits of Microsoft Dynamics 365 for sales only if your employees know how to use it and they are ready to make it a part of their daily routine without any hesitation.
So, no matter how much you invest in Dynamics 365 or how experienced your Microsoft Dynamics partner is, it will only work if your employees show an effective adoption rate.
That's why you should work on employee training and encourage the use of the Dynamics 365 sales app internally.
These are just a few resolutions you can add to your 2022 Dynamics 365 sales improvement strategy. The best thing about Dynamics 365 solutions is their flexible and wide range of offerings.
So, you should knock 2022 by getting the best of these offerings and tailor them according to your organization's needs to play on the right foot.
Have any thoughts on this? Let us know down below in the comments or carry the discussion over to our Twitter or Facebook.
Editors' Recommendations: