Review: Stellar Mac Data Recovery Professional
Need to recover files from your Macbook? This service can handle that with ease.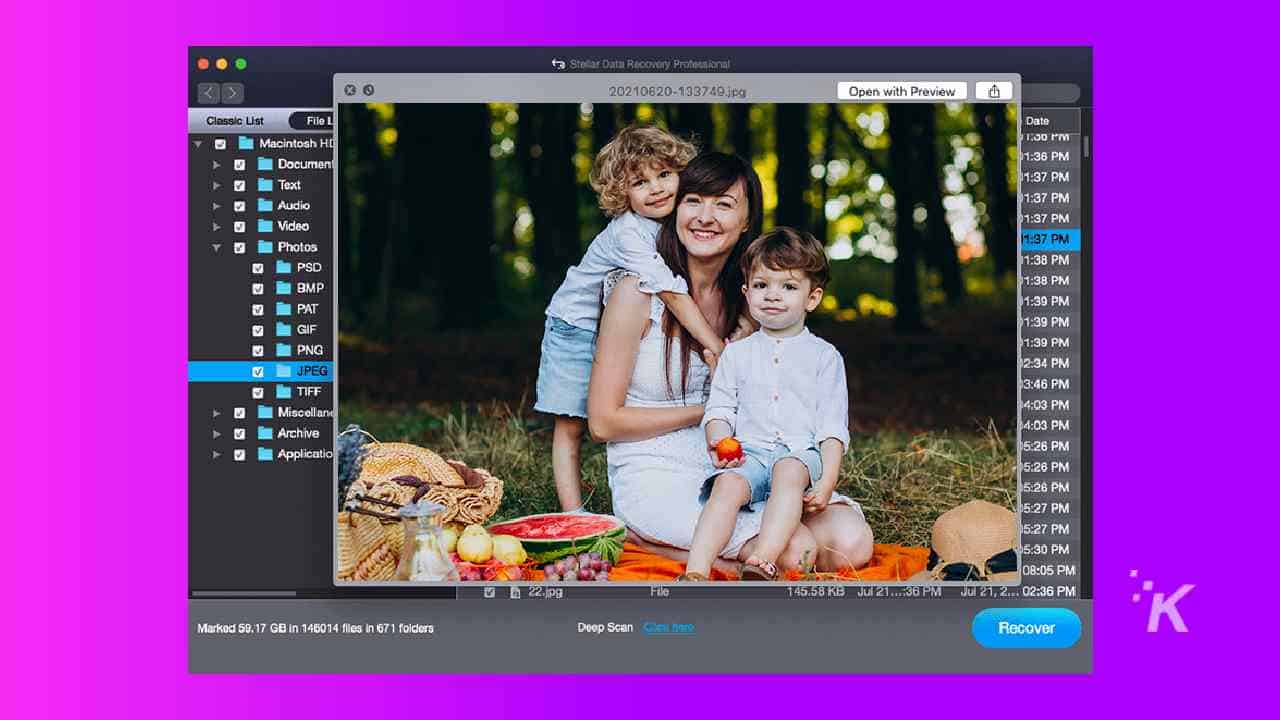 The Good
Very easy to use, even for a novice
Recovers files with ease
Can recover deleted NTFS partition
The Bad
Deep scans can take a long time
When securing important files on your Mac, most Apple users would recommend using a cloud database or a built-in backup service; however, they aren't entirely foolproof against accidental data loss and corruption, as they are simply saved to external storage locations.
After doing some research, Stellar Mac Data Recovery Professional stands out as a recommended pick for Apple users because of its user-friendliness and powerful data recovery capabilities.
Check out the official product page for more information.
Features and Specifications
In a nutshell, you can restore and repair any kind of file with Stellar Mac Data Recovery Professional from the following sources:
Time Machine Backups

Bootcamp partitions

Corrupt or lost drives

Password-protected volumes

Permanently deleted files in the Trash Bin
The software fully supports the latest macOS High Sierra builds starting from 10.6 up to the latest release. The data recovery utility comes in a lightweight package—only requiring 1GB minimum memory and 50 MB hard drive space—which can run on most Mac devices including the iMac, MacBook Pro, MacBook Air, Mac Mini, and Mac Pro.
Stellar Mac Data Recovery Professional is updated regularly to keep other files on your device safe, you won't ever have to worry about damaging bugs or errors to your system. Even if you're still not sure whether it's compatible with your laptop, the company gives you a money-back guarantee period of 30 days to try it out.
Why Choose Stellar Mac Data Recovery Professional?
An exceptional general user interface (GUI)
New Mac users can navigate through the interface without breaking a sweat thanks to its easy-to-use interface. The two (and only) steps are extremely simple—just simply select the type of files you want to be recovered and choose where you want to recover them from.
Within a matter of clicks, Stellar Mac Data Recovery Professional easily generates a list of the recovered files which you can then work from.
Saves you time with its powerful engine and customized scanning
Common reasons that people have for losing files include accidentally deleting them in the trash bin or using unsecured storage utilities such as USB flash drives that easily get corrupt.
If you have this constant fear of losing an important presentation file just an hour before it's due, Stellar Mac Data Recovery Professional's brand new data recovery engine should give you peace of mind.
With the latest version of the engine, you can recover twice as many files in a lesser amount of time. If you wish to cut the processing time further, you can use its customized scanning features to filter out the specific storage locations and file types you'll be needing.
Deep scanning and complementary features allow for 100% reliable results
For significantly corrupt or unreadable hard drive partitions, not only can you restore all your data, but you can also repair the drive back to working condition entirely.  The deep scan allows the user to scan the hard disk sector even for storage devices going beyond 5TB of storage.
Stellar Mac Data Recovery Professional operates automatically in the background and the output is done in real-time. This means that you can freely pause the process as the program saves the current progress by converting it into a .DMG  image file.
You won't need to leave your computer open for hours as the deep scan process can be continued anytime. As a convenient bonus, you can also preview the recovered files even as the scan is in progress.
A Few Tips Moving Forward
In a nutshell, Stellar Mac Data Recovery Professional is a proven state-of-the-art data recovery solution fit for both general and professional use. With its powerful recovery and volume repair features, most of your data loss problems become trivial at most.
Still, keep in mind that it is a software-centric solution and not some kind of device that encompasses security or physical circumstances.
It's a standard practice to secure sensitive data through encryption especially for businesses. Just be sure not to lose the password for your encrypted drives or you won't be able to recover any data at all. Also, make sure that your hard disk failures aren't caused by physical elements.
Otherwise, you'll be needing specialized software such as Stellar's Laboratory Services which has a limited release in Europe.
The standard version starts at a price of $79, but you can check out other packages you'll need on the developer's purchase page. Since the license lasts a lifetime, your files are guaranteed with an extra layer of protection all the time.
Have any thoughts on this? Let us know down below in the comments or carry the discussion over to our Twitter or Facebook.
Editors' Recommendations:
The Good
Very easy to use, even for a novice
Recovers files with ease
Can recover deleted NTFS partition
The Bad
Deep scans can take a long time