AnyTrans introduces an all-new Air Backup feature
AnyTrans takes over the hard work and backs up your iPhone, iPad, and iPod touch data automatically, wirelessly and securely.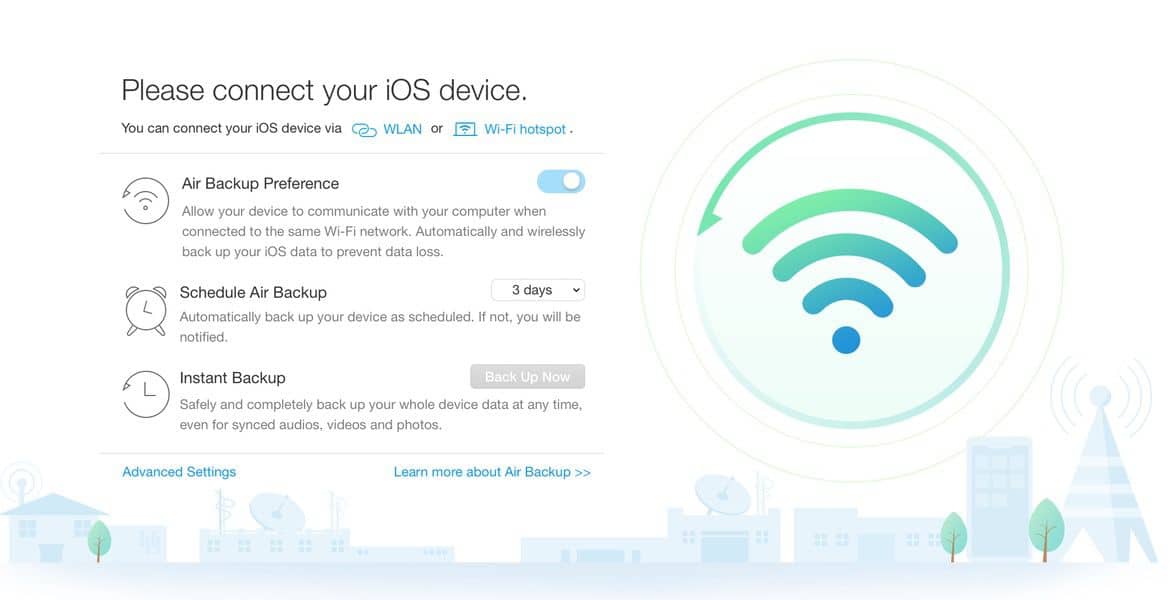 Backing up your files can be a pain, especially when you have to do it manually all the time. When your iPhone gets lost or damaged, the only way you can retrieve the files is through the use of an up-to-date backup program. With the new AnyTrans Air Backup feature, you can now back up your files automatically and seamlessly.
What makes AnyTrans better than other backup or recovery software and services is that it combines back up, back up preview, and data export features in one program. The great thing about this program is that it can work perfectly on both Mac and Windows platforms.
The following are some of the advantages of AnyTrans Air Backup:
Secure
Air Backup is 100% private and secure. The transfer is executed through your SSL-secured Wi-Fi connection. There is no risk of being cracked since your files are stored locally on your hard disk. The software also allows you to make an encrypted backup through AES-256 encryption.
Fast and Convenient
Internet connection is not required to back-up your files. Air Backup allows you to backup files by simply using a personal hotspot.
Wireless
You don't need an external flash drive or computer to connect your device and transfer your files. You don't even have to take your iPhone out of your pocket. Your device will automatically backup files on schedule as long as it is connected to your local Wi-Fi network.
All Data Transfer
Unlike iCloud or iTunes, AnyTrans can transfer all essential documents for you. It can backup your contacts, messages, audio files, videos, photos, and even imported images.
Multiple Backups
Air Backup can cover all iPhones, iPads, or iPod touches you own. You can set a scheduled backup on different devices.
Smart Backup
You can customize the backup schedule on your device. This can save you from the hassles of manually backing up. You can choose to schedule your back up daily, weekly, or monthly.
AnyTrans ensures that you can keep your data safe and secure. With the latest AirBackup feature, you do not just get to backup your files securely but you can also do it automatically and wirelessly. Such convenience allows you to rest easy and have peace of mind that you will not lose any of your files in case your phone gets lost or damaged.