Best AK47 skins in CS:GO
If you want to make your AK47 that much cooler, we urge you to take a peek at our selection of the top 8 AK47 CS:GO skins below.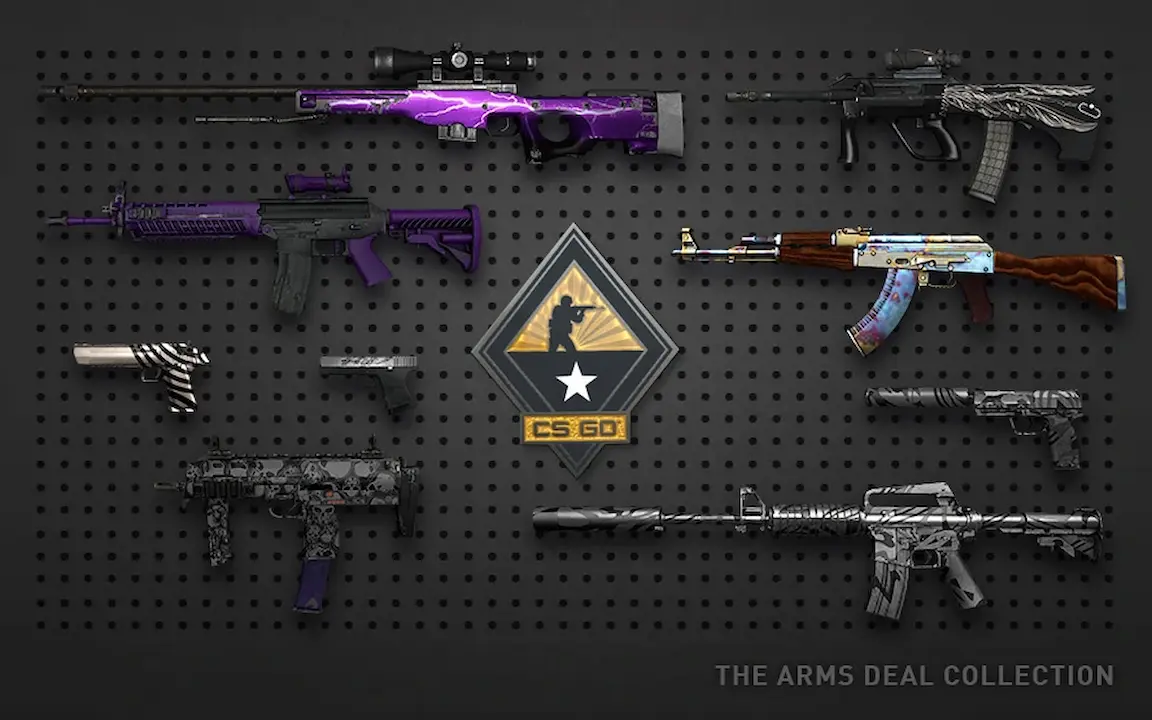 CS:GO is one of the most popular games in the world. There isn't a day on Steam where CS:GO isn't in the top five most played games – and the most popular in CS:GO has always been the AK. Incidentally, the AK47 is the most popular assault rifle in the world of all time – so it's safe to say that its representation in video games is on point. 
In this article, we'll talk about the most popular weapon in the world, or more specifically, its CS:GO counterpart. We'll talk about the many skins that can make your AK47 stand out among the crowd, make your playthrough that much more unique, and give you a significant aesthetic edge over the competition. 
Neon Rider
Do you like aesthetics? Do you like Miami vice? Do you have dreams of grandiose clubs under pretty neon lights? Well, if that is the case, you'll probably fall in life with the neon rider skin for your AK47. No one ever said that CS:GO players are without class, finesse, and grandeur – and the neon rider skin proves that.
If you're looking to add a few aesthetics into your CS:GO playthrough, you should check this skin out. It's affordable, features a gorgeous purple-blue neon vibe to it, and will make you stand out among the crowd. While this skin is affordable, it's not overly popular, so it can become your calling card if you try hard enough.
Rat Rod
What if you don't dream of Miami, but the Rebel Without Cause days of Chicago, the stupidly fast cars, and the worn-down but still kicking look? Well, then you might want to take a look at the Rat Rod. This skin is torn and worn, features a killer paint job that you usually see on only the coolest classic hot rods. 
If there were vehicles in CS:GO, this would be a mad-max Esque weapon for you. Consider that it's also tied to the AK47, a gun known for its resilience and durability, and you practically have the perfect blend of looks and killer design. 
Wild Lotus
CS:GO is all about dynamic gameplay, hectic situations, and beating your enemies on the many available maps. Be that as it may, its most hectic weapon by far is the AK47. When you hear this gun go off, you know you have a problem to deal with. You can get this skin everywhere, from the steam store to your favorite CS:GO trade bot. 
Not all the players who use the AK47 fit into this category, though, as the ones with the Wild Lotus skin are another thing entirely. This gorgeous, tranquil, and floral skin is the absolute pinnacle of irony – a gorgeous, elegant, and calm aesthetic placed on the world's most aggressive and durable weapon. 
Bloodsport
Do you remember Counter-Strike Extreme Gore Edition? It was a YouTube video for the old CS 1.6, and it featured excessive blood and gore. This is the first thing that pops to mind when you think of the bloodsport skin, but you'll be surprised to find out that this CS:GO AK47 skin isn't covered in blood and guts – it's covered in a slick orange paint job and some gorgeous decals. 
It's a surprisingly unique and affordable skin that gives you the chance to feel like a top-tier player without having to break the bank. 
Neon Revolution
Sure, the Neon Rider is something, but if you're a drop-dead fan of neon lights, you have to go for the Neon Revolution. The Neon Revolution is a CS:GO AK47 skin that combines the slickness, smoothness, and aesthetic of neon colors and lights with the sheer aggression, power, and destruction of the AK47. 
This skin features a sort of painted look to it. It is essentially the most basic AK47 skin that seems to have been given a quick, amateur paint job and worn to bits. 
If you're a true killer, but you're looking to do the job with a tool that has some finesse and raw energy entrapped in it, you'll love the Neon Revolution AK47. 
Hydroponic
Hydroponic paintings have been a huge thing ever since YouTube made them popular. Surprisingly enough, before the Hydroponic AK47 Skin for CS:GO dropped, many people put their real AK through the process.
The hydroponic painting is extremely popular, and that's because it gives off some fantastic results without requiring any real skill. The Hydroponic AK47 Skin for CS:GO is a sight to behold. It looks like the stock AK47 skin with some of the parts dipped in white paint with added floral paintings. If you're a fan of camo but like to be seen, this is the skin for you. 
Redline
Some people that are playing CS:GO aren't into flashy, cool, or unique-looking skins. People like clean design, people like minimalism, and that's why they opt for the Redline AK47. The redline is a murdered-out black AK47 skin with slight but stylish red undertones that make it look much better.
The Redline is the skin of professionals, as it doesn't announce to everyone that you've arrived until it's already too late. 
The best part? This sexy beast is affordable and widespread so that you can get yourself a fantastic-looking Redline AK47 on the low. 
Aquamarine Revenge
Anything and everything with the word "Revenge" in the name is bound to be as cool as a cucumber, and this AK47 skin doesn't disappoint. The Aquamarine Revenge features a fantastic aquamarine reskin, takes on the classic AK47 skin, and polishes it up with an even cooler orange decal. 
In Conclusion
The humble but durable AK47 is one of the most popular guns globally, a decade after its initial version. The AK is without a doubt the most iconic weapon in the Counter-Strike franchise, and if you want to give it a unique twist, you'll have to ape in on one of these fantastic skins.  
Have any thoughts on this? Let us know down below in the comments or carry the discussion over to our Twitter or Facebook.
Editors' Recommendations: