Best WordPress hosting platform to host PBN SEO sites with multiple IP addresses
Getting started with the SeekaPanel will certainly get you a head start.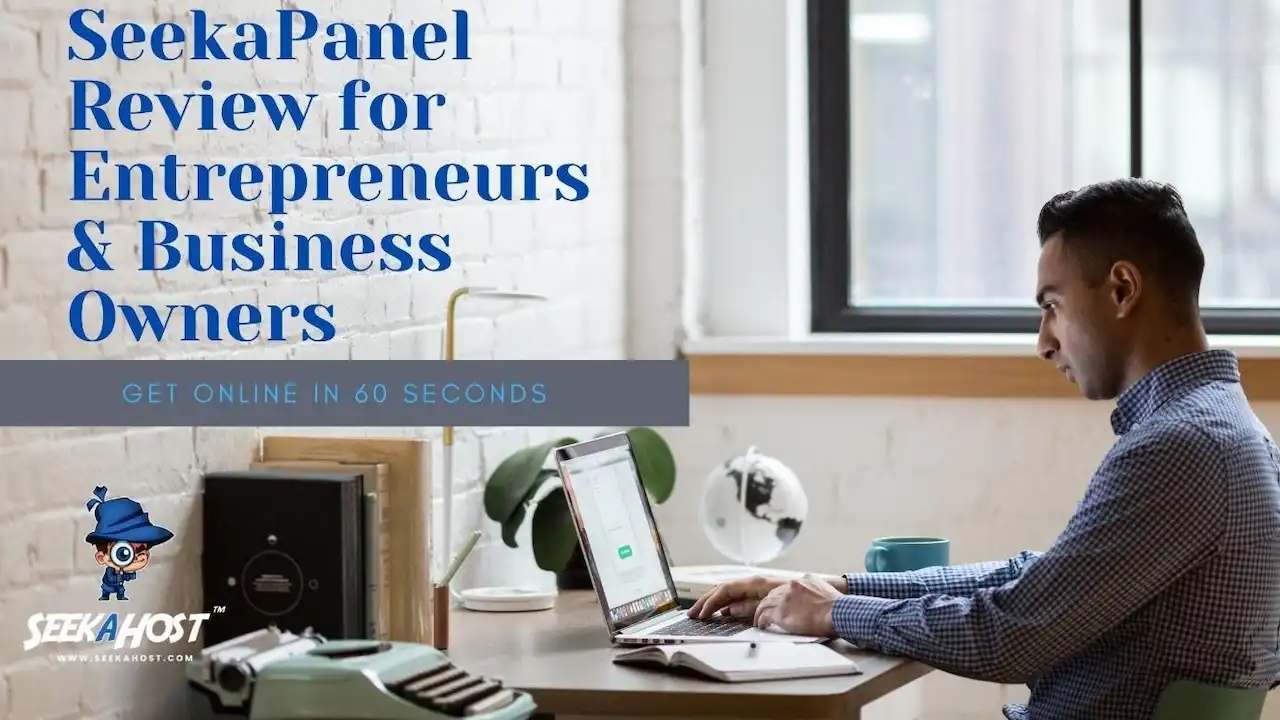 Are you interested in learning how to host PBN SEO sites with a unique IP address?
Then you should learn more about the SeekaHost.app WordPress hosting platform with the custom build control panel. It is a newly launched panel that offers the easiest and fastest way to host private blog networks (PBNs) in under 5 minutes per website.
Go through this in-depth review to discover how you can host your PBN sites in a few simple and quick steps with multiple IP addresses for the best SEO performance. You'll be a PBN expert in no time with SeekaHost.
Why you need a WordPress Hosting Platform?
To host a WordPress site or blog you need a hosting control panel which is the platform you manage your websites with. With SeekaPanel you can host sites as well as register domain names for blogs with just a few clicks. 
Using SeekaHost's custom-built WordPress hosting platform gives you the full experience of easily getting your private blog networks and SEO sites up. 
What is a Private Blog Network?
A private blog network is a cluster of blogs that are managed by the same webmaster. The webmaster can get multiple IP addresses for their websites to signal to search engines that they are independent websites.
Unfortunately, webmasters have abused PBNs for SEO techniques like black hat SEO that are penalized by search engines. This has led to people being skeptical about PBNs. 
At SeekaHost the team have built a control panel that can help you build PBNs without violating any of the Google Webmasters Guidelines. And all the tutorials in the knowledgebase and the SeekaHost University will guide you to create PBNs that will thrive and help you earn online.
You can use a PBN to publish useful content providing backlinks to other or your own websites for SEO purposes. These backlinks help other websites rank better with no footprints linking to each other.
What are PBNs mainly used for?
Bloggers, copywriters, marketers, and SEO consultants use PBNs to distribute their own and their partner's content. A PBN helps with content marketing and link building to rank websites higher in SERPs.
With high-quality content that is relevant for the blog's topics and with carefully placed links that provide value to the readers, one can build backlinks for certain websites, pages, or articles to rank for high-volume keywords. If you host your PBNs with the SeekaHost.app, then you will be able to manage all your websites easily and even track their performance with integrated tracking tools.
If you learn the SEO game and you rank your sites well, you can even generate an income from your blogs by charging publication fees for guest posts or placing paid banner ads or with affiliate marketing. The SeekaPanel will be your best companion for this journey and below is why.
Reasons to Choose PBN hosting with SeekaHost?
Find the best-in-class multiple unique IP hosting plans and features inside the SeekaPanel at affordable rates. Here are top-notch features that make SeekaHost a perfect choice for PBN hosting and management:
Security:
With SeekaHost's PBN hosting you can rest assured that your website is always secured with a firewall and malware scanner. Servers are monitored and updated regularly.
Your websites won't be hosted on public nameservers provided by the DNS provider like Cloudflare. Instead, they are hosted with private nameservers with unique IPs.
Quick Setup:
After you have registered your domain in less than 4 minutes, you can place your PBN hosting order inside the panel and get your website up & running in less than one minute. This enables you to set up several websites in a short period of time and to manage them all effectively via one dashboard.
All-in-One Interface:
With the SeekaPanel you can manage all your blogs in one interface to help you save time and focus on creating websites with high-quality designs and content. If you're looking to also build some more complex WordPress sites for e-commerce purposes for example, you can opt for various WordPress hosting plans in the panel.
This way, you can manage everything within one unified dashboard.
Multiple Users:
If you have a team supporting you with the management of your PBNs, then you can add multiple users to your dashboard. You can add users with a few clicks and give them access to your account so that they can deliver tasks for you.
Guaranteed Uptime:
SeekaHost.app doesn't use the cPanel and the servers SeekaHost use are highly secured and regularly maintained. So, you won't have to worry about the uptime and your site will never face significant downtime. When you encounter technical issues, you can contact the support team via the ticket support system inside the panel.
Customer Support:
The SeekaHost experts are available 24/7 to answer your queries. The online client portal system resolves all your issues so you can continue to build your PBNs your happily.
6 Easy Steps to Host Private Blog Networks with the SeekaPanel
The very first thing you need to get started is a domain, which you can purchase for just $4.99 inside the SeekaPanel. Many PBNs are built using expired domains with a solid backlink profile and domain history and you can easily transfer your domains from your previous host to SeekaHost with the help of the customer support.
Step 1: Register a Domain Name
To register a new domain, enter the domain name in the search box and click on "search". If the domain is available, click on "Add To Cart".
Then go to the shopping cart and click on "Checkout".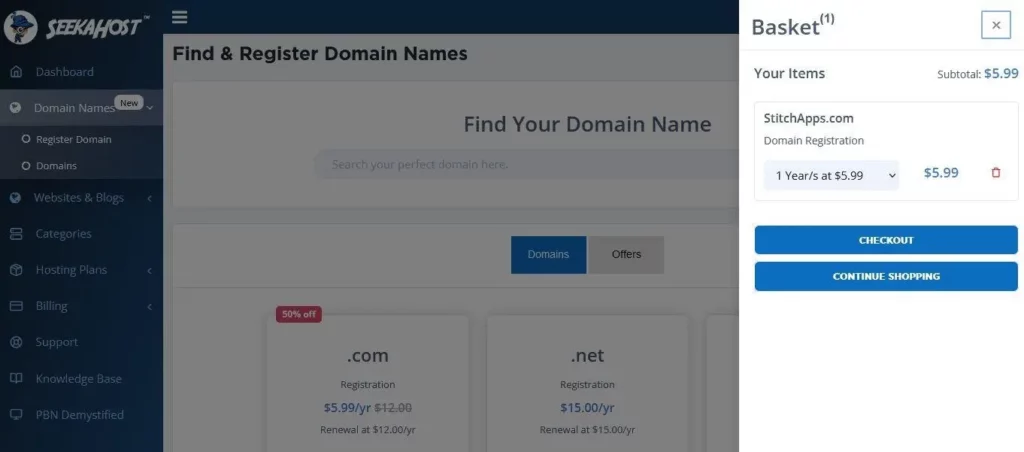 Click on "next" and enter your personal and payment information.
Then proceed with the payment.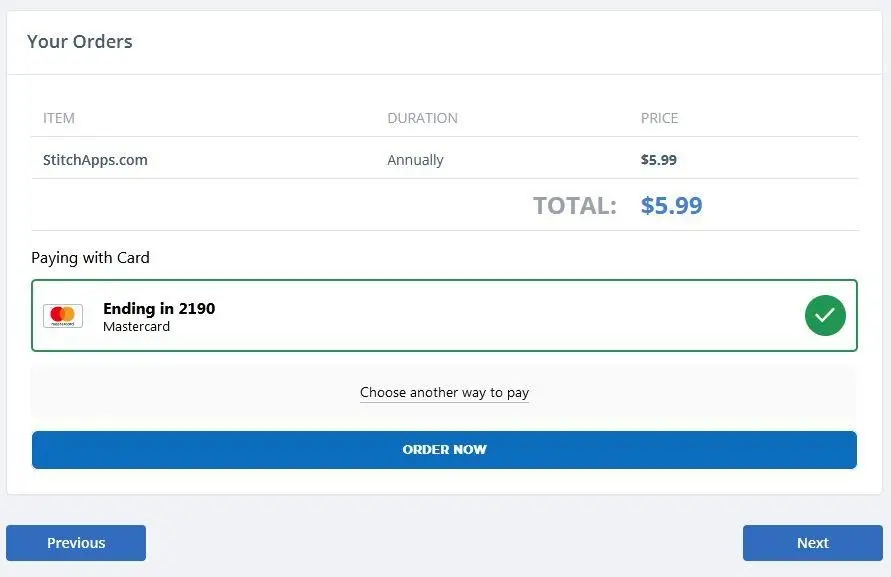 Click on "Order Now" and the domain is yours.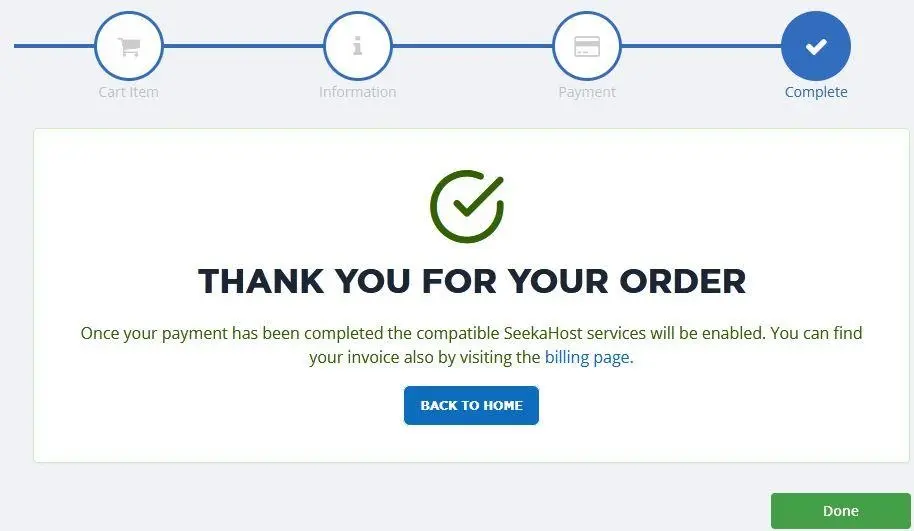 Step 2: Buying a PBN Hosting Plan
To create a PBN blog in your SeekaHost.app control panel, you need to purchase web hosting so that your website is live on the internet.
Simply head to "hosting plans" in the SeekaPanel menu and click on "PBN hosting".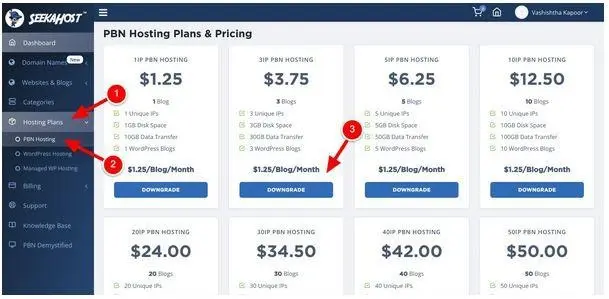 Choose a PBN plan suitable for your requirements and go through the checkout process with the payment again as you did with the domain purchase. You should then see your hosting plan in your billing section.
Step 3: Add a PBN
Once you have purchased a PBN plan, simply go to the "Websites & Blogs" section. Click on the drop-down menu and choose "Private Blogs (PBN)". Then, click on "Create New Blog".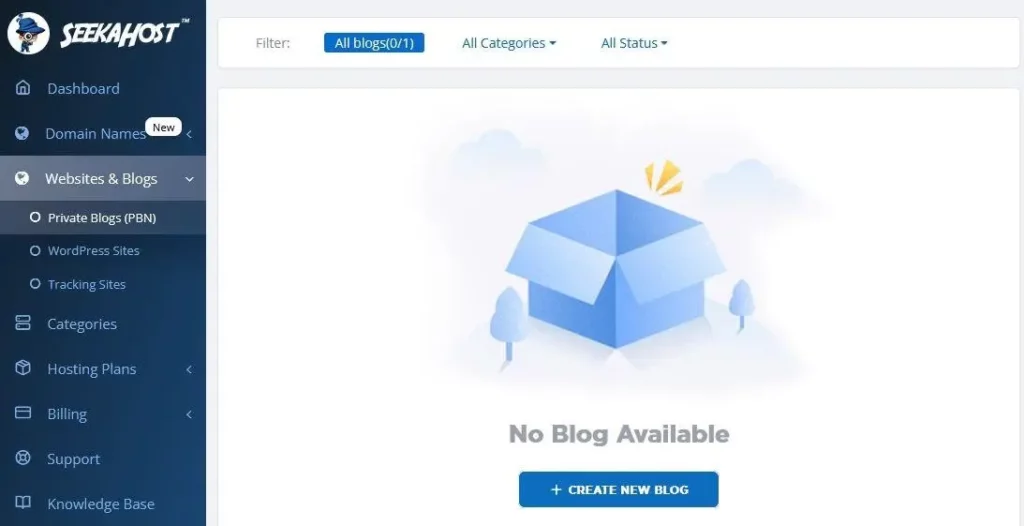 Enter the blog domain name with the extension.
You can set the blog category on the categories page or proceed with the default category.
Enter the Blog Title, toggle the blog visibility to blue, and click on "Add Blog"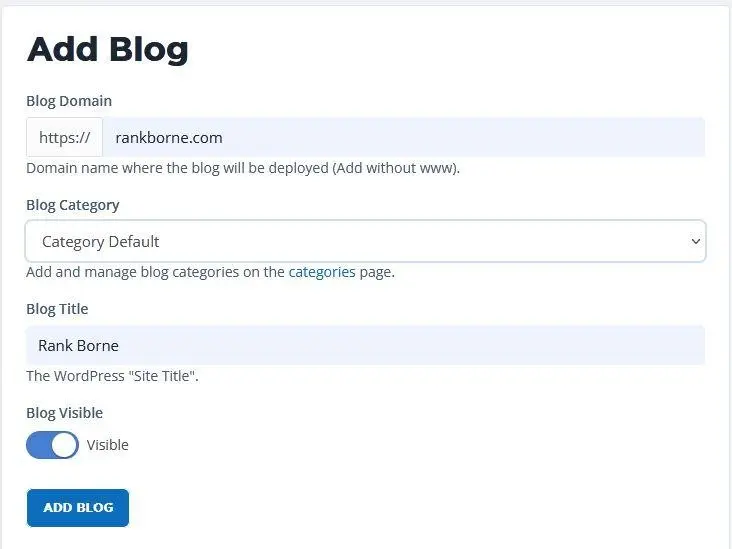 In a few seconds, your domain will be added to the PBN Blog list. Now, you can point your domain nameservers accordingly.
Step 4: Pointing Nameservers Correctly
Click on the setting icon under the action tab.
Copy the nameservers that have been emailed to you when you added your blog or find them in your blog info section.
Head to "Domains Names" in the menu and click on the domain name you registered, and continue by clicking on the settings.
Now you need to go to the "Private Nameservers" section to modify the nameservers.
As you can see, your domain is locked. To modify the nameservers, you need to unlock it.
So go to the Registrar lock section and toggle it to the unlock mode.
Now go back to the nameservers section, choose "custom nameservers" and enter the two nameservers.
Finally click on "change nameservers". You will receive a notification that your nameservers have been updated successfully.
Lock the domain again using the Registrar Lock option.
Now click on "Websites & Blogs" > "Private Blogs" and click on "settings".
You need to check whether the nameservers have been updated or not.
Step 5: Check Nameservers Status
Click on the Leafdns.com link and check the nameserver status.
As you can see, the nameservers have been updated successfully. Now, you can proceed further by adding an SSL certificate to your site.
Step 6: Add An SSL Certificate
Go to the SSL section on the right-hand menu under domain settings.

Toggle the SSL lock to enable it with one click.

Your SSL certificate is then enabled to protect your website and its data.
Now your website is up and running. You can begin to log into your WordPress site with your login details and publish content or change the design.
The WordPress login details are sent to your registered email.
You see that you can set up your domain and website in 6 easy and quick steps with the SeekaPanel, hence why it is the preferred choice for PBN owners.
Final Verdict
If you are new to WordPress or blogging then you can learn more about blogging and how to set up a WordPress blog or PBN by checking out the tutorials in the SeekaPanel knowledgebase and via the SeekaHost YouTube channel.
There you will also find tutorials to help you use the SeekaPanel features like Google Analytics integrations to help you monitor your website traffic and plan your SEO strategically.
And with various online learning platforms at your disposal, you can take short courses to learn SEO, digital marketing, or WordPress to build and grow the most successful blogs out there. Getting started with the SeekaPanel will certainly get you a head start. 
Have any thoughts on this? Let us know down below in the comments or carry the discussion over to our Twitter or Facebook.
Editors' Recommendations: