CZUR ET24 Pro Book Scanner has officially launched
24 megapixels, 320 DPI, sidelight, laser curve-flatten tech, OCR, HDMI port, scan a book in mins.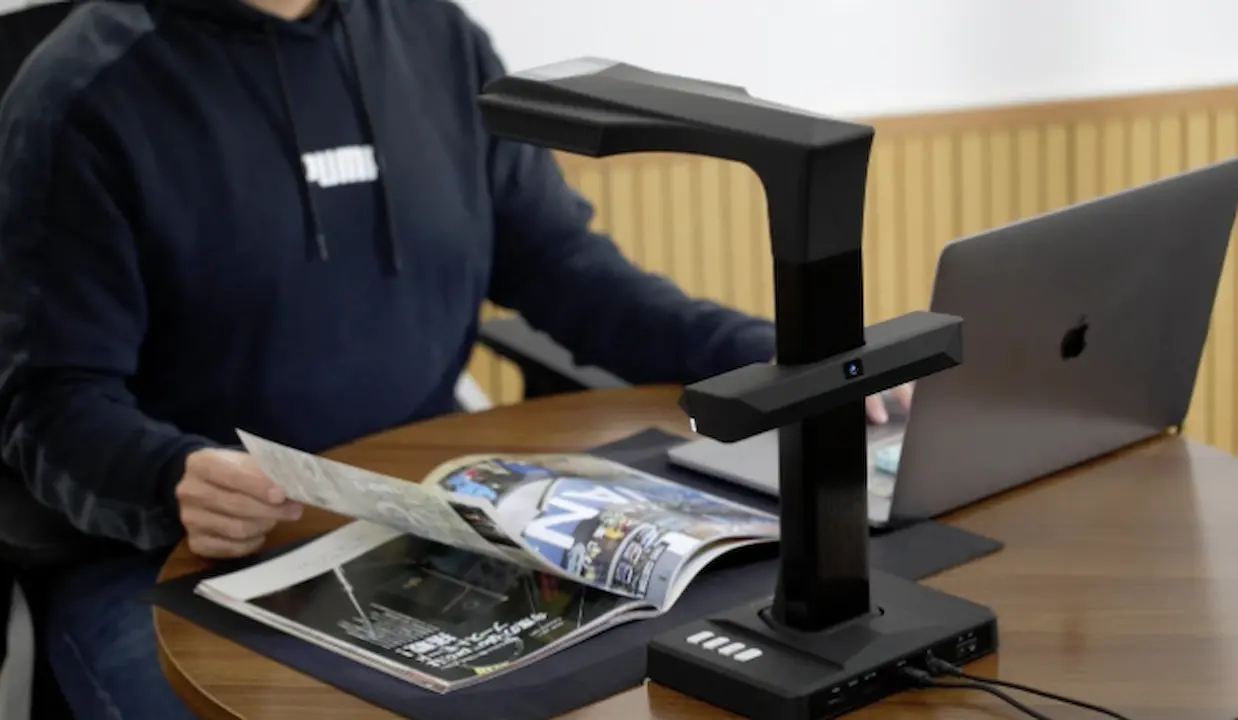 CZUR is a famous service from China for smartbook scanners. The service launched its newest campaign two days ago. This is a campaign to introduce the CZUR ET24Pro, a Professional Book Scanner that many refer to as "Unmatched".
In the last two years, the demand for professional book scanners has grown rapidly, along with the increasing rise of Work from Home. CZUR fills this gap with its various scanner products. But in this article, we will talk about the CZUR ET24Pro, its newest scanner.
The CZUR ET24Pro is exactly what most business owners, researchers, and students need. This scanner ensures that every user is able to scan books at high resolution (320 DPI). This high resolution can be achieved thanks to its 24-megapixel HD CMOS sensor.
What's great about this book scanner is that it features patented curve-flattening technology. This algorithm is combined with AI technology to produce flawless scans. There's no need to unbind and destruct books, turning two curved facing pages into two separate pages automatically. 
This scanner is very fast as it can scan a single page in just one second. Are you using MacOS? Don't worry because this new scanner is compatible with Mac OS 10/11 and later versions.
CZUR ET24Pro is also compatible with Windows and supports Windows XP/7/8/10/11. Not using both? Don't worry because this book scanner also supports Linux systems. Not many modern scanners are compatible with all three operating systems and the CZUR ET24 Pro is one of the few.
Want to scan a glossy surface? Don't worry because you can use the sidelight which works to soften reflections when it comes to scanning glossy surfaces. As we all know, scanning glossy surfaces often result in blurry scans.
The CZUR ET24Pro scanner can also recognize 186 more languages ​​thanks to its embedded OCR technology. You can also easily digitize each page of your book into an editable digital file.
For information, the supported files are Word, PDF, and Excel. The three file formats are the three most widely used file formats in office work.
Smart presentation (Visual Presenter)
Want to make a smart presentation using CZUR ET24 Pro? You can connect this smart scanner with Zoom and other streaming tools. You can record the showing process and send it to others later by software with a file transfer function. 
How to operate it?
It's quite easy because you can use the foot pedal provided by CZUR. You can also use the hand button if that makes you more comfortable.
Actually, there are 5 scanning methods; foot pedal, hand button, auto-scan, software button, and scan button of the scanner.
You can choose the one you think is best. The options provided by CZUR are more than those provided by other modern book scanners.
About CZUR
CZUR is committed to smart office products and has various product lines. The high quality and cutting-edge technology have made CZUR win many awards and become the top seller in the book scanner category on Amazon. Its products have been sold to 110+ countries.
Have any thoughts on this? Let us know down below in the comments or carry the discussion over to our Twitter or Facebook.
Editors' Recommendations:
How to scan documents on your iPhone with Notes in iOS 11