This is the difference between a RAW and JPEG file format
RAW vs. JPEG – Is there a difference in the post-processing of the two?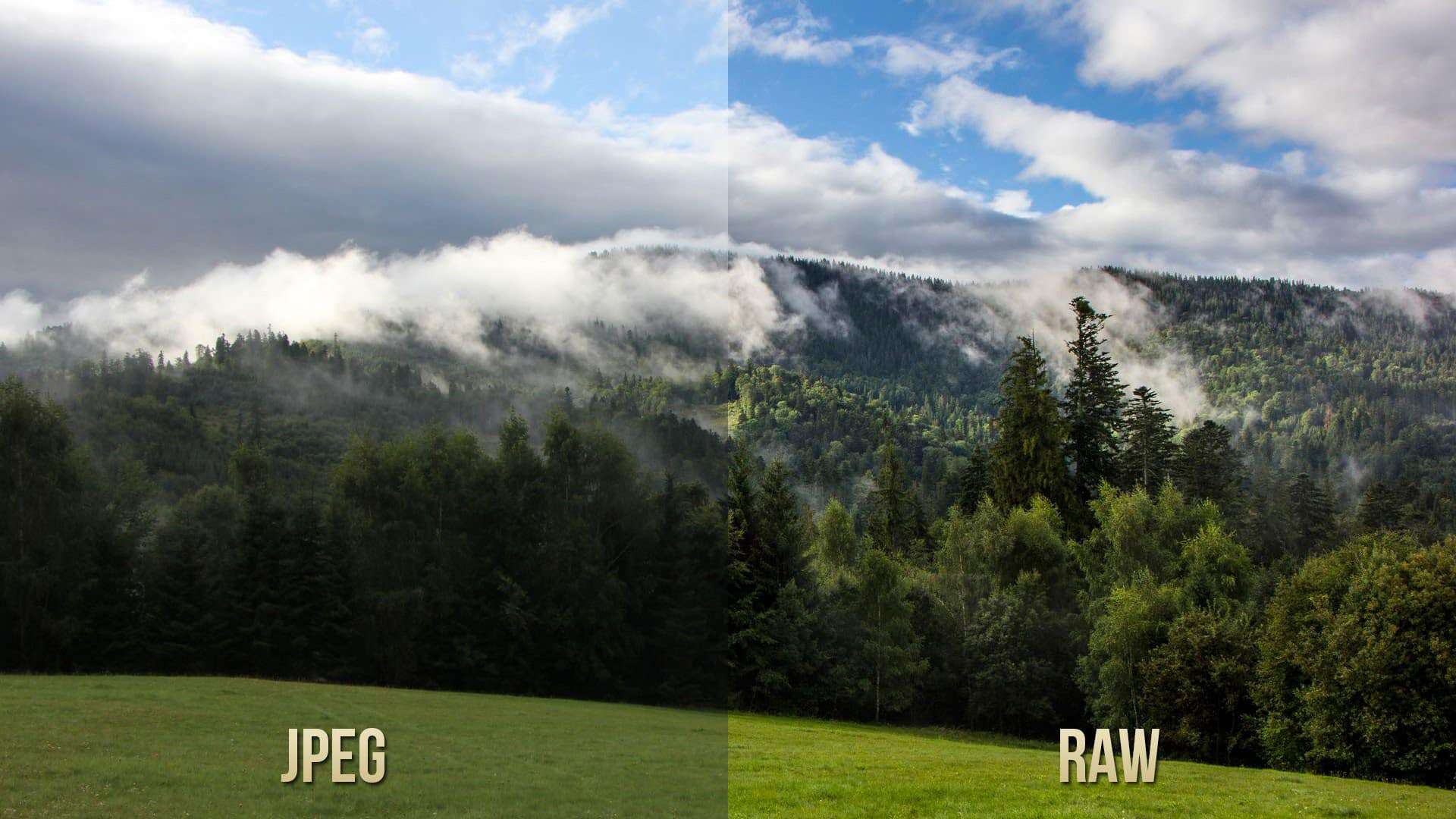 RAW vs. JPEG – Is there a difference in the post-processing of the two?
---
I think almost every photographer (including me) is at least a little bit guilty of telling people to shoot RAW. While learning how to shoot and process RAW is of utmost importance if you are to exploit the most out of your RAW capable camera, it may not be the best option for every situation. Let's get straight down to business and see what these two really are.
RAW files are not really image files that can be viewed directly without a special software and the files are usually a proprietary format (the exception being Adobe's DNG format.) Canon's RAW files have the .CR2 extension while Nikon's RAW files have the .NEF extension. It is difficult to say how long these file formats will be supported by RAW reading/processing software.
However, it's safe to assume that whenever you buy a new camera, it will include a software to read its RAW files. The problem is that newer software may not support older RAW formats. Adobe claimed that they will always support their DNG format. So some people convert their RAW files into DNG files, which is a lossless conversion (no data lost during conversion, unlike JPEG compression.) This can be easily done when you import your pictures into your computer if you're using Adobe Bridge. Adobe also has a free DNG converter available.
READ MORE: How to convert WebP images to JPEG on Mac and Windows
You can think of a RAW file as a digital negative. Thus it has to be developed (processed) in the same manner that you would develop a film negative. RAW files contain all the data captured by the image sensor which gives the photographer a wide range to work with during the development phase.
JPEG on the other hand is a universal format. You don't need any special software to open them and they are readily available for printing straight out of the camera. They are fast and easy to handle but they lack some of the advantages that only RAW files offer.
Pros and Cons of Shooting RAW
You get all the possible data from the camera sensor.
If your white balance is off, it's much easier to change it later.
Higher bit depth. Without going into technical details, this allows smoother transition between colors. Most DSLRs take 12 bit or 14 bit RAW whereas Jpegs are 8 bit.
Non destructive editing. Anything you do to a RAW file will be saved in a 'sidecar' .XMP file. However, when you're editing Jpegs, you have to save an additional copy if you want to keep your original.
RAW files can be used as evidence. If you ever find yourself in a courtroom and need to prove that a picture belongs to you, providing the RAW file pretty much ends the argument in your favor. Let's just hope it never comes to that.
Higher in dynamic range. If you shoot RAW, it's much easier to recover underexposed or overexposed areas than shooting Jpegs. Although severely overexposed details are lost no matter what.
Pseudo HDR – This is where you make several different files with different exposures using a single RAW file and combining them together to achieve a better result. Of course real HDR will look better but sometimes we just don't get the chance to bracket our shots the way we want. It's good to have a fall back option. This is a task which could prove difficult for JPEGs to achieve.
Easier to battle with image noise.
RAW files take more space. A RAW file from a 15 MP camera would roughly take 15 MB. This of course depends on other settings like ISO etc. But with storage options being dime a dozen now, this shouldn't pose much of a threat.
RAW files fill up the camera buffer faster. This may become a problem when shooting in the continuous mode. Since RAW files take more space, your camera buffer will be filled after you take a certain number of pictures. Then your camera has to stop and write those files to the memory card before you can shoot again. My old camera clocks in at 9 RAW files before it needs to stop. This of course depends on the camera.
Requires special software to view and edit and is not suitable for printing directly. RAW files need to be processed before you do anything with them. You do need a relatively faster computer to edit RAW files since they contain a lot of data. Any modern computer should be able to handle RAW files with ease though.
Pros and Cons of Shooting JPEG
Smaller in size.
Can be printed directly.
No special software needed.
Can shoot a significantly higher number of JPEGs before it fills up the camera buffer.
JPEG is a universal format.
Camera does some processing for you.
Lower in dynamic range.
White balance data, color spacing data etc. are embedded to the JPEG. It's difficult to correct white balance later with a JPEG than with a RAW file.
Some data are lost during the compression. Each time you open a jpeg and save, it goes through the compression process over and over again. It is advised that you keep the PSD file and export a jpeg whenever you need and if you want to make further changes, you can always fall back to the PSD file to prevent jpeg compression multiple times.
RAW vs JPEG comparison. These two were straight from the camera. On the left you can see the RAW image and on the right you can see the JPEG. It is obvious that when you compare these two images, the JPEG looks better. The camera did some processing for you. It appears a little brighter, sharper and there's more contrast. So if you are not planning to process your pictures at all, shooting JPEG seems to be the better option. These two pictures were taken using the RAW + JPEG option which means they were taken at exactly the same time using exactly the same settings. The RAW file is 19.52MB compared to the 5.75MB JPEG. Click on the picture for a better view.
RAW vs JPEG processed comparison. The processed RAW image is on the left and the processed JPEG is on the right. Once they were loaded into Photoshop, both pictures went through exactly the same work flow. The only difference is that the RAW file was tweaked using Camera RAW before loading it into Photoshop. If you look closely, you might see a very subtle perspective difference too. This is because I applied the 'lens correction profile' to the RAW image. Whenever you take a picture, there is some distortion due to the lens. Shorter your focal length, higher the distortion. It can be easily corrected using Camera RAW. Since this was taken at 300mm, there is almost no distortion.
You should be able to open your JPEGs using Camera RAW too but for some reason Adobe wasn't letting me open it. There was a work around in earlier versions of Photoshop. You were able to open JPEGs using Camera RAW by launching from Adobe Mini Bridge. But Photoshop CC doesn't have mini bridge anymore. While Camera RAW offers some control over your JPEGs, it won't offer all the controls it does a RAW file. The processed RAW image is 9.53MB whereas the processed JPEG is 6.15MB. Click on the picture for a better view.
You may notice that the above examples are not the best. I just dug up some old files (notice the date on the screenshot.) I will try to update the post later with more convincing examples.
Now, after I processed the RAW files, I converted them to JPEGs to upload here. However, when you do, you lose the advantage of higher bit depth as it goes to being an 8 bit image. If you've noticed on the first screenshot up there, I loaded the RAW file into Photoshop as an 8 bit image (where it says Adobe RGB (1998); 8 bit; 4752 by 3168 (15.1MP); 240 ppi – you can click on this and open it as a 16 bit image) since I knew I was going to save it as a JPEG anyway.
If you want to retain the higher bit depth, converting to a TIF file is the better option. Most professional printing services use TIF files (they will print JPEGs too of course). But if you're getting your prints done in Walmart or printing them very small or both, don't bother. So all of this depends on your needs.
While during ideal situations where you have control over most elements (like studio lighting etc.), RAW offers little advantage over JPEGs. The further you drift away from ideal situations, and when speed and space is not a concern, shooting RAW is the best option in my personal opinion. In practice, you will be taking a lot of pictures in non ideal situations. I'm not going to go up to an angry charging elephant to hold up a gray card against it to get my white balance correct in camera. I seriously doubt he or she would be happy about it. I'd much rather spend an extra 30 seconds to correct my white balance during post processing.
Here's an example of a pseudo HDR I was talking about. On the right side you can see the original RAW file I used to make the pseudo HDR on the left. There was absolutely no way I would've achieved this level of details with a JPEG. I did not have a chance to bracket my shots here either as I took this shot while I was in a moving car. Click on the picture for a better view.
Which one is for you?
By now you should have realized that photography is a very subjective field. Thus there is no one right or correct way to do things. Whether you will benefit from either RAW or JPEG depends on your needs. If having absolute precision is critical, RAW is the way to go. It offers a wide range of possibilities compared to JPEGs. This also means that you will probably have to sit and process through copious amount of RAW files. When you keep doing it, you will find easier ways, short cuts and it will significantly reduce the amount of time you spend with one RAW file. RAW is both the holy grail and the downfall of a beginner. As a beginner, you're likely to make a lot of mistakes when shooting and that's okay. But if you shoot RAW, much of that can be corrected during post processing.
Now, this does not mean that horrible snapshots can be magically converted into world class photographs though. I know there's a 'get-everything-right-in-camera' group. Sure, if you can get everything right in the camera, that is absolutely fantastic and you will get there eventually. But I personally am not there yet. So I shoot RAW. The reason why RAW could be the downfall of a beginner is because the work flow can appear overwhelming at first and even your processed RAW files may look worse than your camera processed JPEGs. But don't be discouraged. You can only learn by doing it. A while ago, Adobe released a free version of CS2. So if you don't want to pay a lot of money for software, that may be a good starting place. You are going to have to make a free account with Adobe to download this or you can pick it up from numerous links available throughout the internet. I'm not entirely sure what type of RAW files are supported in CS2 however.
If your pictures are only going to end up in social media and you don't intend to make and large prints, shooting JPEGs may save you a lot of time. If you're taking pictures for a craigslist ad, there's no need to shoot RAW either. Some action photographers resort to JPEGs to save the camera buffer from clocking in early. Some wedding photographers shoot JPEGs just because they don't want to sit through 2000 RAW files. An untrained eye won't be able to tell the difference between a properly shot JPEG and a processed RAW image.
As you can see both formats are useful in their own way. I set my camera to RAW couple months after I bought it and it hasn't been changed since. But that's my personal choice. I prefer the range it gives me to work with. I make large prints from my pictures for exhibitions and RAW files give me exactly the controls I need over an image. Shooting RAW however doesn't make you a 'professional' (whatever that means) over night.
Modern DSLRs offer the possibility of shooting RAW + JPEGs at the same time. Why don't people use this and end the debate once and for all? Because it takes a lot more space and while it may be the best option when it comes to the range of possibilities, it can be confusing as hell at times. You will have two files with the same file name and can be difficult to organize your files etc. This is a good option if you want to compare RAW and JPEGs because it will make the both files exactly the same time using the same settings like my examples above. It also comes in handy if you want to display/print something immediately but still want the option to process them in your leisure. This is however a terrible option when shooting in the continuous mode.
Hope this helps.
---
This question originally appeared on Quora.