Easy VMware backup with officially certified data protection vendor Vinchin
Vinchin Backup & Recovery is approved by VMware Ready. See how it backs up and restores VMware VMs easily with its advanced features.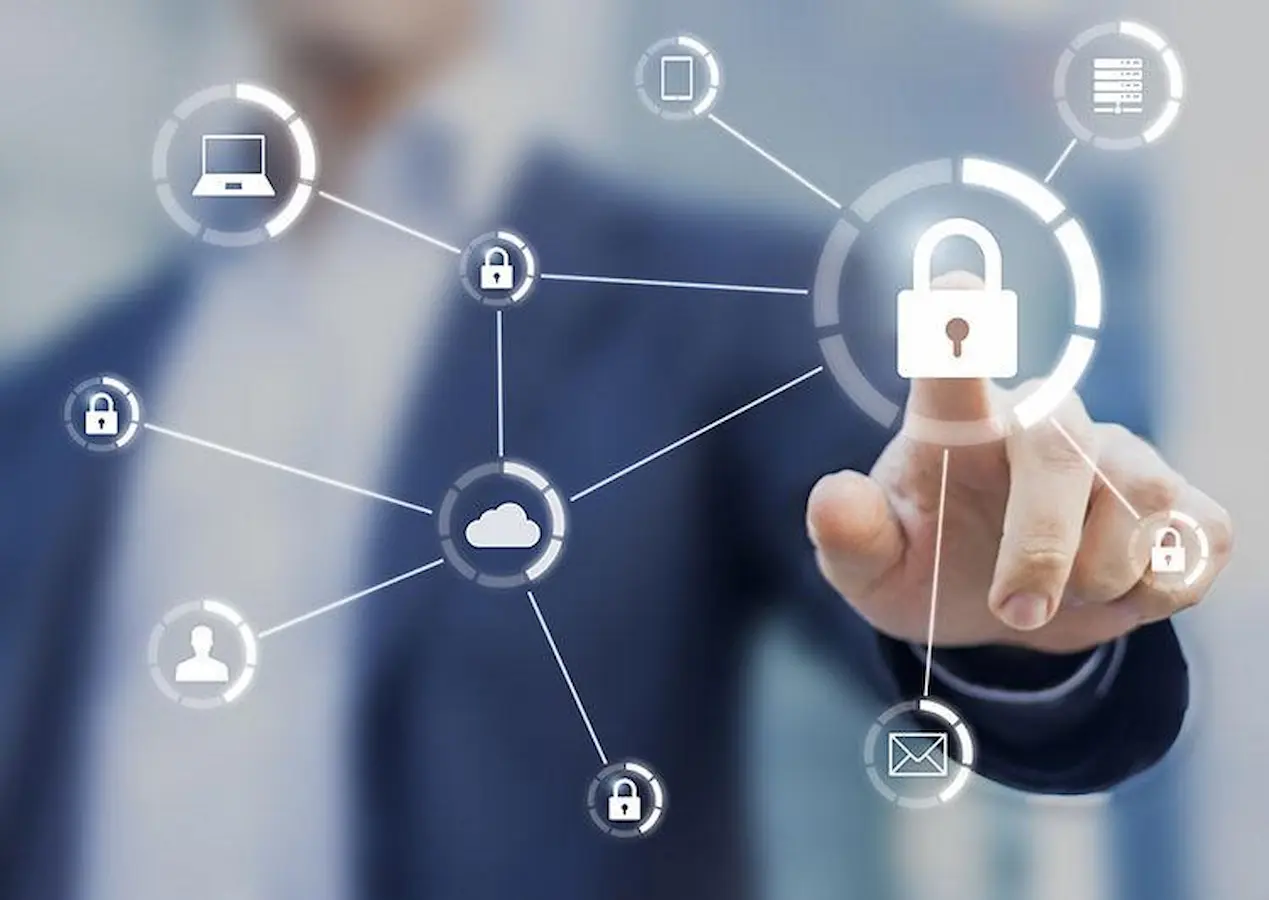 According to Gartner, as the pioneer in the virtualization industry, VMware holds a market share of more than 70% for virtualization infrastructure software globally. They have more than 500,000 customers.
With so many options with different features and costs, are you thinking of every aspect of a data protection solution?
Vinchin makes every measurement guide for VMware users with reasonable pricing based on specific business needs.
These are backup frequency, productivity-enhancing features, and which recovery option to use. For those unfamiliar with Vinchin, it's an experienced data backup vendor officially certified by VMware Ready.
The company was named G2 High Performer Summer 2022, whose solution Vinchin Backup & Recovery is fully compatible with VMware.
It's been adopted in over 60 countries across 20+ industries. These include government, health care, education, finance, IT services, manufacturing, etc., by SMBs, large-scale businesses, and state-owned companies.
Here are some major features of how simple Vinchin can make VMware backup solutions easy to practice.
What are Vinchin's major features of VMware protection?
Easy agentless backup
Instead of installing a backup plugin or agent on VMware VMs, Vinchin Backup & Recovery resorts to agentless backup, which centrally controlled disk-to-disk backup from a single point of administration.
Thus, no installation downtime, easier management, and no agent licensing fee are necessary.
Automatic VMware backup with speed
Vinchin solution calls CBT API of VMware that only extracts changed data blocks to boost incremental backup rests on an initial full backup, which avoids data redundancy and saves backup time and storage.
Users can backup VMware VMs under HotAdd transmission mode to let the backup server directly get the disk data from the virtual machine.
Vinchin Backup & Recovery has another two techniques, backup schedule, and job mail alerts, which deliver greater efficiency.
Set up a backup schedule on a daily, weekly, and monthly bases, coupled with job mail notification, and you can leave it alone. The backup task will run at a certain time and send you messages in pre-set scenarios.
Backup storage saving
The solution eliminates non-business-critical files with 3 technologies to save more storage space.
Data deduplication and data compression are optional in the strategies through which you can downsize the backup data size by excluding the same data blocks and compressing them by at least 50%.
BitDetector is another data reduction technology that rules out swap files, partition gaps, and the like to preserve more room for recently added backup data.
Anti-ransomware backup storage protection
Use Vinchin Backup & Recovery for VM backups with backup storage protection to protect backup data in the backup repository.
Every data modification request from an unauthorized application will be rejected by the real-time I/O monitor. Thus, it guarantees that only the Vinchin backup server can access crucial VM backups.
This provides VMware backups with double security amid the skyrocketed ransomware attacks.
Fast recovery with different options
An offsite backup copy can be saved through Vinchin Backup & Recovery in a different location. This is to brace for situations if you delete, lose, or corrupt primary backups.
Three recovery choices, including full VM recovery, instant recovery, and granular restore, are available for you.
Full VM recovery recovers the entire VMware VM, and granular restore aims for a specific folder or file. While instant recovery resumes a failed VMware VM in 15s to reduce RTO and business disruption.
Their recovery resources could be local backups, offsite backup copies, and archived data.
Effortless V2V migration without an extra tool
Vinchin Backup & Recovery grants users the V2V data migration in one platform between VMware vSphere and other 9 platforms such as oVirt, XenServer, RHV, etc., without extra agents and management console.
The solution offers 2 cross-platform restore methods to perform the migration: Full Restore and Instant Restore.
You can select the restore point from one VM's backups saved in the software and recover it to another virtual platform. You complete the V2V migration once you restore the job.
Compliance with data retention policy
The company supports archiving data to Amazon S3, Azure, Wasabi, and MinIO through an encrypted transmission path under a backup schedule (or once-off) and settable retention policy.
The cloud archive optimizes data storage for security and complies with regulation policies.
How to back up and restore VMware VMs with Vinchin backup & recovery?
For VMware VM backup
Select VMware VMs that you wish to back up from added servers.
Specify a backup destination.
Configure backup strategies in detail.
In the web-based console, you can set up a backup schedule, data reduction technologies, GFS retention policies, etc. in the General Strategy section;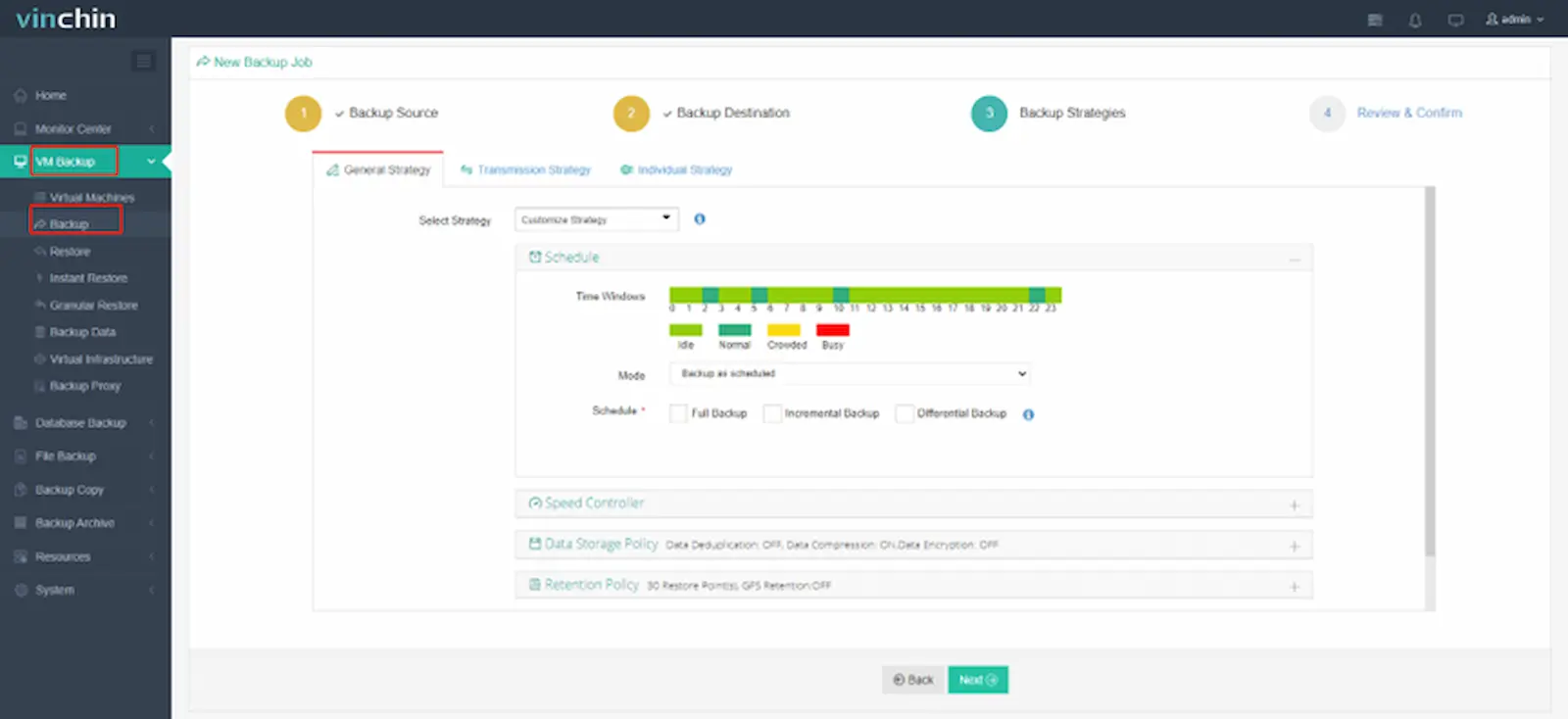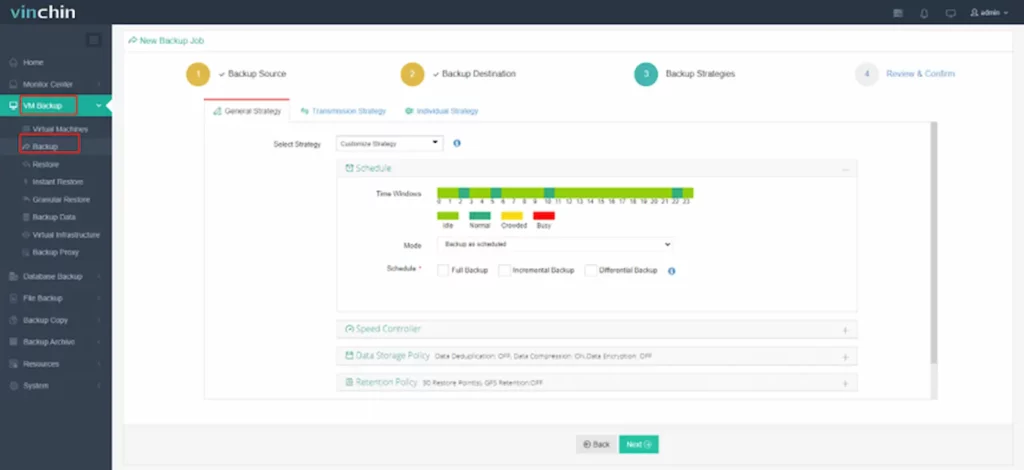 Enable HotAdd or other backup data transfer modes, including Encrypted Transmission (LAN-Based) and LAN-Free in the Transmission Strategy section;


And configure more advanced features, including quiesced snapshot and CBT in the Individual Strategy section if you need.


When the backup job is processing, you can also monitor the job in real-time in the console.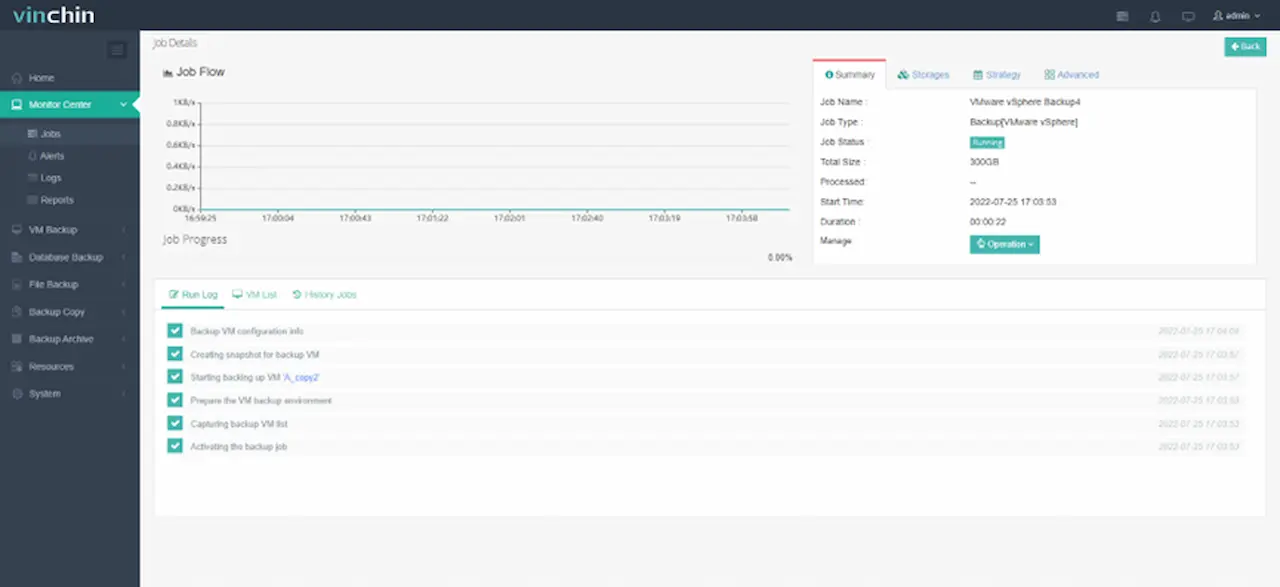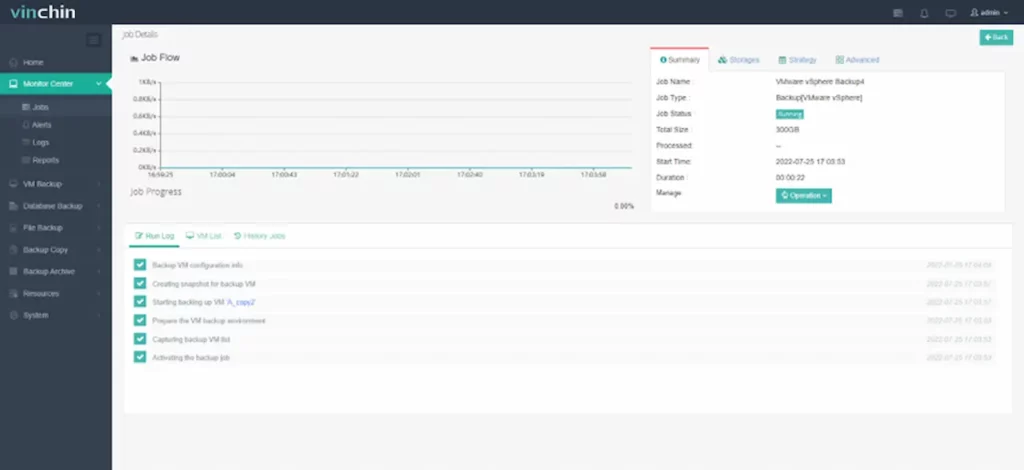 For VMware VM full restore
In Vinchin Backup & Recovery, the VM restore job configuration is as simple as that of backup, just follow through the same 4-step wizard: Choose a restore point of VMware VM > Specify a restore destination > Setup Restore Strategy > Submit the job.






For VMware VM instant restore
Vinchin Backup & Recovery offers an independent job config wizard for instant VM restore.
After that, select the target to restore point and restore destination. Then, configure the restored VM in general information like VM name, CPU, and RAM; virtual disk, network, etc.


By the way, for cross-platform full VM restore and instant restore, the configurations are basically the same, and you just need to choose another Vinchin-supported virtual platform as the restore destination.


Vinchin offers a great solution with stable performance. Not only that– it has responsive support and steady progress in giving solutions from the perspective of customers.
The best part is that Vinchin knows how to deliver the most appropriate data solutions. Whether it's VMware or other virtualizations it supports.
And it makes upgrading or deployment of data management easier at every stage.
Try the 60 days full-featured free trial version, test the features for VMware backup now and explore more.
Have any thoughts on this? Let us know down below in the comments or carry the discussion over to our Twitter or Facebook.
Editors' Recommendations:
Data protection & Internet security: How to stay safe online in 2020
Disclosure: This is a sponsored post. KnowTechie's opinions, reviews, and other editorial content remain objective and are not influenced by the sponsorship.