Enterprise app usage is on the rise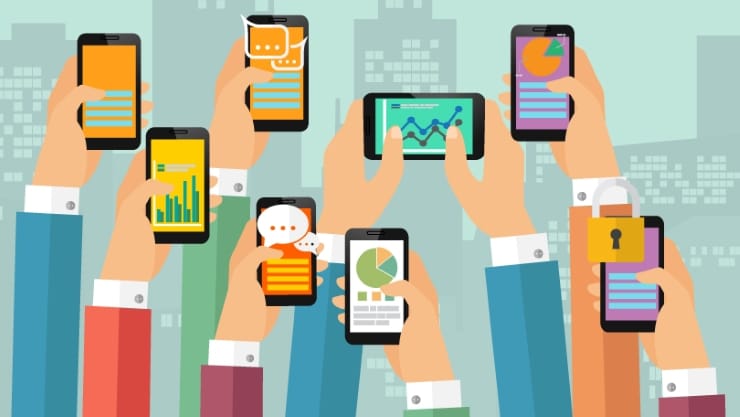 Smartphone usage is on the rise. According to a recent Pew Research, nearly 77% of mobile phone users in the United States own a smartphone. This rapid rise in the adoption of smartphone has also given birth to what is now known as the "app economy". To cater to the growing demand for mobile-based internet access, businesses have built apps that not only make it possible to access these tools quickly over smartphones but also make it sticky.
This is not only true for consumer-focused businesses, but also those that appeal to business customers. According to a 2017 Gartner survey, nearly three-quarters of enterprises had reported to have expended resources on mobile app development in just the past one year. Also, businesses that invested in mobile app development owned an average of eight mobile apps to date.
So what kind of apps are being developed by these enterprises? Here is a short list.
Employee Training and Onboarding
One of the major areas of investments has been on employee training and onboarding. There are several reasons why classroom-based employee training is on the decline. For one, organizations are getting increasingly geography-agnostic. Teams are often dispersed across the country, if not the world. Secondly, studies show that new pedagogical methods like gamification and microlearning have an immense impact on training effectiveness. These tools are available with present day learning management systems (LMS). LMS tools like Moodle, TalentLMS, and Skolera are reported to have the highest ratings among employee training tools with an app.
Collaboration and Project Management
A growing number of businesses have teams working out of different parts of the world. More importantly, outsourcing is an important component of business today and the different aspects of a project are often outsourced to third-party contractors either within your country or outside. Effective collaboration is often impossible without technology. The challenge is that even with technology, teams operating out of different time zones have trouble interacting in real-time with their counterparts. Mobile-based project management and collaboration tools have made it possible for team members to engage with partners even when they are on the move thus enabling near real-time communication between the various teams.
Internal Tools
Perhaps one of the most common ways mobile apps have made their way into the enterprise workspace is through internal tools. There is not one particular use case to talk about here except that businesses are building mobile apps that help with all kinds of internal processes. Traditionally, these processes used to be monitored through web-based dashboards. But with the growing proliferation of smartphones, these dashboards have shifted to the mobile space.
Let us take the example of a logistics company that helps manufacturing companies transport products from the factory to the warehouse or distributor. An internal app could aggregate the GPS locations of all trucks in real time to help managers monitor their movements as well as take decisive action in the event of a logistical challenge. Such companies may also make use of apps to monitor the availability of drivers, send notifications to employees on pay-day and handle inventory management.
A number of business needs are not unique and in these instances, organizations tend to use third-party apps that they can procure for a few hundred dollars a month. But for unique business needs that are not catered to by third-party apps, internal tools are the way to go.
Adoption of smartphone apps among enterprises marks the beginning of the next stage of growth in the app economy. While app development continues to be a bigger expense to organizations compared to web app development, the need for mobility among enterprise users has meant that this growth is expected to continue.