Expert tips for Dota 2 and CS: GO from professionals
It's no longer a hobby to play video games. With e-sports championships in several games, it has become a global phenomenon. So what are you waiting for?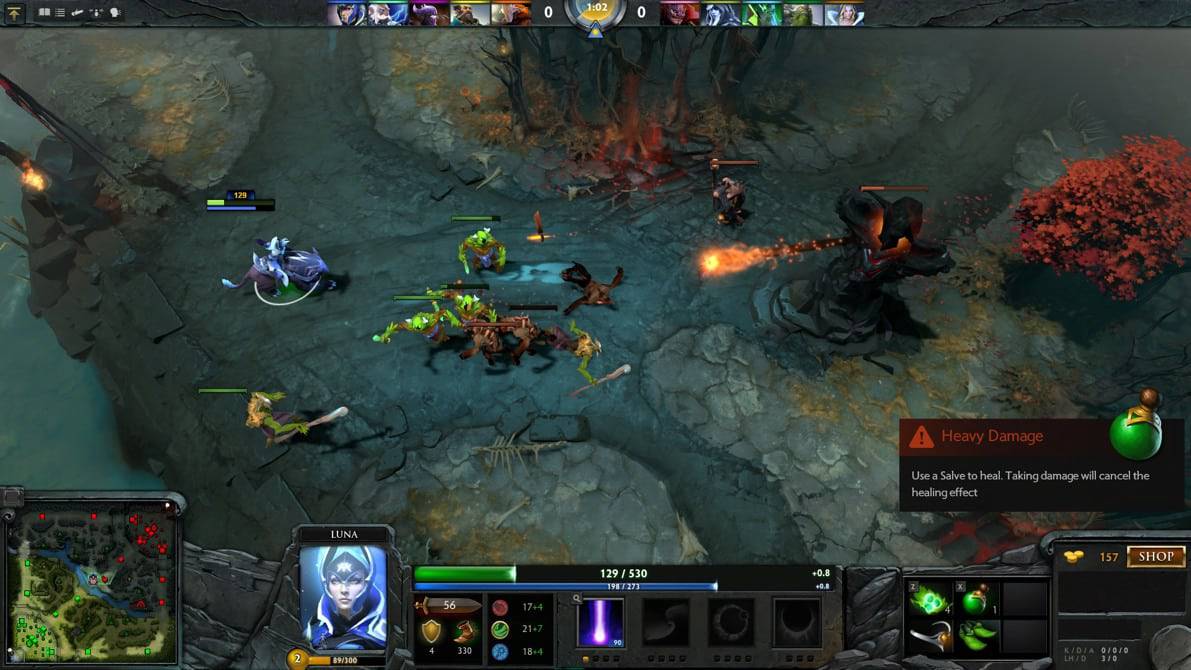 Video games come in a variety of themes, styles, and genres. It is no wonder that people prefer individual styles or genres to simplify how they choose games. 
Some like to explore, have adventures in the vast, beautiful world, while others like action-packed games where battles and explosions are everywhere.
If you ask players why they choose the game they are playing, they will say, "get away from the pressures of the real world" or "just for fun." Some may say they are venting anger or other emotions. 
Others may join in suppressing the game. Based on what they say, they might prefer some games that are different from other games.
So, for this kind of situation, we have selected 2 games of 2 specific game genres. Dota 2 and CS: GO. Let us discuss some tips on how to get better at them.
In Dota 2 there are specific items that are hard to find. But some people have items they don't want. CS: GO has similar situations with weapon skins and loot boxes. ItemHerald provides peer-to-peer transactions in steam, so you no longer have to wait and instantly trade items. There are several other facilities as well which other sites don't offer so be sure to check it out. 
DOTA 2
Dota 2 is one of the most complex, competitive games on PC, and it takes years to perfect the game.
From the start to becoming a recognized pro, players can progress very slowly. It can make newbies feel very difficult and frustrated. But some methods that have been tested in practice can help you improve your game quickly.
Never Give Up
Dota 2's victory can come from the most unlikely position. Even if the game looks completely lost, there are ways to get it back to its original state. As the game heroes have different power peaks and times, the game's motivation is continuously changing. 
You will not get out of trouble until the throne falls. It is better to stay fit for the rest of the game than throw away the towel. It is one reason why there is no drop-down option in Dota 2, as most of the game's content is based on the miracle comeback.
Use Custom Settings
There are many settings in-game, such as controls and factors, that can be adjusted to the smallest detail. Simple operations, such as turning auto-attack on/off or using short projection, allow you to experience the game differently.
Map your hotkeys to make them easier to use, and continue experimenting with different in-game settings to find the function that works best for you. There are many online guides out there to give you the best settings but consult any experienced gamer.
You should not copy anyone else's settings, but find a combination that you like. The settings are only a priority. As long as you can do everything right, it does not matter what you use.
Experiment Various Builds
While building items on heroes may seem tedious, there are many ways to detail heroes. You can always find new versions and design progress that eventually become the norm. While some builds may become famous in metadata, you can always try new things.
Understand Your Potential
Each hero has his top in the game. While some require cultivation at a later stage, others need only be level. But other heroes can do well in team battles and suffer on the track. Each hero has strengths, weaknesses, and spikes in power.
It is an important concept. For example, if a Templar Assassin can use Blink + Desolate earlier, he will be super healthy. Help her do this and make sure she does not have to spin too much, which will make her very powerful in the game.
Play with Better Players
It is impossible to understand and identify all the unique aspects of heroes, combinations, item structures, and power peaks. It is worth playing with better players who can point out your mistakes and shortcomings as it means you have a stronger foundation.
Since the learning of Dota 2 is endless, you want to eliminate basic bugs as quickly as possible so that you can focus on improving your heroes and playstyle.
Since there is only so much information, it is hard to understand Dota 2 itself. If you play with your friends, you will learn faster because they can tell you what to focus on and what to do in the future.
Try Different Roles
Each role is essential, from carryover support to position 5. Even if you choose to specialize in one role, it is best to play all the roles now and then. It can help you understand what an enemy champion might be doing and how specific matches work.
For example, if you are a gamer who takes a game with you, playing offlane from time to time can help you understand how offlane manipulates the channel to take advantage. This way, while playing as a carrier, you will know how to plan for veterans.
Enjoy
Dota 2 can be an incredibly stressful game. From poisonous teammates to the Smurfs, the result is not always what you want – sometimes you are doomed and unable to make it through. 
Being toxic to your teammates and always focusing on winning can cause unnecessary stress for you and your teammates. Be sure to enjoy the game; things will improve over time.
Communicate Effectively
In Dota 2, communication is key, especially when you want your teammates to know how to proceed. Let them know if you can participate in the battle if you wish to farm or prioritize. 
It is a great way and could be used to organize a team tactic. It should be transparent and persuasive to connect and must not be unnecessary.
CS: GO
Counter-Strike is currently on a winning streak. Steam revealed last month that it had set a record, for a 24-h max, for active users, reaching a whopping 20,313,451 total. No wonder the most popular game on the platform is Valve's CS: GO, one of the biggest esports FPS games globally. 
1,024,845 players play it online simultaneously – not bad for a game released for the first time in 2012.
Therefore, here are some tips on how newbies can improve their CS: GO skills.
Invest Time
You will not become an esports champion overnight. The skills required to learn to upgrade your CS: GO skills from entry-level to professional or semi-professional will far exceed those required for occasional competitions.
Know Your Role
Many online shooters are geared towards simplicity: eliminate your opponents or decrease your mortality, and then you will stand out.
However, part of CS: GO's success comes from great gameplay and teamwork to achieve goals. In CS: GO, there are five distinct positions that each player in the squad has to serve.
Do Your Research
New players will soon discover that the map has no cookie-making solution. Moreover, it is not just common FPS issues like shotguns, short-range sniper rifles.
You will have to spend time understanding your arsenal and the best weapon for every situation.
When discussing weapons issues, every detail is critical. You have to play a lot. You will understand all the maps, aim and recoil, and how each weapon works.
Do Training
Like everything, practice makes perfect. To stand out in CS: GO and discover that you are not a sniper, you need to spend some time training and establishing routines that suit you. It can vary from player to player.
Paid Servers When You're Ready
When you first started using CS: GO, the idea of ​​frustrated spending may not be very appealing.
However, payment/subscription servers like FACEIT do exist for a reason – to ensure more serious players can compete by different standards.
Have the Fundamentals in Place
Sometimes the best advice is to go back to the basics. When you are just starting, remember a few simple elements that will turn your streak into a ruthless winning machine – hard work, correct settings, and teamwork.
Never Ever Give Up
For beginners, it is understandable that the first few games have questions. In a few seconds, the skill gap seems insurmountable. However, this game is fun; the rewards far outweigh the initial frustration.
For those struggling at first, Hunter has some encouragement: "If you are ready to work hard and genuinely want to be successful, you need to be patient."
If you are prepared for this, please do not give up. Maybe one day, we will be competing or fighting together in a big event.
Overview
Play what you like depending on your mood. There are many types of games, so at least one game is appropriate for you.
Other types of games not mentioned are real-time strategy, logic games, survival, and management. By combining different genres, you will find more games that you never thought of.
So, if you are into the gaming world and you want to do live streams, here is the list that might help you!
These tips will not get you the highest ranking in Dota 2, but you will realize there is room for improvement. Don't forget to be smart and non-toxic because it is just a game. We are full of emotions, and we hope the results will be positive.
Even if you want to become a professional CS: GO player, your ambition does not cause anger and frustration at losing. The game should be fun. It depends mostly on your attitude. Check out the most played games of 2020 here!
Have any thoughts on this? Let us know down below in the comments or carry the discussion over to our Twitter or Facebook.
Editors' Recommendations:
Steam bans gambling but there are other options