Export Shopify products, orders, and other Shopify data to CSV/Excel easily
It is a known fact that to achieve retail success, be more competitive, and grow, a company has to be more data-centric.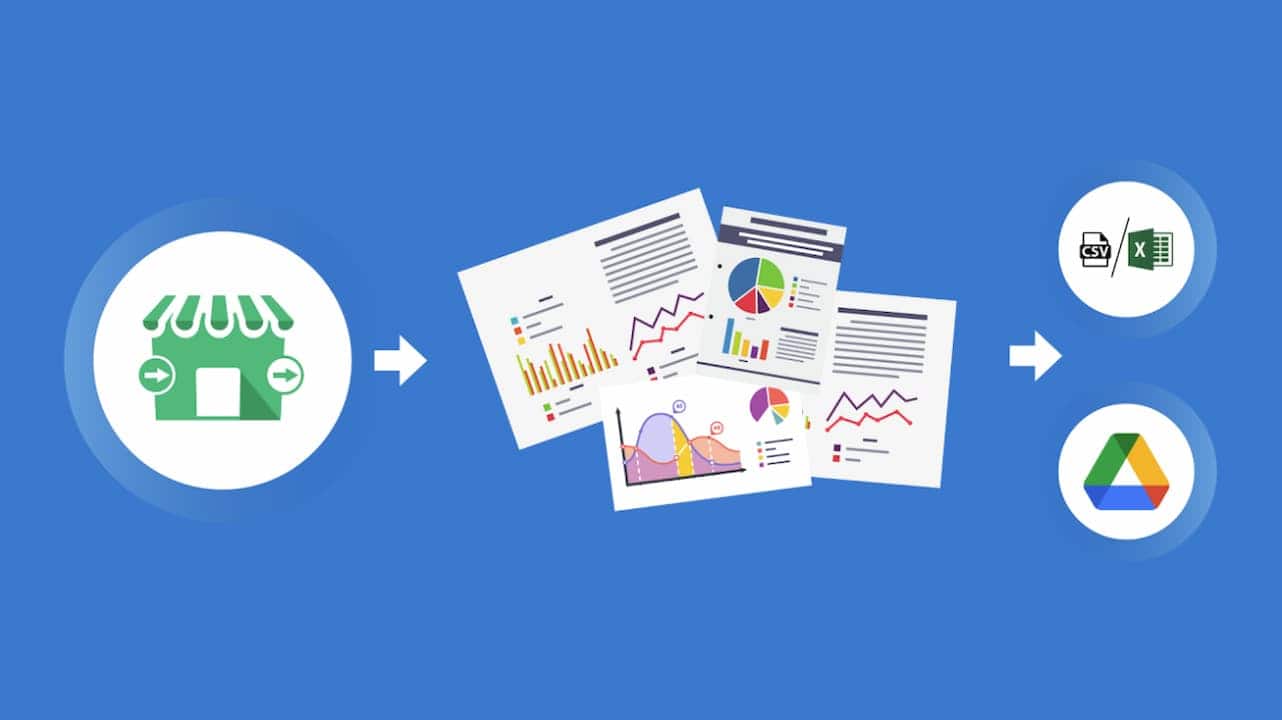 There is no doubt that your store's data is a key source for business analytics and a cornerstone of a company's success and prosperity. And as more and more business owners opt for Shopify for creating their online stores, there is a growing need for an efficient tool for exporting Shopify data.
In this article, we study how to export Shopify products, orders, customers, and other Shopify data to CSV/Excel with no hassle.
Why Do You Need Shopify Data Export App
There are some in-built features to export data from Shopify. The platform allows downloading a Shopify comma-separated values (CSV) file with your orders, customers, or products. You can access this functionality directly from the corresponding pages in the admin sidebar.
Shopify offers to export either all items or the items on the current page. Alternatively, you can mark checkboxes with the items you need by hand. There are also filters you can use to make your selection more accurate. For example, in the Orders category, you can choose the orders that are unpaid, the orders made on a certain date, etc. The same works for other categories.
However, there are some limitations. You can easily download your CSV file with your browser if it contains up to one page of items. If you need to export more than that, you will be sent your CSV file by email. The store owner will also get a copy.
To edit CSV files you need a spreadsheet program. Otherwise, you can do this task using a text editor.
So, as you can see, the features are quite easy to use and clear when you deal with a small number of products, customers, or orders (up to 50, which is one Shopify page) or when you do not need to filter data by specific criteria.
However, when you need to export hundreds and thousands of items, and especially if you want to analyze them in the future, the process may turn into a nightmare. In the latter case, it's better to look for a suitable third-party tool. Hopefully, there are enough of them in the Shopify App Store.
Third-party Shopify apps allow you to easily export only the data you need and in any required amount. With that extended functionality, a store owner may, for instance, export the email addresses of recent customers and include them in email marketing to push up sales, and marketing experts may perform customer segmentation to create more client-oriented offers.
With such tools, you can also choose the format in which you want to receive your data or opt to export the data directly to Google Drive storage. 
How To Find The Best App To Export Shopify Products And Any Other Shopify Data
As we have already mentioned, there are plenty of suitable data export Shopify apps available in the Shopify App Store. They vary by their functionality and prices. In order to get the one that can satisfy your requirements best, simply enter Data Export in the search box and use filters to narrow the search if needed. 
If you ask us, we opted for Exportier — Data Export developed by Alpha Serve, as in addition to a wide Shopify data export options, it has a free plan. This means you can get unlimited reports and a monthly export scheduler just for nothing. However, the export is limited to 50 rows per export, and only up to 3 export files can be stored in Exportier.  
The app is ranked high (it has 5 stars in the Shopify App Store) and is on par with similar tools in terms of functionality. We like that Exportier — Data Export allows you to export not only data from the products, customers, and orders categories, but also include fields in other key segments such as inventory items, product variants, draft orders, tender transactions, bank accounts, disputes, payouts, and collections.
You can also apply various filters or select certain fields inside data groups to make the selection even more precise. The other benefit of this tool is that it supports not only Shopify CSV export but also makes it possible to download Excel files or upload your reports directly to your Google Drive storage.
Shopify Data Export Set Up: Export Shopify Products In 3 Easy Steps 
So let's see how Exportier — Data Export really works. First, we have downloaded and installed the app on the Shopify store. Remember, you should have relevant rights to be able to do this. The process is quite easy. All you need is simply to find Exportier — Data Export in the Shopify app store and click the Add app button.
After you read and accept the terms on the Confirmation page, the application will be automatically installed on your Shopify store. So, after this one-minute action, you are ready to start your Shopify data export.
Create data export report
From the very beginning and whenever you want to start a new export with different criteria, you need to create a new report. For this, you need to go to the Reports page and click on the New Report button.

You will see the screen allowing you to configure the report according to your requirements. First, you need to choose the data type for the default tab. As previously said, this can be products, customers, orders, inventory items, product variants, draft orders, tender transactions, bank accounts, disputes, payouts, and collections. 
In the Filters section, you can add any filters that may specify the data you want to export. In the subsequent Column section, you are free to drag the items as you want to see in your report. And, finally, you can make your choice even more precise by checking the necessary fields in the Fields section. 
The Setting section requires you to enter some usual details, such as name and description. Here you can also select the format, in which you will get your Shopify report, set email notifications, choose storage, and, if necessary, schedule a definite date and time when your data has to be ready.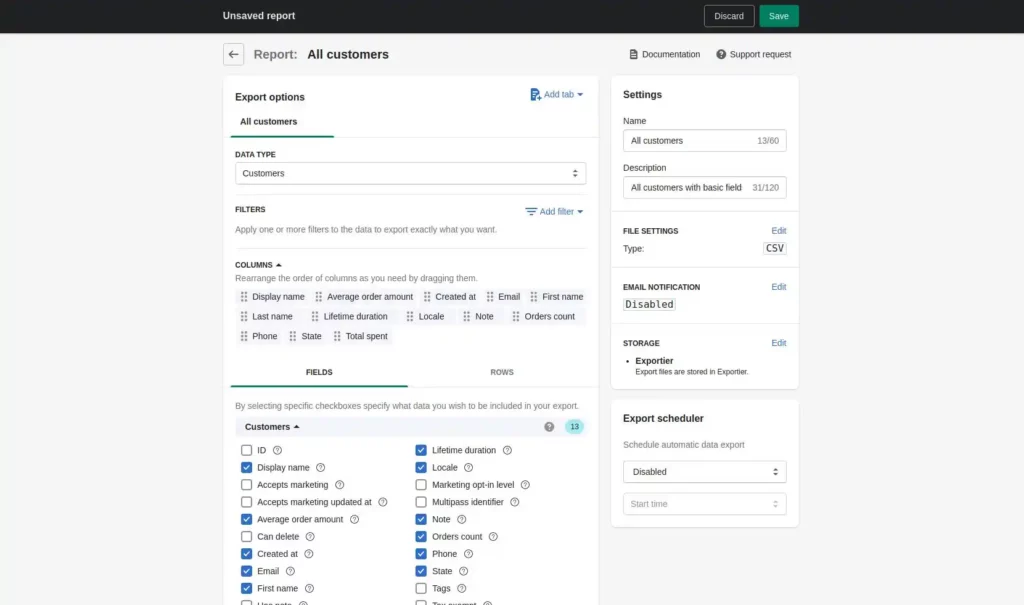 When you are ok with your parameters, you simply tap the Save button to proceed. If you are not sure and would like to enter other parameters, you can click the Discard button and start from scratch.
What is useful, you can include as many sheets in your report as you need. To do this, simply click the "Add tab" button.
The only thing you should bear in mind is that the tabs work properly with Excel reports. In the case of CSV files, the data from each tab will be represented one by one.
Run Shopify Data Export
All newly created reports are stored on the Reports page and have a "Not Ready" status. When you want to start the report preparation, you need to go there and click on the Run button. As the export file generates, the status changes from "Pending" to "In progress".
Usually, it takes a few minutes to prepare the report, however, if you have plenty of data (i. e. hundreds of items) to export, the whole process may take more time, up to several hours. So, it's probably better to schedule the report preparation if you need to export a large amount of data from Shopify.

Download Shopify Data Report
When the status changes to "Ready," it means that the file is ready and you can download it by clicking on the Download action.
Alternatively, you can download an export file from the Export history menu which contains links to your current and previously generated exports.

So, as you see, the whole process is quite easy, it, basically, takes only 3 steps.
Exportier Data Export Benefits
When working with Exportier — Data Export, we have also noticed a couple of other useful features that may tremendously simplify the life of the business owners.
1. Variety Of Available Reports
Due to a big number of filtering options, Exportier — Data Export allows you to export any reports from Shopify, be it sales reports, finance reports, including tax reports, payout reports, inventory reports, or orders fulfillments reports as easily as ABC.
2. Ready Report Templates
If you need repeated data exports, you can create your own report templates or use the existing ones. The ready templates were developed by the industry experts and include the best e-commerce practice for data analytics.
To create a new report with a template, you need to click the Create report button on the template of your choice. It is possible to configure the template according to your business needs.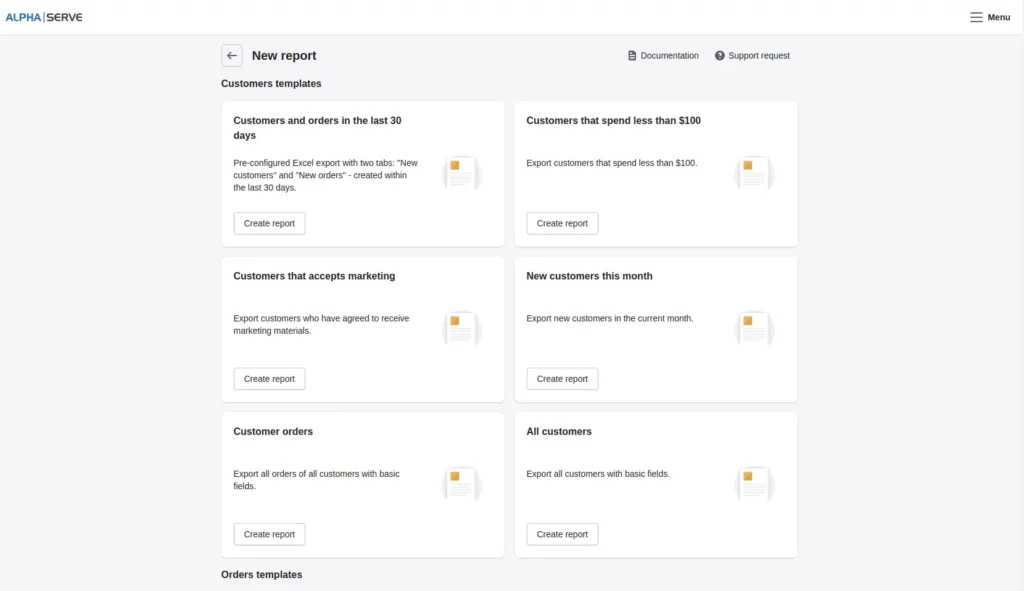 3. Google Drive And FTP Support 
The app also has Google Drive integration, which means you can upload your Shopify reports to your Google Drive storage and access them whenever and wherever you want. In the same way, you can upload Shopify reports to the FTP server. Both functions may be enabled by configuring Google Drive and FTP integrations in the app's storage settings.
4. Scheduled Data Export
With Exportier — Data Export it is also possible to schedule your export and set the time and date parameters for data preparation. You can schedule periodical data export for any of your reports by selecting the needed start time and recurrent period. The scheduler allows receiving reports on a daily, weekly, or monthly basis.
5. Email Notifications 
If you need to take any actions when the report is ready, you can choose to get an email notification. They are enabled by default, however, you can switch it on and off when adding a new report or at any suitable time in the Email notification section on the right side of the Export screen. It is also possible to send notifications to an email address that differs from the default one.
Final Words
It is a known fact that to achieve retail success, be more competitive, and grow, a company has to be more data-centric. This may not happen if you rely on guesswork rather than on your store data and sales analytics. Data systematization and processing gives you a chance to make more balanced decisions and, as a result, build trust and credibility among customers and finally get higher profits.
Shopify is a platform of choice for many retailers and smaller companies, however, the platform has very limited in-build exporting features, which makes it difficult to segment the data and work with a large number of items.
Therefore, to make the best use of it, we recommend using third-party applications. They will help manage your items during the export in a way most appropriate for further processing and provide many filtering options to give you even more control over your reports. There are plenty of such tools available in the Shopify App Store, which means that every store owner can find the one that best suits his/her business needs.
Have any thoughts on this? Let us know down below in the comments or carry the discussion over to our Twitter or Facebook.
Editors' Recommendations: