FedEx joins the delivery robot game with its SameDay bot
Handle my package.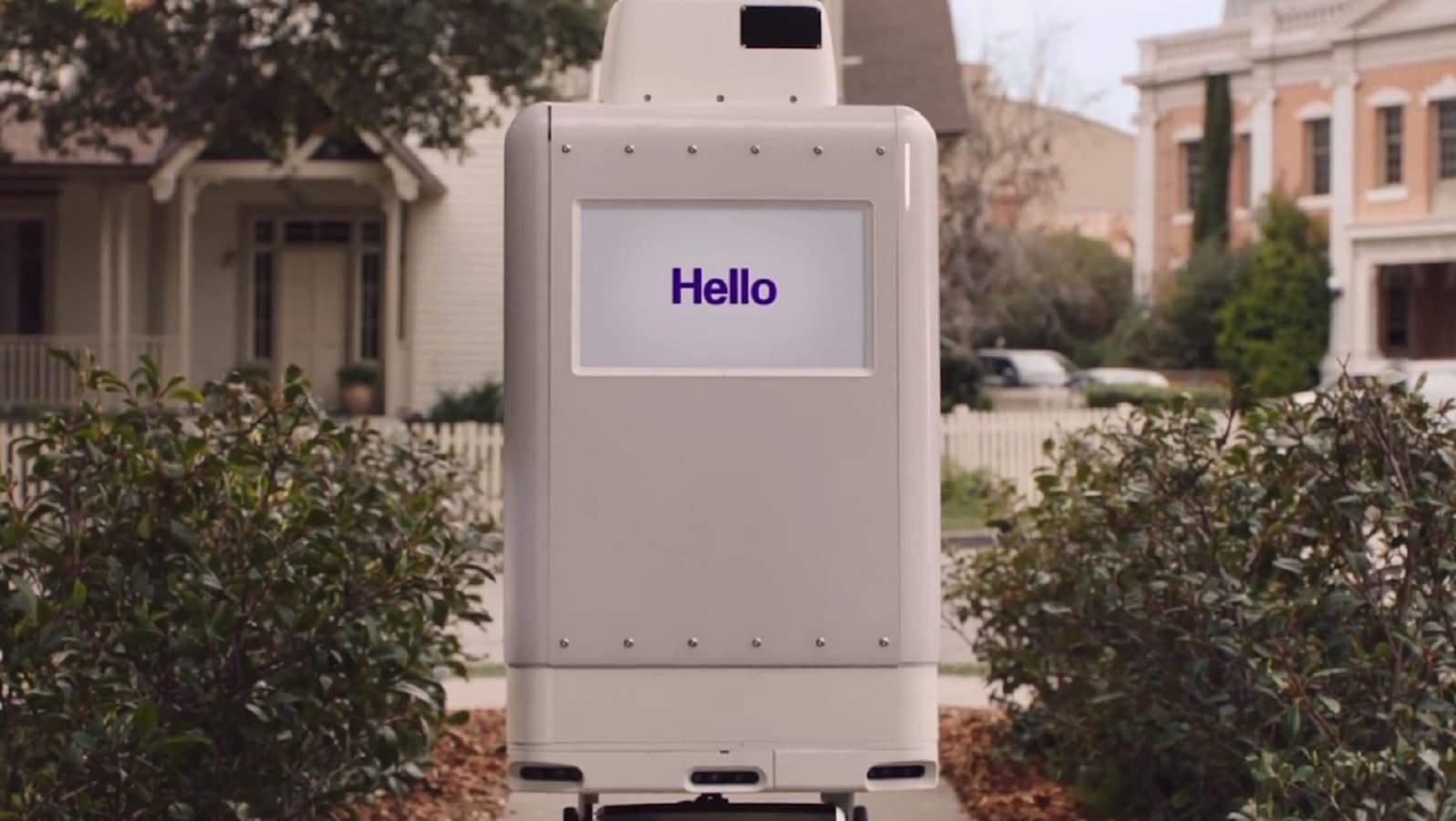 Robotic delivery is something the populace is not going to be able to escape. Robots will soon be showing up on our doorsteps instead of sweaty humans. It's inevitable as we move into the future of expedited delivery. We want things and we want them now goddammit. Which is why FedEx will be testing its SameDay Bot this summer.
FedEx is just following a trend here, but is kind of late to the delivery robot game. Amazon delivery robots, Alibaba delivery robots, PepsiCo college campus delivery robots (most likely filled with keg beer and used condoms at this point) and even Kroger grocery delivery robots are already things that exist. The delivery robot war is in full swing.
If you can even call it that. Delivery robots are a novel idea, but just like autonomous cars, the infrastructure just doesn't exist to support these devices. Sure, they'll work great on college campuses and nice, rich neighborhoods with clean sidewalks and doorbells that work, but in the rest of the world? Will a FedEx robot climb stairs? Will it navigate the pit bulls chained in the front yard behind that boat skeleton and a chain link fence?
Let's forget all that. Let's pretend that we live in a perfectly designed world that would support delivery robots. FedEx is partnering with companies like AutoZone, Lowe's, Pizza Hut, Target, Walgreens and Walmart to deliver items same-day within a short radius. Because that's how lazy Americans are, that we need a robot to deliver our crap instead of driving two miles to the freaking store. Walgreens even implied that the SameDay bot could deliver prescriptions. That sounds totally safe. Nothing will go wrong there.
Currently, these robots are nothing but a novelty
The FedEx SameDay bot is loaded with LIDAR and zero-emission tech and blah blah blah. Companies love to hype all the cool tech that is built into their delivery robots, and it is cool tech, but it also doesn't matter. These robots are, for now, a novelty. Nothing proves that more than introducing your robot on The Tonight Show. Jimmy Fallon's child-like amazement at these things is a prime example of the novelty of them versus the practicality of them. We live in a world in which our laziness is reason enough for a SameDay delivery robot to exist, but our kiddy pool full of beer cans in the middle of the driveway is reason enough why we don't deserve them.
Meanwhile, there's been little update from UPS on its own drone delivery tests, which make a little more sense than putting a delivery robot on the ground. Regardless, delivery drivers most likely will take issue with being replaced by a robot that will be vandalized, stolen, and harassed by raccoons. Hell, scooters can't even be counted on to work consistently, and you want to rely on a robot to deliver your packages because you can't lift your ass off the couch to go three miles to Walmart?
Clearly, I am not bullish on the success of delivery robots. I've been on the streets. The only robot that would successfully navigate my block is the ED-209 and even that might get stuck in one of the many potholes, then be stripped for parts. The FedEx SameDay bot is cute and speaks to an on-demand future that is still very much in the future. A delivery utopia will only exist and function in an actual utopia that includes clean sidewalks, fewer assholes walking on them and people actually home to receive FedEx packages.
What do you think? Should companies be putting effort into delivery robots right now? Let us know down below in the comments or carry the discussion over to our Twitter or Facebook.
Editors' Recommendations:
Follow us on Flipboard, Google News, or Apple News