FPPT.com: Free multi-purpose PowerPoint templates for presentations
It helps to have a firm foothold when it comes to tackling something as important and unnerving as a presentation. This is where FPPT PowerPoint templates come into play.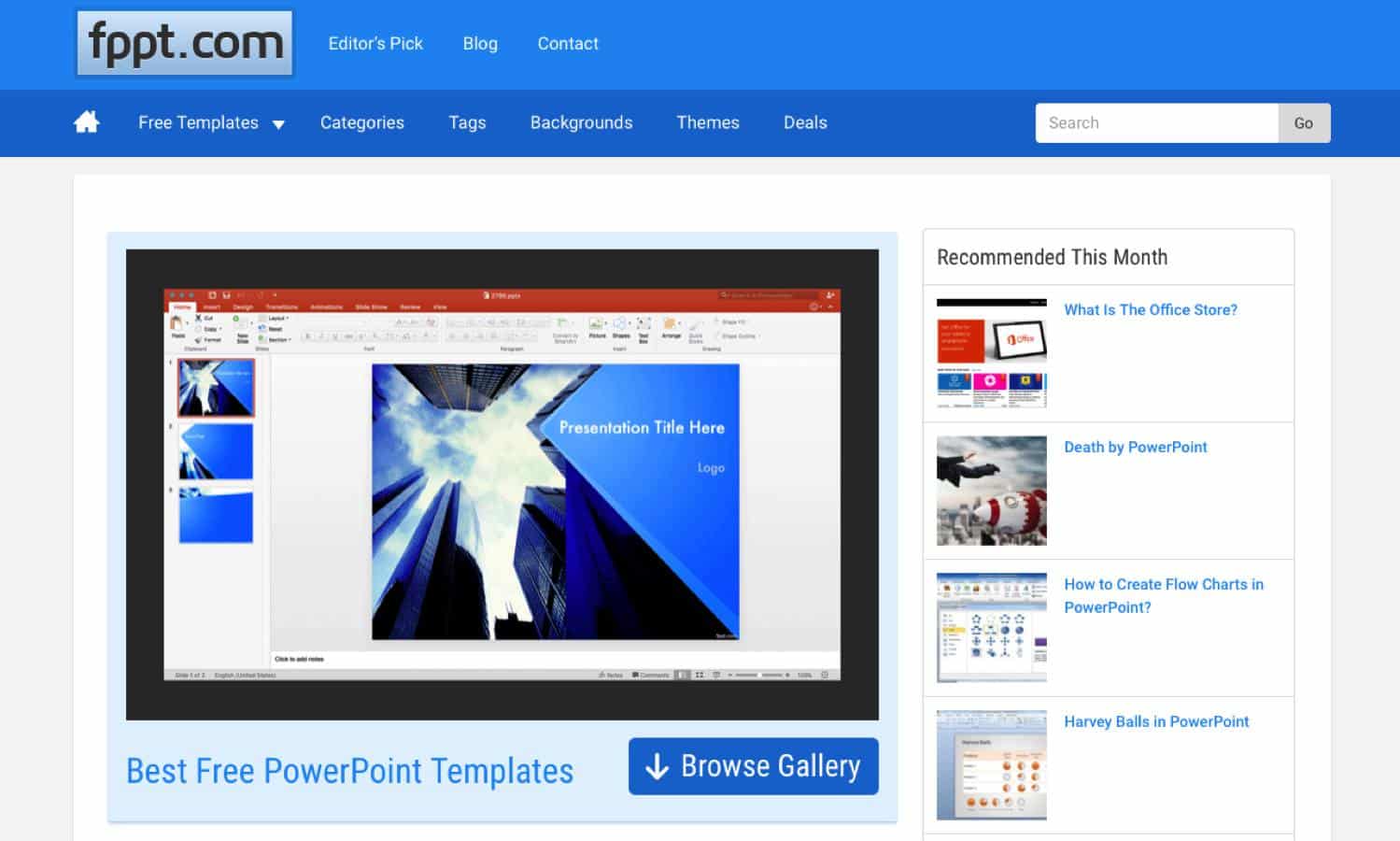 Staring at a blank slide can be daunting. How do you start creating a presentation, much more something that your audience would really pay attention to and learn from.
We've all had those moments, and each time we try to put a slideshow together, we all dread that time when it could easily turn into death by PowerPoint. After all, for many, this seems to be a problem—creating gaudy, too-vibrant presentations that are more like dizzying visual explosions than informative, worthwhile pieces.
This said it helps to have a firm foothold when it comes to tackling something as important and unnerving as a presentation. And that's exactly why there's Free PowerPoint Templates (FPPT).
Your Firm Foothold for Jumpstarting a Winning Presentation
It's hard to start a presentation from scratch. Like a writer with writer's block, presenters can tend to zone out when faced with a blank slide. Having a trusted template to help move things along can greatly help inspire and kickstart the presentation in the right direction.
And this is how Free PowerPoint Templates has helped many professional and amateur presenters. The portal offers over ten thousand free presentation templates that are high-quality, versatile, and fully customizable.
Unlike creating presentations from scratch, which can take up a lot of time and energy, having a template handy cuts the time it takes to create a slideshow and get your presentations ready in less time. You also have more energy and brain power to concentrate on other things, things that matter, such as the content or practicing your speech, securing your venue, or even growing your business. The point is, having reliable templates such as those offered by FPPT allows you less time on your desk and more time actually making things happen.
Thousands of Professional Templates at Your Fingertips
As a leading portal for all things presentation, FPPT has grown its collection to thousands of presentation templates & free PowerPoint backgrounds specially created for PowerPoint. Since PowerPoint, the pioneer in presentation technology, is still the most widely used presentation tool across all fields, you can make the most of your own slideshow with FPPT.
The templates are all designed by professionals, with high-quality images and thoughtful designs that will definitely make your deck a standout among the sea of homogenous presentations. Whatever your topic or theme is, FPPT can provide you with many options to make sure you get the perfect template for your need.
It's easy to sort through the thousands of resources in its vast library. You can search for your desired template by clicking on any of the hundreds of categories. You can also narrow down your search by clicking on a theme color that you like. You can also simply type into the search bar your keyword to make the search more customized. Whatever you do, you can be sure that you will have no lack of options.
From business plans to financial reports, history month presentations to sales pitches, FPPT has everything you may ever need for your presentations, and more.
Aside from templates FPPT also offers slide layouts, effects, animations, charts, and many other resources that you just can't find or think of creating on your own using PowerPoint's built-in templates and objects. The FPPT presentation templates are all created specifically for Microsoft PowerPoint, so you can make the most of the program and still come up with creative presentations that can really impress your audience. And even if you have earlier PowerPoint versions, the templates also have backward compatibility.
From the title slide to the inside slide layouts, you can see that the FPPT templates leave no detail untouched. The templates are well crafted so that the title slide is eye-catching and the inside slides reflect the same theme for a more cohesive look. There are also layouts for inserting comparisons, as well as for the optimal display of charts, graphs, images, and even video or sound clips. Thus, you can easily create a seamless presentation slide after slide, while using the best media for conveying your information. As a result, you have a better chance of creating presentations that are brief, expressive, and therefore effecting in capturing the interest of your audience long enough for them to get your message.
If you care about the fact that templates are free, there are many other presentation templates providers out there, like SlideModel, one of the top providers of premium presentation templates.
Get Free Templates & PowerPoint Themes
What's even more amazing with FPPT is that, unlike other portals, FPPT templates are all free. After all, that's what the site really stands for.
Therefore, you don't have to sign up for a fee, pay for a specific number of downloads, or get freemium-quality slides only. You get the best slide templates without any obligation. You can also download as many templates as you need to build yourself a go-to library of presentation templates that you can easily whip out and use especially when you're offline.
Besides, being busy and on the road is not really a hindrance now, with PowerPoint's cloud features. By using FPPT templates, you can still use PowerPoint and Office 365 without any hassle. You can still save your work on the cloud or easily share with your team for a more collaborative experience. You can also share your finished presentation online or embed it in your website.