GetAFollower Review: Is it scam or legit?
Find out whether GetAFollower is still the best source for social signals on the web in my updated GetAFollower review for 2022.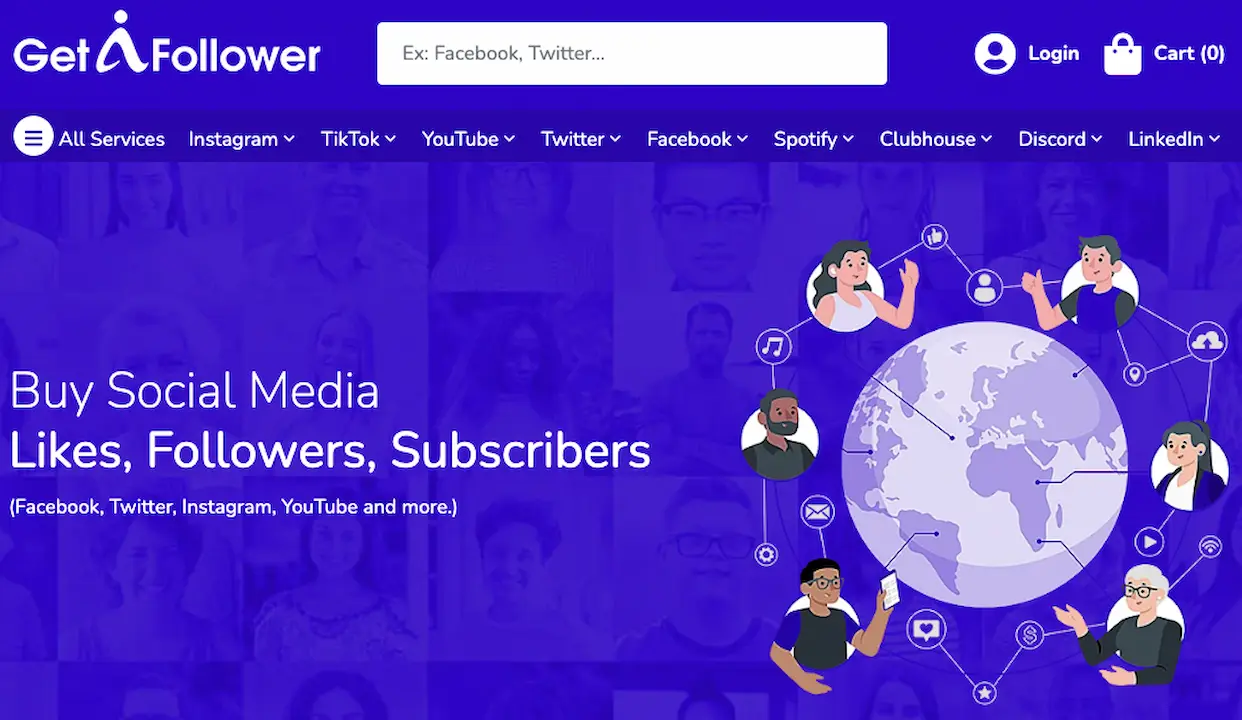 After over a decade in business, GetAFollower is still going as strong as ever. But how do their products and services stack up to today's high standards? That's what I set out to discover in my all-new GetAFollower review for 2023.
I've bought enough social proof in my time to separate the good stuff from the garbage. Sadly, many (if not most) social media marketing agencies fall firmly within the latter bracket.
GetAFollower claims to be one of the few genuine exceptions, but is this really the case?
The GetAFollower website lists a huge range of products and services, covering almost every social network you can think of. Their claims of authenticity are pretty reassuring, and their 30-day money-back guarantee makes them a fairly safe bet.
So far, so good, at least as far as first impressions go.
But are their social media growth products effective, and what does the consensus say about the company's performance?
Who Are GetAFollower?
Established in 2011, GetAFollower is a veteran digital marketing agency with an established track record.
They offer a huge range of products and services to support the social media marketing strategies of businesses and private customers worldwide.
GetAFollower is in the business of selling social proof, which can be great for adding appeal and authority to your output.
I've bought social proof a bunch of times over the years to boost my company's Twitter account, and it can work wonders when the quality is up to scratch.
How Does GetAFollower Work?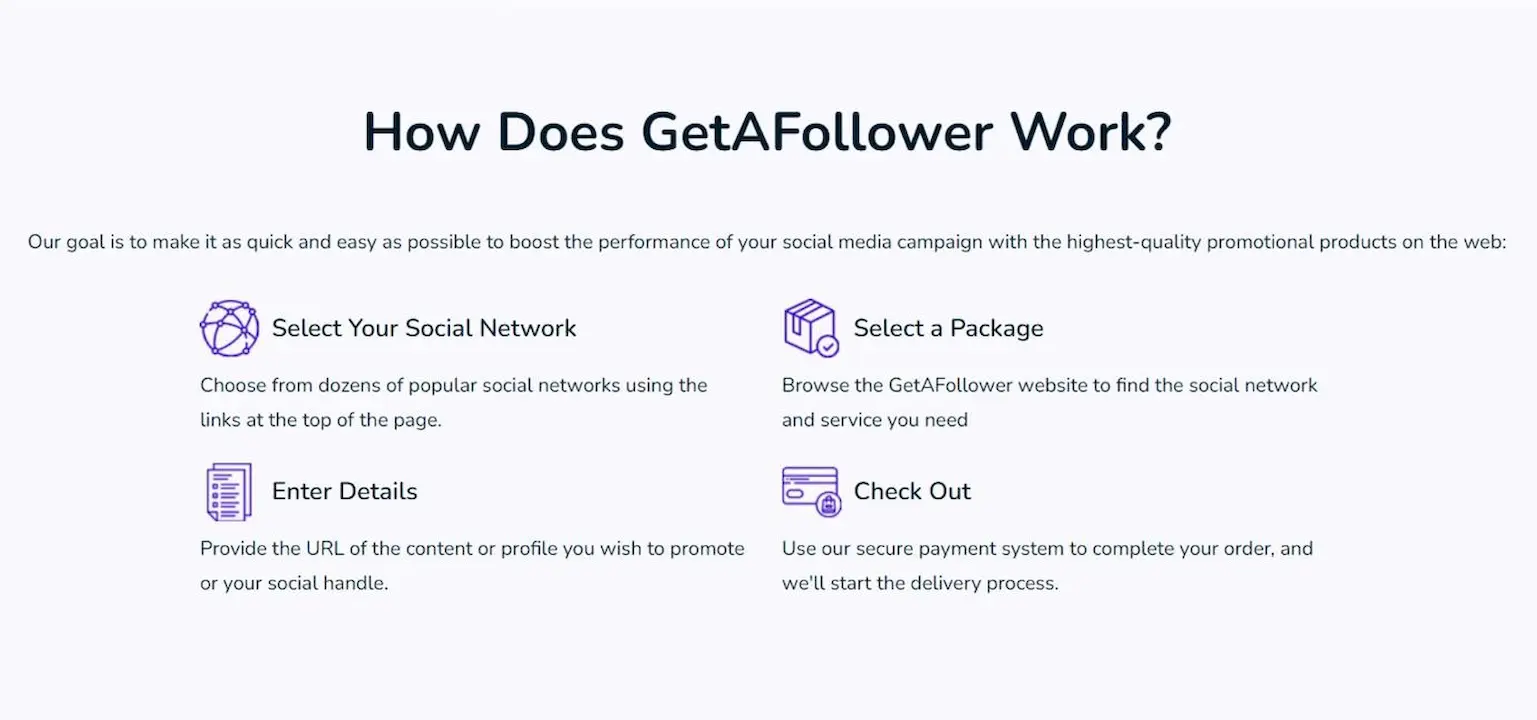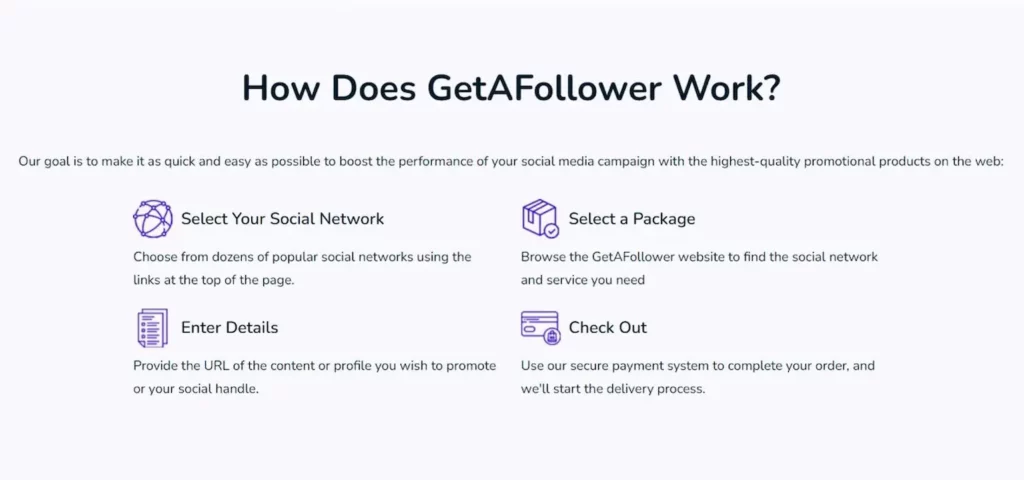 I don't see how GetAFollower could make the purchase process any more straightforward than it already is:
You select your social network at the top of the screen or from the full list of options in the menu to the left.
You choose the exact service you want to buy from a range of options like Followers, Likes, Comments, Downloads, and so on.
You specify the quantity you would like to purchase and the specific geographic region from which the products will be sourced.
You complete the secure payment process, and GetAFollower gets to work delivering your order.
All the while, reassured by claims that the company offers nothing but 100% authentic social proof from real people. When I mentioned drawing lines between the good stuff and the garbage earlier, authenticity is what matters.
Features of GetAFollower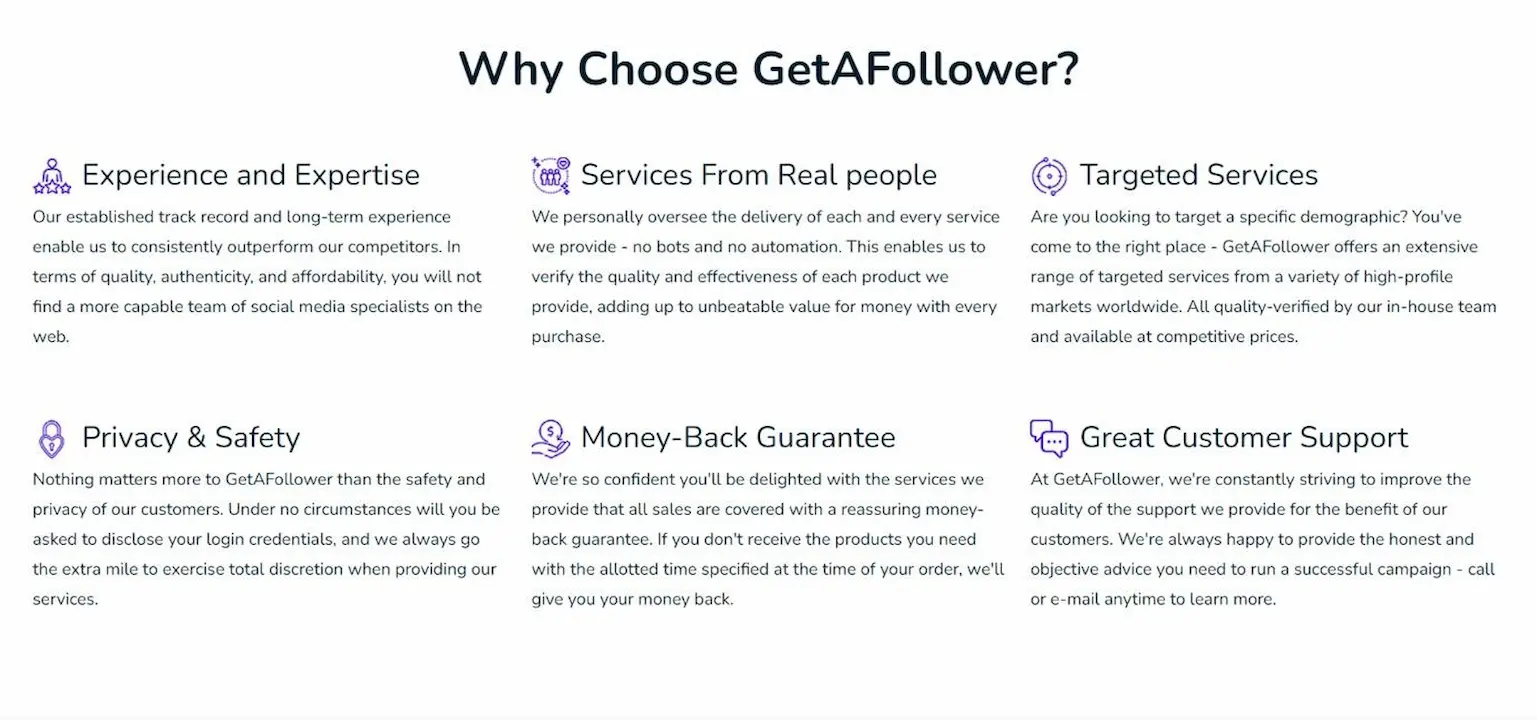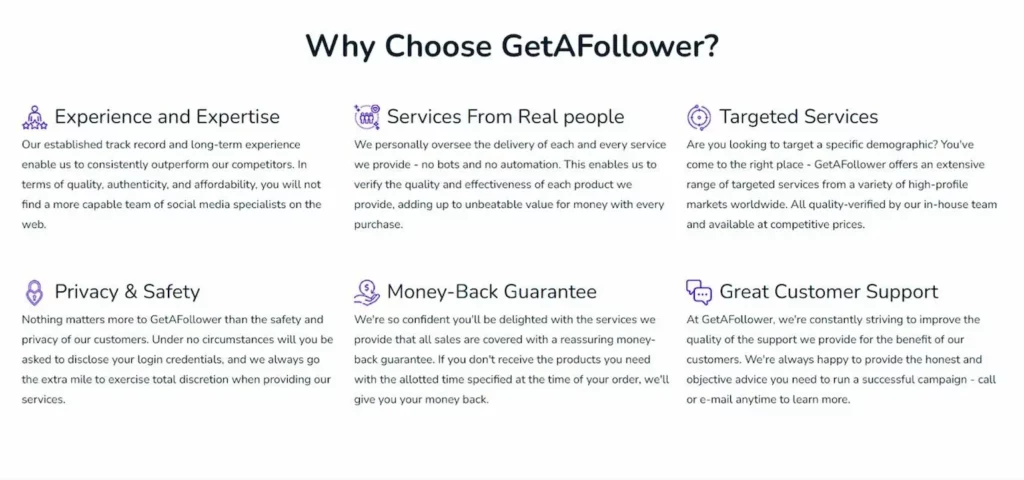 Taking a close look at what matters most, I came to the following conclusions regarding GetAFollower's main points of appeal:
Experience
The fact that they have more than a decade's industry experience is (to me at least) a big deal. This is a sector loaded with new and sketchy amateurs with no clue what they're doing – GetAFollower is quite the opposite.
Services from Real People
High-quality social proof from real people is hard to come by. GetAFollower claims to source every product from an active and authentic social media account, making their social proof as safe and effective as the real thing.
Geo-Targeted
I was also impressed by how many specific regions you can order social signals from at GetAFollower. They support dozens of different geo-targeted markets – everywhere from the United States to the Middle East and more.
Drip Feeding Delivery
GetAFollower promises a prompt turnaround time but never stakes a claim to offer instant delivery.
Trust me when I tell you that an overly-fast delivery time is actually worse than gradual delivery – the latter being the only way to avoid triggering a platform's spam filters.
Retention Warranty
Every purchase at GetAFollower is covered by the same 60-day initial retention warranty, during which any losses will be replenished by the company for free.
I checked a bunch of other sellers, and I'm pretty sure this is the longest retention warranty you'll be offered by anyone.
Money-Back Guarantee
Likewise, there's also a 30-day money-back guarantee included with every order. GetAFollower states outright that if they fail to deliver a customer's products and services as agreed, they'll give them their money back.
Secure Website
No complaints regarding the security of the website – nor did I find any issues flagged by other customers. Information is encrypted end-to-end to ensure safe and secure payments, which is always important.
Privacy
I'd personally advise checking out the GetAFollower privacy policy yourself for full details on their data collection, storage, and usage protocols. But from what I can see, this is a company that takes privacy, discretion, and anonymity seriously.
Quality Customer Support
You can't currently contact the GetAFollower customer support team by phone, which is a shame.
That said, they have a very responsive live chat facility on their website, and you really can't fault the professionalism or friendliness of their reps – all first-rate.
Multiple Payment Methods Accepted
Most popular payment methods are accepted by GetAFollower, including all major credit cards, debit cards, and online wallets.
They're also one of just a few sellers I've come across to support cryptocurrency payments if you plan on buying with bitcoin.
Reassuring Reviews
Shy of the occasional disgruntled customer, the vast majority of GetAFollower reviews doing the rounds online seem solid enough.
They've established a good track record over the past decade, and they have a higher rating than most comparable services on Trustpilot.
Transparent Pricing
I also like how GetAFollower doesn't make you jump through hoops to find out how much their products cost.
Just as soon as you select the quantity of the products you want to buy, the final price is right there – all with the guarantee of no hidden fees or extras.
Is GetAFollower Safe for Buying Social Media Services?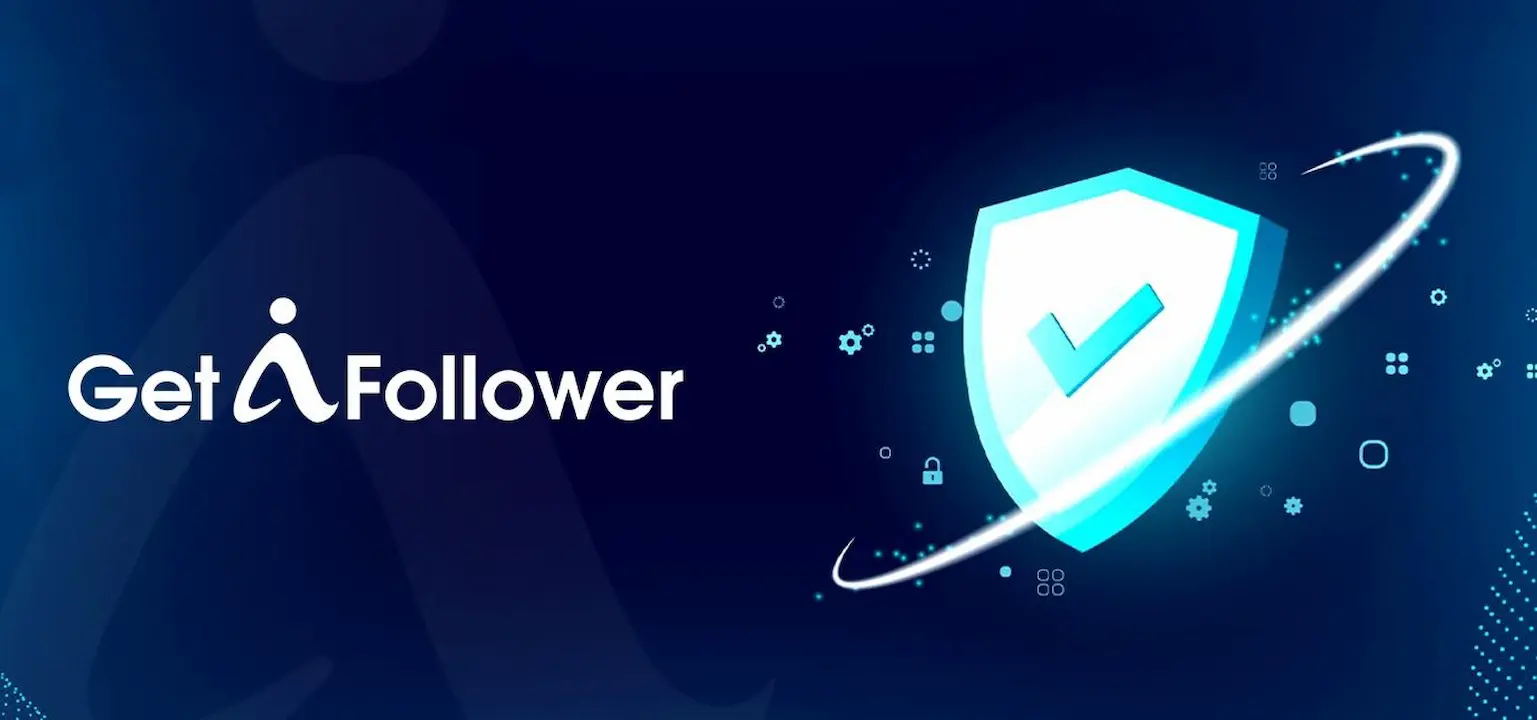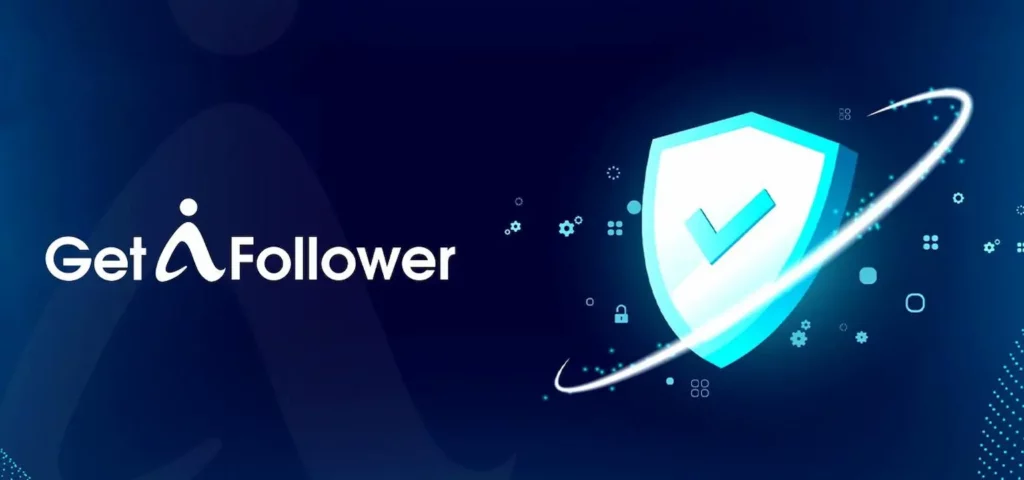 I would say that GetAFollower is just about as safe as a social media growth company can get. The fact that they're committed to 100% authentic social signals eliminates most of the usual risks from the equation.
Real social proof from real people is identical in principle to organic social proof. If it's added to your posts and/or your profile in the normal way, it's safe – and that's exactly what GetAFollower does.
In addition, the fact that they use a drip-feed delivery system is a big deal.
The last thing you want is for thousand of followers or likes to be dumped onto your account in a matter of minutes. Suspiciously fast delivery is a recipe for disaster and could result in your account being flagged for spam.
Is GetAFollower Legit?
GetAFollower is legit for the simple reason that they put their money where their mouth is. The fact that all sales are covered by a refund guarantee speaks volumes for their confidence.
If things don't pan out as planned, you can request a refund of the full initial purchase price.
I was also impressed to see how many helpful articles, tutorials, and FAQs the GetAFollower website is loaded with. Importantly, they don't make any misleading claims about the potential benefits of the products they sell.
They tell it like it is, making it clear that buying social proof doesn't guarantee overnight fame and fortune. It is definitely reassuring in a sector where misleading marketing is rife.
Packages and Pricing
My first thought about the prices at GetAFollower was that there were (surely) too good to be true.
Upon closer inspection, the prices quoted on the website are indeed the prices you pay – no additional fees or charges whatsoever.
Here are a few examples of what I saw during my review which caught my eye:
Products and services for Instagram extend to authentic Followers, Views, Likes, Impressions, Saves, Comments, Story Poll Votes, and so on.
The price you pay will be determined by how many you order – bulk quantities = big savings. Either way, with prices as low as just $8.00 for authentic Instagram followers, you couldn't ask for better value for money.
GetAFollower's catalog of promotional products for TikTok was recently expanded and now includes authentic TikTok Followers, Views, Likes, Comments, and more.
Their followers for TikTok profiles are particularly popular, available from a long list of targeted markets worldwide and starting from just $5.00 for 100 authentic follows.
GetAFollower is the place to head to get your YouTube channel in order or to fulfill the platform's requirements for channel monetization.
Likes, Views, Shares, Comments, Subscribers, Watch Time Hours, and so much more are all up for grabs at the touch of a button.
Targeted YouTube subscribers at GetAFollower represent particularly outstanding value for money – 50 subscribers starting from just $10.00.
It's a similar story with Twitter, for which you can buy Followers, Likes, Comments, Retweets, Comment Replies, Views, and so much more. All sourced from active and authentic accounts, delivered gradually to maintain authenticity.
Put GetAFollower to the test with an order for 1,000 Twitter likes, and you'll be looking at a price of no more than $10.00.
The list of promotional products and services for Facebook is practically endless – Page Likes, Post Likes, Photo Likes, Comments, Site Likes, Page and Profile Followers, Video Views, Business Reviews, Group Members, Shares, Event Attendees, Reactions, and so on.
Facebook likes to start from as little as $2.00, while authentic followers can be bought for less than $5.00 and business reviews for $10.00 or less.
Final Verdict: GetAFollower Review
You have to dig pretty deep to find anything to complain about at GetAFollower.
On the one hand, you could say that yes – buying social proof isn't quite the same as earning it organically. You can buy all the followers you like, but most of them are unlikely to interact with you or your content.
But this isn't what buying social proof is all about – and nor does GetAFollower give the impression it is.
Instead, buying social proof is all about injecting credibility and appeal into your output. It can also be pure gold for influencing the algorithm of almost any major social network.
If this is your goal, I can highly recommend GetAFollower and its full portfolio of products. In terms of quality, safety, effectiveness, and affordability, no complaints from me whatsoever.
Telephone customer support would be nice, but this isn't a big deal when considering everything else GetAFollower brings to the table.
Frequently Asked Questions
1) Does GetAFollower Offer the Best Prices in the Industry?
GetAFollower doesn't claim to offer the lowest prices in the industry, instead of focusing on quality and authenticity. Even so, their products and packages start from as little as $2.00, and so couldn't get much cheaper.
2) Do they Request Any Sensitive Data for Buying the Services?
The only data you need to provide is the normal information needed to process your payment. No social media passwords or log-in credentials are requested – just the URL of the post or page you are looking to promote.
3) How Will My Payment Date Handled?
Privacy and security are top priorities at GetAFollower – check out their official privacy policy for more information.
4) Are their Likes, Followers, Views, Comments, etc. Stable?
GetAFollower provides real social signals from active and authentic accounts, ensuring maximum safety and stability.
For added reassurance, all sales are covered by an initial 60-day retention warranty, covering customers against potential losses.
Have any thoughts on this? Let us know down below in the comments or carry the discussion over to our Twitter or Facebook.
Editors' Recommendations:
5 of the best Instagram captions to make your posts more engaging
Why buying YouTube subscribers is important for gaming sites