Handy apps and gadgets for the visually impaired
Visually impaired individuals have a more difficult time working out, but these gadgets and apps are designed to cater to their unique needs.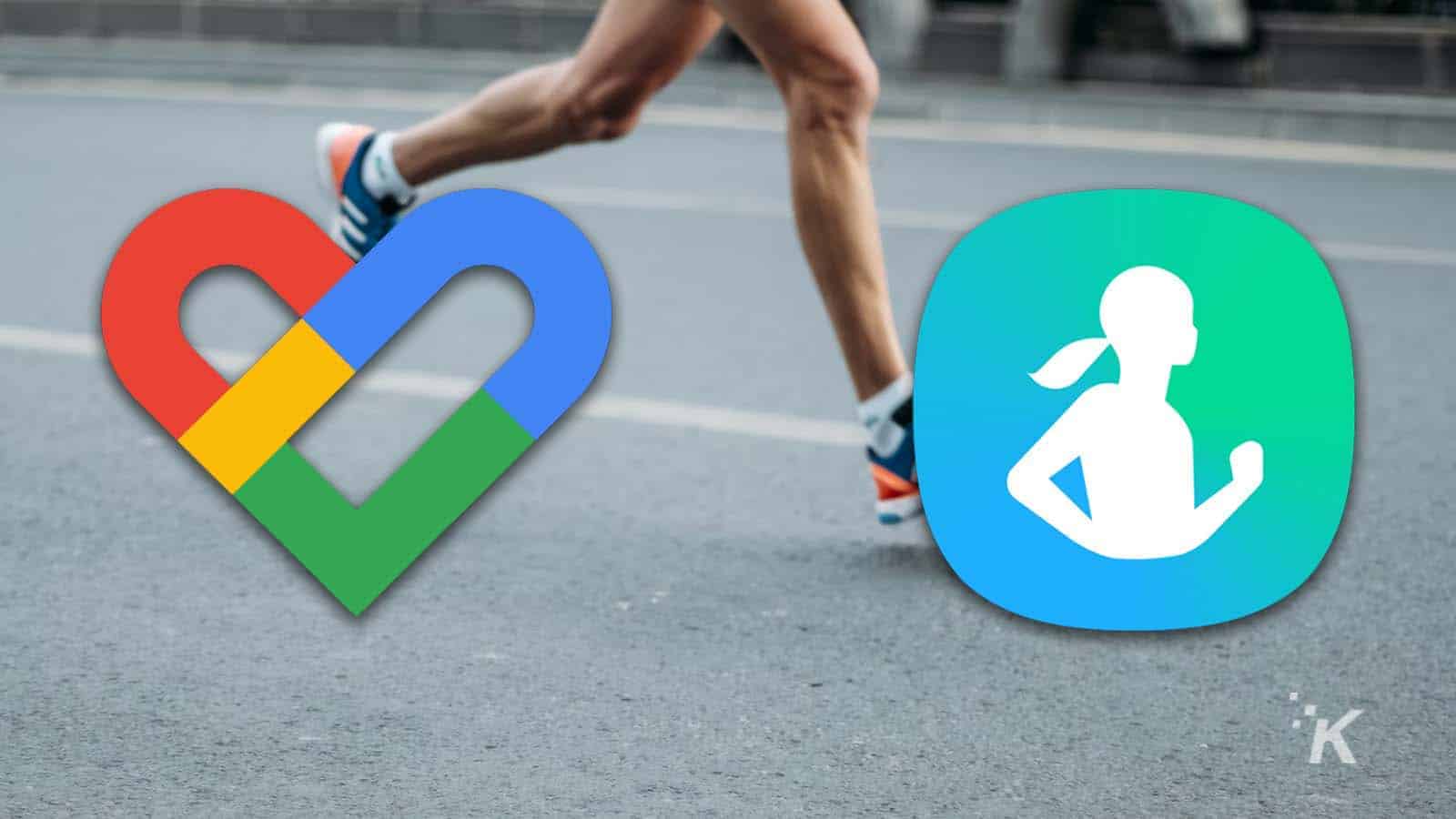 Fitness apps and gadgets are incredible for sighted people. They can track your fitness level, help you stay on track with diet and nutrition, connect you to communities of other users, and more.
The new wave of fitness wearables and apps are incredibly empowering for people with disabilities, especially those who are blind or low-vision.
The dedicated smartphone apps top the list of accessibility options since they can be made usable by screen readers, allowing blind users to navigate the menus and input their data.
As technology becomes more accessible to people with disabilities, there's been increased interest in creating health and fitness apps, wearables, and other products that are accessible to all.
Addressing these issues is important so that people with all abilities can have access to the same opportunities for staying healthy and active.
However, given the wide variety of disabilities out there that impact users' abilities to interact with technology independently.
It's vital for companies making health tech to understand how their products could be used by people with different types of disabilities.
Gadgets like smartwatches are great for people with vision impairments because they provide an alternative form of interaction that might otherwise be unavailable to them.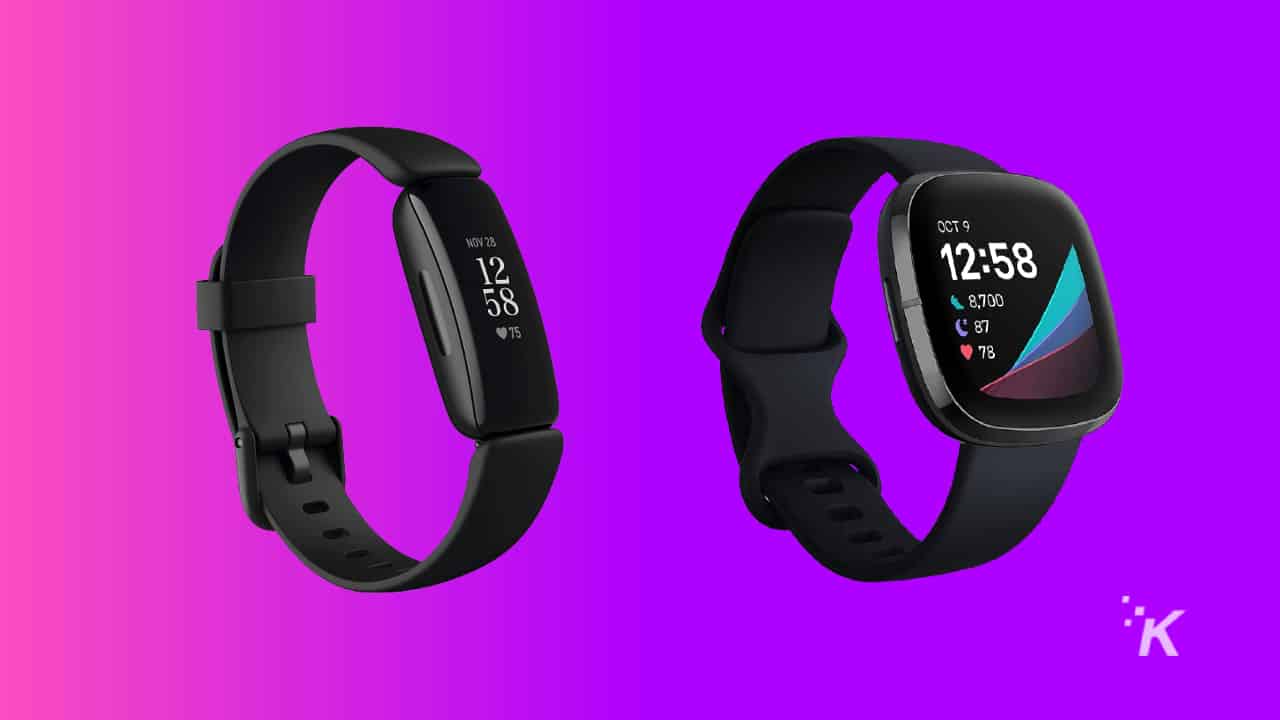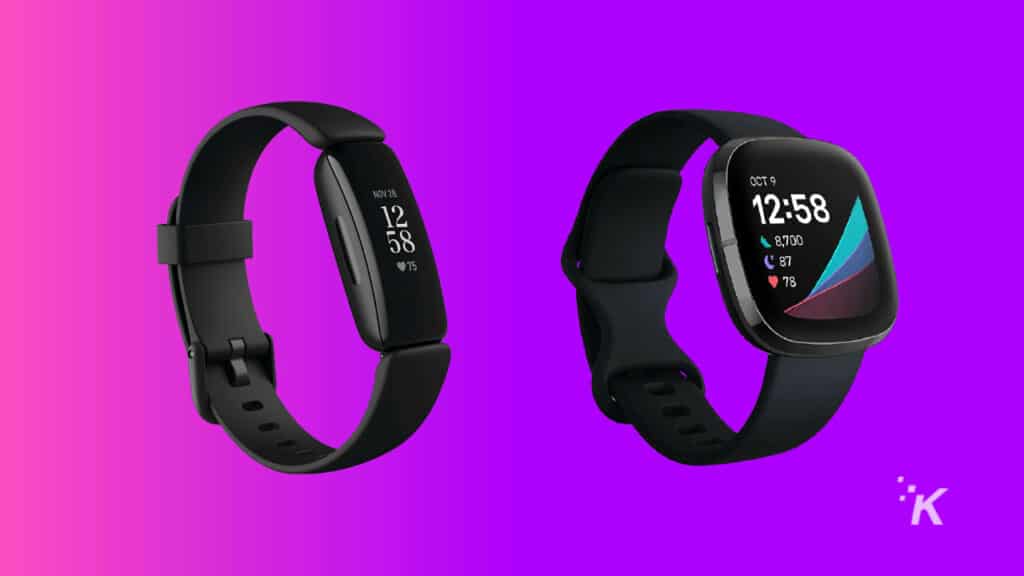 Unlike smartphones and computers where you have access to a screen reader or braille display. Some smartwatches don't have those built-in accessibility features.
But if you pair a smartwatch with your phone's voice assistant app (such as Amazon Alexa or Google Assistant) you can still use your watch without having to rely on visual cues.
However, a great deal of these fitness applications is not accessible to blind people. Some are even built in a way that makes them impossible for blind people to use at all.
As the blind community continues to grow in size and technology becomes more affordable, we're seeing more and more health apps pop up that are made specifically for blind users.
Adaptive technology has always been vital for improving the quality of life for the blind.
Today's products include gadgets such as running guides, outdoor phone trackers, and sports watches with voice control.
Here's a list of some of the best fitness apps available to blind users and how to get started using them.
1. Fitbit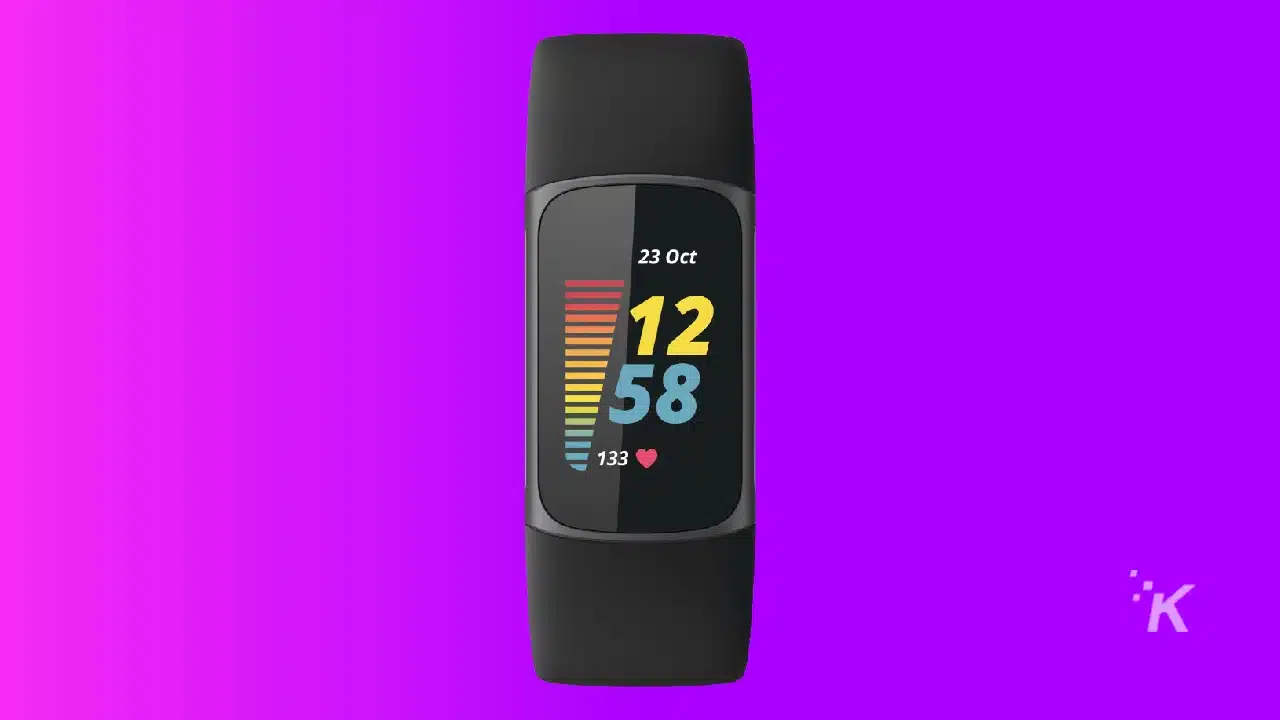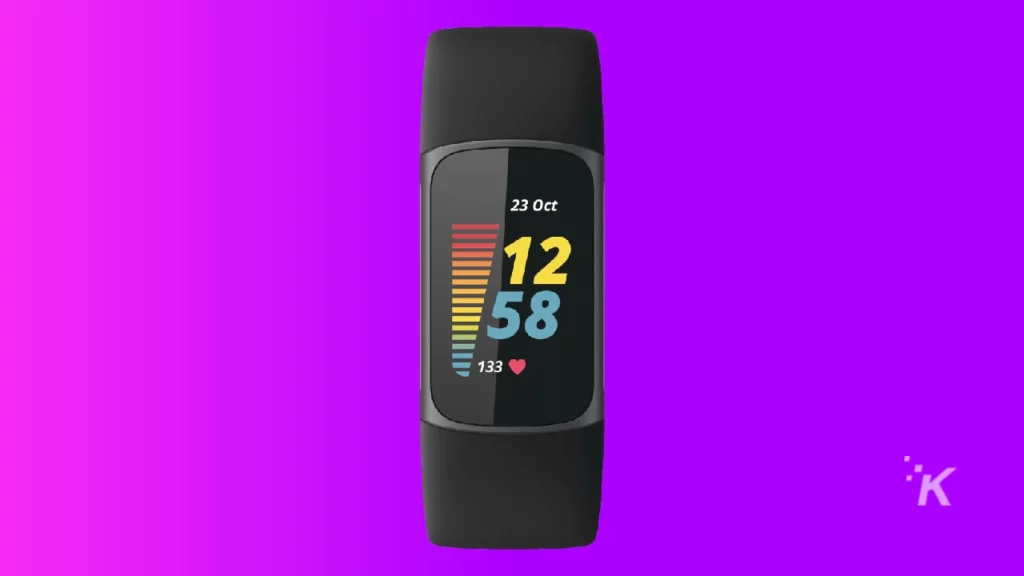 Most modern electronic devices are compatible with accessibility features like screen readers, braille displays, and magnification software.
For example, the best-selling wearable fitness device Fitbit has a built-in braille display and works with many popular screen readers such as JAWS and ZoomText.
The app for iPhone and Android has excellent support for blind users including VoiceOver (for iOS) and TalkBack (for Android).
This app provides step-by-step instructions in case you're trying to use it on your own by yourself. You don't have to be completely blind to benefit from the health tracking services offered by fitness apps and gadgets.
Many of these products are also useful for people who have low vision or are still learning braille. Because they eliminate the need to read traditional exercise equipment that may be difficult to operate without sight.
The GPS-tracker watch also has a built-in Alexa assistant that can read these stats aloud whenever you ask it to. A Fitbit not only tracks these metrics but also allows you to ask Alexa to read them back to you.
This is particularly helpful for those with low vision or no vision at all. They can activate the assistant on the watch by pressing the physical button for 2 seconds on the side of the watch.
To use this feature, simply say "Alexa, ask Fitbit how many steps I've taken today" or "Ask Fitbit how long I slept last night." The answers will be read aloud by Alexa through the Fitbit watch or tracker.
2. Aaptiv: Audio Fitness App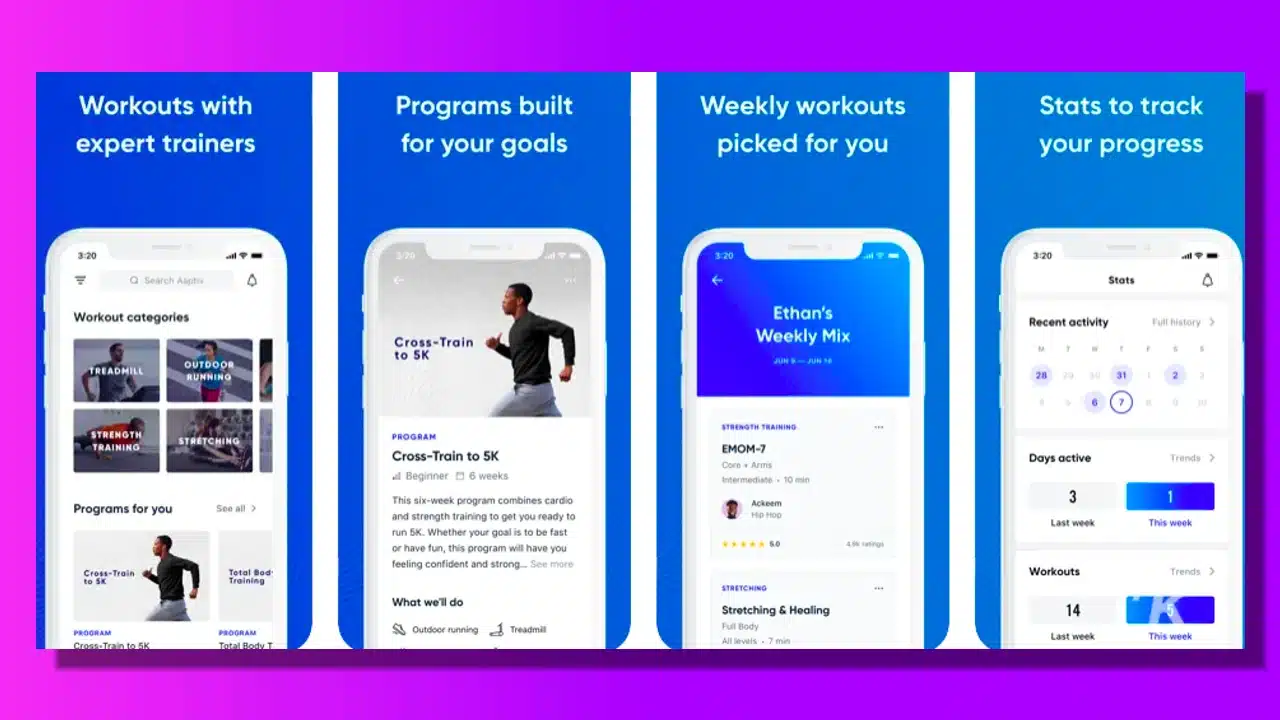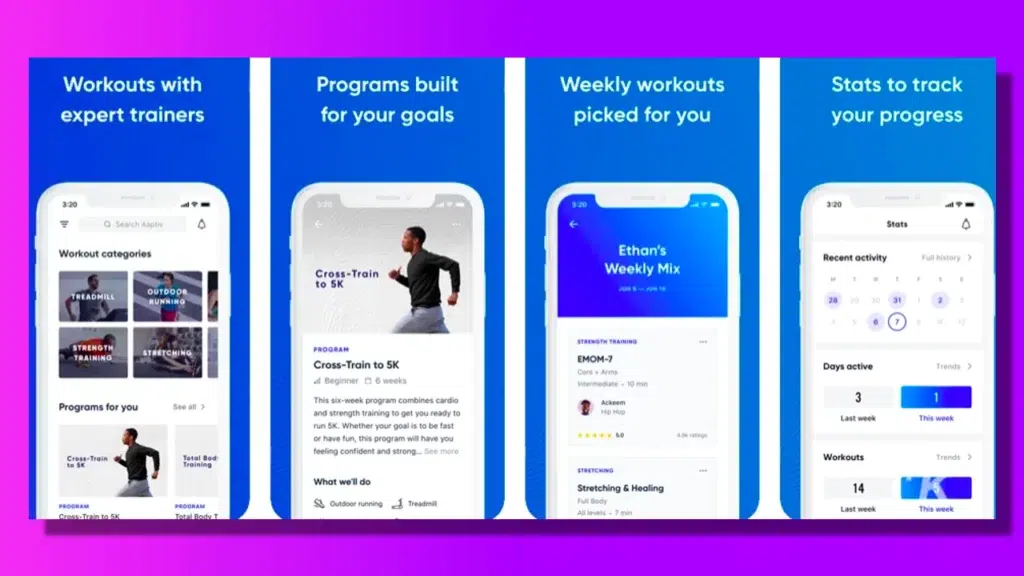 Aaptiv is an innovative, music-driven fitness platform that makes high-quality workout audio accessible to people with varying degrees of sight loss.
It includes individualized programs in many fitness categories: running, strength, cycling, yoga, meditation, and more.
Thanks to user reviews that describe its ease of use and adaptive functionality, Aaptiv is one of the more popular apps for people who are blind or low-vision.
Aaptiv lets you stream and download more than 2,500 trainer-led, music-driven workouts from the convenience of your phone.
With Aaptiv, you can choose from a variety of different workout classes, ranging from 7-minute sessions to full-length training programs.
Aaptiv's workouts combine cardio and strength training while also featuring stretching and stretching exercises to improve flexibility.
There is a huge variety of different classes and playlists to choose from, and whether you're a beginner or a marathon runner, there are options available for everyone.
For the many apps in this list that help users create healthier lives for themselves. Aaptiv is one more fantastic app to add to their roster.
The biggest difficulty facing blind people who want to adopt a fitness regimen remains their lack of sight. Most coaches rely on visual cues to guide new students in the right direction. But how can a blind person create or enjoy an at-home fitness program without seeing it?
Aaptiv is a subscription-based service that features audio podcasts created by fitness professionals and coaches.
These professionals will lead their clients through various workouts with guided instruction. It is accessible enough to still be helpful if you want extra guidance while doing something like pilates or running.
Download the App
3. BlindSquare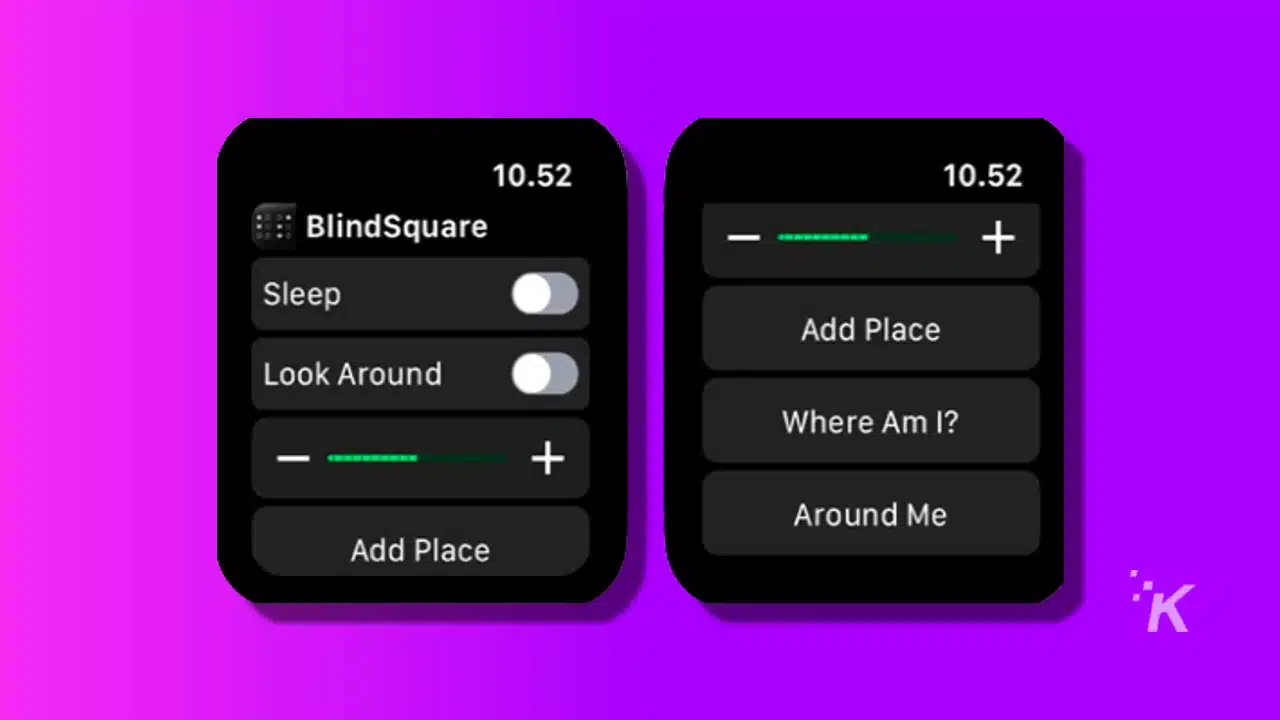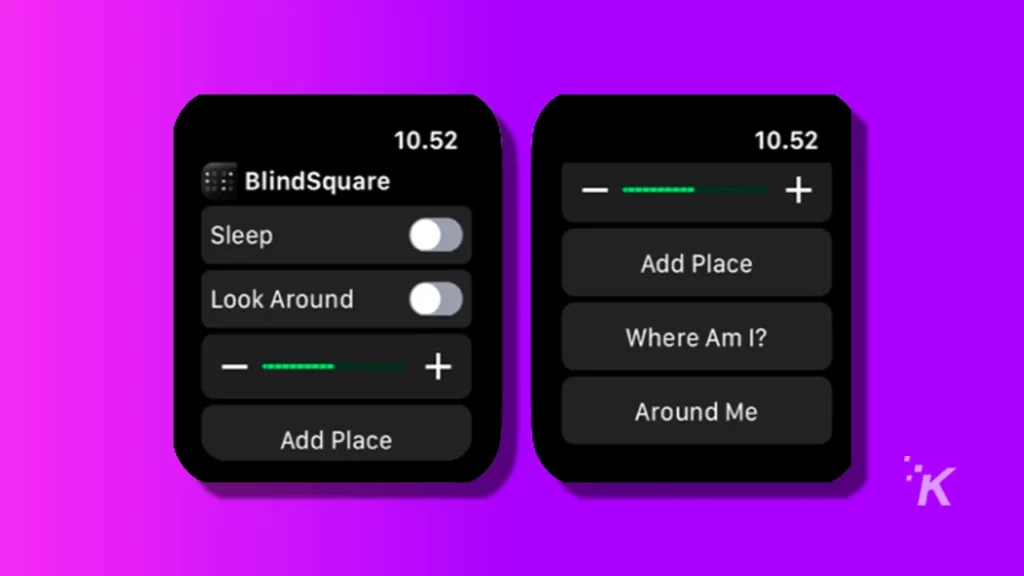 Like most people who are blind or visually impaired know, it can be hard to get around in unfamiliar environments.
In an office building, a shopping mall, or a hotel—all places where you may need to find the restroom or ask how to get to your meeting.
It can be impossible to figure out where you are without walking into a wall or being told by someone who has no business knowing where you're going.
The BlindSquare app for Android and Apple phones solves that problem with GPS and other location-based services.
This is a GPS app that helps you find your way around unfamiliar places by making use of audio cues and text-to-speech technology.
It uses Google Maps and works with voice commands. So, it's easy to use even if you're not familiar with the streets of your city.
It also has a handy feature where it tells you when a crosswalk is coming up, which can be very helpful if you're crossing streets while walking around town.
Analyzing GPS coordinates as well as Wi-Fi signals from nearby cellular towers, BlindSquare can locate you within about 5 meters (16 feet) or less anywhere in the world where there are cellular phone towers or Wi-Fi signals that it can latch onto.
It then gathers information about the surrounding environment from FourSquare—the database in which people around the world give information about their location—and calculates what famous landmarks are closest to your location.
Parents can also use parental control apps with GPS-tracking features to keep an eye on their children's activities.
The application speaks out the information it gathers in an easy-to-understand voice. BlindSquare has some unique algorithms in that only relevant information is given, making it easier for users to adapt to their surroundings.
In addition to its overall accuracy, BlindSquare has a number of other features that make it stand out from similar applications.
It can speak directions in real-time, allowing the user to keep his or her eyes on their path. It also speaks information about businesses in a more human way, giving businesses names rather than GPS coordinates and giving reasonably sized pieces of information instead of long blocks of text.
Download the App: iOS
4. Seeing AI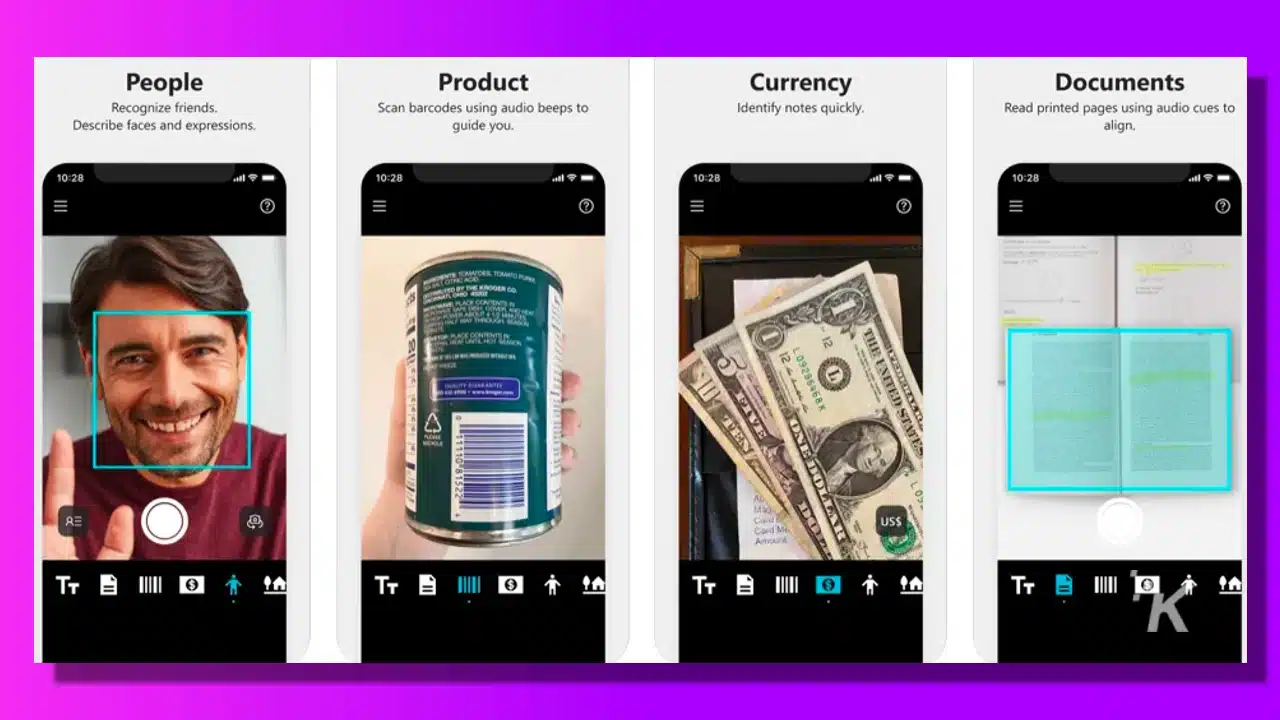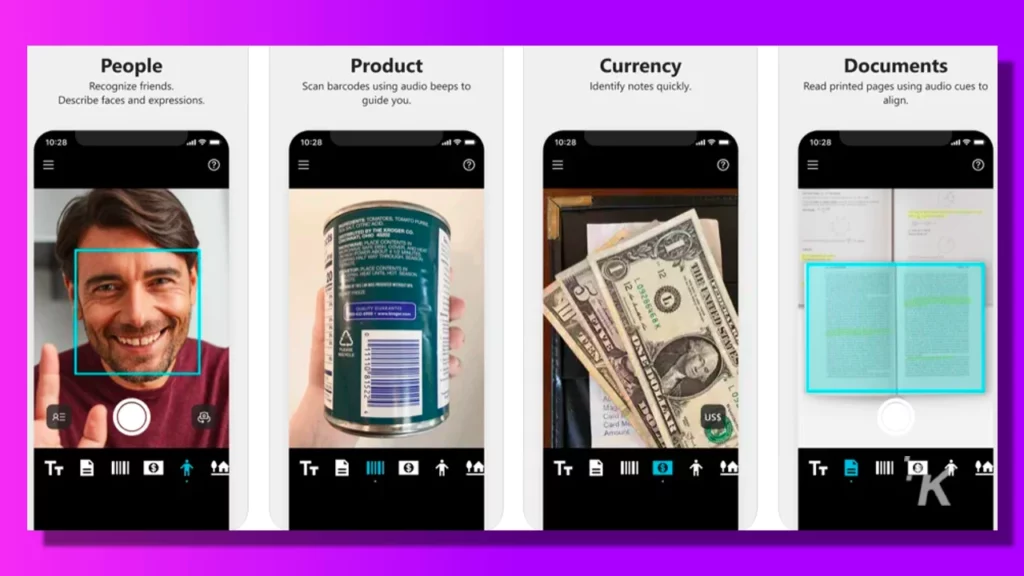 Seeing AI, an app developed by Microsoft is a free app available on iOS and Android phones. The app aims to assist the blind in navigating their surroundings so that they can go about their daily lives independently.
The app uses artificial intelligence to identify objects and tell users what they are and where they're located in relation to the user.
All one needs is a phone and headphones with a built-in mic. The primary way the app works is by recording audio as you walk around your surroundings.
The app will then describe what's around you in real-time. As long as the user keeps talking while recording audio, there's no limit to how far they can explore or how fast they can walk.
All the user has to do is point the smartphone's camera at something. The app will read the text on the screen, describe it, and even read out information from Wikipedia.
The app is free to use and can be downloaded from the Apple Store with a manual that explains how to use it.
In addition to text-to-speech functionality, Seeing AI can help users who are visually impaired find their way around by describing objects in their surroundings and even identifying currency, which is extremely helpful when you're shopping or paying for things.
Ultimately, Seeing AI is an incredible tool that every visually impaired or blind person should add to their phone. It can help them navigate their world better, and potentially reduce the amount of assistance they need from friends and family.
The app is certainly not perfect. But it takes a little more time and effort to make great strides in this next stage of artificial intelligence.
Just like Google's Go victory shows that AI can beat the best humans in strategy games, Seeing AI shows that AI has entered a new phase of development with apps that can detect, recognize and describe scenes around you in real-time. It's incredible to think just how far we have come in the past year alone.
Download the App – iOS
5. BrailleBuzz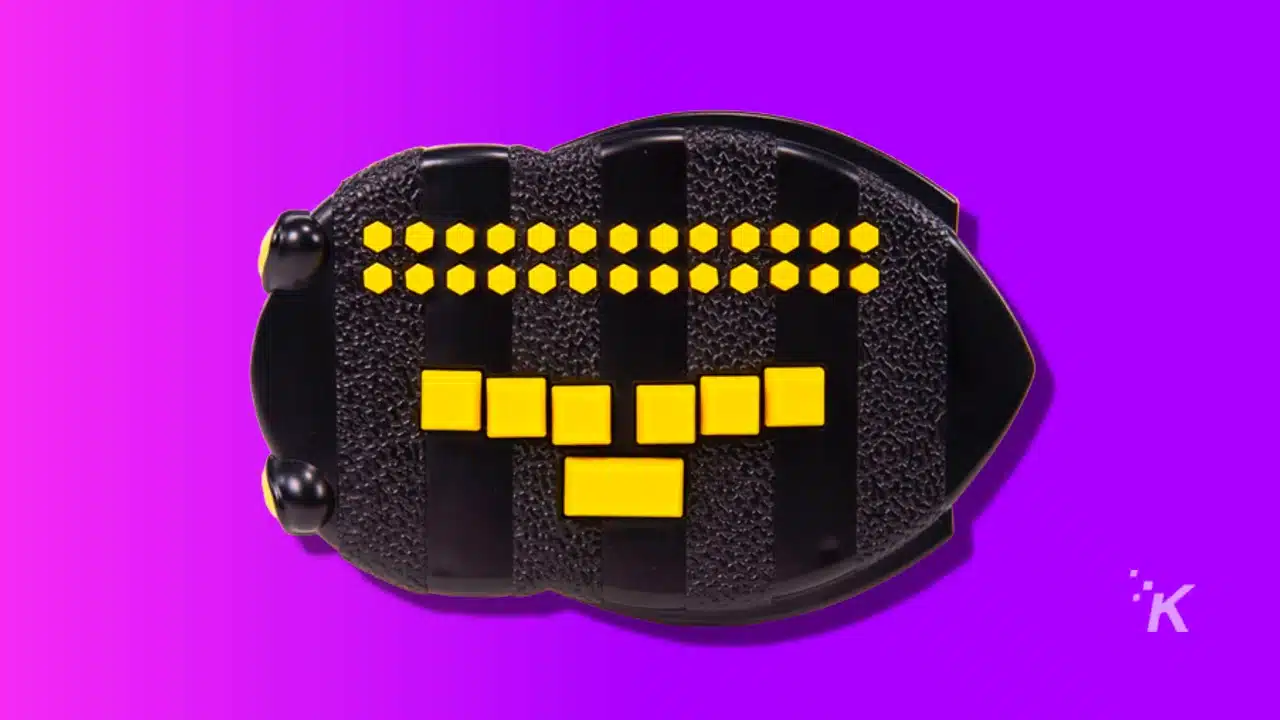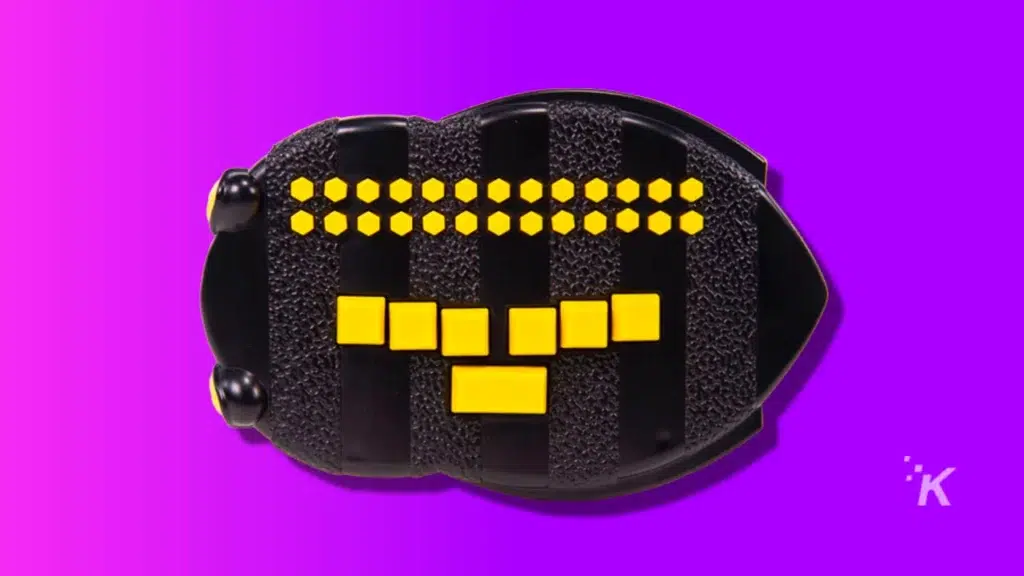 BrailleBuzz is an educational, interactive toy that teaches braille literacy and phonics to children with visual impairments.
The user selects a letter on the toy's enormous "keyboard" and BrailleBuzz speaks the braille letter, makes it audibly click, reads the word aloud, and even shows the corresponding braille word on its screen.
Even though the device isn't designed for blind adults who want to learn braille, it has a few features that make it relevant for them too.
For example, if you choose a word that doesn't exist in braille (or that you haven't yet learned), the machine will read the word aloud, so you get instant feedback on your spelling accuracy.
It can also be used by sighted people to learn how to read basic words in braille without making mistakes.
The great thing about BrailleBuzz is that it doesn't use any form of digital technology. It's entirely analog—and it's very durable and easy to clean. The battery lasts a long time.
The game is intended to help with early literacy skills and encourage young learners to practice braille characters and phonics.
I think BrailleBuzz represents an important step in accessible literacy. Having a physical object that allows young children to have fun with their alphabet feels right.
Its design emphasizes experience over technology, and that can only help children learn through play.
Conclusion
Keep in mind that the market for technology geared toward the visually impaired is a relatively untapped market.
The progress we've seen in this area is certainly promising, but there's still room to grow. As consumer technology becomes more robust, it's likely that more developers will turn their attention to this niche. We'll see more creative ideas buzzing around in the years to come.
The future is promising for the blind, as companies like Fitbit are implementing new features to better accommodate their needs.
Soon enough, the blind will be able to choose useful fitness apps that meet their unique needs, feel secure knowing that the apps are accurate, and even receive feedback about their performance directly through Alexa.
Have any thoughts on this? Let us know down below in the comments or carry the discussion over to our Twitter or Facebook.
Editors' Recommendations: