How can IT service providers help your business grow?
We'll explore exactly how a well-managed network provider can help you to make that happen.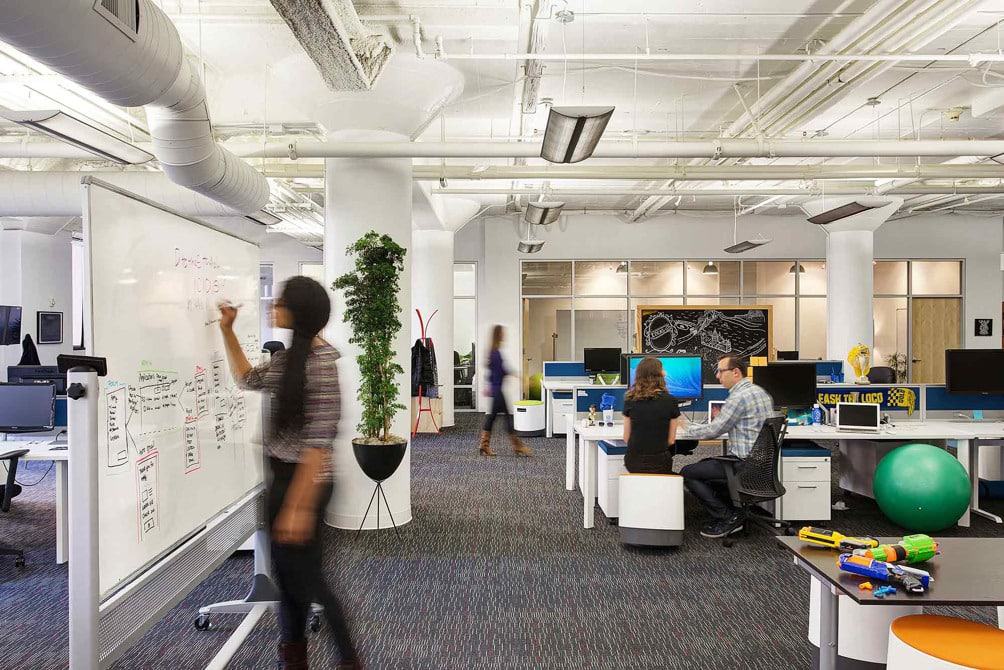 Like it or not, IT is going to be part of your business.
That doesn't sound like a big problem when you're first starting up – but as you grow, so do your infrastructure requirements. When you're ready to step up from being a bunch of people working on laptops to a fully-fledged business with a network, you're going to need to think about maintaining those systems.
For a growing number of businesses, this is where IT service providers step in.
There's an IT service provider out there for every size business – from the small agency who'll support you to get set up – through to the international network and application providers who support global enterprises. Whatever your requirement – they have one thing in common; they'll help your business reach new heights.
Here, we'll explore exactly how a well-managed network provider can help you to make that happen.
A balance of service and expenditure
Unfortunately (regarding cost), your IT systems are going to need to be supported – so, the conversation about managed network providers is always going to be held up against the alternative – an in-house IT team.
The trouble is, an in-house team is very much an 'all or nothing' situation; there are very few IT professionals who'll come and work for you for an hour here or there – so if you want to employ your support, you're going to need to be offering reasonable working hours.
This can be a problem when you're finding your feet. How many staff members do you need to ensure continued service? Do you recruit for the need you have now – or the need you'll hope you have after 6 or 12 months of growth?
There's no right or wrong answer – but often, there's only one answer you can afford – and your need and budget aren't always aligned.
Instant access
So, in steps a managed service provider:
It's worth considering an MSP as a 'pay as you use' IT support team. Starting small with a minimum requirement? No problem. Explode overnight and suddenly need a team to design and implement a range of hardware and software solutions? No problem.
This kind of versatility is almost impossible to find when you're dealing with an in-house team – simply because there's going to be a lengthy recruitment campaign needed – followed by training – and so on. Often, it can be months before the right person sits down to actually do their job.
If time is of the essence – or, if market adaptability is in the future – having a well-managed service provider onside could literally be the difference between being able to react – and being caught watching as a competitor steps up to the challenge.
Allocate your expenditure elsewhere
Unless you're exceptionally lucky, you'll almost certainly have budget constraints when you're growing your business – and often, IT takes up an enormous amount of that spend.
Have you ever sat down to consider a marketing strategy – only to discover your IT systems will need to be upgraded to handle the call volume? Or the additional users you're going to need? Or the payment systems you'll be implementing?
IT is often the unpleasant surprise that blows a good idea out of the water – but, when you've got an MSP at the table with you, they're going to be talking about far, far smaller figures – especially now a huge number of IT systems requirements can be accessed remotely, via the cloud.
The gulf in cost between an in-house team and an MSP is so significant, companies have launched themselves into the stratosphere by taking that budget and allocating it toward pure growth – rather than the logistics needed to support growth.
Fixed costs
Before you get carried away at the prospect of a service provider coming onboard for next to nothing – you need to understand that an MSP won't cost peanuts – but equally, their support cost is almost certainly going to be very predictable – with any additions agreed before they're implemented.
Variable costs can sink a business – and when they're as significant as those that are often associated with IT, they can be enough to sink a business ten times over.
When you work with an MSP, you're going to sit down and talk about a service level agreement (SLA). This SLA is the contracted working agreement between you and your IT support; you'll get to document what you need – and the MSP will allocate a cost to the overall package.
The result?
You're going to know exactly what leaves your account on month by month basis. No hidden extras, no consultancy fees when your in-house team can't solve a problem – and certainly no additional training or recruitment fees if anything unexpected happens to your team.
Proactive support
Unpredictable costs are just one IT element that can offer up a nasty shock – another significant problem is downtime.
Downtime is estimated to cost businesses more than £100,000 for every lost hour – and, while that might seem excessive for a small startup company, it's worth considering the damage that could occur if downtime cost you even 100th of that cost.
The trouble is, modern IT doesn't sleep – but an in-house team will. And, if you want to make sure you've got eyes on your network at all times, you're then looking at a team of 6+ people required.
A managed service provider is likely to have the systems monitoring tools and staff allocation required to offer this from the start of your relationship – often at a very small cost. As a result, you get to rest easy – knowing that the health of your network is under constant scrutiny and that problems are likely to be spotted before they grow into bigger problems.
While monitoring your network isn't growth per se, it's an enormous money and resource drain that will eat up your ability to grow as a business – and, if a managed service provider can pre-emptively plug that gap, then they may be helping your sure-up the foundations of a business that would otherwise simply have to close its doors…
Have any thoughts on this? Let us know down below in the comments or carry the discussion over to our Twitter or Facebook.
Editors' Recommendations: