How this GameFi project is bringing a sustainable economy to the world of P2E gaming
We'll be diving into the details of this project, demonstrating how their game is taking the GameFi scene by storm and providing a unique gaming experience.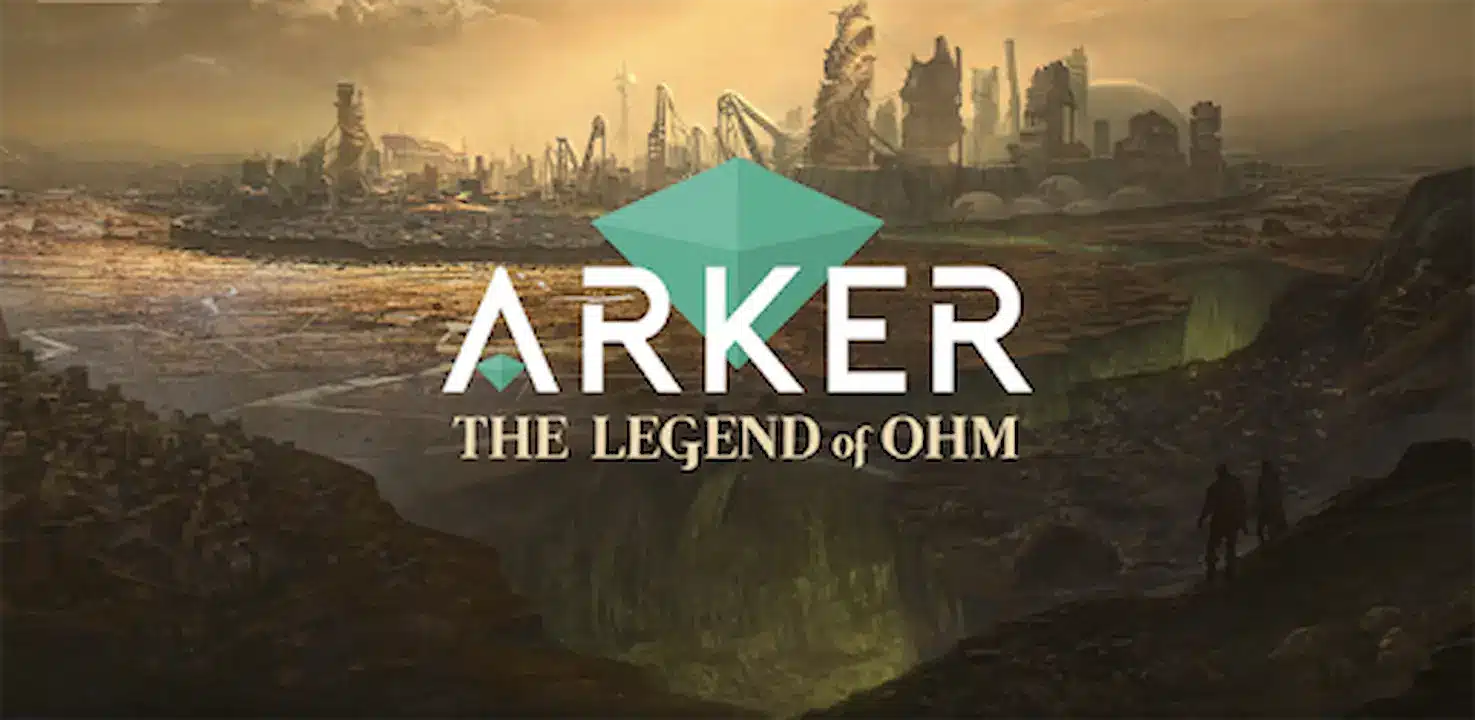 Over recent years, blockchain has made its way into the heart of the gaming industry, with the development of Play2Earn games providing users more than just an entertainment incentive to play.
By combining gaming architecture with financial systems through blockchain, users are able to generate cryptocurrency through their gameplay, earning money while playing their favorite games.
Also known as GameFi, this intersected industry has rapidly grown, with this field reaching a predicted total investment mark of $10 billion by the end of 2022. This astounding figure reflects the hard work being done by developers around the globe, using this innovative system to empower their player base and bring a new dimension to gaming.
One blockchain game that has seen success, especially across Europe, is Arker: The Legend of Ohm. Developed by Arker Studios, this title represents the very best of GameFI, creating a useable and scaling in-game economy that directly benefits their player base.
In this article, we'll be diving into the details of this project, demonstrating how their game is taking the GameFi scene by storm and providing a unique gaming experience.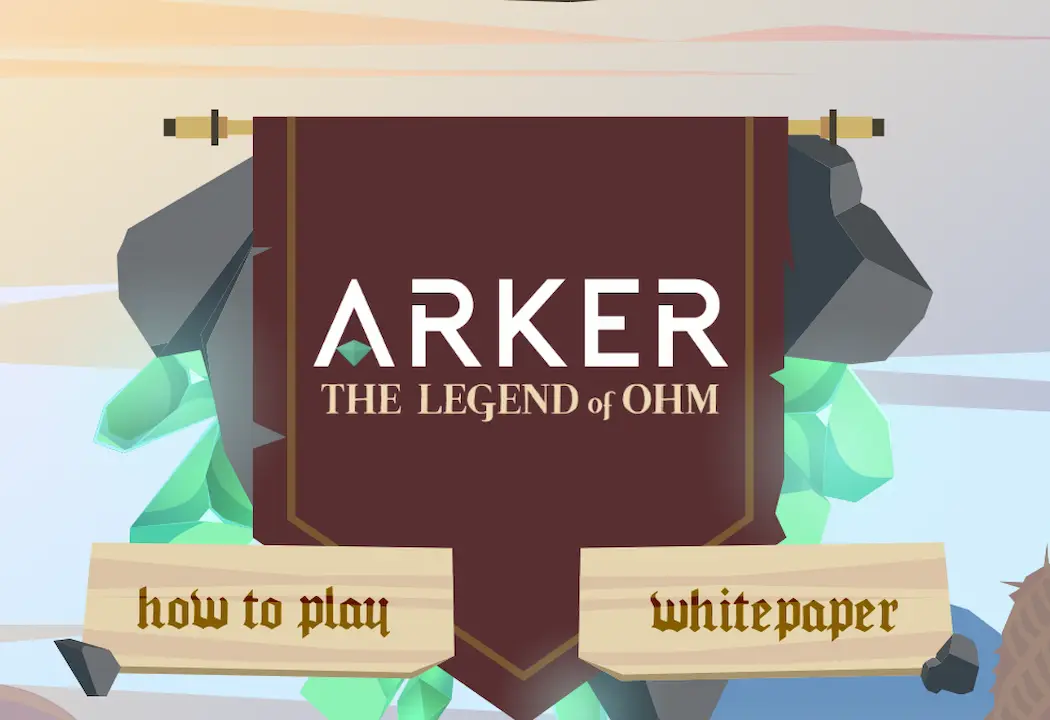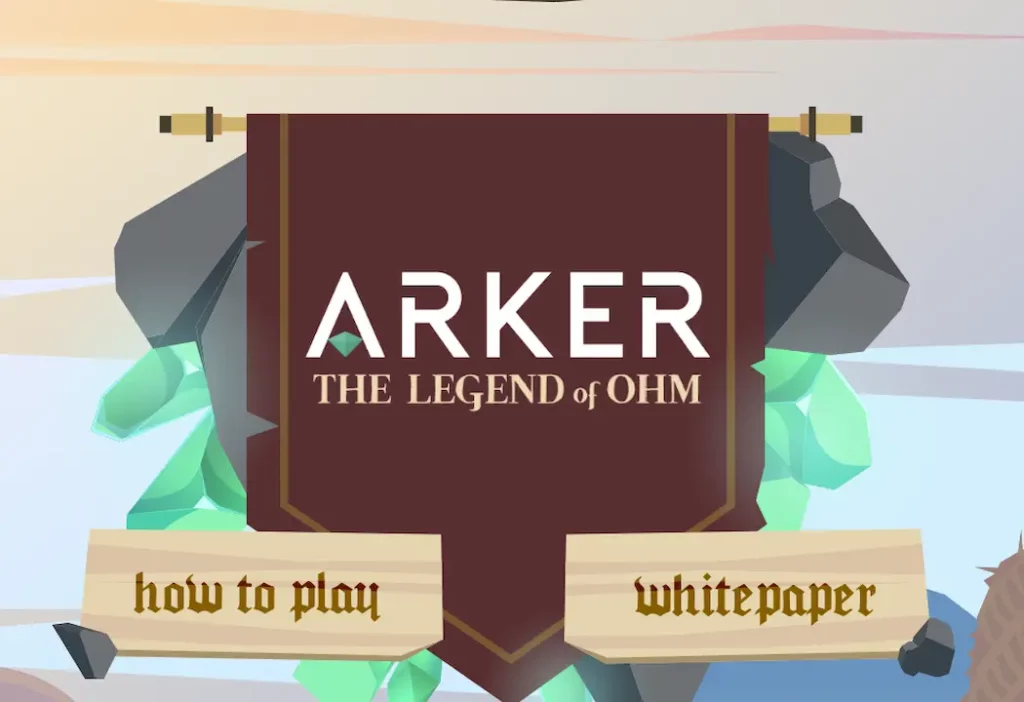 From Unexpected Beginnings
Arker Studios came to be back in 2018 after three friends who all worked at the same company participated in a 72-hour-long hackathon.
The hackathon in question was seeking to create the best-decentralized application using blockchain, with their idea being the prototype version of Arker: The Legend of Ohm.
After winning the hackathon, Juanjo Chust, Aaron Martinez, and Nelson Marco used the prize money to found Arker Labs. Alongside developing their own products, they set out to make high-quality software, with their operations spanning Spain, Estonia, and Andorra. 
With their background in payment solution services, web tech, online security, and software development, they were perfectly positioned to capture a portion of the blockchain games market with the launch of Arker. 
Their first token sale event generated over $2.5 million USD, with over 20 different institutions. Since then, they've been working tirelessly to bring the world of Arker to life.
What Exactly is Arker: The Legend of Ohm?
Positioned as a hero adventure, Arker: The Legend of Ohm sees you select your character based on what sort of combat interests you most. Alongside that, you'll be able to travel with pets, moving through the world of Ohm.
With both PVP and PVE systems, you can choose the sort of gameplay that you engage with most, conducting your gaming experience however you like.
PVP Mode – In this mode, you'll enter into the Arker arena, taking on other players from around the world and establishing yourself as the best hero Arker has ever seen. With continual tournaments and different competitions to enter into, this active eSports community will capture the attention of the most competitive P2E players.
PvE – Fighting against hoards of mobs and clearing your city individually or with friends, this mode will allow you to practice your battle skills, level up your character, and get new items and rewards for completing challenges.
Guilds – Alongside the main gameplay, Arker offers a guild system where you can come together and form a clan. Invite players from all over the world and build up your team.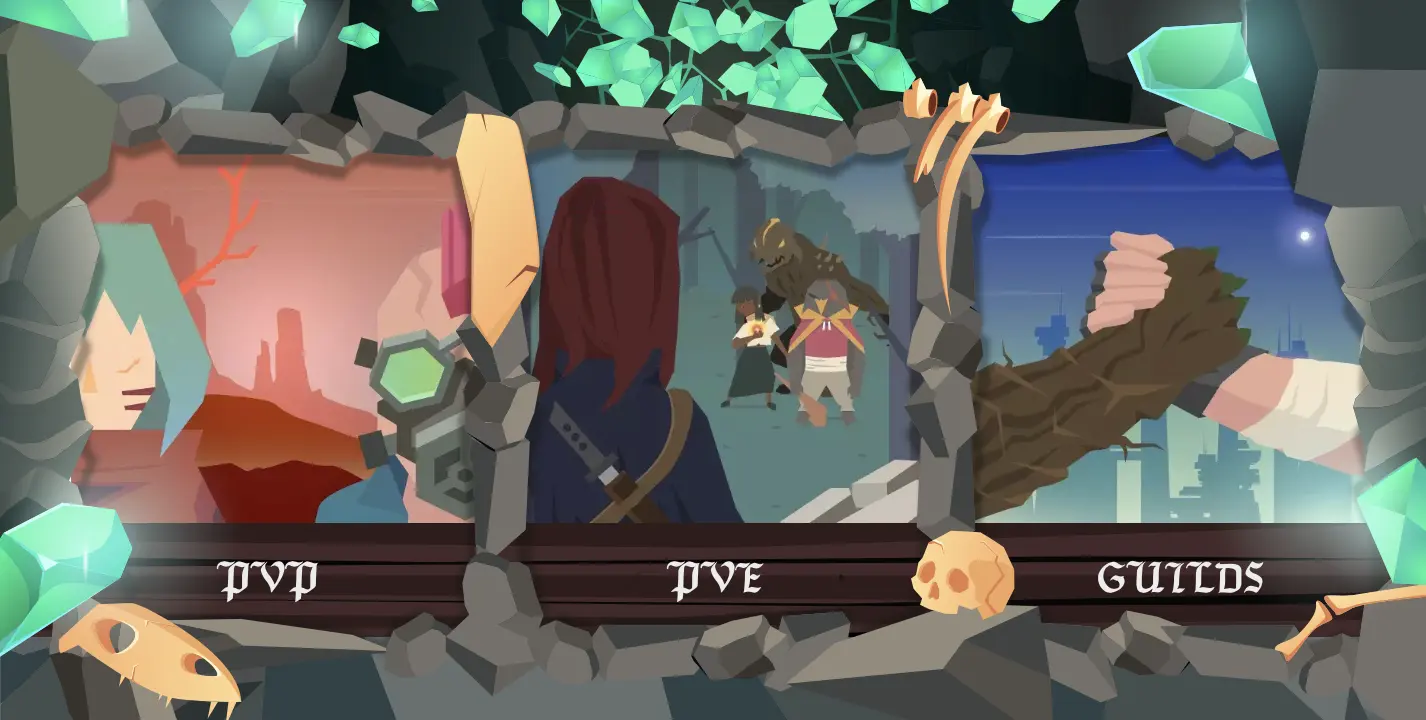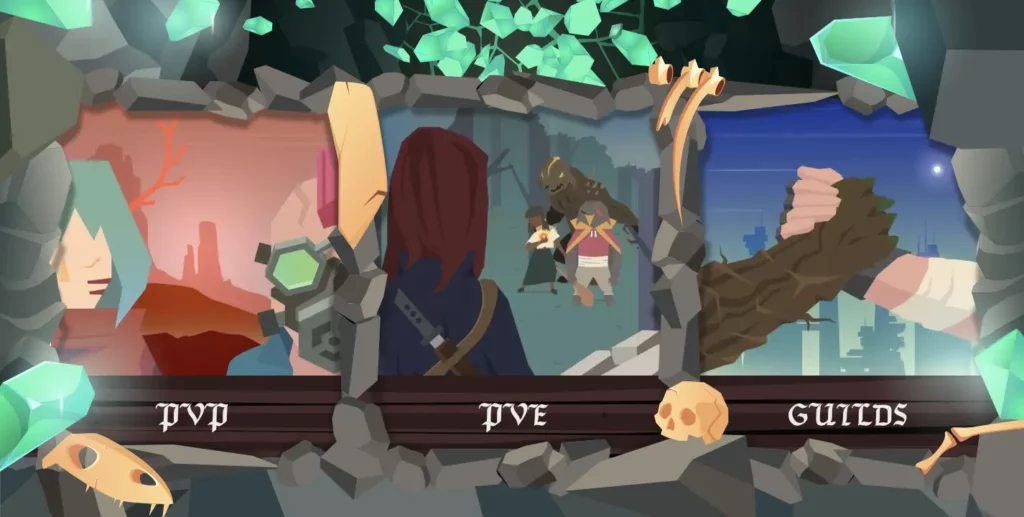 As a central home for each player, you command a village. This is completely customizable, with each player getting to design their village in any way they would like.
You can store your equipment, pets, and items in this area, picking and choosing what you want to equip before each battle.
Within this village, you're able to hire mining lands, which will allow you to obtain ongoing returns on the cryptocurrencies that you find within this world.
Acting as a staking system, the village and mine ecosystem effortlessly incorporate P2E and blockchain concepts into the game, helping to bring players on-chain without overwhelming them.
The world of Arker is vast, with the nearly endless possibilities inviting players to join and explore to their heart's content.
How do P2E Elements Fit into Arker?
Play2Earn gaming is the central difference that sets apart blockchain gaming and regular gaming developers. In traditional gaming, players either have to directly buy a game and play it, or are able to play for free.
While in both of these circumstances, a player is able to enjoy their gaming experience, the only real benefit they obtain is the time they spend amused by the game.
P2E takes this one step further, implementing a real-world financial system into the game through blockchain.
By progressing through levels, earning rewards, or completing achievements, a player is able to gain experience for their character while also generating cryptocurrency or earning NFTs.
These digital assets can then be sold or traded on DeFi applications for fiat currency, or used in-game for special benefits to the players.
As a comprehensive system that implements P2E elements directly at its core, Arker: The Legend of Ohm has several of these earning opportunities:
Fragments of Arker (FoA) tokens
Playable NFTs
Let's break these down further.
Fragments of Arker
Fragments of Arker are the main currency that is used within the Arker ecosystem.
By earning this cryptocurrency in-game, you're able to purchase new weapons, abilities, tickets, and skills for your character, helping to improve how you play and give yourself unique upgrades.
Every time a transaction is carried out in-game with FoA, a percentage of that total amount will be burnt, with a total token supply of 540,000,000.
At the launch of the game, only 75,000,000 tokens will be released, creating a sustainable and scalable ecosystem that allows for continual playing.
One of the cofounders of Arker, Juanjo, actually recently conducted an interview where he discussed the tokenmonics of the project, pointing towards the ecosystem they've constructed as a stable economy for long-term use.
This further demonstrates the thought the developers have put into the game, ensuring their in-game world is sustainable for the long run.
Equally, FoA has a real-world value, with their in-game utility providing them with value, and allowing you to buy and sell them through decentralized exchanges.
If you want to cash out all of the FoA that you have, you're able to do so every 15 days. This allows you to withdraw your cryptocurrency from the game, trading it on whichever platform you host your personal wallet on.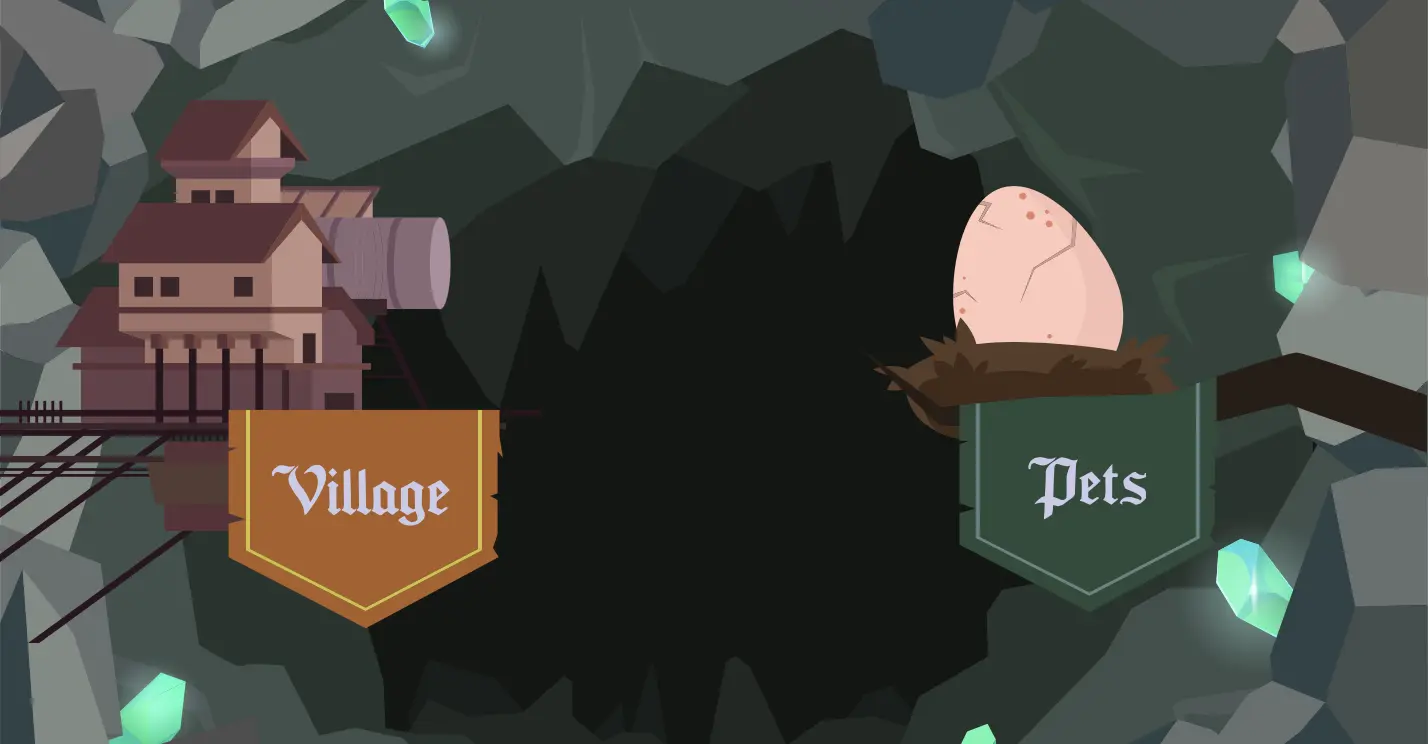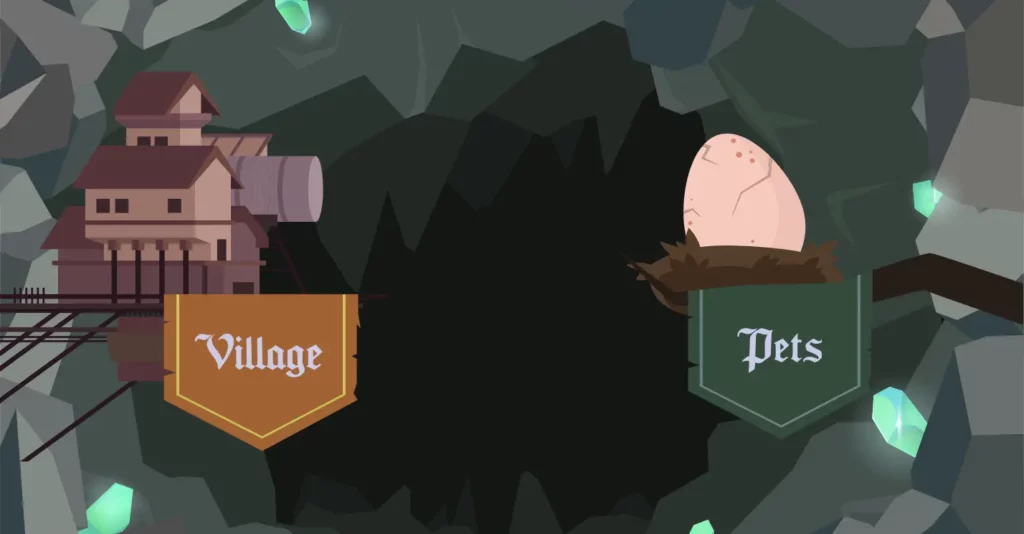 Playable NFTs
Within the world of Arker, alongside your own character, you'll be accompanied by a pet that you'll take everywhere on your travels.
Each one of these pets has a different rarity, typology, and set of stats. As each of these pets is minted as an NFT, the most rare pets that provide the most utility to players are more sought after than others.
That's where the pets marketplace comes in, with everyone in the Arker community being able to access a singular space where you can trade pets, sell your most valuable ones, and even collect and distribute eggs if you would like.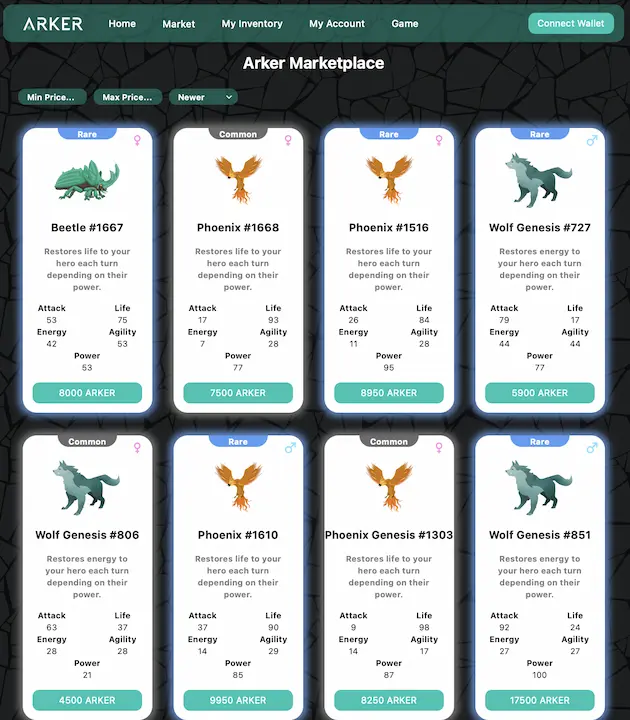 Considering the in-game boost that pets offer to players, they are commonly sought out. When you come across a new pet on your travels, you have the option to take it with you or put it on the marketplace.
With this, users that play the game regularly are able to hunt for new pets, find new companions, and generating income by selling any pets that they don't' want. The marketplace is extremely active, with new pets coming in and auctions being launched around the clock. 
Additionally, the developers have incorporated an additional cryptocurrency known as ARKER into the pets section.
With Arker, people are able to buy and sell on the marketplace, using these coins to breed different pets to create even more unique NFTs. Just like with FoA, a percentage of all the ARKER used in these transactions will be burnt to keep the economy stable. 
In the future, ARKER will also be used as the main governance token of the platform, with the team at Arker labs using this as a way of letting their community get directly involved in the project.
Between the playable NFTs and the inclusion of several cryptocurrency economies, this P2E system is deeply integrated into Arker, making it a prime example of a first-class GameFi project.
A Whole World to Explore
With a range of ways to play, advanced game mechanics, and a bustling and sustainable in-game blockchain-based ecosystem, it's no wonder that Arker: The Legend of Ohm is turning heads within the GameFi community.
At the core of this project, their goal is to be the world's first metaverse that consolidates blockchain systems through the game itself, incorporating P2E, not as a benefit of playing, but as a core mechanic that's used every single day by players.
With this goal in mind, Arker is making leaps toward its final vision, with the release of PVP, PVE, Guilds, and tournaments, ensuring that players are coming from all over the world to experience everything that this project has to offer.
We can't wait to see what's next for this exciting blockchain gaming platform. 
Have any thoughts on this? Let us know down below in the comments or carry the discussion over to our Twitter or Facebook.
Editors' Recommendations: