How to do a fall home theater makeover using projectors
Fall is the perfect season to relax, get cozy, and watch your favorite flicks. This is how you can do a fall home theater makeover using XGIMI projectors.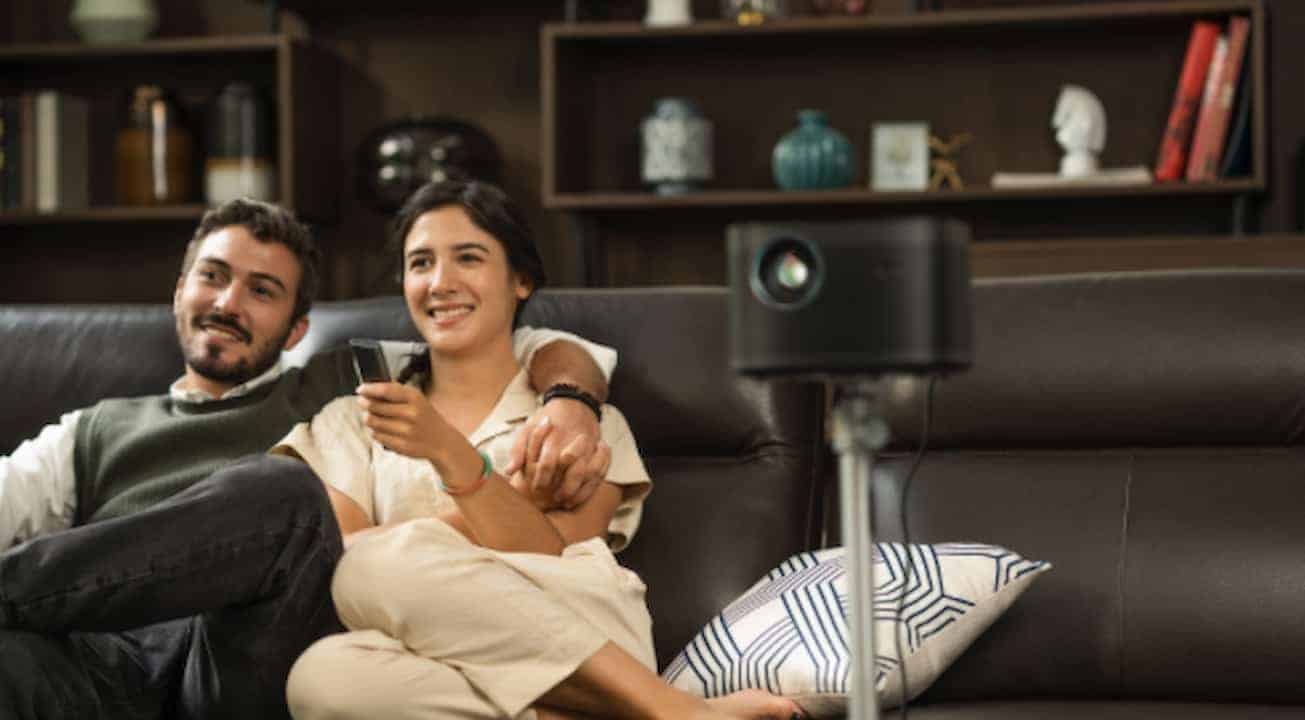 Despite the reopening of movie theaters across most states, most people still prefer watching movies at home.
In fact, a recent survey showed that 70% of people would prefer to watch a movie at home, even if they had the option of going to the cinema.
And the best way to watch a movie at home is to set up your home theater with an XGIMI projector. With fall approaching, now is the perfect time to revamp your home theater to create a movie-watching experience that rivals the best cinemas.
Ready to do your perfect fall home theater makeover using an XGIMI projector? Keep reading to learn how you can create a home theater that will be the envy of all your friends.
Choose the Right Room
Many people choose to have a dedicated home theater space. If it's not a special home theater room that came with the house, the home theater space is most likely a spare bedroom.
But what happens if guests come over and you want to watch a movie?
This is where the XGIMI Elfin comes in. With the Elfin, movie time can be any time because of the projector's portable design. The Elfin is only 1.97 inches tall and weighs less than 2 pounds, so it's great to move from room to room and easy to stash in your backpack for movie night at a friend's.
No matter which room you choose to watch movies in, make sure you have enough clear wall space to watch the movie in your desired screen size (up to 200″).
Another huge benefit of our projectors is that they're easy to plug in and use. No more fiddling with cables and settings—just move your XGIMI projector to your desired room, plug it in, and use the fast boot function.
The projector will then use its Intelligent Screen Adaptation Technology to adapt your screen to the projection area. This means that if you have a painting or shelf on the wall, the projector will adjust and scale your screen around it.
And while the XGIMI Elfin is portable, you want to pick a room you'll be comfortable watching movies in. You'll want to watch movies in a room that's away from the kitchen and where you can be confident you're not disturbing your neighbors.
Wherever you put your projector, make sure it's away from any food or drinks and is in a secure place where it can't be knocked over.
Decide on Your Seating
Most projectors require you to sit a certain distance from the projector to comfortably watch movies on a full-size screen.
Because of this detail (also called the throw ratio), many people have a calculated and measured setup in their movie room to ensure movies will always project the same way.
But with XGIMI projectors, you don't have to have a huge house to have a cinema experience. The Elfin's throw ratio means you can watch movies in most rooms, even if they're small. You can even project in a gym or office!
And unless you have a specialized movie room in your house, you likely won't have tiered seating as the movie theater does. But this doesn't mean you can't have comfortable seating.
Since the Elfin's so portable, you can pick where to watch a movie based on where your favorite seating is. This means you can watch from your comfortable couch, from your bed, or even from a setup of cushions on the floor if you're hosting a movie night.
Pick the Perfect Lighting
Next, you want to pick which sources of light will influence your movie-watching experience.
First of all, you want to consider ambient light. Ambient light is all the light that comes from outside your home theater. This includes light from windows or other rooms in your house.
You want to limit ambient light so that you have the brightest picture. The XGIMI Horizon Pro makes this easy. Not only does the Horizon Pro have 4K resolution, but it has the brightest projector in its class by 30%.
So no matter how much daylight you're dealing with, the Horizon Pro will give you a clear, sharp, and bright image no matter the time of day.
But to give your home theater a cinematic look, you may want to install some dimmable lights for special effects, especially for nighttime viewing.
Optimize Sound
Both the XGIMI Elfin and the XGIMI Horizon Pro have built-in sound systems. This makes watching movies simply because you don't have to deal with plugging in complicated sound systems.
Our projectors come with built-in speakers from trusted speaker producers Harman Kardon. For example, the Horizon Pro's speakers offer a virtualized surround sound experience highlighting dialog and bass. Plus, you can use it as a Bluetooth speaker too!
Of course, if you've already invested in a sound system, you can hook up your favorite speakers to your XGIMI projector for an even more cinematic experience.
Some other tips for enhancing the sound in your home theater include putting draperies or soft materials on the walls to absorb sound, as well as soft seating.
This is because soft objects absorb sound better than hard objects, making sound bounce around the room.
Give Your Home Theater a Makeover With an XGIMI Projector
One of the simplest ways to give your home theater a fall makeover is to get a projector upgrade.
Not only will you stop having to buy costly movie tickets, but you'll be able to watch movies from almost any room in your home (or even your backyard!)
With XGIMI projectors, you get everything you need for your home theater all in one device. From clear, bright projection to built-in sound, all you need for your perfect home theater experience is your favorite armchair and a bowl of popcorn.
Ready to get the perfect XGIMI projector for your new home theater? Check out their online store today!
Have any thoughts on this? Let us know down below in the comments or carry the discussion over to our Twitter or Facebook.
Editors' Recommendations: