How to get your start with Facebook advertising?
Facebook advertisements have several options to customize and choose from. Here's how to get started.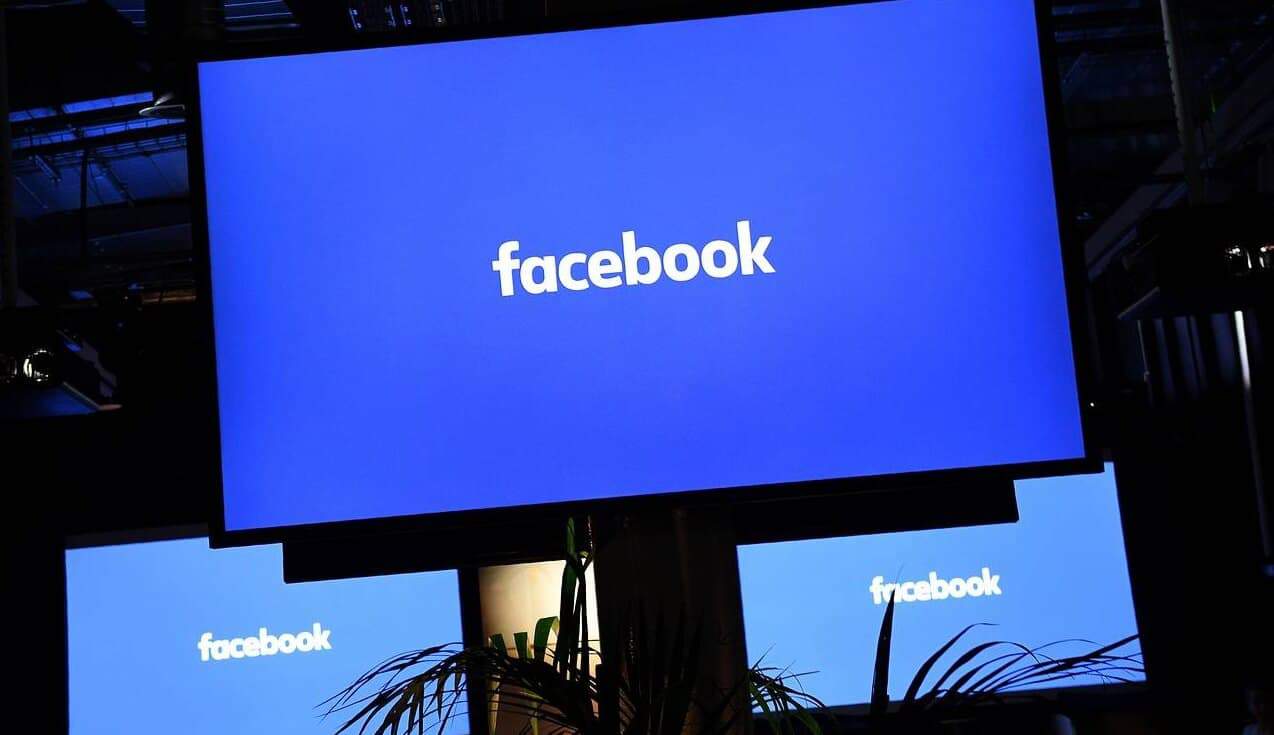 Facebook is a brilliant platform to get targeted traffic for your website, mobile app, etc. which will help in increasing the sales and revenue of your business.
A lot of small brands and organizations wants to run Facebook ads but find it to be very intimidating. However, once you are familiar with the platform, then it is easy to use.
Maybe you have opened a new fashion company or an e-commerce store and looking for methods to scale your business.
If so, then Facebook is the right place for you. More than 26% of the world's population uses Facebook in 101 languages. With Facebook Advertising, you can promote your services or products all over the world. You can also target a specific group of people in any niche.
In this guide, you will learn everything about Facebook advertising which will help you in starting your first successful campaign.
Why Facebook Advertising?
The estimated number of active users on Facebook is considered to be more than 2.8 billion. Hence there would be some potential clients and customers in the platform for your business. The only thing you have to do is find a way to reach them effectively.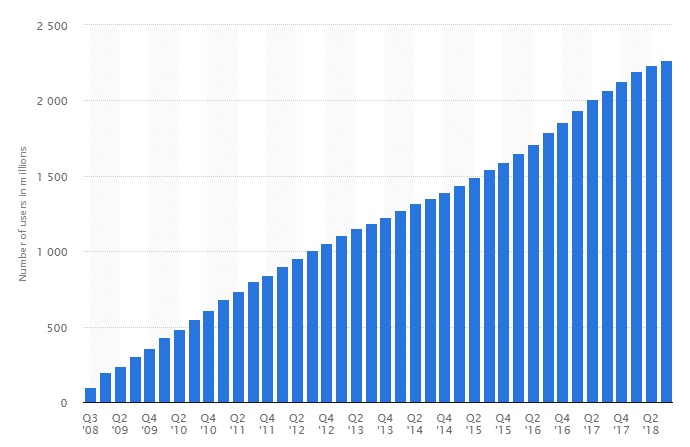 There are many targeting options available on the platform. You can reach your customers not just by age, location, and gender but also through behaviors, events, etc.
Also, you can advertise using any form of content: texts, photos, videos, events, links and many more.
With the combination of huge audiences, different ad types and targeting options, Facebook has become one of the most powerful platforms of online advertising.
If you want to master Facebook advertising, take up any advanced social media marketing certification course which will enhance your learnings and skills, thus, expanding the bracket of new job opportunities for you.
Facebook Advertising Guide
The first thing you would need to do is to set up your ad account if you haven't created any campaigns yet on the platform.
Setting your Ad Account
In the Ads Manager choose your ad account and then click on account settings which is present at the top menu bar.
Fill the account information details including business name, account name, address, etc.
If you have a business partner or want to add someone else to manage your campaigns, then you can click on "add a new user" and then confirm.
Then add your preferred payment method under the "billings" tab. You can choose between several ways of payments such a debit, credit card, online banking, PayPal and others.
The objective of your campaign
You need to choose the right objective for your Facebook campaign. When you will click on the "create an ad" tab you would see a list of objectives.
From the list of 15 objectives choose the one which is more appropriate for your business. It is one of the most important decisions you would make related to your advertising, so you need to decide accordingly.
Choose Your Audience
Finding the right audience is very important for the success of your advertising campaign.
The size of your audience will depend on the population and internet users of your targeted country. For example, if your target country is the USA then it will have more audience as compared to other countries like Austria, Netherlands, and others.
You can also target a small group of users with interest and behavior based targeting. It is more profitable as your product or service will reach to only those people who need it.
Set your budget
Once you have found your perfect audience, then you need to set up the budget for your advertisements.
Different marketing strategies require different budgets so don't be anxious to set up your daily budget bigger when you are just starting your campaign.
You can select a daily budget or lifetime budget, and you can also run your ads during specific time or days of the week.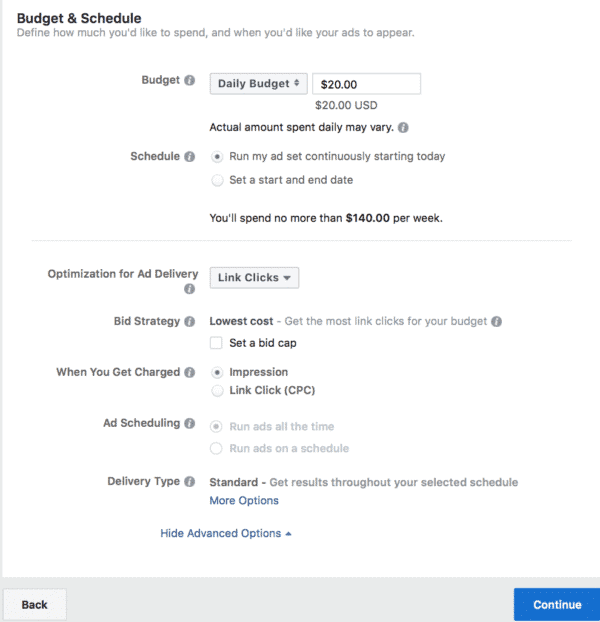 You can also choose how to spend your budget, i.e., on clicks or impressions and whether the ad budget should be consumed quickly or spread it out over time.
Design Your Advertisements
There are two options available for designing an advertisement, either select the existing post of your page or create a new advertisement from scratch.
You need to make a pick that what is the primary requirement, whether you want a single image, multiple images advertisement or a video ad.
While creating a new campaign, you can choose a maximum of 6 images which will produce 6 ad variations.
After creating some ads, you can observe which image is working the best. Use this image and pause other advertisements to save your budget.
Headline
Write a short and unique headline which clearly describes your product or service with the limits of 25 characters.
It is advised to use only one selling point in the headline because with too much information the user might get confused.
In a recent study, it was found that the most effective length for the headline of an advertisement is 4 words.
Main text
The limit of the main text is of 90 characters. Hence, try to inform about the value which your product brings to your clients.
The call-to-action button should also be obvious and should describe what the goals of your campaign are.
Also, add a link to the destination website or landing page. There should be as many opportunities to click and visit your website or e-commerce store.
Remove any unnecessary ad placements which are not in use. It is advised to use just one placement because if you select multiple ad placements, then Facebook will push most of your ads on mobile devices.
Monitor Your Advertisements
Once your campaigns get started, you should monitor them regularly. After analyzing different reports, you would notice that some ads are performing better in a particular location, interest than others.
Start optimizing your campaigns after a few days so that the algorithm would get time to learn about your users.
Adjust your budget according to the performance of your campaign.
If the click-through rate is very high, then your advertisement is working well, and if the click-through rate is less, i.e., less than 1%, then you need to continue testing.
You can also check your campaigns through different breakdowns:
Analyze your result through different segments like country, age, gender, placement, and others. It helps in finding hidden gems that might be beneficial for your ad campaign.
Split Testing Tool
Facebook offers a split testing tool which is highly effective but also has a few limitations. If you want to split test different advertisement strategies or want to explore the creative aspect of your ad, then this tool is for you.
It is easy to use and can be done in just a few minutes. Select the objective of your split test and click on the "split test" button.
Then choose the ad set level and want you to want to split test. Then you would see two options to create different ad sets.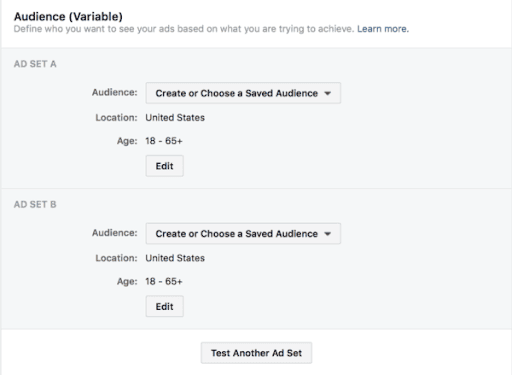 Finally, Select the basic ad format and run the tool.
Facebook Advertising: Crucial Tips to Consider
If your highly designed ad sets are no longer proving beneficial, then it is advised to clone them and make a fresh start. It helps in getting a high ROI again.

Get more social proof on your banners as the complex algorithm running in the background intending to see engaging posts.

Adjusting the budget frequently can impact the performance of your ad sets. Hence, start with a larger budget than it is needed to spend on the advertisements. Facebook will not exhaust your daily budget at first, but if your ad set starts performing well, then you don't need to adjust it.

Before pausing or ending a non-performing ad set try to change the image of your ad. Most of the time just changing the image works well and increases the overall ROI.
Final Thoughts
Facebook advertisements have several options to customize and choose from. However, once you understand the platform, then it will work for you to increase your business sales and revenue.
If you have a proper plan before diving in, then campaign creating and running process will be a lot easier and will help you to develop high-performance ad sets.
To make better advertising decisions analyze your campaigns regularly and review different metrics like cost per click, click-through rate, and others effectively.
Have any thoughts on this? Let us know down below in the comments or carry the discussion over to our Twitter or Facebook.
Editors' Recommendations: