How to optimize your LGBT dating app's love funnel
It's time for you to start feeling confident about using dating apps and be persistent while pursuing your goals.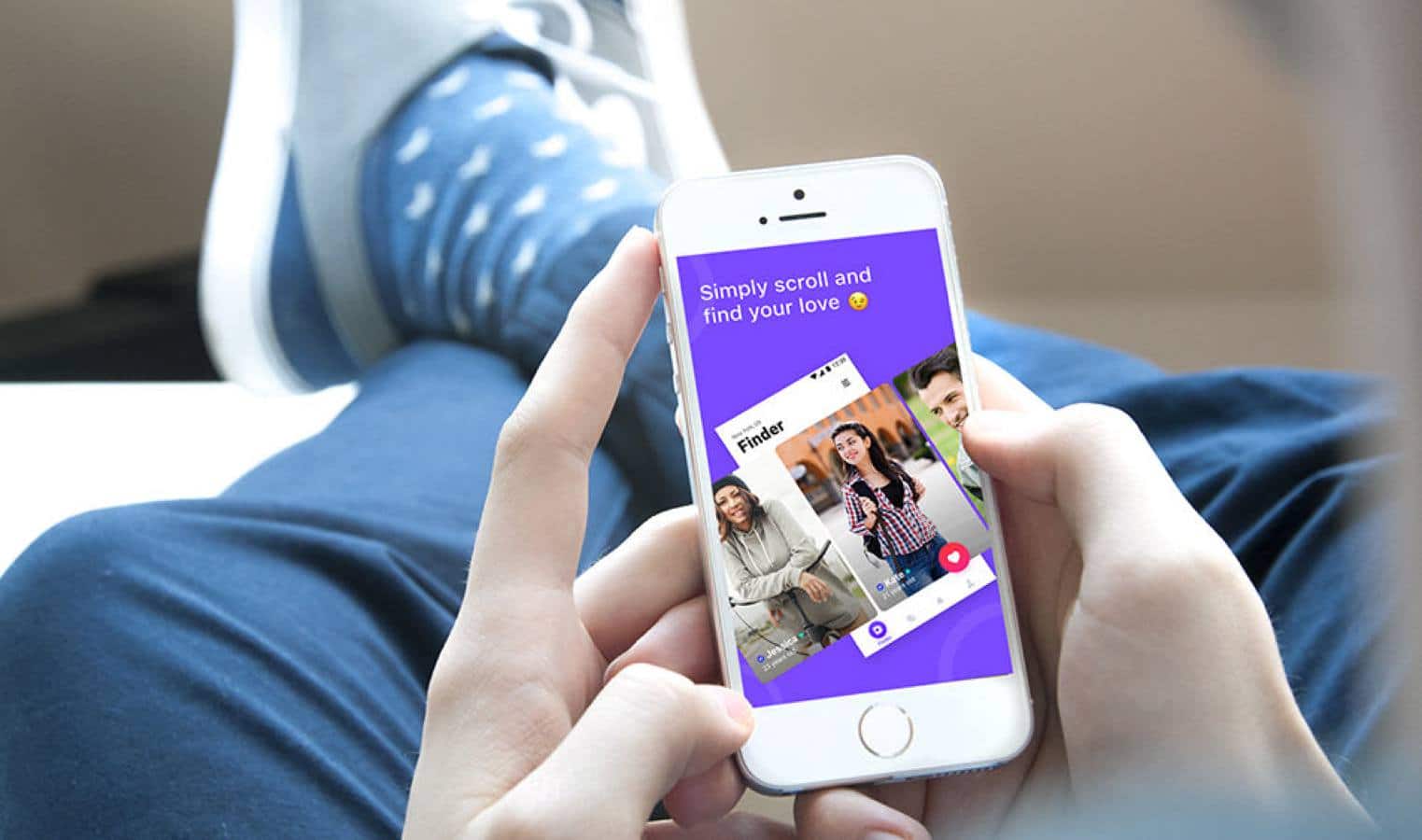 Nowadays the concept of funnels has become an unavoidable basis of analysis related to any action of web and mobile app users. Those actions meanwhile become increasingly important for users themselves, since the development of social platforms effectively brings new competitive dimensions.
Facebook, YouTube, LinkedIn are powerful tools for companies as well as individuals. While actions of companies and celebrities on social platforms are led by professional teams and strongly driven towards achieving certain goals, the majority of individual users lack articulated strategy or even purposes.
Provided enough alternatives, people however naturally tend to optimize their actions in accordance with the funnel concept to meet even vaguely conscious goals and needs like entertainment. It's unlikely that you record number of clicks, but you can afford yourself to be picky choosing a TV series to watch considering redundancy of choices.
The internet era comes in hand with vast funnel opportunities and optimization challenges, where product developers are there to empower you. Those who are able to set clear goals, define necessary actions and find useful product features have a competitive advantage.
Dating apps are powerful tools to increase the number of relevant social contacts whether your goal is a successful marriage or hook up. Less outgoing individuals or those living far from large cities without much options to meet people offline have potential to gain the highest utility from dating apps. It is not surprising that people around the world are highly engaged, generating revenues high enough to place dating among the most competitive app categories.
LGBT people often lack a sufficient amount of communication to find a meaningful relationship. If you are sexually attracted to your own gender, there are less potential partners around you in everyday life situations. As a result, there is a high level of engagement in dating apps among LGBT people. (https://match.mediaroom.com/2016-05-24-Match-Releases-New-Study-On-LGBTQ-Single- Population)
The essence of mobile gay dating, however, is not much different from heterosexual one. The ultimate goal of the average user seems to be the same for any kind of dating and can be expressed as communication with people of same or higher desirability than your own. Main factors of profile desirability aside from natural attractiveness are bio and photo quality – something that suggests lifestyle and social status to other users. The straightforward measurement of desirability as incoming likes to swipes ratio is not a one-size-fits-all solution for product development but still is highly demonstrative when it comes to average user activity: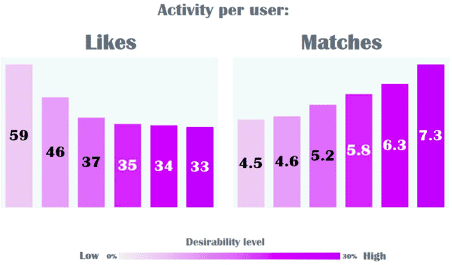 According to the Taimi dating app, most users ratio falls between 10-15%. Even users with the highest desirability rarely get more than 1 like per 3 swipes – every man to his taste. The more desirable you are, the more are your chances for a match and consequent conversation with the average user after initiating activity – and the more your own expectations are likely to exceed that of average users. Eventually, this leads to the following probabilities of a match after initial like between desirability groups: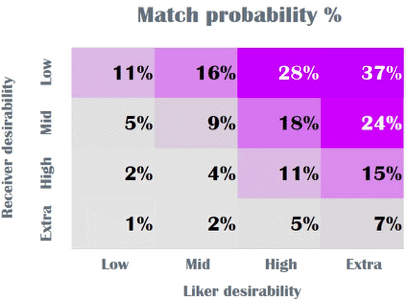 The developers of the dating app, at this point, can undertake a number of actions to empower their users. This task requires permanent analysis and uneasy product development decisions. But what can users undertake themselves? Here are some important advice applicable for a user of any dating app:
Set your goals.

Try to be honest with yourself defining your odds of success.

Fill your funnel.

Initiate a lot of likes even if you have abundant incoming activity – some of those individuals you are seeking communication with hardly do many first likes themselves.

Stay relevant

. Don't like anyone you won't start a conversation with – excessive liking activity is not that original trick and may turn app algorithm against your goals.

Optimize

. Try different openers and texting styles before choosing an optimal strategy of interaction with particular types of individuals

Increase the desirability

of your profile with improved photo and bio quality. But remember – if the profile is far from your real identity, the worst funnel optimization fail may happen on the stage of a real date.

Explore.

Find every feature of the app that may be helpful for your goals. On Taimi, for example, there are stories and video call options – not every user tries them, but those who do eventually have more contacts and long-lasting conversations.

Try more apps.

Apps offer various interaction approaches and target sometimes totally different audiences – which leads to different user communities in terms of age, income, occupations and safety issues. Bigger market players often become less flexible to changes and do less for maintaining a healthy user community, so don't stick to several habitual options.

Try paid features

. On any app these are usually meant to increase your odds, but don't expect too much – you are still the same person, with more powerful tool though. Think of extra communication opportunities it can give you, each of which has the potential to become your most valuable asset in life – and you'll understand why dating apps subscriptions are in such great demand.
Dating apps are helpful to start communication and eventually meet more people offline. But can it help you afterward? Yes, if you are able to translate quantity into quality. More dates can give you insights on your weak and strong points as a potential partner – something you can work on in future. Moreover, you get a more objective picture of what you can expect yourself from potential partners instead of building castles in the air.
In some sense, the broad use of dating apps diminishes the average value of dates, which may sound especially harmful for those who don't use such apps. This is just another characteristic of the modern world, where attention and time of individuals are becoming very scarce not only for new information but for any type of relationship as well.
On the large scale however this leads to the greater than ever opportunities to find your perfect partner, so if you haven't done this yet – it's time for you to start feeling confident about using dating apps and be persistent while pursuing your goals.
Have any thoughts on this? Let us know down below in the comments or carry the discussion over to our Twitter or Facebook.
Editors' Recommendations:
4 of the best mobile dating apps