How to professionally edit a video for your blog or website
Do you have a blog or website? Then you'll need to read our guide to know how to edit a photo or video.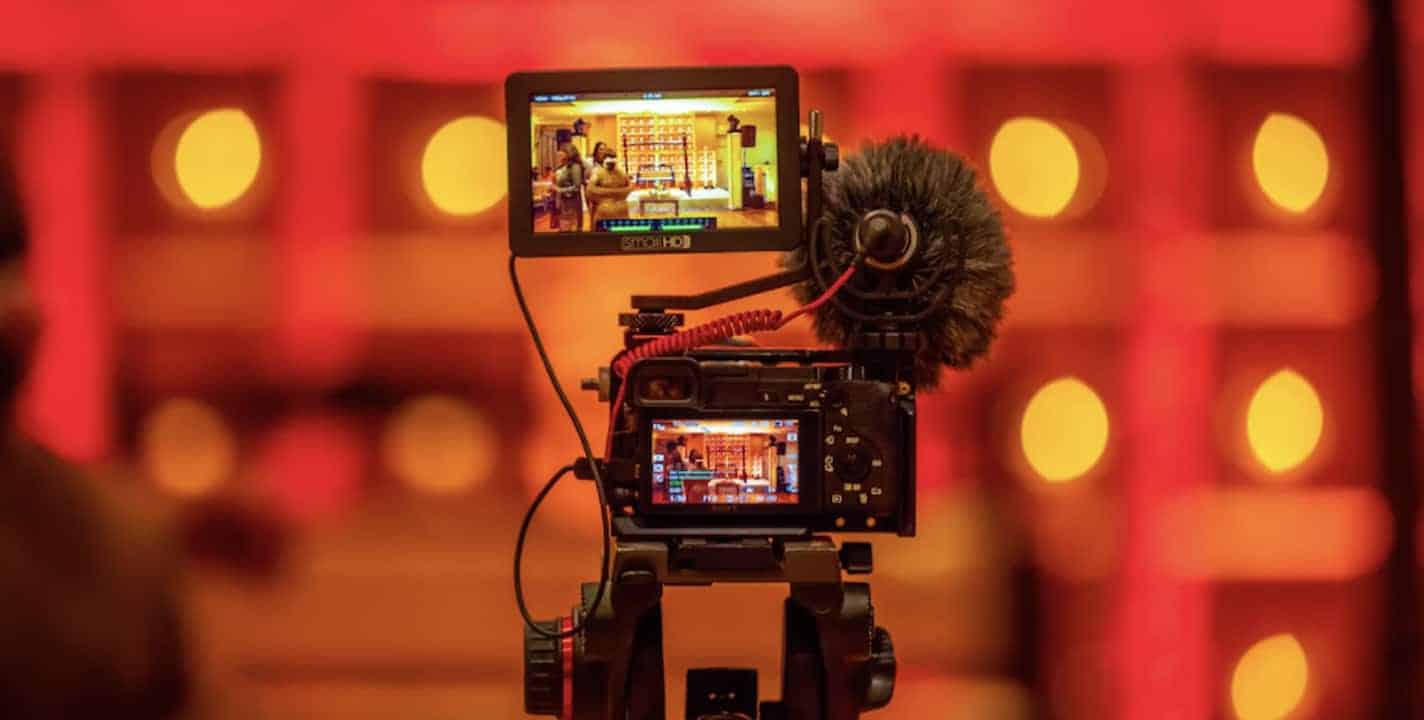 If you manage a website or blog, photo editing is a skill you should master. The same can be said for video editing – visitors to your blog or website want media of all kinds, and it's your job to give it to them.
Learning these skills can seem daunting. Most workflows involve several apps and compromise image or video compression and quality. Photo editing apps tend to focus on being amazing at one specific, niche use-case.
Video editing software is no exception; rather than being great at several things, so many apps are exceptional at one aspect of editing a video.
You don't need to download several apps just to understand how to edit a YouTube video that stands out. In this how-to guide, we'll show you one of the best video editor apps around, which photo editor will make your website stand out, and how to sue them.
Why is video editing so important for blogs?
Amateur blogging is one of the most popular hobbies around. Most bloggers don't move beyond text on the page, which is why adding well-edited video to your blog will make it immediately better than the competition.
Once you've learned how to start blogging, editing your own video should be the next step. Sitting down in front of a camera and giving your take on a product or situation is fine, and you will get views, but properly edited videos will earn you an audience.
READ MORE: The new Nikon Z30 camera is perfect for vloggers
The best video bloggers – or "vloggers" – all have incredible video editing skills which make their blog or website an "omg blog" people talk about.
Great editing also helps you stand out from other vloggers, especially when you're recording your screen for a tutorial or how-to guide. Many videos don't involve an on-screen personality at all.
A study from IdeaRocket shows users spend 88 percent more time on websites that contain video, with short videos getting the most attention.
When your video is under two minutes long, people tend to watch it more often. While people enjoy how easy video makes information consumption, they don't want to invest a lot of time watching.
If you're building an audience, IdeaRocket data shows blog posts with video and text earn a whopping 1200 percent more shares than blog posts with images and text.
Whenever possible, it's best to include video – preferably short-form video. Your engagement, shares, and audience will grow massively.
How to edit a video using Capto
Capto is one of the best apps for editing video and makes the entire process incredibly simple and straightforward while delivering excellent results.
With Capto, you can add text to the screen, annotate your video or photos, add photos to a video, and trim the length of a video. It even lets you record your screen, and can clean up your desktop while recording.
I had to edit a video from my own blog, and Capto made quick work of annotating and cutting the last few seconds from the video. From there, all I had to do was save the video and re-upload it to my blog.
You can find Capto in the Setapp suite of apps for Mac along with over 200 other incredible apps, many of which are sure to make you a video editing and blogging pro in no time.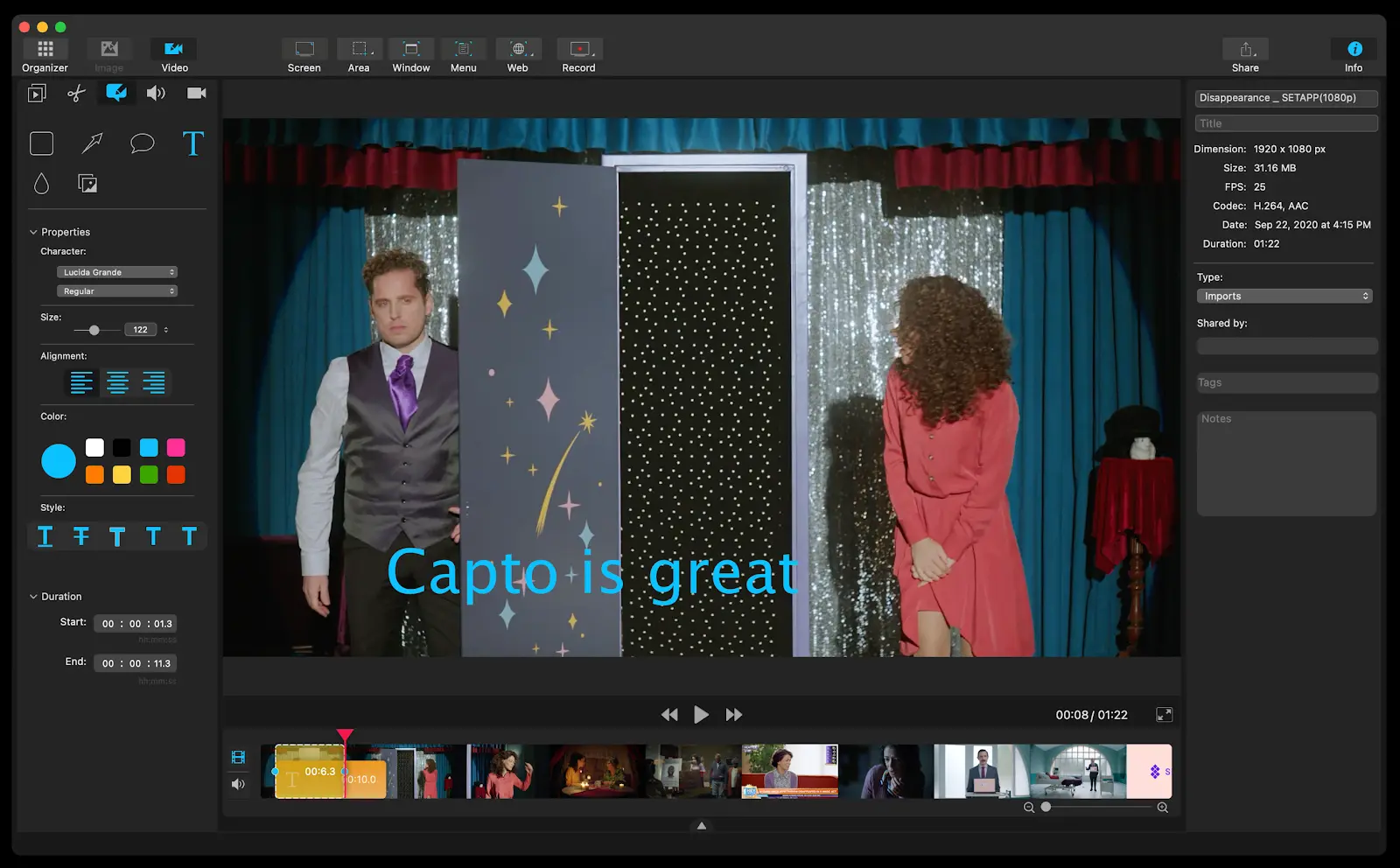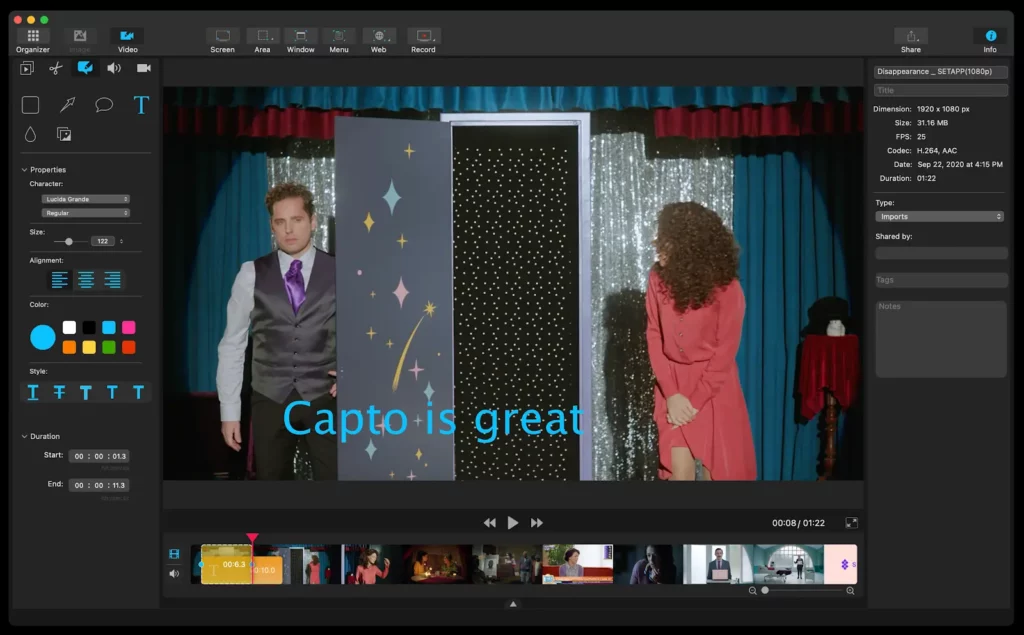 Why is photo editing necessary?
You know how to blog like a pro, but do you understand why great imagery matters? Like a carefully edited video, properly edited photos can take your blog from static to stand out with minimal effort.
When you wanted to learn how to become a blogger, chances are you wanted a place on the internet to share your thoughts.
Even if you have the smartest views on a given topic, people simply won't pay attention if you don't have strong visual assets to draw them in.
Think about it: how many times have you searched for something and clicked on a link – then immediately hit the 'back' button because the site you were visiting was boring and had no images?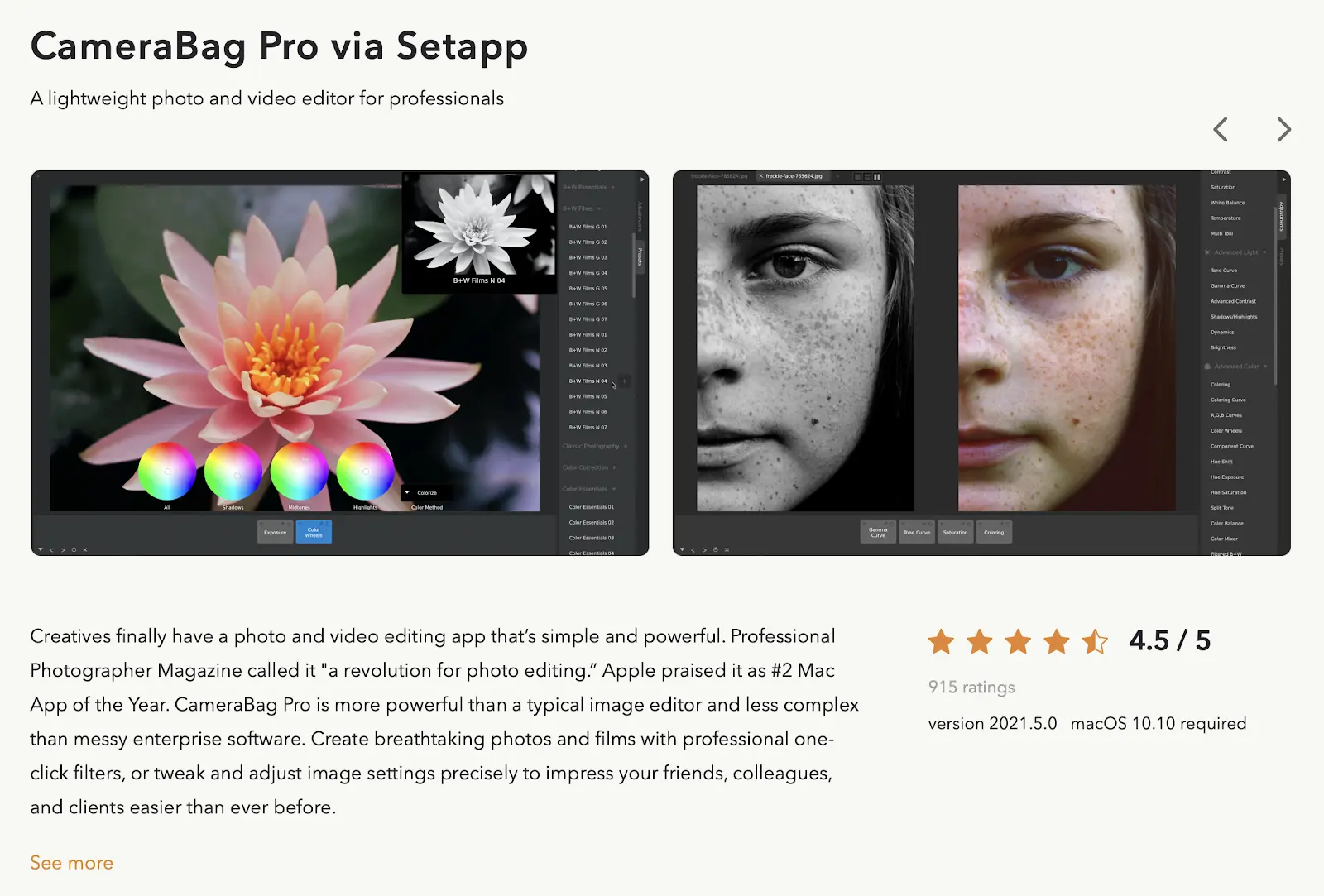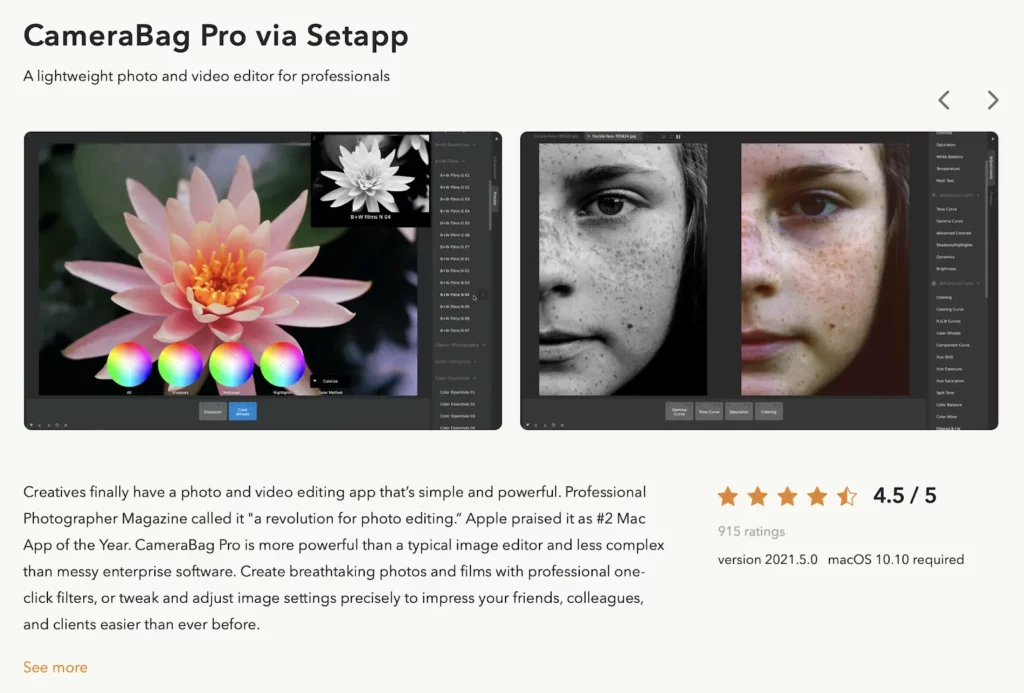 How to edit a photo using CameraBag Pro
CameraBag Pro provides professional-level photo editing in a clean, customizable interface.
The app has many of the same tools as other pro-level photo editors but offers them up in a way that lets you tweak and tinker with images as never before.
Instead of a clumsy menu-based interface, CameraBag Pro puts settings like exposure and saturation at the forefront.
Selecting each setting positions a button at the bottom of the app window where you're able to toggle it on and off as well as customize its level of intensity.
CameraBag Pro also has several presets included and lets you create your own custom presets. It's truly pro-level photo editing anyone can master in minutes.
You don't even need to pay for CameraBag Pro – it's available to use for free during your seven-day trial of Setapp, a powerful suite of over 200 apps exclusively for the Mac.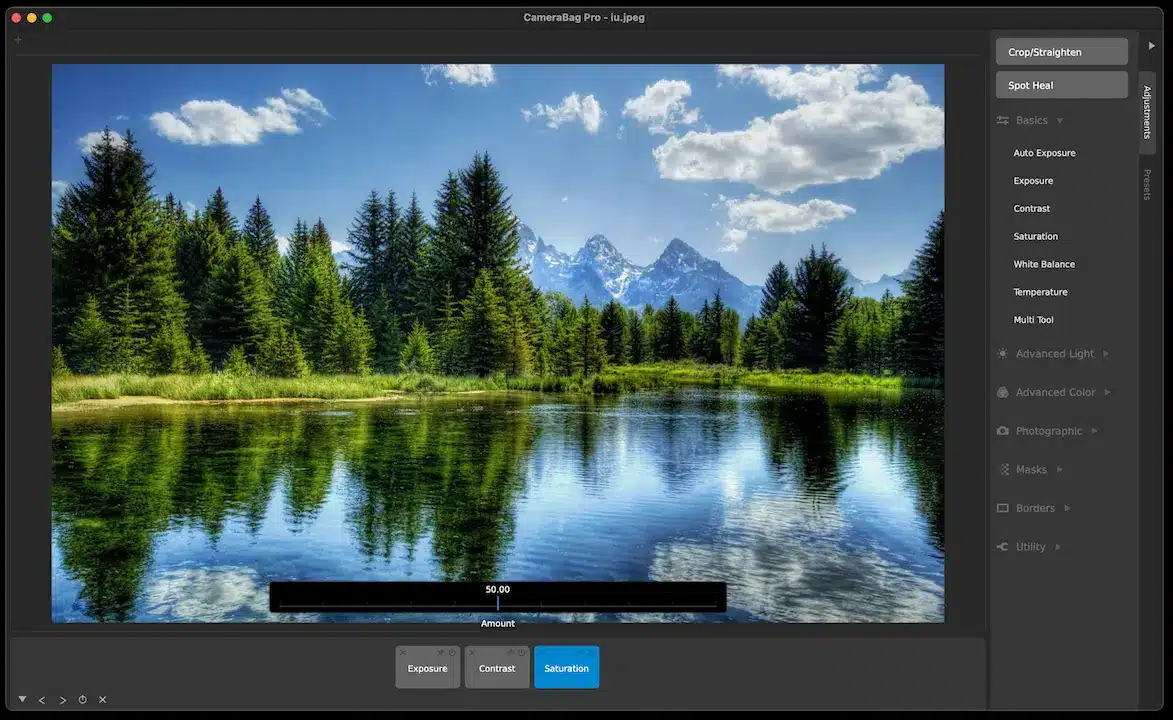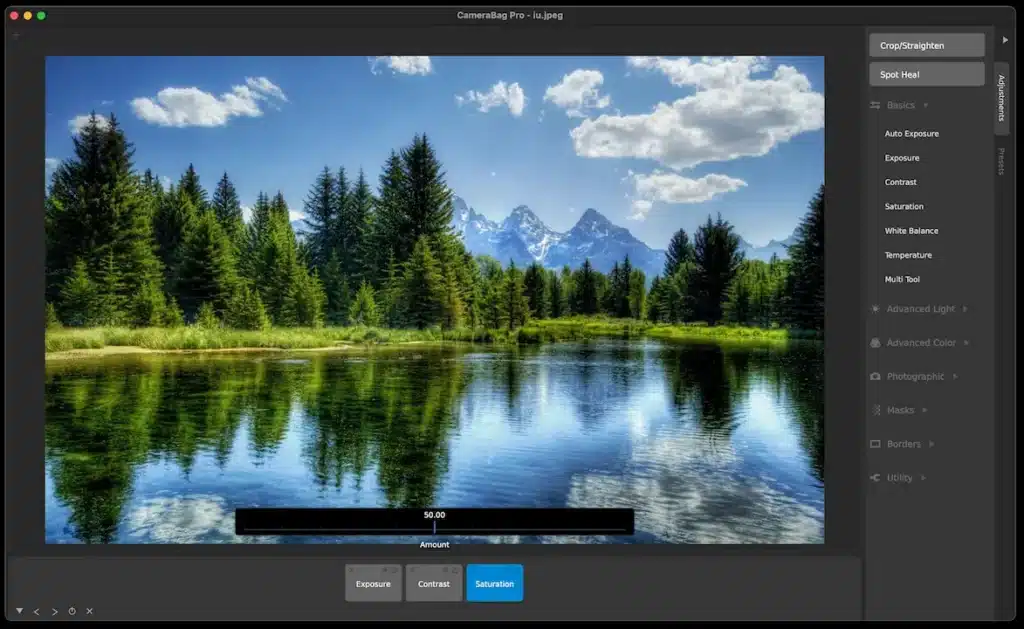 How to make a perfect video for a blog
FotoMagico for Mac and iPad makes quick work of crafting great videos for any blog. Think of it like Apple's iMovie, only much easier to use!
The subscription-based app lets you add photos and videos to a single slideshow presentation, which can then be saved as a video for your blog or website. Simply import your media to FotoMagico and arrange photos and video in the order you like.
One of FotoMagico's best features is the ability to edit photos in the app itself. Once you've arranged your media, selecting a photo brings up a simple editor to control saturation, contrast, gamma, and tint.
You're also able to save and sync slideshows to iCloud for work across devices and present from an iPad.
Best of all, FotoMagico is available in the Setapp catalog of apps, all native to the Mac.
Conclusion
Media is important for your blog. Well-edited videos allow you to post them to other platforms like YouTube, which opens you up to an entirely new audience. You can also share snippets of your videos to apps like Snapchat or TikTok to become a social media star.
Great photos do well on Instagram or Twitter and make for a visual draw to readers across platforms. Whether they find your blog naturally or via an app like Facebook, stellar imagery will always get the attention of readers.
We'll also add naming your photos and videos correctly will provide another avenue for people to find you via search engines like DuckDuckGo or Google.
The point of any blog or website is to engage readers and draw people in. Nothing does that better than sharp media, and nothing helps you achieve your goals better than Setapp.
Setapp is a suite of over 200 apps for your Mac that provide nearly limitless capabilities to your workflow. No matter what you need to accomplish, Setapp has the perfect app for your productivity workflow.
Both CameraBag Pro and Capto are available on Setapp, and you'll love using editors like Ulysses to craft blog posts,
During your free seven-day trial of Setapp, you'll be able to peruse all the apps available in its library without restrictions. Find your perfect workflow and learn the ins and outs of each app, all without paying a dime.
When your trial is over, Setapp is only $9.99 per month – a massive deal for unlimited access to all the incredible apps Setapp has waiting for you. Why wait? Give Setapp a try today.
Have any thoughts on this? Let us know down below in the comments or carry the discussion over to our Twitter or Facebook.
Editors' Recommendations: