How to scan old books into e-books
The best way to scan old books into e-books is using non-destructive scanning methods. Here are some of the best methods.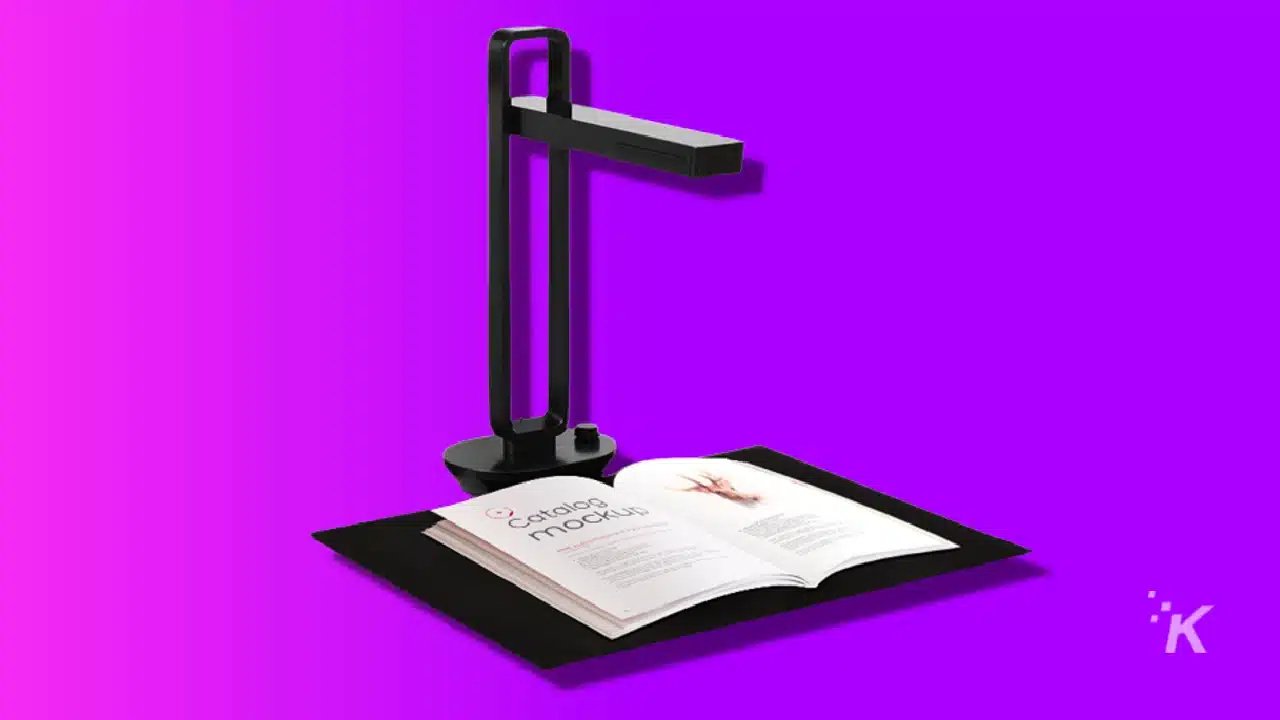 Digitization of old books into e-books is important because it enables faster access to information, enhances productivity, promotes data security, and provides an easy way to store and recover vital data.
Digital documents are more accessible than analog documents. The best way to transform old books into e-books is by scanning them.
You can either use destructive scanning or non-destructive scanning techniques. With destructive scanning methods such as phone and software scanning, you're more likely to have shadows and distortions of book pages.
It's best not to preserve books using destructive scanning methods since they make it harder to read through the digital representation of the book.
A great alternative is non-destructive scanning methods like traditional book scanners and modern smart scanners.
Although traditional scanners are effective in digitizing analog documents, they are expensive and difficult for personal use since they're less portable.
If you want to transform old books into e-books seamlessly, the best method is using the CZUR Aura X Pro smart scanner.
How CZUR Aura X Pro scans old books for e-books?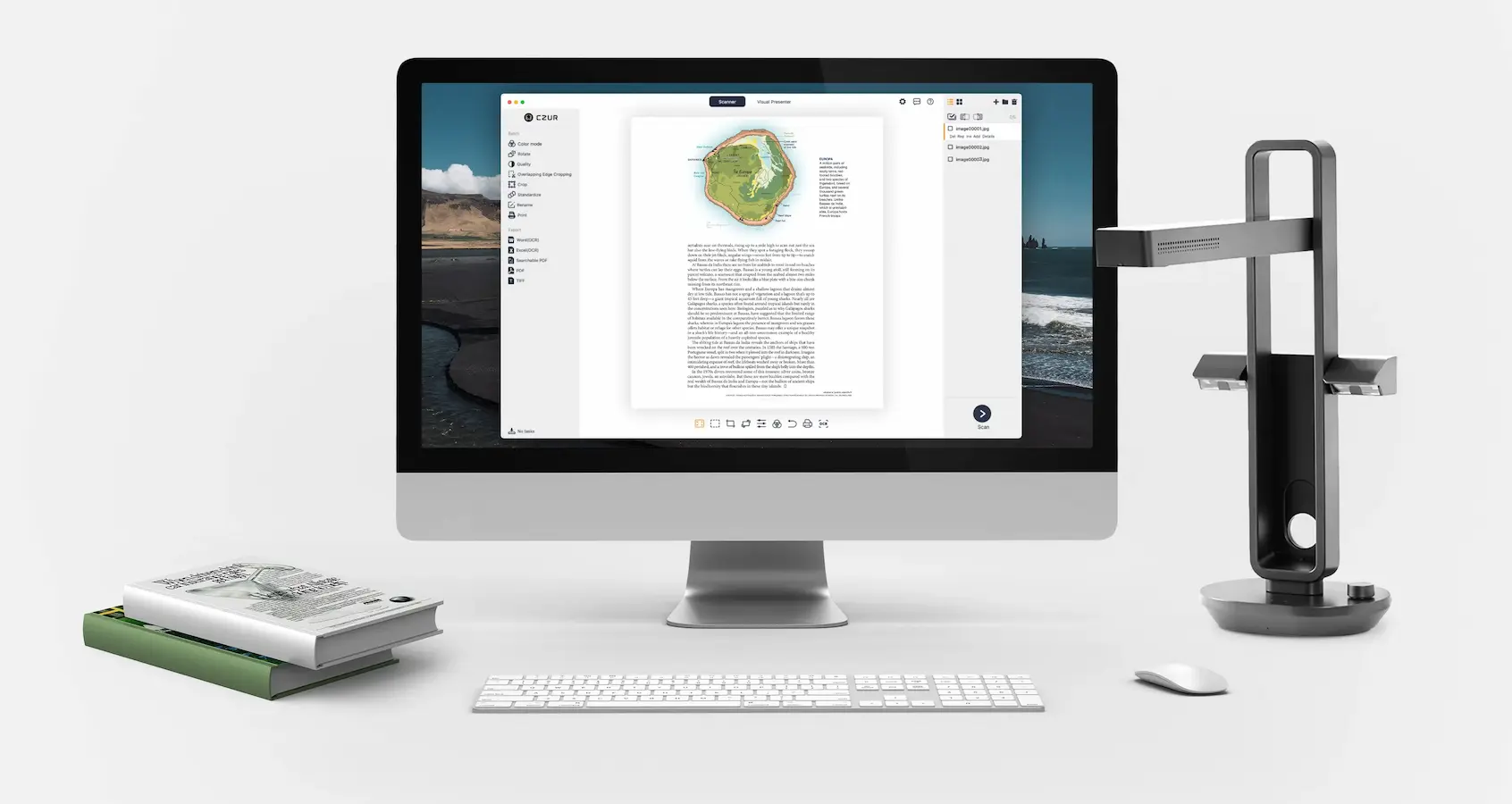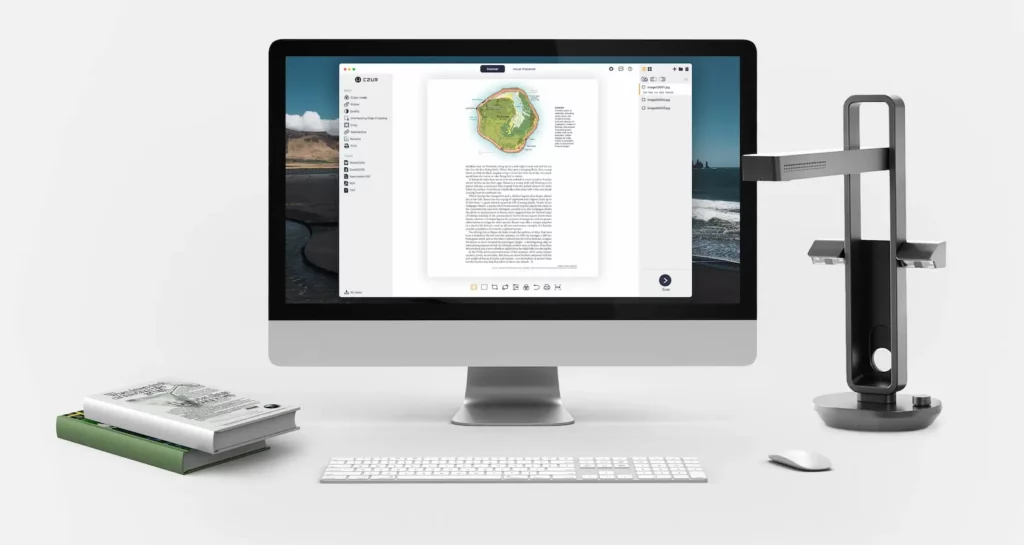 Aura X Pro scans old books into e-books through the following steps
Step 1. Scan old books
Switch to scan mode and place your old book on the black mat to start the scanning process.
At the top of the scanner, you can adjust the position of the image using the provided small display screen. This ensures that only the required sections of the book are displayed.
Next, go to the CZUR software on your laptop. Adjust your book to ensure the dotted line is in the middle. Click on auto-scan to capture the open pages.
To capture multiple pages, the software allows you to flip through the pages after every 2 seconds. Once done, your images will be saved as JPG.
Step 2. Adjustment of the scanned image
With the automatic image enhancement feature provided by the software, you can change the image up to seven color modes. You can set your image to appear in black and white using the B&W mode.
You can filter your images and apply stamp mode only to clear up the background and maintain the colors.
Step 3. Output readable PDF documents
Once you've adjusted the scanned images appropriately, the CZUR software allows you to convert them to readable PDF documents.
This is made possible with the unified cropping and adjustment of the software to make the scanned images converted into a uniformly formatted and readable PDF book.
Step 4. OCR recognition
You can also identify and output old books through OCR. It allows you to convert JPG images to various formats such as Word, Excel, and PDF. This makes the scanned documents searchable when in use.
Something else unique about the OCR technology is that it makes the scanned document retain its features.
Step 5. Proofread and correct text output documents
In addition to recognizing more than 180 languages, OCR comes with a text recognition feature that helps convert scanned paper documents, digital images, and PDFs into searchable information.
It then allows you to proofread and correct the text output documents into a final recognized document that resembles the original.
Aura X Pro can scan old books into e-books with high quality. To achieve this, it comes with outstanding features listed below.
Laser-Assisted correction
CZUR Aura X Pro makes use of a laser-assisted correction feature. This means that it uses laser beams to capture images. The beams then disappear once you've captured the image.
Book curve flattening technology
With the help of our book curve flattening technology, the book curves are automatically flattened, as are original documents that are positioned askew.
To achieve this, the scanner uses a laser array that traverses the book during scanning to detect the angle of book pages and their 3-D shape.
This information is then transmitted to the CZUR software for immediate processing before output.
Fast scanning speed
CZUR Aura X Pro enables fast and efficient scanning, averaging 2 seconds per page. This applies to both double-page books and also single sheets.
The ultra-fast scanning speed Aura X Pro provides is made possible through its high-configuration software.
You'll therefore spend little time scanning thick documents.
Lots of automation tools made for production efficiency
Aura X Pro is a comprehensive automation tool since it seeks to make your work easier during the scanning process. For production efficiency, it applies various automation skills and techniques.
For example, it has an automatic document detection feature that uses intelligent technology to detect page turns, scanning the document automatically without pressing any button.
This enables effortless scanning. Next, this scanner tool uses an auto-scan feature (Page Turning Detecting) or allows you to trigger scanning using a foot pedal, freeing your hand from extra work.
Lastly, to enhance production efficiency, the scanner tool gives room for page color adjustment for single and double pages.
You can also perform uniform cropping of pages. This enables you to view the scanned document differently and to your preference.
AI text recognition
To enhance its document scanning efficiency, Aura X Pro uses an Optical Character Recognition (OCR) technology developed by ABBYY®.
This all-in-one software enables the scanner to recognize more than 180 languages and applies to users across various countries and territories.
Conclusion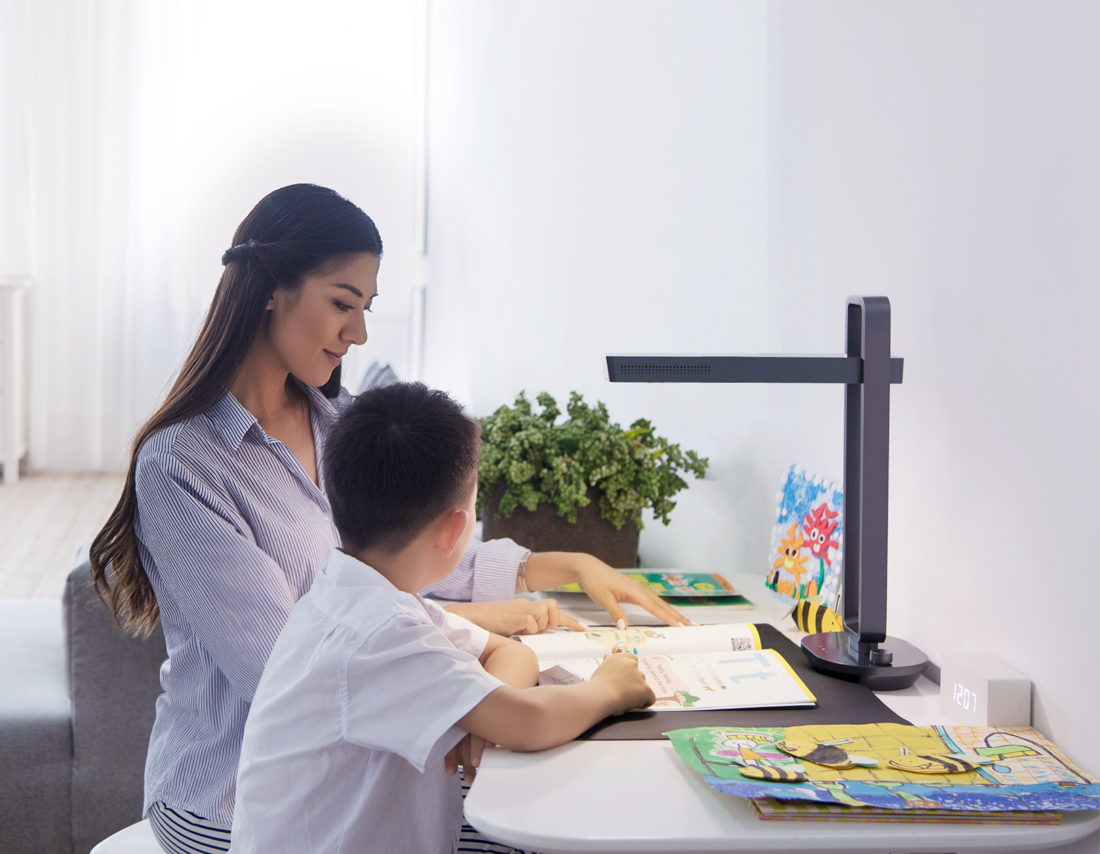 You may want to scan old books into e-books at home or workplace for data security purposes, faster access, or to enhance productivity.
The best way to scan old books into e-books is using non-destructive scanning methods. Unlike destructive scanning methods, non-destructive methods do not cause shadows or page distortions.
You can also scan large documents within a short time using non-destructive methods.
If you cannot afford the price of traditional scanners, the most recommended non-destructive method to digitize old books is using CZUR Aura X Pro.
This scanner tool uses a patented book curve flattening technology and an intelligent lamp feature to give you the best experience.
CZUR Aura X Pro is good for old books because of its smart technology that enhances scanning performance.
If you want to transform your old book into an e-book today, ensure you try the CZUR Aura X Pro to enjoy the amazing book scanning features it provides. The tool is affordable and easy to use.
Have any thoughts on this? Let us know down below in the comments or carry the discussion over to our Twitter or Facebook.
Editors' Recommendations: