How to use Dreo space heaters to keep the chill at bay this winter
As winter inches closer, that chill in the air will become more profound. This guide will help you make the most of your Dreo space heater this winter.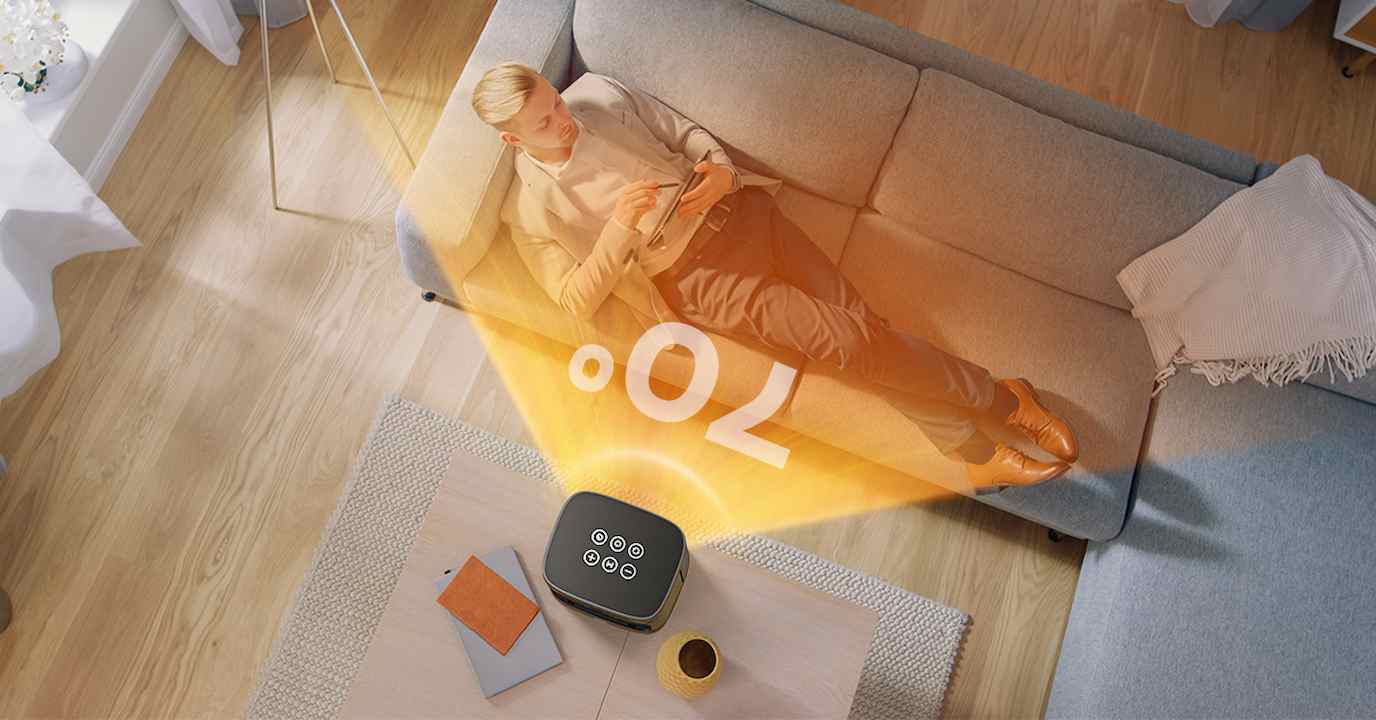 The leaves are bright and crispy; the marshmallows are stocked.
And any minute now, the first snowflake of winter will grace us with its presence. With the winter months ahead of us, keeping a cozy home is a top priority.
Using a space heater has become a popular, economical way to heat a specific space in your home or office. The Dreo space heater it's among the favorites, and we are here to highlight exactly why. So slide on the slippers and grab a hot cup of cocoa when we break down the best way to keep the chill at bay this winter.
The first snow day of the year brings a smile to everyone. Well, almost everyone, maybe not the grandpa from Pixar's "UP." For everyone else, snow means frigid temps and less sunlight.
So when the family is winding down and getting ready for a cozy movie night, using your space heater can amplify all comfort levels.
Embrace It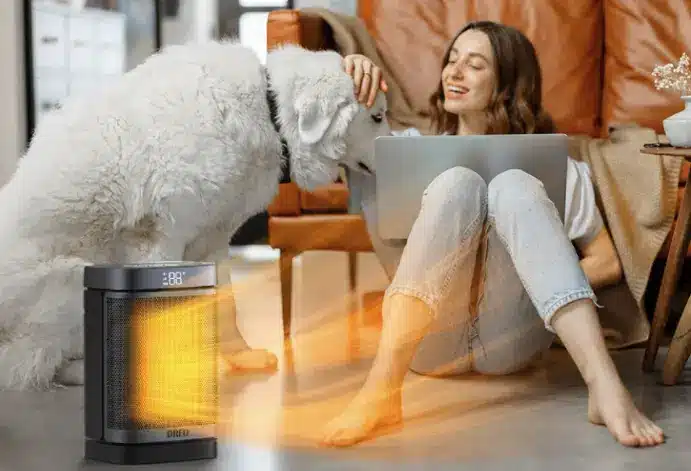 The great thing about the future is that we keep finding better ways to accomplish the same menial task.
Dreo space heaters are set up with tech-forward hardware and progressive design. Positive Temperature Coefficient (PTC) ceramic heating starts with discs that are made from high-grade ceramic materials.
PTC is energy efficient while delivering maximum power, as safe as it can get. Perfect for your feet, you can enjoy the warmth of your space heater in your bedroom for an extra layer of glowy comfort. Speaking of which, when we flashback to A Christmas Story, we can't forget Ralphie's father clamoring around downstairs with the furnace.
It's a battle he always lost, covered in soot, and he wasn't the only one. With the Dreo, gone are the days where your grandfather is tinkering around with a noisy central heater that doesn't even fill the room with the warmth needed to be comfortable.
The Dreo Difference
Modern technology has gifted us with an array of comforts that we never dreamed we'd have access to. Imagine what our ancestors would say if they found out, we could manipulate temperature out and completely weatherproof our dwellings.
The Dreo Space Heater is a perfect example of the progressive world of technology constantly evolving to meet our needs. This space heater comes equipped with an atypical design. It features a 70-degree oscillating thermostat, ready for all of your adjustments.
Its LED display features a touch screen for clear and direct customization. Donning a detachable and simple to sanitize filter, you can rest easy knowing allergens like pollen and dust will be run through the filtration system. This ensures the return air that's filling your space is of good quality.
This electric heater can be transported wherever you need it. So if you decide you want to camp in the redwoods in December, you can bring your Dreo space heater with you. Set her up in the teardrop trailer and enjoy a warm retreat after your frigid morning hikes.
Quiet, Caution & Tips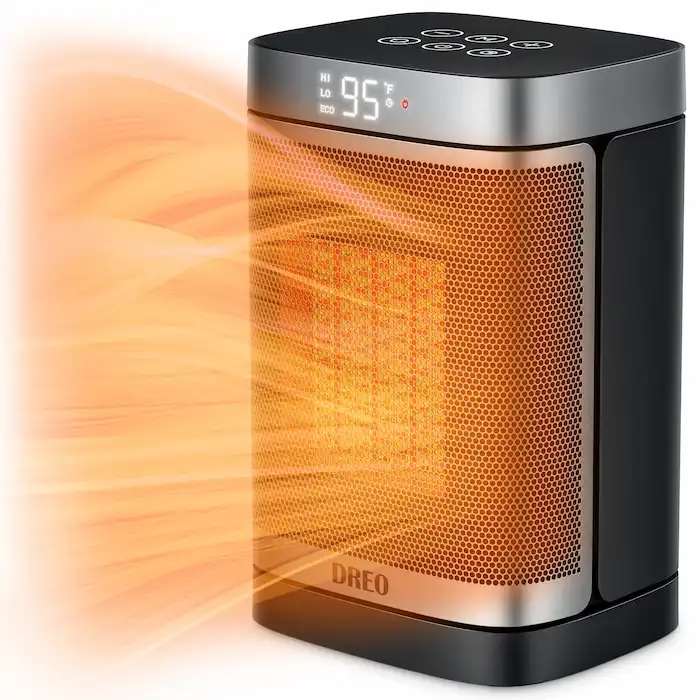 Is it us, or as we age, all noise is starting to register at a higher decibel? A quiet space heater is the only type of space heater worth having. And if it's got bells and whistles, one of them better be the silent type.
Along with quiet, caution is an enormous concern with space heaters. Folks have long worried about space heaters and fire hazards and for good reason.
Without the right tools and caution, a fire accident could turn into devastation. Fortunately, the Dreo space heater has a sensitive tip-over switch. That way, in the case of an accident, a sensor will tell her the space heater to automatically turn off at 122°F.
The Dreo is cold to the touch, so there are no risks of burned hands or fingers. Reinforced prongs and flame-resistant materials make this fan is your best-case scenario. With environmental consciousness in mind, the space heater offers an eco-mode.
It will continuously adjust its output depending on the temperature around it. And utilizing your space heater in the most efficient way means utilizing it to heat a room versus your entire dwelling.
Your space heater will be the most efficient plug directly into an outlet. The farther you are from the outlet, say if you're using an extension cord, the more it will cost you. For spatial awareness and extra caution, make sure there's a solid clearance of 3 feet around your space heater.
Being mindful to turn your heater off when you are leaving the house or a room can help your heater's lifespan and environment. And on the subject of its lifespan, using your space heater and dry rooms is the best practice.
That means avoiding your bathroom, kitchen, or leaky basement. The humidity and wet nature can be a hazard to the functionality of your heater. And keeping her happy means warm nights ahead for years to come.
Make the Switch
Adding a space heater to your family will only enhance the wonderful things you love about your cozy home. And whether you're bringing that cozy vibe on the road or to the woods, you can count on the safety, efficiency, and reliability of the Dreo name.
Between the celebrations, quiet evenings, and Santa's big debut, there is nothing quite like a warm space to share with your loved ones.
If you're interested in learning more about how to best utilize your space heater, check out Dreo's website.
Have any thoughts on this? Let us know down below in the comments or carry the discussion over to our Twitter or Facebook.
Editors' Recommendations: