KnowTechie Roundtable: Why does this photo exist?
We have so many questions.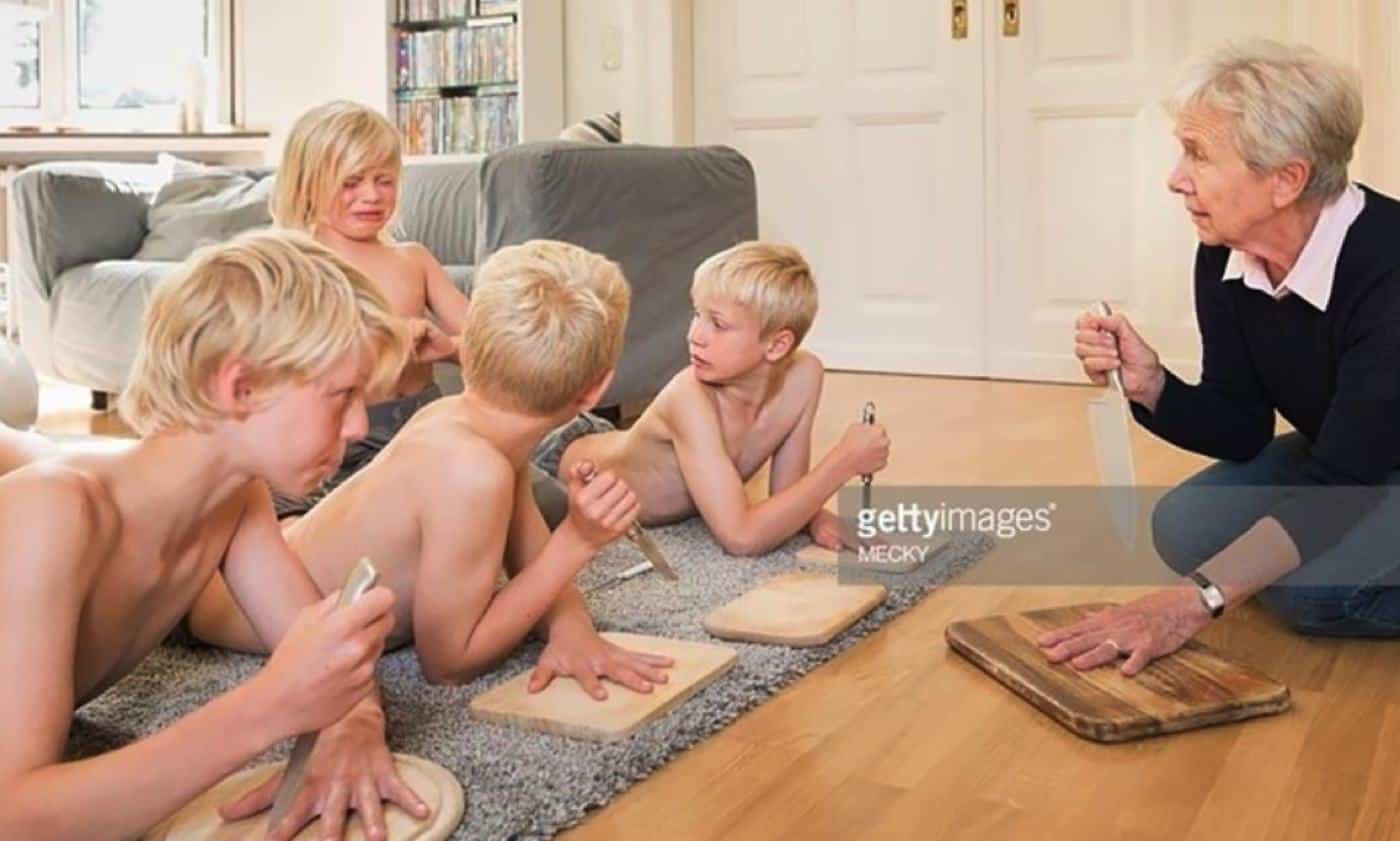 We're an opinionated bunch here at KnowTechie. In fact, the only thing we enjoy more than expressing our own opinions is shooting each others' down with vociferous, unrestrained vitriol. As such, we've decided to launch a new weekly series, the KnowTechie Roundtable, to do just that.
Join us every Friday to hear us dish dish, bish on our favorite topics in tech while hurling insults at one another but mostly Kevin.
Topic #4: Why Does This Photo Exist?
Why does this photo exist? pic.twitter.com/0KpYV7fcZQ

— Kevin Raposo (@Kevin_Raposo) July 3, 2019
Jared: Kevin, where in the hell did you find this?
Kevin: Reddit is a glorious place. You should try it sometime. But one of the thousand newsletters I'm subscribed to pointed me in the direction of r/darkstockphotos. Which is where I naturally found this treasure.
Jake: Good fucking lord, it's a training camp for the Aryan Brotherhood. They really start them young, huh?
Kevin: Hold your horses there, Jake. We'll get to that in a minute. So, Jared, what the hell are we doing here?
Jared: We're talking about why this photo exists, Kevin. What's going on in it, what scenarios it could possibly be used for, and what your browsing history could possibly look like to return a search result like this (I'm not buying your "found it on reddit" excuse, BTW).
Kevin: Oh, right. I should probably put this bong down.
Jared: Our boss, everyone.
Anyways, I'm personally leaning more towards Jake's theory. This old bird is clearly raising an army of Draco Malfoys to commit a series of violent hate crimes (sorry, a series of "mostly peaceful protests" with "good people on both sides") that will likely be in response to some statue of a Civil War veteran from the losing team being taken down.
She's teaching them Five Finger Fillet to help them gain clout in the prisons they'll all eventually end up in, and it looks like little Billy in the back there is the weak link. (Billy in the Back, ironically, will be what he's known as in prison.)
My question is: Why are they all shirtless? Granny is wearing a sweater over a shirt, and besides, there's NO WAY that house doesn't have central air.
It's to keep the blood off their shirts, Jared. C'mon. Granny doesn't miss.
And, wait, you mean to tell me you guys didn't have an elder lady teach you the ins and outs of "Strippy Stabby" when you were young? I'm sorry your childhood was so devoid of such common life lessons.
But in reality, guys, this one is easy. Guerilla marketing campaign for Midsommar. Discussion over.
Kevin: I get the feeling that in some point of Curtis' life, his grandmother taught him and all of her other grandchildren how to play this game.
Jared: I'm guessing it was Josiah's grandmother.
Curtis: The only thing my one grandmother taught me (my other was already long dead) was how to chain smoke while cross-stitching.
Man, I have so many questions. First off, who commissioned this photo? Who at Getty images thought to themselves and said "You know what we need? We need a grandmother and her grandkids playing 'Stripy Stabby' – that's what the folks want."
Also, why are all the kids shirtless?  Why isn't granny shirtless like the rest of the bunch? I dunno, maybe they're playing strip rules and granny is absolutely killing it. I guess only winners keep to keep their shirts and fingers. Either that or it's easier to clean the blood off of bare skin than out of cotton. Also, why does she have a bigger knife? No doubt, nana, I see you.
What's even more fucked up is what Getty Images was charging for this image. It's since been removed from their platform, but get this, if you wanted to use this photo, Getty was charging $575 for the rights to use this photo. Let me repeat that again: Five hundred and seventy-five fucking dollars. Even better, there were two photos like this in the series. Who knows why they removed it.
Kevin, $575 seems like a fair amount to pay for an elderly lady with knife skills, but yeah, a steep price of just a photo. I'm not even going to comment on the shirtless kids.
Regardless of the metadata of that photo, that is not their grandmother, nor Josiah's (she's currently dry humping a bible I'm guessing). That is a professional knife handler. She's spent years learning the art of throwing and handling knives and she is training these children for a future appearance on America's Got Talent.
If you watch that show, you'd know that most of the danger acts appear shirtless or near shirtless, to show off their myriad of muscles that Kevin doesn't have. These kids will grow up, with the appropriate training, to be the best danger act that Simon Cowell has ever seen.
Jared: It's called FIVE FINGER FILLET, you uncultured swine!
Joe (as Simon Cowell): Well, it's been a good run for KnowTechie, just over 5 glorious years. It's now over. Thanks for killing the magic, Jared. Let's just go while we still have all of our typing fingers. It's a NO from me, Curtis.
Curtis: You seem more like a So You Think You Can Dance stan anyway.
Josh: Regardless of the crappy syndicated talent shows you guys are talking about, I feel like this ultimately comes off as some stock photo company trying their damndest to try to get a viral meme out of their pics.
I've heard that the boyfriend one and the kid with the gun one actually made some good money with their portfolio after theirs went nuts. On a fun side, I'm fairly certain one of those knife boys may be related to Forbes' Erik Kain.
---
Well, there you have it. While we never really found out as to why this photo actually exists, we feel like our guess were pretty spot on. Do you have your own thoughts as to why someone would want this picture? Let us know, we'd love to find out.
Let us know down in the comments or feel free to reach out to us personally. Seriously, whether it's Curtis, Jake, Jared, Josiah, Josh, Joe, or myself  – we want to hear from you.
If you have any takes on this image, this is where you come in. If there's anything missing here, let us know down below in the comments or carry the discussion over to our Twitter or Facebook.
Editors' Recommendations:
Follow us on Flipboard, Google News, or Apple News