From a snow shipping service to name generators, here's how one man from Boston makes a buck on the internet
If you're looking to get your start in a business on the internet, see how Kyle Waring got his start and what's in store for the future.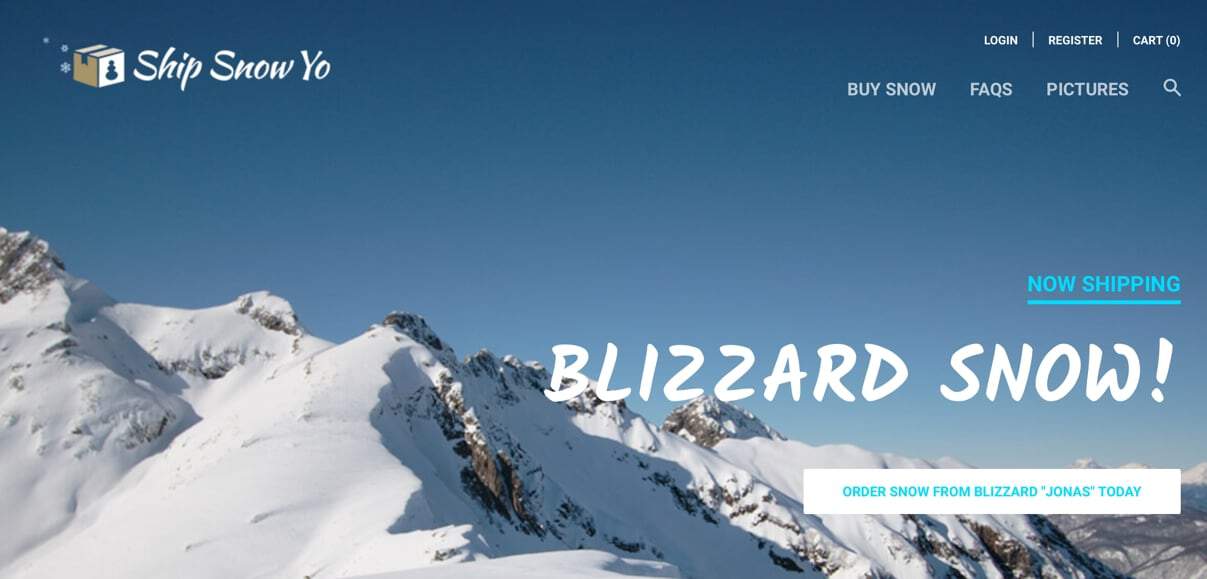 If you're looking to get your start in a business on the internet, see how Kyle Waring got his start and what's in store for the future.
---
I've been on twitter sharing 140 chars since 2009 (see I'm abbreviating already), and figure now's as good of a time as any to expand.
I don't even know how to begin, so I'll begin with: I'm quirky.
I thrive off growth. Users, Customers, Revenue…it's wildly exciting launching a business and watching it grow. Organically.
But in 2016, starting a business is seriously strategic.
You need outsmart the market, or make a market.
The only way you'll be able to do either is by testing concepts and exploring opportunities rapidly.
For this, I'm in love with Micro entrepreneurship.
Meet Therabody's All-New TheraFace Mask
TheraFace Mask is a breakthrough FDA-cleared LED skincare mask with added tension-relieving vibration therapy. Clinically proven results include firmer, smoother, healthier-looking skin with a visible reduction in fine lines, wrinkles, and uneven tone in as little as 8 weeks
85% of startups fail. If the CEO has built and sold a startup before then the odds go down to 25%. — James Altucher
Why do you think that is?
---
I started developing my own websites when I was 14, in 2002. Without even realizing it, I was taking small steps building my first business. What started as a hobby, evolved into a cash generating website.
The product itself was fun to develop. I coded it in html and learned the most basic <?php switch statements ?>.
After a little while, my php skills evolved and I built one of the first "Pimp Name Generators"
The product was decently funny, my friends and I came up with about a fifty ridiculous ones. Luckily I don't even remember one… but what really made the website stick out was an early social sharing mechanism.
When a user copied their name and pasted it into their AIM profile, it added a link to "Get your own pimp name" right below it.
O.G. K-factor
0–2 million visitors / month!
Essentially the same tactic Zynga skyrocketed Farmville in 2009.
Two years later, I ended up selling my very first business:PimpedMedia.comfor $10,000 to Eric Borgos — the founder of Bored.com.
I was 16!
"Started from the bottom now we here" — Drake
---
In the 12 years after the sale of my first business, I've ended up launching just shy of a dozen businesses with varying degrees of success.
Each one was unique in their own esoteric ways. All of them at one point had potential to make money, and timing is everything.
Here's a somewhat chronological list of the various MVPs I've launched over the years:
An AIM buddy icon network
A college humor competitor, CampusBreak.com (sold in 2007)
A T-shirt company: RMX Clothes (failed)
Multiple online text-based role playing games: PimpinGame & Ghetoo
A domain holding business: Arrowed.com, Clumzy.com, Unjam.com
A flash gaming network: DailyFlashGames.com
A paint party business with my wife (growing)
A market where Gaming Publishers license games: Game Brokerage(failed)
A snow shipping company: Ship Snow, Yo! (growing)
A foliage shipping company: Ship Foliage (growing)
A Donald Trump Emoji App: Trumpoji (on the verge of collapse)
Most of these businesses were side projects.
---
I've been building my career in parallel since 2008, where I tripled Bored.com annual revenues from $600k to $1.8m (user+monetization growth), lead a team to execute a roll-up strategy acquiring high traffic gaming websites, and now work as a Product Manager, Ad Ops at GSN Games monetizing 2MM DAU.
In 2014 I left Bored.com to focus full time on Game Brokerage — which I built slowly as a side project over 3 years and would go on to invest 13 months and my life savings into. It was my big swing, which eventually turned into a big whiff. Big trees fall hard. I'll save the full story for another time…
Looking back at Game Brokerage: I should have pivoted quicker, spent less time building the product, and more time brokering games and up-sell services (monetization, advertising, and analytics).
It was painful realizing that this business had failed, and that I had run out of working capital (and personal liquidity).
Hindsight is 20/20 — I know exactly where I failed. I invested too much. Too much time, too much money, too much emotion.
Over engineered the frontend, backend, both, twice. What if I changed this, would I increase the number of sign ups? Remove this field. Add this feature.
And In the end, I became too obsessed with the product and making everything perfect — when all I needed all along was to objectively look at the data and start something new.
I closed Game Brokerage in January 2015.
I launched Ship Snow, Yo! on February 6th, 2015.
---
I love Micro entrepreneurship.
Why? Minimize downside, maximize upside.
Launch a lot of different businesses — horizontally and vertically across different categories and platforms.
If you need help on refining your business ideas, Paul Graham wrote an excellent essay on "How to Find a Startup Idea". I found this particular quote insightful in narrowing focus:
You can either build something a large number of people want a small amount, or something a small number of people want a large amount. Choose the latter.
Zeroing in on something a small number of people want a lot, or should I say, need — should be prioritized.
Secondly: Prove your business — product or service — has a market fit. Nothing new here, I know — but, establish that your business can attract paying customers or advertisers. This is fundamentally why you're starting a business. Cash is King despite what Russ Hanneman says on Silicon Valley:
It's not about how much you earn. It's about what you're worth. And who's worth the most? Companies that lose money. Pintrest, Snapchat, no revenue. Amazon has lost money for every fucking quarter for the last 20 fucking years and that Jeff Bezos is the king.
Amazon is an outlier, and you obviously can't bank on being an outlier yourself.
In other words, plant seeds and cultivate your own success. Try new things. Explore different markets.
Eventually you'll grow an evergreen business.
---
My most recent evergreen business launched as a joke. ShipSnowYo.com has generated hundreds of sales in the past two winter seasons with double digit revenue growth season-over-season.
Originally influenced by Mat Carpenter's ShipYourEnemiesGlitter.com — a good friend of mine was seriously considering investing $85k in the joke shipping business. It was time for me to try out my own shipping site.
There ain't no business like snow business.
Ship Snow, Yo! initially launched in the depths of the worst snow season Boston has ever seen. Quite literally, record breaking.
The product? My wife and I collected snow from our apartment and shipped it out in water bottles I purchased at CVS. The snow melted in transit, but we included a nice little picture of the water bottle before it began it's journey. There's no better example of an MVP that I can think of, but I might be biased.
In the first week we ended up selling over 100 water bottles of snow…we were shocked! At that point we knew we had to evolve the process and figure out how to guarantee snow on arrival.
We didn't even realize there was a legitimate market for this product! There are hundreds of thousands, if not millions of people — that haven't seen real snow before. That in combination with New Englander's who wanted to share our misery with friends and family… turned out to be a great seasonal business with lots of long term potential.
During our second winter season we expanded our operations and shipped 1,500 lbs of Snow from 3 locations: Denver CO, Warren VT and Boston MA.
For Christmas alone, we shipped 60 boxes of snow weighing over 800 lbs!
It was an amazing accomplishment and milestone for us to be able to deliver a white Christmas to these families, most of which emailed us back with incredible stories and clips of their snowball fights (a big shout out to FedEx for making this possible and handling our shipments with TLC).
As we roll into the winter season ahead, our boxes of snow will become more affordable, larger, and unique ;).
I highly encourage entrepreneurs to try new things, plants new seeds and for the love of god… launch your damn business already! It's ready.
---
This article originally appeared on Medium and was republished with the author's permission. 
Follow us on Flipboard, Google News, or Apple News