Look for TheSoul Publishing at This Year's Las Vegas Licensing Expo
The digital content studio offers unprecedented opportunity to potential licensing partners.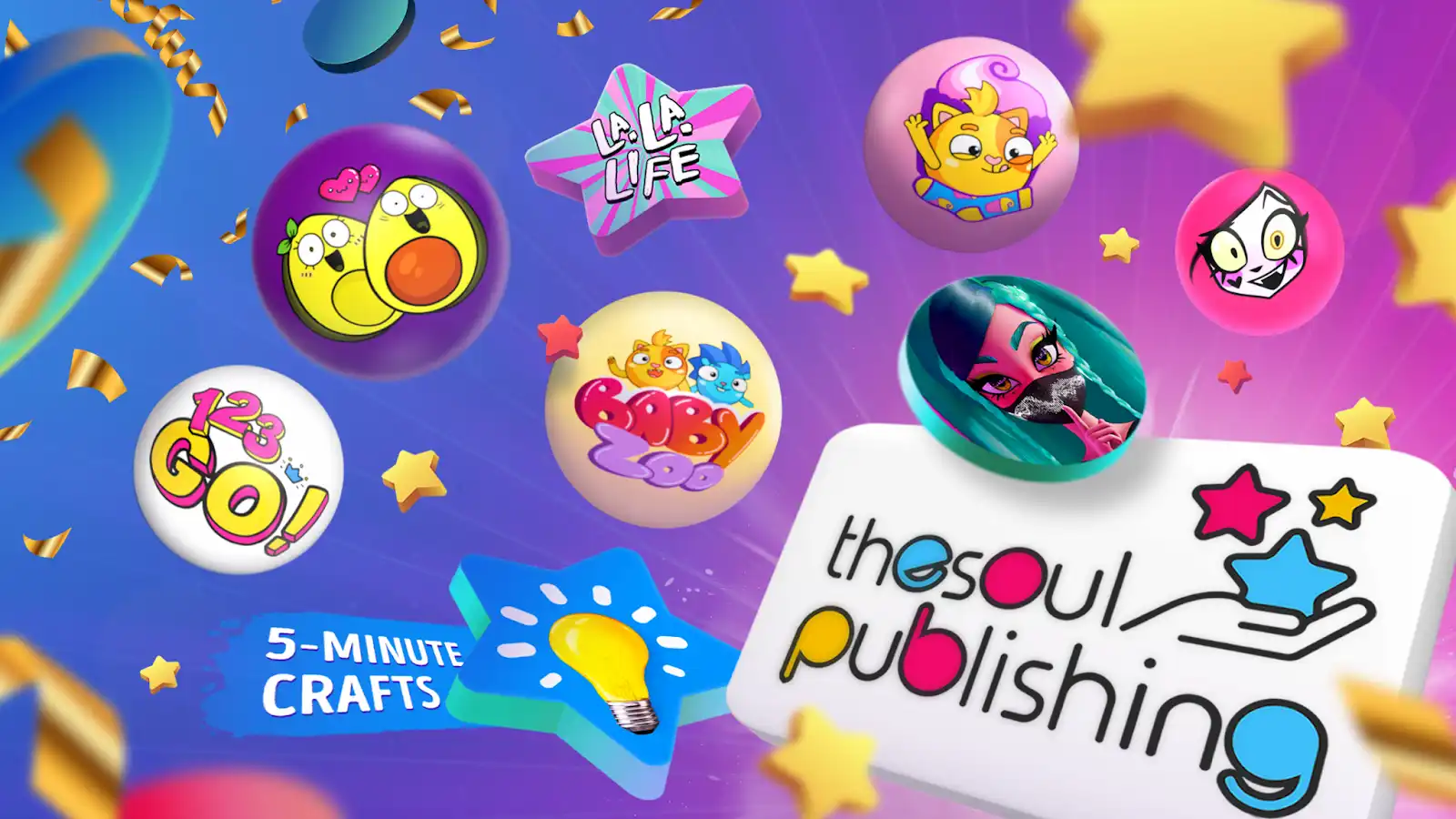 The Licensing Expo, the largest of its kind in the world, has been connecting the world's most influential entertainment, character, art, and corporate brand owners and agents with consumer goods manufacturers, licensees, and retailers for more than 40 years.
This year, for the first time, TheSoul Publishing will join the elite list of brands available for possible licensing partnerships at the 2022 Licensing Expo in Las Vegas . 
From May 24-26 at the Mandalay Bay Convention Center in Las Vegas, Nevada, The Licensing Expo will host the world's most notable and recognizable brands in the world. These brands include The Coca-Cola Company, Mattel, Lego, NFL, Netflix, and so many more of your favorites.
The Licensing Expo in Las Vegas serves as the premier location to secure the license rights to thousands of consumer brands, entertainment icons, and more for your products or stores.
The expo hosts the widest range of brands available for licensing at a single event. There's no better place to spot trends, build partnerships, or secure brand rights than Licensing Expo in Las Vegas. 
Brand Licensing and TheSoul Publishing
In 2019, and with an increased YOY of 4.5%, retail sales from all licensed merchandise globally reached a whopping $292.8 billion. ("Brand Licensing Explained").
With such an unprecedented amount of capital spent on licensed merchandise alone in 2019, it only makes sense that the digital studio is known for introducing the world to such uplifting and popular brands as Bright Side, 5-Minute Crafts, and 123Go! would seek to expand its high-profile offering into the licensing arena with a strong presence at this year's expo. 
Over the three-day event, TheSoul Publishing will explore licensing partnerships with companies across the industry to develop a compelling line of uplifting products that excite the over one billion viewers of TheSoul Publishing content from across the world.
TheSoul Publishing's New Licensing Leader
Licensing Expo 2022 marks the first year of attendance for the digital-first media brand. TheSoul Publishing made a splashy entrance into the consumer product space in November of 2021 when they announced that they were bringing Ines Pacheco to the digital studio as Director of Licensing.
"I've been a fan of TheSoul Publishing's content for years and I believe there's a huge opportunity for growth in this space," shared Pacheco. "We're starting with a massive audience that any marketer would jump to have the opportunity to connect with. Now comes the fun part: figuring out exactly what our audience wants and how to get it to them wherever they shop!"
In her previous role as BuzzFeed's vice president of licensing and brand design, Pacheco oversaw global operations for brand licensing. Among her portfolio of brand experience categories are kitchenware, toys and games, food, and beverage, pets, apparel and publishing.
While establishing brand guidelines, creating and designing logos for licensed products, she also developed and executed marketing campaigns packaging. Prior to Buzzfeed, Pacheco worked for The Wall Street Journal where she led the rollout of a new sales organization structure. 
Pacheco has been tasked with developing and optimizing TheSoul Publishing's brand licensing strategy on a global scale.
Pacheco is responsible for bringing TheSoul's social media followers across the globe a compelling and fun line of products showcasing the studio's universe of brands.
Licensing with TheSoul
The digital studio is full of brands and characters ready and waiting for this type of licensing opportunity.
A wide variety of their original channels are available through the top social media and streaming platforms, including YouTube, Facebook, Instagram, Pinterest, Snapchat, TikTok, Roku, and Amazon Prime.
TheSoul entered the online video content space only seven short years ago with its original digital content channel, Bright Side. That quickly gave way to the creation of TheSoul Publishing's rockstar sensation of a brand, 5-Minute Crafts.
This popular DIY YouTube channel boasts 76.6 million subscribers, while the 5-Minute Crafts Facebook page currently adds up to almost 120 million followers total (as of April 2022). 
TheSoul Publishing has garnered the most social media views every month this year so far and led the way with the most views in all of 2021 matched against the most prolific media companies today.
"TheSoul is in a completely unique position as a licensor. We have unmatched global reach and marketing opportunity that's already baked into our value proposition for our manufacturing and retail partners. With a particular focus on our DIY juggernaut 5-Minute Crafts, we're excited to explore the possibilities at the 2022 Licensing Expo and to soon offer our fans an incredible array of consumer products across our brands," said Ines Pacheco, Director of Licensing at TheSoul Publishing.
With the popularity of TheSoul Publishing's content continuing to grow, fan enthusiasm soaring around the studio's highly identifiable brands and characters, and a newly-appointed, seasoned leader ready, TheSoul Publishing is poised to be a breakout first-time guest at the Las Vegas Licensing Expo 2022. 
TheSoul Publishing in Las Vegas
During the three-day event in May, representatives from TheSoul Publishing will be in booth Q192 in the Bayside Exhibit Hall on Level 1 in the Characters & Entertainment section between Mattel, Paramount Inc. and the Pokemon Company International.
TheSoul Publishing has created a strong line-up of brands that are perfect for the entire spectrum of licensing categories that exist. 
From novelties/gifts to tools and beauty supplies to games and even accessories and apparel, TheSoul Publishing has something suited for everyone and everything. 
Check out all the licensing opportunities that await the many attendees of the Las Vegas Licensing Expo on May 24-26 at the Mandalay Bay Convention Center. 
Up For Licensing Opportunities with TheSoul Publishing?
TheSoul Publishing is offering licensing opportunities around the following brands:
The most-watched DIY digital brand in the world. 5-Minute Crafts is known around the globe for its positive, fun, and quirky DIY crafts. Videos on this channel will inspire and ignite the creative sparks within all of us!
350M+ YouTube combined subscribers
300M+ Facebook combined followers
55M+ Instagram subscribers
25M+ TikTok combined followers
Product Categories: Publishing, Activities / Crafts, Tools, Novelty / Gifts
Featuring easy makeup and fashion hacks, lighthearted pranks and funny observations. 123 GO! delivers entertaining and positive videos about everything trending right now.
200M+ cross-platform subscribers
200B + minutes viewed on YouTube in 2021
2B+ views on TikTok in 2021
Product Categories: Publishing, Beauty, Novelty / Gifts
Fun music videos about basically everything around us. Every moment has its own music, and we are happy to listen!
39B+ minutes viewed on YouTube in 2021
6B+ views on YouTube in 2021
40M+ average monthly views on TikTok
Product Categories: Publishing, Beauty, Toys, Novelty / Gifts
Ava & Cado are our favorite animated couple and they want to share the fun with you! Their romantic adventures are sometimes awkward, sometimes spicy, and always hilarious.
20M+ cross-platform subscribers
1B+ YouTube views in 2021
Product Categories: Publishing, Plush, Minis, Puzzles & Toys, Publishing, Stationery
Polar is a new, independent artist from the imaginations of TheSoul's creative team. Polar is a wild and mysterious masked singer who hides her real identity and represents all of the aspects of teenage rebellion through her music.
1.5M+ cross-platform subscribers
70M+ TikTok views and 6M+ Tik Tok likes since launch in October, 2021
Product Categories: Apparel & Accessories, Dolls, Video Games
Get ready for a musical adventure for young children! Listen, play and move with animated baby animals.
1.7M YouTube subscribers
200M+ average monthly views on YouTube.
Launched just nine months ago, the channel is now a regular among top 60 YouTube Kids Channels by average monthly views.
Product Categories: Preschool Toys, Infant Toys, Kids' Homegoods, Plush
Educational songs for little kids are the simplest way for children to learn and have fun simultaneously! Our songs are suitable for nursery, kindergarten kids, preschool, school children, families, and anyone who feels like a kid.
400k YouTube subscribers
200M+ YouTube views
Product Categories: Preschool Toys, Infant Toys, Kids' Homegoods, Plush
High school can make you laugh, cry and cringe, all in one day! Teen-Z uses creative animation to tell funny stories about students as they fall in love, make friends, and get into plenty of awkward situations!
7B+ minutes viewed on YouTube in 2021
1B+ views on YouTube in 2021
5M+ cross-platform subscribers
Product Categories: Publishing, Toys/figurines, Stationery, Home goods, Tableware, and Drinkware
About TheSoul Publishing
TheSoul Publishing is an award-winning digital studio that produces entertaining, positive and original content for a global audience.
One of the world's most prolific and popular online media companies, TheSoul Publishing reaches more than one billion social followers across Facebook, Instagram, TikTok, YouTube, Pinterest, and Snap.
Its globally based creative team consistently delivers engaging and irresistibly shareable content for all ages, in 19 different languages, distributed via a social media-driven cross-platform network.
From cutting-edge 3D technology to eye-catching stop motion, from fun live-action to catchy music videos, from inspirational craft projects to vibrant animation, TheSoul Publishing's portfolio of media brands has it all.
TheSoul Publishing's universe of well-known channels includes 5-Minute Crafts, Bright Side, 123 GO!, Avocado Couple, La La Life, Teen-Z, Slick Slime Sam, and Polar. 
Its most-viewed channel, 5-Minute Crafts, is the number one DIY digital brand in the world and the only brand to consistently rank among the Top-10 of all YouTube channels and among the Top-10 of all Facebook pages. 
Current initiatives include expansion across additional social media, music, podcast and streaming platforms such as TikTok, Instagram, Snap, Roku, Apple, Spotify, Amazon Prime, and Chinese platforms including Xigua, Douyin and Bilibili as well as the continued growth of its extraordinary global production team, to provide its fans more of the content they crave.
TheSoul Publishing has garnered numerous accolades including the 'Digital Studio of the Year' at the 2021 Digiday Video & TV Awards, a 2021 Drum Award win, a 2021 Webby Award nomination for 5-Minute Crafts, 7 Shorty Award nominations, a pair of 2022 Digiday Video & TV Award nominations including 'Best Use of YouTube', and a 2022 Webby Honoree for 'Best Overall Social Presence in Media/Entertainment '.
Click on TheSoul Publishing to visit the website.
Have any thoughts on this? Let us know down below in the comments or carry the discussion over to our Twitter or Facebook.
Editors' Recommendations: