MacX DVD Ripper Pro – Rip any DVD to any format in 5 minutes
MacX DVD Ripper Pro is the fastest DVD ripper for Mac to rip all types of DVDs to various formats for iPhone, iPad, and Android.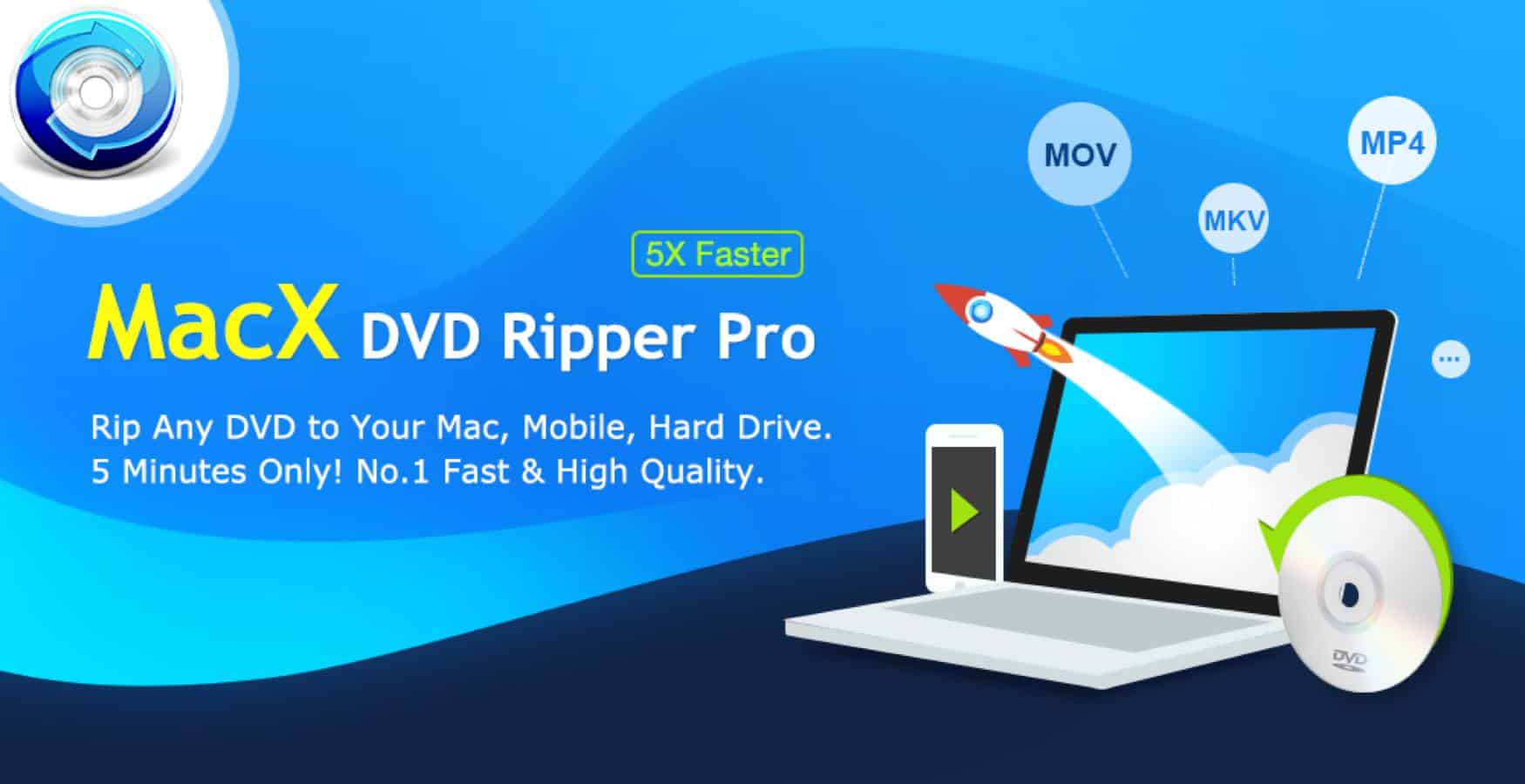 MacX DVD Ripper Pro is a DVD ripping and extracting software which converts DVDs into a variety of formats available for any device. It is a free DVD ripper for Mac which claims to have lightning-speed ripping made possible by its Level-3 Hardware Acceleration Tech. The MacX DVD Ripper is the best alternative to HandBrake Mac as a DVD ripping tool for Mac.
The best thing about Mac DVD Ripper is its extensive conversion options. Additionally, the quality of the copied content is formatted based on the device specifications. Therefore, there are no issues with the quality of content ripped, regardless of the device it was copied to. All the capabilities of the MacX DVD Ripper Pro make it easier to convert and rip DVDs in any way you need it.
Features and Product Specifications
The MacX DVD Ripper Pro is loaded with features and options that bring seamless opportunities for extracting and converting content.
This efficient software is the first and only DVD ripping tool which supports all kinds of DVD formats, including recently released DVD movies, homemade DVD movies, TV series, 99-title DVDs, and various unplayable or corrupted DVDs.
MacX DVD Ripper Pro claims that it only takes 5 minutes to copy and extract the contents of a DVD. With a ripping speed of up to 320 FPS, this is the fastest ripping speed offered by any ripping tool available. What's more, the contents of any DVD are extracted without losing output quality.
This is a huge improvement from the usual 1.5 hours consumed by most ripping tools. HandBrake's speed of 130 FPS could not keep up with MacX DVD Ripper Pro's speed and performance.
In order to optimize the DVD ripping speed, MacX DVD Ripper Pro uses the following techniques: unique Level-3 Hardware Acceleration Tech, batch conversion, supporting hyper-threading, and multi-core CPU processing. In addition, the "Run as Safe Mode" and "Advanced Deinterlacing Accelerator" functions improve the conversion process.
MacX DVD Ripper Pro can rip DVD into MP4, H.264, AVI, MPEG, MKV, FLV, MOV, M4V, HEVC, M2TS, MTS, ISO image, and others. It supports almost all devices: iPhone, iPad, iPod, Apple TV, and various Android gadgets.
Trim, crop, merge, add external subtitle
Aside from DVD ripping, it can be used to trim videos, crop a video's frame size, merge several movies or video clips into one file, and add subtitles to movies.
It allows copying a backup DVD to ISO image, MKV, or MPEG2. The content copied will have the original video and audio quality.
Adjustable parameter settings for advanced users
Advanced users can adjust video parameters to their liking. These parameters include video codec, audio codec, video bitrate, video aspect ratio and resolution, audio channel, frame rate, etc.
It is also able to extract picture and audio files, as well as MP3s.
MacX DVD Ripper Pro vs HandBrake
Here's a quick glance at the similarities and differences of the MacX DVD Ripper Pro and Handbrake.
Final Verdict
MacX DVD Ripper Pro has a lot of potential as an application. Its user interface may intimidate anyone using it for the first time. However, once you're familiarized with it, ripping DVDs could be done in a jiffy.
It is one of the best DVD ripping tools and a great HandBrake alternative. Its fast ripping speed is 29% to 100% faster than other DVD ripping applications.
MacX DVD Ripper Pro comes with a number of useful features, which are not found in most DVD ripping tools. It can convert DVDs in a number of formats on any devices you have. The Trim and Crop feature are also helpful. Making 1:1 backup copies is possible. The MacX DVD Ripper Pro offers extensive options in converting, ripping, and copying content.