Making the most of your streaming services: Audials Tunebite 2016 Platinum
Audials Tunebite is the leading streaming recorder for saving from all paid-for and protected media services.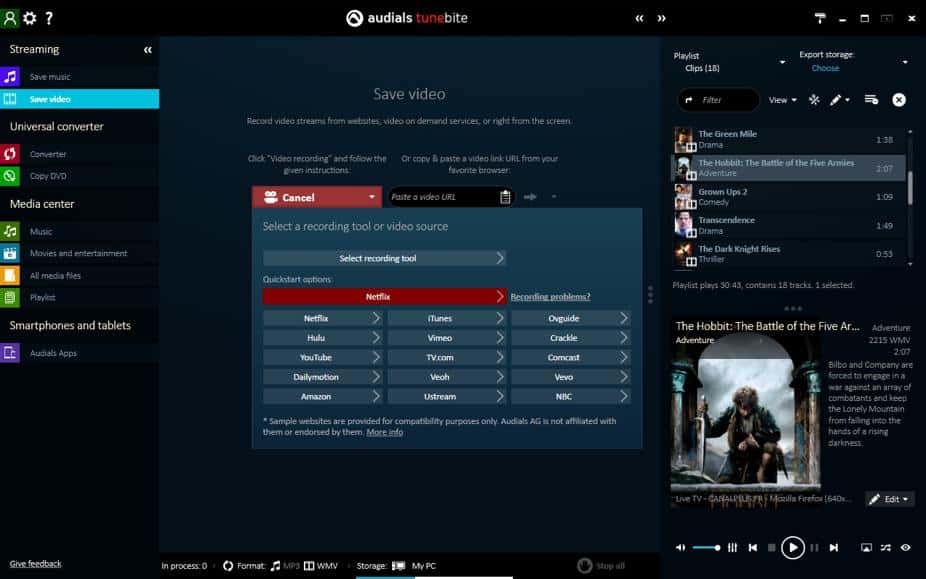 If you would like to make the most of the streaming services you're subscribed to by allowing you to watch the content you paid for offline, in different formats and on different devices then Audials Tunebite 2016 Platinum might be just what you're looking for.
A streaming recorder for music, movies, video clips and TV series from paid streaming sites like Spotify or Video-On-Demand providers like Netflix, Audials Tunebite Platinum is specifically designed to allow you to build an offline video or music library, based off sites that you're already legally paying for. Rather than being forced to make use of these conveniences at the convenience of the service provider, you can enjoy your latest streams whenever, wherever you want and without the need for a stable and speedy internet connection.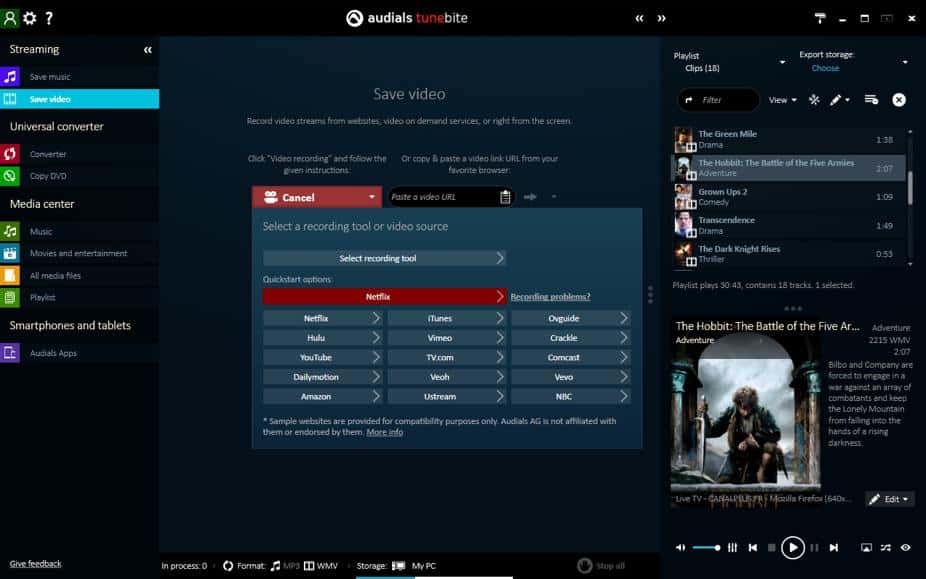 It's extremely easy to use Audials Tunebite Platinum to "record" anything you watch or listen to online. Just enter the URL of the site you're trying to stream from and this software won't only extract the video/ music from there, it offers a number of other easy-to-use options as well.
The program automatically tags both your music and videos with universal ID3 tags but also allows you to edit any and all tags that you may wish to change or update. It converts between known formats for both video and audio and even allows Cloud management. Add to this a DVD copier and a media player and you have a program that should satisfy all your music-listening or movie watching needs.
The program is expressly extremely easy to use and offers plenty of functionality for both novice users and experts alike. It is a little bit on the resource-heavy side of things but that's made up for somewhat by just how painless it is to use once it is up and running. Also, with the full support of the Audials brand behind it, you're guaranteed excellent quality for all your converted files, plenty of online help and an already speedy recorder that works at double the speed when downloading from Spotify or Deezer.  
Priced currently at less than $25, you might also want to consider buying Audials One, the flagship Audials product that includes all the functionality of Audials Tunebite 2016 Platinum but adds a host of extra features that are especially attractive to anyone trying to make the most of their music listening experiences. Still, Audials Tunebite Platinum itself is more than worth a try (you can download a malware-free demo to try out) for its comprehensive list of features that make the very most out of streaming services.  
More information can be retrieved on the developer's Website: https://audials.com/en/moviebox/audials_moviebox_windows_software.html