Media Mister review 2022: features, user reviews & more
This Media Mister review will guide you through what you need to know about this company's social media growth service. Is it trustworthy?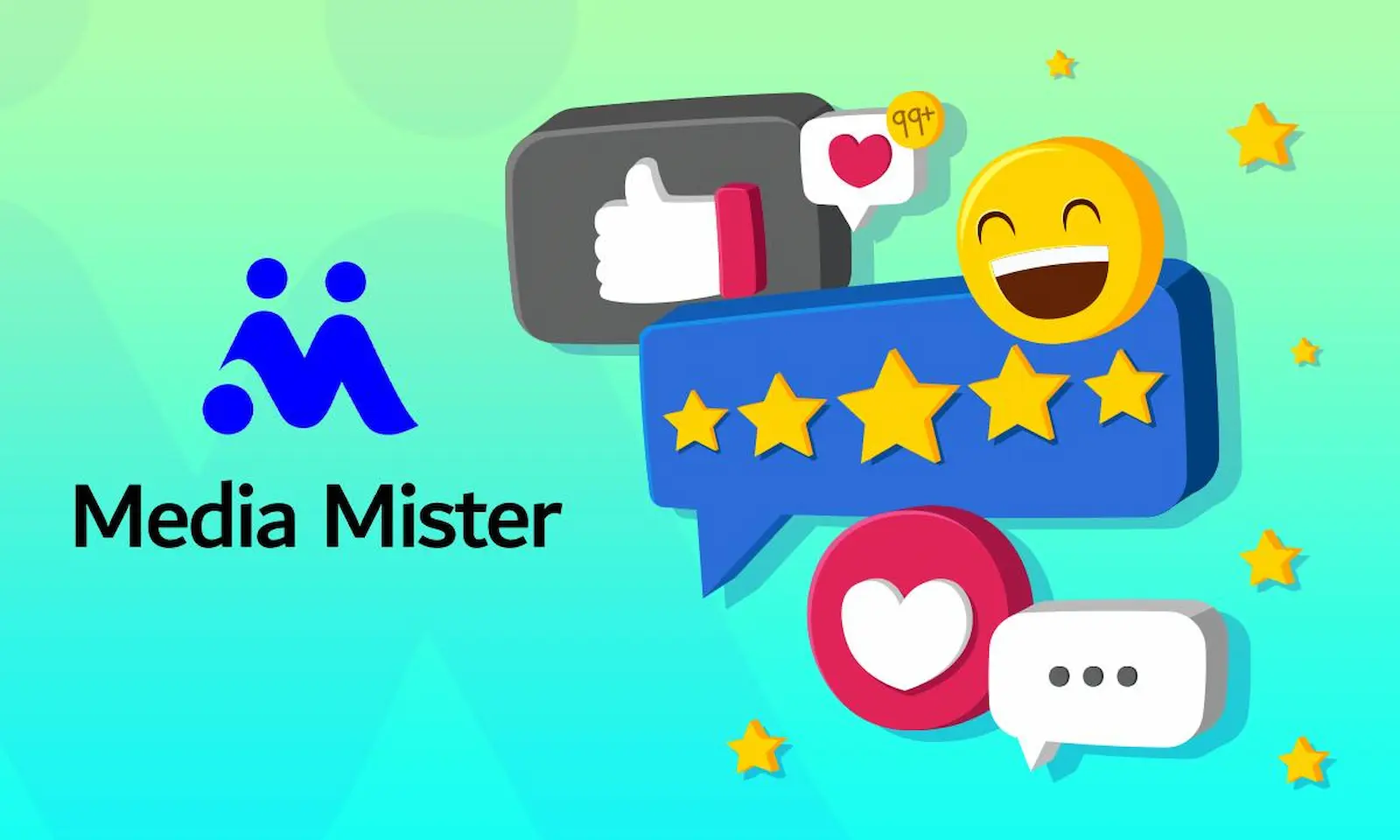 Social media has become an essential part of our lives. Nearly every person or individual uses at least one form of social media to connect with others.
However, if your goal is to grow on these platforms, you probably know how complicated it can be. Thankfully, Media Mister offers people the opportunity of growing on social media in simple steps.
These services can increase your visibility and make your profile more favorable for each platform's algorithm, allowing you to reach your target audience easily.
You can choose many social networks, like Instagram, Twitter, Facebook, or TikTok.
Media Mister works with most of the available platforms, even those that aren't "too mainstream," like Clubhouse or Pinterest.
Let's get to know Media Mister more in-depth and learn whether it's worth hiring this service or not.
Media Mister Review: The in-depth record so far
It's compatible with most social media platforms available at the moment.
All social proof comes from real people and high-quality profiles.
It's extremely affordable, and there are tons of plans available.
The delivery time is reasonable, making the recent growth seem natural.
This company has one of the highest retention rates on the web.
There is a money-back guarantee policy for every purchase.
There is no free trial available.
What is Media Mister?
Media Mister is a popular social media growth company that has been around for one decade after being founded in 2012.
This company specializes in social signals for traditional social networks and some platforms outside the mainstream, like Pinterest.
The main difference between Media Mister and other social signal businesses is that all the engagement indicators that come from this company are authentic.
Each follower, like, view, or comment you get on your profile will come from a real person.
Whether you're looking for Instagram growth or any other social media platform, you can be sure that Media Mister has it.
How Does Media Mister Work?
Media Mister allows you to choose between different packages according to the social media you would like to work in. This service is available all the time, too.
Here are the steps you need to follow to get started, according to the company's website:
The first step is to choose the right social network.
Then, you can choose the package you can choose based on the website's availability. You can choose followers, likes, or anything else – the website will show the expected delivery time.
Next up, you must provide the URL of the target account or content.
Lastly, you have to check out and process the payment. Currently, there are only two options: stripe (debit or credit cards) and cryptocurrency (BTC and ETH supported). Paying with crypto will grant you a 5% discount.
Many services are available, including social media engagements for social networks like Facebook, YouTube, Instagram, Twitter, TikTok, Pinterest, and LinkedIn, among many others.
Why do you need to buy social media engagements?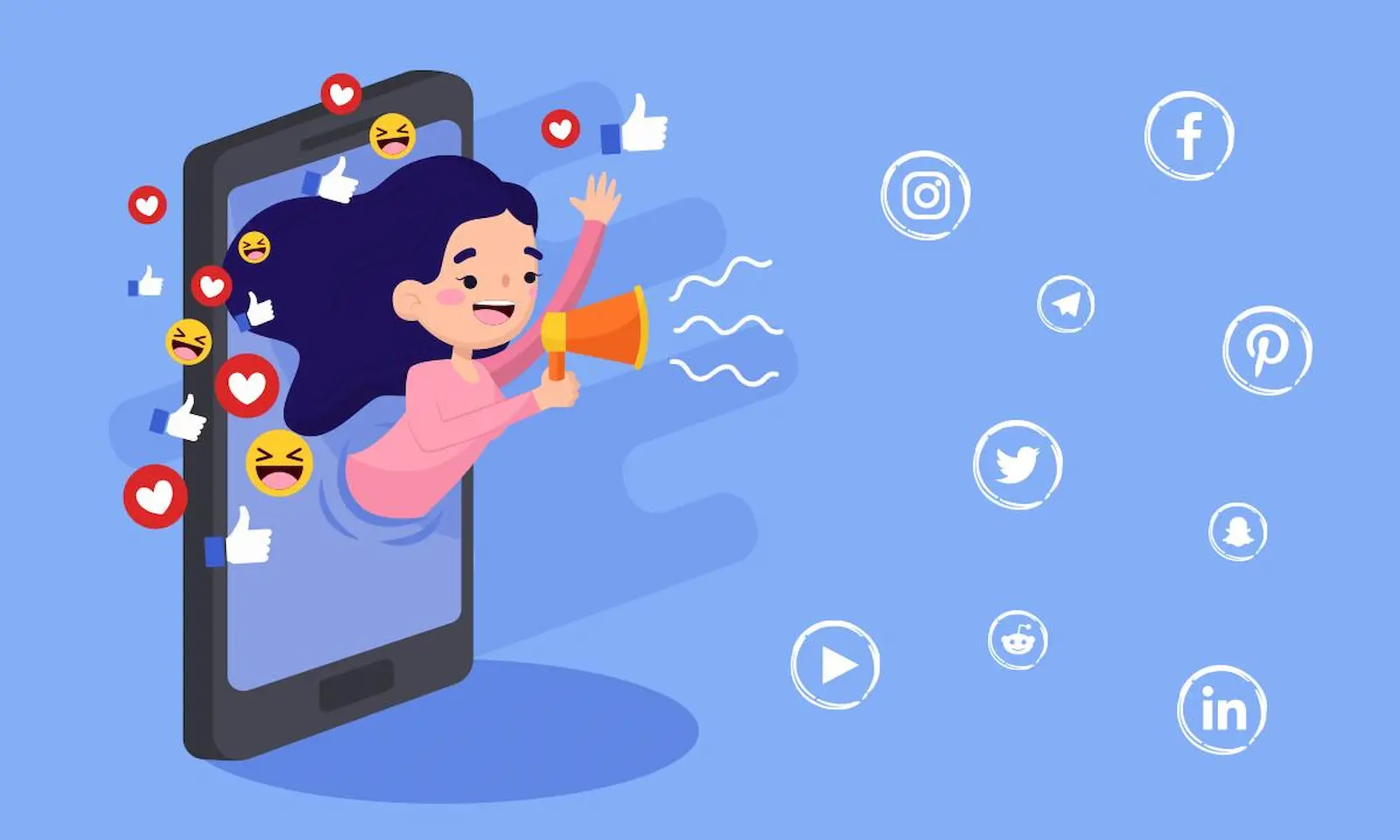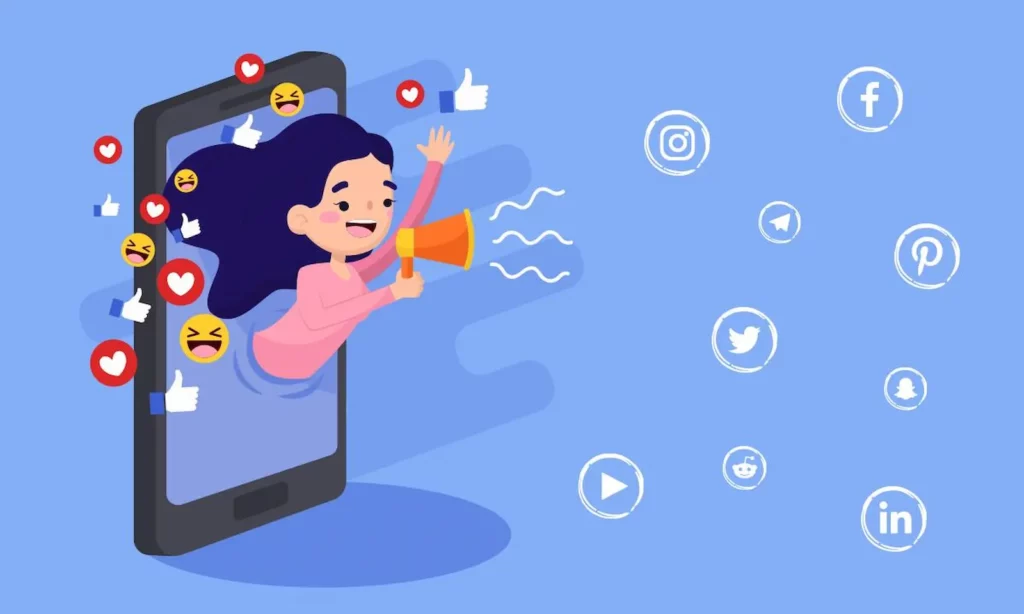 Many people are looking forward to growing on social media. However, if you have zero followers or don't know how to approach your target audience, perhaps buying social media signals can help you achieve your business goals.
Social signals can favor your account for the network's algorithm. Likes, comments, shares, and other engagement indicators can help you make your profiles more visible.
Plus, they contribute to your business's credibility, as it all appears to be organic growth.
Media Mister makes it possible to buy almost any type of social media engagement you can think of in simple steps at special pricing.
Prices start at $2.00, allowing you to build up a strategy according to your availability and budget. The better and more credible your social media indicators are, the more likely you are to attract your target audience.
What do you get with Media Mister?
Media Mister offers real transparency when it comes to the processes related to their clientele.
Here are some of the best aspects that this company has to offer at the moment, whether you're looking for Facebook, Twitter, YouTube, or any other social media platform engagements:
Fast delivery
Perhaps the most important factor that Media Mister offers is fast and discreet delivery.
If your social media profiles grow too big in little time, then it will look suspicious in the eyes of your audience and the network itself.
For instance, if you get many Instagram followers, you can flag your account as spam.
Hence, Media Mister focuses on delivering high-quality results gradually.
This way, your social media growth will seem more natural and will prevent your account from triggering the network's spam filters.
High-quality services
It's not enough to have social media engagements. It is also important for all those indicators to be real. Otherwise, the platform might detect your account as spam.
Media Mister says they work with legitimate accounts that come from real people. Hence, all the likes, comments, or followers you'll get through this service will be legitimate.
Country-targeted services
You can choose to get followers from particular countries, whether they are males or females.
It's a nice addition that gets even more "precise" if you use certain social media platforms.
For instance, you can choose to add disconnected or connected users to your discord server, and so on.
There are tons of countries available, too. Hence, you might be able to get followers from your homeland or any other nation that your brand might be directed to at the moment.
Secure payments
Not all companies offer secure payment processors.
However, Media Mister makes sure each transaction is discretely processed, allowing you to make sure your payment information will remain safe.
You can get started risk-free at any moment without compromising your personal information.
Media Mister will never ask you for sensitive information about your social media platforms or personal data.
You will be able to go through all the processes without providing any in-depth details about yourself.
Privacy
Again, Media Mister is almost 100% anonymous.
You will never be required to provide your login details or any information about yourself or your social media accounts besides the link to your profile or your email to be able to process your order.
Retention guarantee
Media Mister has one of the highest retention rates of all platforms around the web. Most accounts will continue following you one or two months after the order has been completed.
In fact, Media Mister has a 60-day retention guarantee. You can be sure your social media profile will remain the same after the results have been delivered.
Refund policy
Media Mister has a refund policy. If the results are not delivered within the stipulated time, you will be able to request a refund from the company.
This business is extremely confident in this service.
Otherwise, they wouldn't be offering such a nice money-back guarantee to ensure you'll get what you requested in due time, without any fallbacks.
Best price in the market
Media Mister is perhaps one of the most affordable social media growth services you can find on the web.
The pricing starts at $2.00 per indicator, allowing people with different budgets to be able to request social media engagements without spending too much.
It's also a service you can request as many times as you want.
Hence, whenever you want to try and get your engagements up again, you can always return to the website and expect the prices to be equally affordable.
Good customer support
You can now contact Media Mister via live chat and email. Although customer support is not available 100% of the time, you will receive an answer to your question as soon as possible.
We've had a nice experience chatting with them, and reviews around the web tell a similar story.
Media Mister user reviews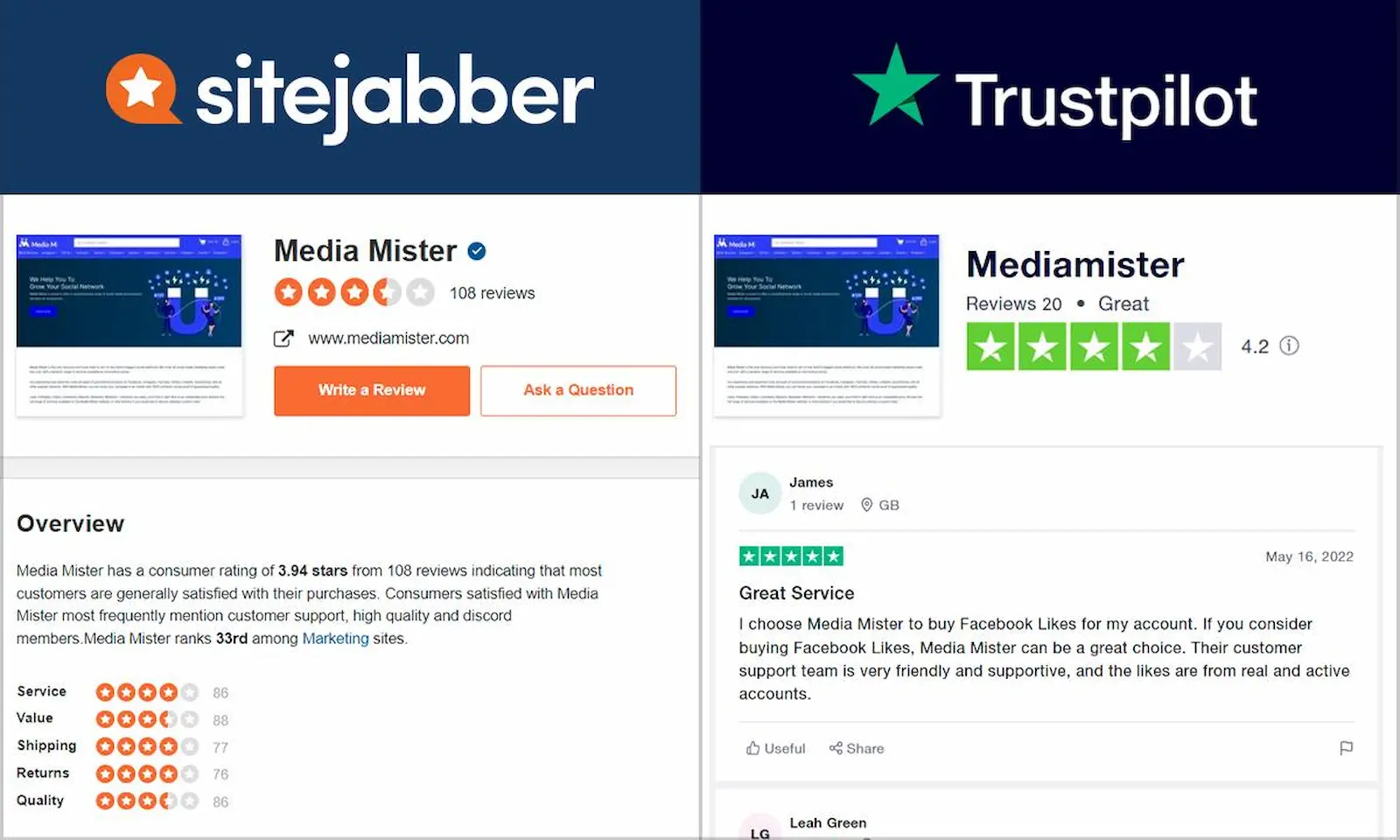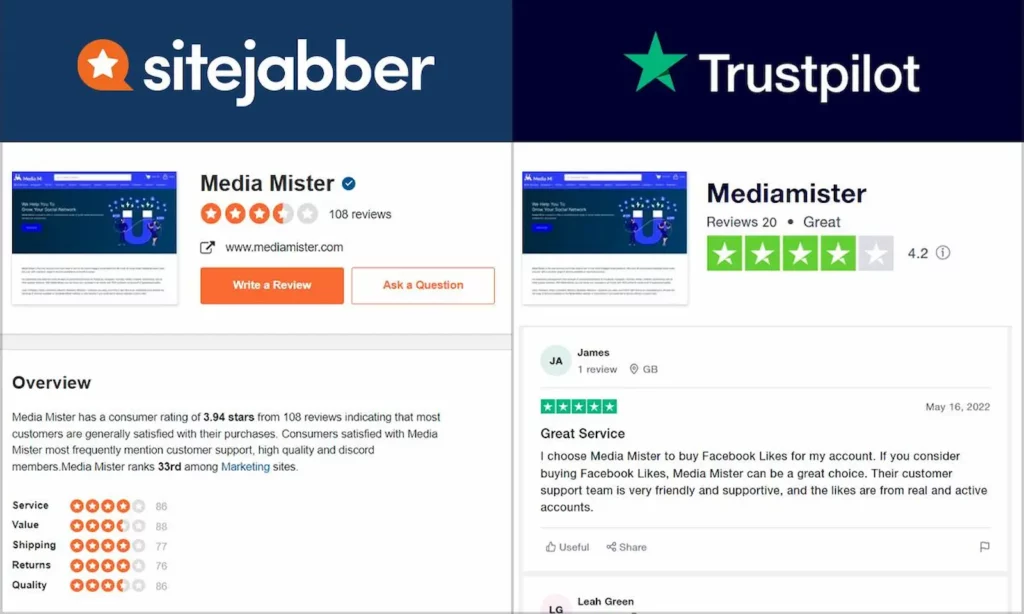 It's possible to find tons of reviews from different users around the web about Media Mister on websites like Trustpilot.
Although there are unsatisfied customers now and then, most of the reviews are favorable:
Media Mister SiteJabber: Media Mister has an overall qualification of 3.88 stars out of five. Most of the recent reviews are positive, too. There are 108 SiteJabber reviews on MediaMister.com.
Media Mister TrustPilot: Media Mister has an overall qualification of 3.2 stars out of 5 at TrustPilot, meaning the website has an average reputation.
However, more than 73.4% of the reviews are positive.
Therefore, you can be sure this is a trustworthy website where you'll get exactly what you need in due time. If not, the money-back guarantee is always active.
Likes and dislikes about Media Mister
What we like
Discreet and reasonable delivery time.
It's affordable.
The website has a user-friendly interface.
You will get a money-back guarantee on any purchase you make on the site.
All social proof from the service is high quality and comes from real individuals.
It has a high retention rate compared to other websites.
It has all major social media networks and other platforms available.
What we don't like
You won't be able to contact customer support 24/7.
Media Mister does not offer a free trial at the moment.
Is Media Mister safe?
Media Mister pledges safety and discretion.
After reading the Terms and Conditions of this website, we've found that this platform is 100% transparent and truly cares about its clientele.
They put the safety of their customers as a priority. Furthermore, even unsatisfied reviews have talked about the website's safety.
However, if you have any doubts, you can always contact someone from the customer support team and get answers to all the questions you need.
Media Mister review: bottom line
We have explained most of the aspects you need to know regarding Media Mister.
It certainly is a service that can contribute to your marketing goals and help you grow your social media accounts in little time.
This service is almost 100% customizable, allowing you to get precisely what you need.
Buying social proof always comes with risk to a certain degree. However, Media Mister tries to offer authentic social proof on social media as much as possible.
You won't be disappointed if you purchase any package from Media Mister.
Have any thoughts on this? Let us know down below in the comments or carry the discussion over to our Twitter or Facebook.
Editors' Recommendations: