MacX Video Converter Pro is a must-have tool for 4K & HD video processing
MacX Video Converter Pro proves itself to be the fastest 4K video processing video powered by hardware acceleration with the best quality output to boot?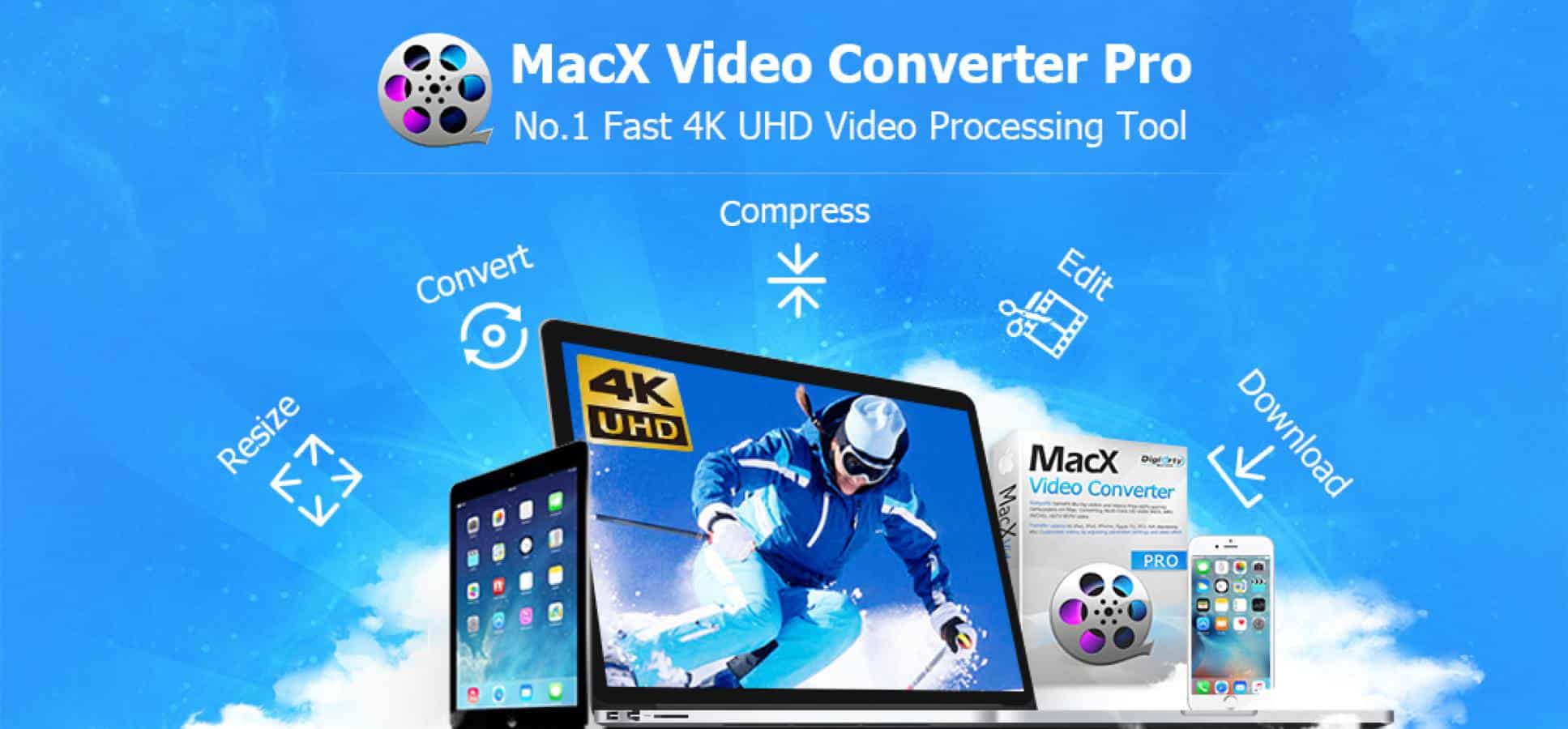 The visual experience for photographers, artists, and regular consumers is taken to the next level, thanks to the introduction of 4K quality videos which offer a signif4icant boost in clarity, sharpness, and compression over 1080p. With its availability on many devices — such as cameras, smartphones, and drones — 4K quality videos are next in line to become the new industry standard. However, the newer technology is not yet optimized for general use as raw 4K videos are mired by technical issues such as bulky file sizes, compatibility issues with video editors, and impracticality for online use due to upload restrictions.  
Thankfully, you can work around these constraints without having to upgrade your entire system and network simply by processing or compressing videos so that they fit your requirements. This step does take up a lot of time as you have to manually convert and compress video size to a new format. Most video processors are prone to performance slowdowns due to being CPU-intensive. Compounded by a loss of quality after conversion, they become less viable for professional use.  
Out of the many video processing tools you can use, only MacX Video Converter Pro integrates hardware acceleration technology based on Intel QSV, Nvidia, and AMD graphic processing units (GPUs). Transferring the workload to GPU lessens the demand on the CPU, allowing for faster video conversion speeds. GPUs are actually specialized pieces of hardware meant for rendering graphical content on movies and games. Built with a powerful engine, deinterlacing tech, and auto copy mode, lossless video quality is ensured.
For instance, converting a 22-minute-long 4K video MKV (AVC Codec) with a resolution of 3840×2160 and a file size of 2.5GB into an MP4 using MacX Video Converter Pro takes only under 5 minutes with an average of 150 frames per second. On the other hand, HandBrake for Mac outputs an average of 18 fps at best and takes half an hour to process the video. This roughly translates to a length that is 8 times longer in comparison; not to mention that the output quality is degraded by significant blurring.
Even without enabling hardware acceleration, the basic MacX Video Converter Pro outperforms similar software by taking only 20 minutes and averaging 56 FPS in its output. So if you ever need to deal with a large 4K video, MacX Video Converter Pro is your go-to tool to ensure quick processing times and perfect video quality.
As a one-stop package, MacX Video Converter Pro offers you the ability to convert, compress, edit, and even download videos with your Mac. With over 200 video formats to choose from, all compatible with  400+ devices, you can easily compress all your videos as much as you need. The software runs natively on most modern Macs (iMac/Pro, MacBook Air/Pro with Sandy Bridge CPU 2nd Gen Intel Core i3/Core i5/Core i7 Processor or higher). It also supports earlier Mac OS X versions starting from Leopard till the latest Mac OS High Sierra, covering most of the Mac user population.  
Overall, MacX Video Converter Pro proves itself to be the fastest 4K video processing video with the best quality output to boot. You won't regret giving it a shot because it has all the features you need, whether you're a working professional or even someone who simply wants to enjoy high-quality videos. The simple interface is responsive enough to be used to trim, merge, crop, and add watermarks or subtitles to large 4K videos natively. It also gives you the option to adjust technical parameters such as frame rate, bit rate, codec, and other settings. As a bonus, the software allows you to take screenshots and videos with Mac's built-in camera.