Creating professional & business videos becomes a breeze with MySimpleShow
Slide Shows can be hard, but luckily, MySimpleShow changes all of that.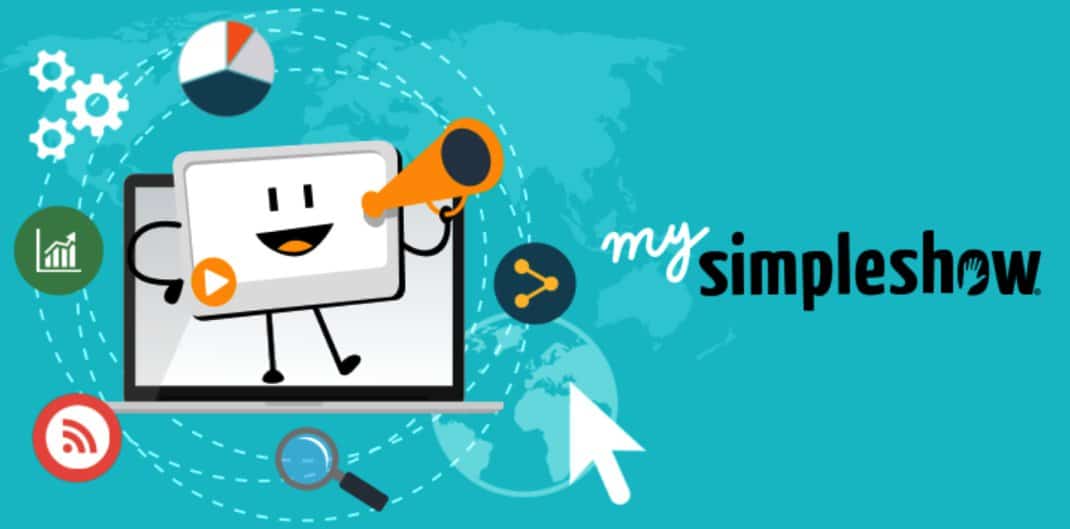 Every sales call, corporate meeting, or client meet would typically involve an engaging and compelling presentation. But those conventional presentations were always an attempt to create a running video that you could pause to elaborate on the topics. Why continue working with dozens and dozens of slides when you can create a compelling video in a short time using MySimpleShow. 
Impress Your Target Audience with Engaging Explainer Videos
There can be nothing better than creating an explainer video to convince and compel your target audience to take the desired action. MySimpleShow is a free video creation software to start with. It lets you create stunning videos using simple, intuitive steps in just minutes.
You can now create compelling professional and business videos in minutes and stand out in front of your target audience. Take the videos to client meets, corporate meetings, promotional events or post online as part of your digital marketing campaigns.
You could also create video content and add to your presentation to give it more weight. Go beyond the conventional presentation and create entertaining and interesting videos using MySimpleShow so that you can get your message effectively across.
Applications of Explainer Videos
Professionals and business people can use MySimpleShow for a wide range of applications. In fact, there is no limitation to how and when you can use it.
Product Promotional Videos
Do you have a product to promote? It can be a direct promotion in a client meet or a promotional event. MySimpleShow makes it a breeze to create attention-grabbing explainer videos to introduce and explain your product/service's features.
Are you selling financial products or a business proposal? Create simple yet highly effective videos to grab the attention and interest of investors.
Presentations don't have to be as mundane and silent as they used to be. You can add some entertaining features to keep your target audience's eyes glued to the screen.
Online Promotions
No doubt a picture can speak a thousand words. That's exactly why images and infographics have become so important to digital marketing. A video can speak ten times more effectively. And using MySimpleShow you can create stunning videos to enhance your online campaigns. Create and add professional-looking videos to your landing pages and watch more of your visitors turning into high-quality leads.
Content marketing is always evolving. And the definition of content is no longer restricted to textual content. MySimpleShow can also be used for creating professional-quality video content for SEO. This can help in boosting your search rankings and help generate more organic traffic.
Create Videos for Social Media Promotion
With Facebook and even Twitter jumping onto the video-content bandwagon, businesses cannot ignore the vast opportunities available to them. Create highly-engaging and useful videos and share on your social media profiles.
You can use MySimpleShow to create professional-looking, high-quality videos for any business purpose. This can also include:
Corporate videos for in-house teams

Client presentations

Corporate training videos
And much more.
Ease of Use
There is a clear reason why MySimpleShow is so effective. Even today, sales and marketing professionals, business managers and owners are not comfortable using any video creation software. Most of these people think that it requires advanced technical skills to be able to use such a software.
MySimpleShow breaks away from such misconceptions and provides an easy-to-use and quick tool that makes video creation a breeze.
It takes just 4 steps to create an explainer video using this software.
It asks you a few questions and your answers can help in choosing the correct Storyline.

Write your script with the help of advice and examples from MySimpleShow.

The software will create a Storyboard so that you can make any desired adjustments.

Determine what speed the video should move and add a voice-over to it.
You are ready to publish your video after completing these simple 4 steps. MySimpleShow provides a guided workflow so that even someone with basic IT skills can create a professional-like video without any external help.
What is a Storyline?
When you answer the questions in the first step, the software will automatically choose a Storyline template based on the answers. The template will be based on what topic you want to create a video on. You can organize your content on the storyline and create innovative plots.
Some of the common Storyline Options for professional and business users include:
Explain a business idea

Introduce your company

Communicate company guidelines

Compare multiple options

Explain your vision & strategy

Appeal for donations

Explain workflow

Communicate corporate change

Explain marketplace
Even professionals can find a Storyline to present their resumes. Applying for jobs should no longer be the same. You can be creative and stand out using MySimpleShow.
MySimpleShow Plans & Features
MySimpleShow offers a free plan to start with, but you can access advanced features using its paid plans. The main features of the different plans are as following:
Fun Plan
This plan provides all the features available in the Free plan along with the following ones:
Record/upload voiceover to make your videos more captivating

Select scribble color & add scribble effects

Option to add 2 automated voices or up to 2 music tracks

Use subtitles
Business Plan
This plan offers all the features of the Fun plan along with the following:
Download the created video file in HD quality

Add up to 3 music tracks

The MySimpleShow watermark is removed

Get privacy control and commercial rights

Access a large scribble gallery

Version history makes it even easier to create videos

The closing frame is fully customizable
Pro
This plan is perfect for you if you have a team that needs to access the account and collaborate on projects. It offers the following features including the ones for the Business plan:
You can add your watermark

Team collaboration with up to 3 members

Add up to 6 automated voices

Add up to 5 music tracks

Subtitles can be edited

Background music can be uploaded

Third-party transfer rights are provided

All uploaded images can be managed
Explainer Engine
MySimpleShow is backed by a powerful engine which works in the background and selects the most appropriate storyline template. The Explainer Engine will also display relevant and useful illustrations to make your story more visually engaging for your audience. It suggests the illustrations and it is up to you to choose the best one.
Upload images, record voice, sync the voice using advanced text-to-speech tool, preview and edit the video, and export to YouTube, share, or save as MP4 file. This software makes video creation easier than you ever thought. MySimpleShow is free to start with and you can access different sets of features based on the plan you choose. If you cannot make a video using this software, you simply cannot do it using any other software out there.