Your New Year's resolution for a cleaner Mac
This eager app hunts down every piece of useless data that takes up the precious space on your Mac's drive.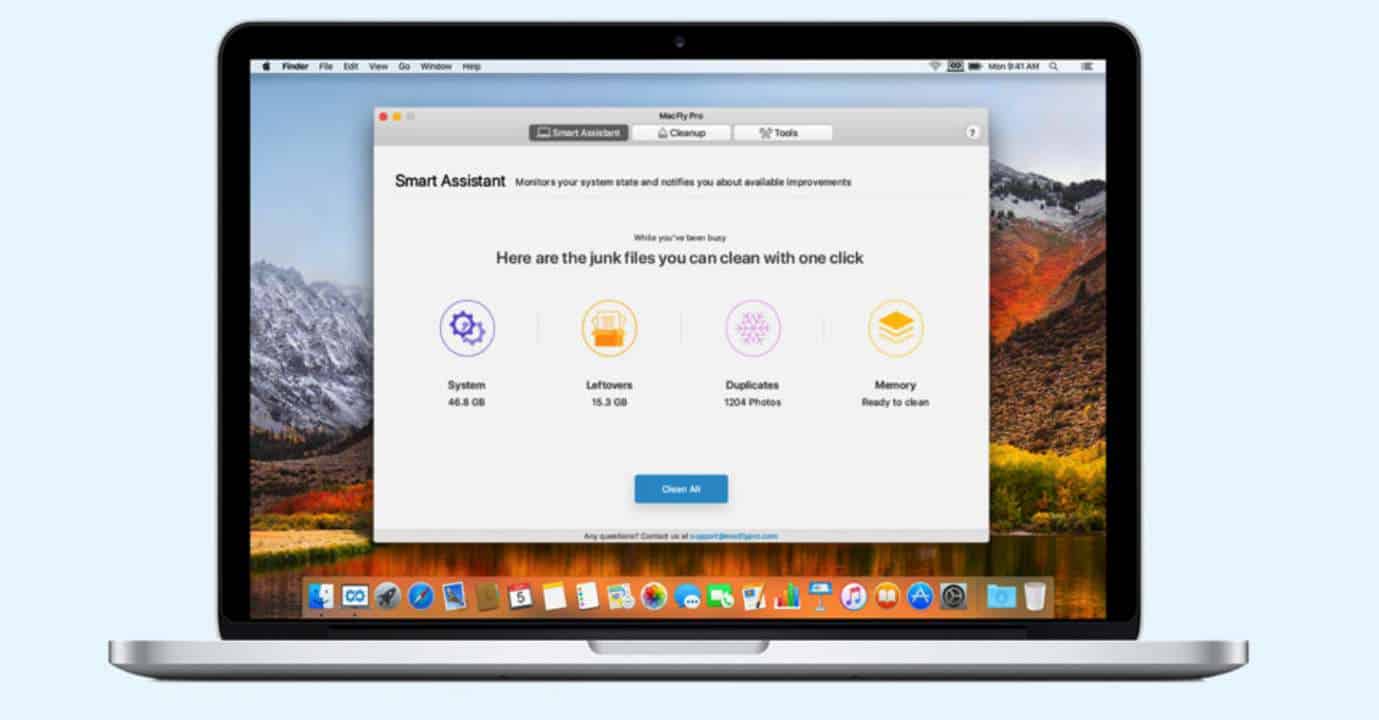 New Year's resolutions lists usually consist of the same old promises we make ourselves year after year but never actually do. Eat healthier, exercise more, go traveling instead of being a couch potato, get our stuff together.
If the first three are entirely up to you, I can at least help you with the last one. Getting your stuff together is easier if you make it step by step. For instance, you can start by straightening things up in your computer. A cleaner disk makes for a more responsive Mac and a happier you. All you need is a nice, straightforward, easy-to-use, and effective Mac maintenance app. MacFly Pro is the perfect choice. Here is why.
First impressions
MacFly Pro is an elegant app with a native feel to it. This is definitely a bonus for all Mac enthusiasts. For people who are not ready to get under the hood of their computers, but still want to look after it and keep things in order, it has a quick-and-easy Smart Assistant option. For more tech-savvy folks it offers an impressive toolkit for A-to-Z tinkering.
The app is relatively new, so fresh features keep emerging. However, what's already out is quite impressive. As app keeps perfecting with each update, I wouldn't call this short overview an ultimate guide, but it will give you the general idea of MacFly Pro's abilities.
Features
MacFly Pro has a wide array of features. It is, in fact, a suite of utilities rather than one simple app. What makes it even better, is the comprehensive and user-friendly way these features are laid out. They are grouped in three big modules – Smart Assistant, Cleanup, and Tools.
For beginners, Smart Assistant is the most useful one, as it does everything for you. It scans the system for junk files and provides an orderly list of items that are safe to remove. All you have to do is agree with its suggestions and click the "Clean all" button. There. Your disk is clean. Yes, that fast. You only start it once and from that moment on it will take care of your Mac. Smart Assistant keeps doing regular automated checks in the background and prompts you when it finds anything that needs your attention.
However, if you think that your Mac can do with a more thorough approach, the Cleanup option is there for you. Here you can manually start the checkup of the selected areas and get rid of system junk (caches, logs, temporary files, etc.), app leftovers, unused localizations, email attachments and so on (we all need a cleaner inbox). This can win back a substantial amount of disk space for you.
Tools are there to pinpoint particular problems with the utmost precision.
With Duplicates feature, you can scan selected folders for duplicate files. You will be amazed at how many doubles are scattered around your Mac! Photos and images are especially notorious for being hard to trace in an automated way, however, MacFly Pro will help you out even with photo duplicates.
Big files are there to find some bulkier items you rarely use and can consider for removal when you seek to free up, even more, additional space on your disk.
Shedder and Apps are less complex, but still invaluable features. Apps allow you to remove applications with no leftovers. The thing is, sometimes simply dragging an app to Trash is not enough, as it may leave behind various files and libraries. With MacFly Pro it's no longer a problem.
For those who want to get wild with cleaning and manually weed out selected items that do not fall into any of the above categories, Shredder comes to the rescue. It is there to completely remove anything you no longer need.
Final thoughts
As you can see, MacFly Pro is a beautiful app with impressive functionality. Its strongest points are intuitiveness, smooth performance, and thoroughness. This eager app hunts down every piece of useless data that takes up the precious space on your Mac's drive.