PAX East 2017 recap – throwing your money at the screen does nothing
If you didn't feel like waiting in lines this year at PAX East, I did it for you. Here's what I saw.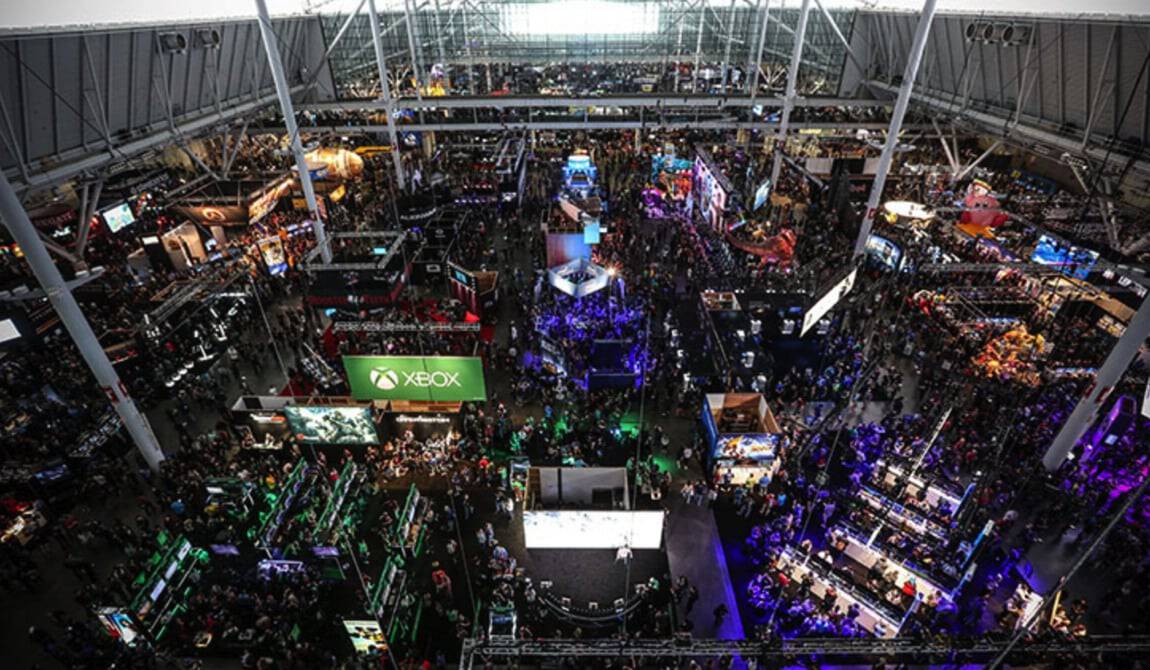 While Kevin pretty much saw an incredible amount of lines and the back of people's heads, I scheduled appointments and actually saw cool stuff. Here's a recap of some of my favorite things from PAX East 2017.
First off, let's talk about hardware:
The very first thing I saw was HyperX's newest accessories including their assortment of keyboards, their budget priced Stinger headset (which is really good for the cost) and this awesome Cloud Revolver S headset.
This thing is super light, has an inline mute and Dolby surround button which makes the already great quality sound even better. Because of the nature of the show floor, it's hard to really experience just how good headsets can sound, but these were damn impressive for the few moments I wore them. They were also incredibly comfortable and very light weight which I can only imagine will help with fatigue during long gaming or chat sessions. I'm very anxious to bring you more coverage of HyperX's gear in the near future.
The next thing I did was met with our friends at NewEgg for some VR fun, which I'll mention a little later in software, but the biggest takeaway from this meeting was a chance to lay my eyes and hands on this ridiculous behemoth of a laptop from Acer – the Predator 21X.
Loaded to the teeth with 64GB of ram, a 21 inch curved display that features Nvidia's G-Sync technology, a fully mechanical keyboard, two Geforce 1080 GPUs, and the extremely impressive Tobii eye tracking camera, this $9000 laptop is overkill in just about every possible way but will give nearly anyone the the most righteous tech boner of all time. It's an absolute monster of a machine and truly a sight to behold. Not only is this thing massive, it requires TWO FULL SIZED POWER BRICKS to run. While I don't think this thing is flying off the shelves, it exists as a very powerful reminder to everyone that Acer is a company that can compete and is here to stay in gaming.
After that, Logitech invited me over to check out their new pro gaming keyboard which features a removable USB cord that's similar to the ones you'll find on their wireless mice, and the coolest thing about that keyboard was the ability for it to store a custom lighting set so that gamers could take their scheme on the go without the desktop software. The perk of this being aimed at professional e-sports teams such as Cloud 9 being able to light their keys in their team's signatures white and blue look, or possibly even make the team swirl logo on the keys. The Pro was a really sweet and small but solidly built keyboard which also featured a metal backing plate for durability and placement weight. Here's to hoping I'll get more time with it soon.
I also swung by to see my friends at SteelSeries and while they didn't have anything totally new to show off at PAX this year, they did have some great looking new headbands to show off for the Arctis 5 and 7 model headsets. The Ski-Goggle approach to the Arctis headsets is something I personally love, and giving your headset even more personality is always a welcome feature for me. There's actually a few designs up for vote right now over at the SteelSeries page where you can choose your favorites from their Artist collection. That Octopus band is OP.
While roaming the show floor, I also saw some impressive work from In Win, Cooler Master, Cyberpower, and several other accessory makers but the coolest custom PC I ran across was this killer Donkey Kong arcade cabinet box showcased in ThermalTake's gigantic Tower 900 series chassis.
Seriously, pictures don't do this PC justice, it was to die for.
There were a lot of hardware makers at PAX East 2017, which makes sense as this is one of few opportunities to bring tech to the east coast. Samsung had a giant booth which showed off some of their phone and curved gaming monitor tech, and it seemed like everywhere you looked you'd find someone who offered some sort of peripheral as opposed to the normal abundance of games. It looks like PAX East is slowly on the way to becoming CES Lite which I'm actually pretty okay with given PAX Philadelphia starting this year which will be primarily catering to the tabletop gaming crowd. A crowd that's slowly been getting relegated to smaller and smaller spaces each year.
It looks like PAX East is slowly on the way to becoming CES Lite which I'm actually pretty okay with given PAX Philadelphia starting this year, which will be primarily catering to the tabletop gaming crowd. A crowd that's slowly been getting relegated to smaller and smaller spaces each year.
What about the after-show parties? Yeah.. that's not really my thing. As you can tell, I had a great time as a guest at the Acer Predator party, but for lack of a better word, that just isn't my scene.
So then, let's go back to the show and switch gears to software, shall we? I saw video games at PAX East, isn't that a surprise? While many flocked to watch Mass Effect Andromeda gameplay and multiplayer demos both in the Mass Effect base and at the Xbox booth, I mainly cruised around to find some hidden gems amongst the behemoths.
Ancient Amuletor is a VR game which I got a few moments with and it reminds me of some of the shooting gallery type games like Ace Banana currently available for PlayStation VR but set in an Egyptian arena and with far less random nonsense than previously mentioned games. It's always neat to check out games designed from Chinese developers since we still don't think of them as a major game country, but they're coming along just nicely and had a nice showing at this year's PAX.
A game I've never heard of until I hit the show floor was an offering over the THQ Nordic booth called Battle Chasers: Nightwar. Terribly long and forgettable name, but it was an absolutely incredible game. This game has one of the best UI's I've seen in YEARS. Everything is laid out in easy to read menus, and the depth of things you can do is a very nice touch. Combat is influenced by RPGs of old like Final Fantasy VI or Chrono Trigger, but the art is done in the hand painted style of Dragon's Crown. I loved every second of this demo and I absolutely cannot wait to get my hands on the final game.
I love retro-styled platformers that are clearly influenced by Castlevania, Metroid, and I enjoy them when they're mashed up with Roguelikes, so finding Dead Cells was a real treat for me. The combat is fast, frantic, and while death sucks it's actually encouraged in Dead Cells because that's how you get to buy stuff. You will likely immediately compare it to Rogue Legacy but you play as a pile of trash, which is perfect cause that's what I am, and you essentially possess dead bodies for your runs. The combat was super crisp, and it was easy to combo a few flurries then quickly dodge roll, and jump back up to pluck enemies from a distance with your bow.
Perhaps my favorite small attention to detail was how your arrows were ethereal and returned if you missed shots, but they would also stick in enemies and refused to return until the enemy died. Hand in hand with Dead Cells is a game I don't believe was actually on the show floor, but I heard a lot of musings about it from attendees at the show was Battle Princess Madelyn. Needless to say, I absolutely have my eye on it. In fact, you can back their kickstarter right now. Ghost dogs and Ghouls 'N Ghosts gameplay? Both of these games are very high up on my anticipation list, and they would both be stellar Nintendo Switch titles.
I also spent a good deal of time with my favorite game from last year's PAX East – Runic Games' tale of a genderless hero in a vibrant world known as Hob. Hob has seen a change in direction since last year and is a little more focused, but I can't say I was quite as charmed by the changes. Hob now commands more of a sense of danger and urgency, as to where last year the game was more about being pretty and wonderous. There are now set Vista points where you can stop to appreciate the scenery, as well as complex animations going on as the world moves around you. I still think Hob is going to be a terrific platformer with all of the charm you'd expect from Runic, but it seemed a lot more rigid than it did last year.
There were sections where I'd fall off the path and grab with the gauntlet only to be unable to pull myself back up or I'd simply misjudge the isometric angles and fall to my death. While it's always a blast to make Runic's adorable PR woman – Wonder Russell – giggle with glee it isn't quite the same when you're playing it alone and cursing the design choices for being too punishing while performing simple tasks like walking across a narrow space. Fingers crossed that the proper balance is found before the game releases later this year.
I stopped through the indie mega booth and played some more of Just Beats and Shapes because that game is awesome and deserves your attention, and then I walked over for a little session of Ultimate Chicken Horse.
Definitely one of the better party games I've played in a while, Ultimate Chicken Horse has a silly name but can be a lot of fun while playing locally with four players or maybe while playing online for the entertainment of a stream. I can't say it has a lot of depth, but it was pretty funny laying out traps and platforms only to watch my squirrel die on a jumping spring and continually get pelted with arrows firing for the next few minutes while the survivors finished the stage. Speaking of things that were an absolute blast to play in a multiplayer setting, Supergiant's Pyre had their multiplayer available for the first time this year, so I made sure to swing by and spend time with that gorgeous game.
Even though I spent more time with the indies this year, that doesn't mean I didn't take time to flirt with the larger games as well. Over at the Xbox booth there was some Minecraft multiplayer stuff going on that looked pretty cool if you're into that as well as more Mass Effect Andromeda multiplayer which should be pretty fun to check out when the game releases next week.
Sony's booth had a lot of great indies including EITR and Sundered (which is being made by the guys who did Jotun), but they were also showing off the Crash Bandicoot N-Sane Collection and I was pretty impressed as to how good Crash is looking in glorious HD. I also spent time talking WWE with the Sony booth guys which has nothing to do with video games, but is a testament to the type of show that PAX is at heart. I also spent time with Blizzard behind closed doors looking at new things around the corner for Diablo III, as well as some time with Square Enix which I'll talk about in another post later this week.
I tried to spend some time with Nintendo but it was really hard – even during Media hour, Nintendo's booth looked like this:
Still, I managed to get a few moments to check out Mario Kart 8 – which looks terrific and runs better than it did on Wii U, and got to see people playing Ultra Street Fighter II and the incredibly-interesting-now-that-I've-seen-it-in-person combat fighter ARMS. Ultimately, though, I left the Nintendo booth for fans as I already own a Switch and this would be an opportunity for a lot of people to have their first hands-on time with the console. All bets are off at E3 though!
Bethesda showed off a gameplay demo for Prey which looks amazing. Also at Bethesda's booth, I saw more of The Elder Scrolls Champions card game, which I'm fairly indifferent to, and some content for the Elder Scrolls Online's Morrowind update. While I do enjoy The Elder Scrolls Online, Bethesda's booth had the one thing that its other franchises couldn't compete with for my attention: Quake Champions.
As a fan of Quake from the beginning, I was super excited to see Quake Champions announced at E3 last year, and this was my first chance to put my hands on it. I absolutely love it, it's Quake but with unique characters that have different stats and an active ability to bring a sense of balance not only for your team but also to change your playing experience as you go.
While I only got a few matches under my belt, the experience was super fast, fluid, and ran like a champion on a fleet of Cyberpower PC's with AMD's new Ryzen processor under the hood. I sat there in fan awe for a few moments before I could bring myself to actually jump into the first match. It's always nice forgetting that you're working and getting to be a fan again and some titles are just magical enough to do it. Quake Champions is terrific and I'm chomping at the bit for more – in fact, I would have played it all day if they had let me. The only game I've had this sort of pull to over the past few years was Tekken 7 at E3 last year, so I knew to avoid Namco's PAX booth for that very reason.
Finally, to cap off this year's PAX East 2017, I have to mention Gearbox and their absolutely FANTASTIC port of Bulletstorm, complete with the Duke Nukem experience. Holy shit, Duke Nukem fits into Bulletstorm like he was meant to be there from the beginning. Duke's got his all too familiar charm (made possible by Jon St. Jean and his decision to just say fuck it and ad-lib) and interacts with the Bulletstorm characters in hilarious ways.
One part of the demo had me fighting my way into what looked like a club only to hear Duke exclaim "AW YEAH IT'S LADIES NIGHT." The action is just as fast as you remember it, with some new gameplay modes meant to satisfy people who are returning to play again. If you missed Bulletstorm the first time, don't miss it now. The release is just around the corner and it's absolutely glorious.
If I were to cover every single thing I saw at PAX East this year, you would spend all day trying to read it, so I'm going to end things here. Everyone who came to the show had a terrific showing and I didn't see a single game at PAX this year that made me wonder why it was there.
I would love to write a "worst" of article, but I can't. Everything looked great and played amazing. Even games I didn't have time to actually play like Trove, Atlas Reactor, Yonder: The Cloud Catcher Chronicles, RAID, Dead by Daylight, and others had terrific fan interest and long lines of happy players! Great show, and I'm super optimistic going into E3.
Follow us on Flipboard, Google News, or Apple News