What we know about Plagramme, the multilingual plagiarism checker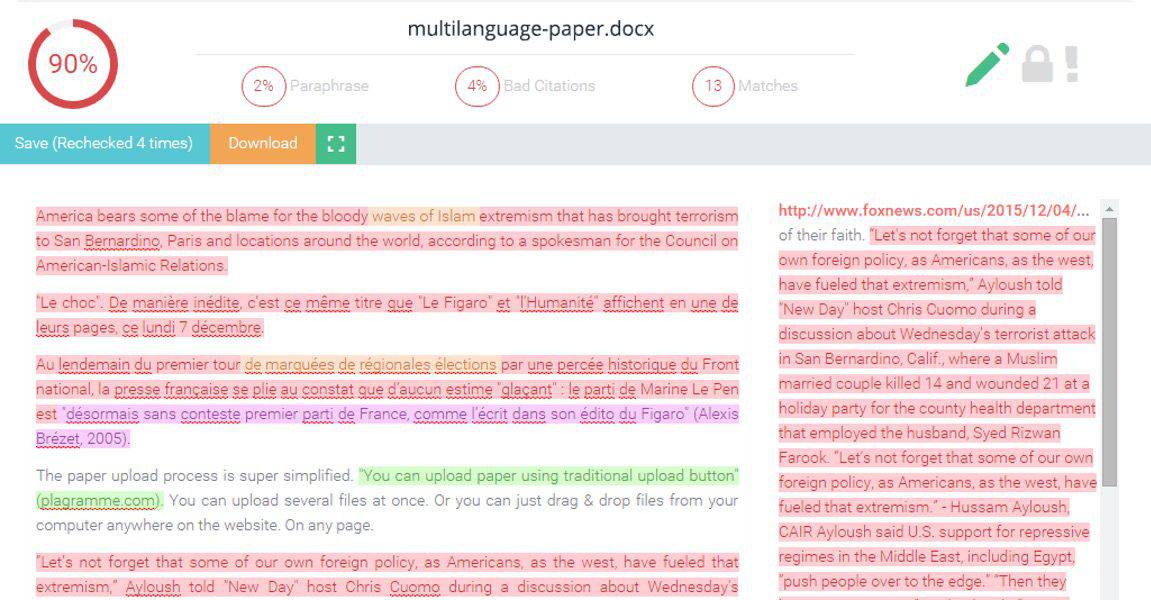 When it comes to a plagiarism checking software, every user wants to be certain that it can run in-depth and safe search. Reliability is a factor you cannot afford to compromise upon. You want the algorithm to be able to run thorough search so that your copy is truly free of any plagiarism risk. At the same time, you want to be certain that your work is 100% safe and is not used by the service. Plagramme is both safe and reliable from all perspectives.
Regular Updates
The Plagramme algorithm is updated on a regular basis. The web is continuously growing and the existing algorithm will always keep getting obsolete. This plagiarism checker receives regular updates to ensure that the growing number of databases and websites are checked for similarity of text, citation quality, and to overcome new methods of paraphrasing.
These regular updates further ensure that this plagiarism checking tool remain reliable and relevant in the current context. This eliminates any risk that your work could have potential plagiarism risks.
Eliminating Plagiarism Risk
As the internet continues to grow with tens of thousands of new pages being added every day, the plagiarism risk of your work continues to grow. This increases the importance of using a reliable plagiarism checking system that keeps growing with the web. Studies run in different countries show that the use of this software helped in significantly reducing and controlling plagiarism in students' work.
As a student, you can use this system to check and rectify your papers before you submit them to your educator. It can generate a detailed report that shows similarity score, bad citations, bad paraphrasing risk scores and many other factors.
Multi-Lingual Application
The internet is made up of not just English content. Most plagiarism checking systems are developed to run checks in English, but Plagramme is a multi-language platform. It allows you to run checks for papers written in different languages.
The software is used in over 100 countries. This adds another dimension of safety. So when you are checking your work using this plagiarism detector, you can be certain that it checks across all the online databases, across all languages.
Your Data is Safe
Data safety and security is another level of safety provided by Plagramme. Your files can be saved on highly secure Cloud and are never accessed by the company for any other purpose than for checking textual similarity with content on the web and online databases. The use of all data is guided by its privacy policy which adheres to the respective laws of each country and the standard international regulations. All data transmissions take place over secure SSL protected networks, which is the industry standard. Thus, your papers and personal information is always safe when using this trusted plagiarism checker.
Comprehensive Similarity Check
If a plagiarism checking tool doesn't run a comprehensive search of the web and all its databases, it doesn't serve its purpose. Plagramme checks your text not just across all the websites, but also on all the online information resources including:
Article databases
Books
Magazines
Periodicals
There is no database that is out of the scope of this plagiarism checking system.
Overall, Plagramme is an easy-to-use, safe and reliable plagiarism checking system. The interface is simple and easy to understand. You can upload multiple documents at the same time. Besides, basic features can be accessed for free. There is a feature that allows earning credits by sharing opinion across social media sites. And the detailed reports can be shared with educators while the latter can provide their feedbacks. It is just the right plagiarism checking software for students, educators, and all kinds of writers and publishers.