Plus500 – The best trading app for Android in all of Europe
Plus500 has received incredible reviews from tens of thousands of users and, in many ways, it is the highest-rated mobile trading app in Europe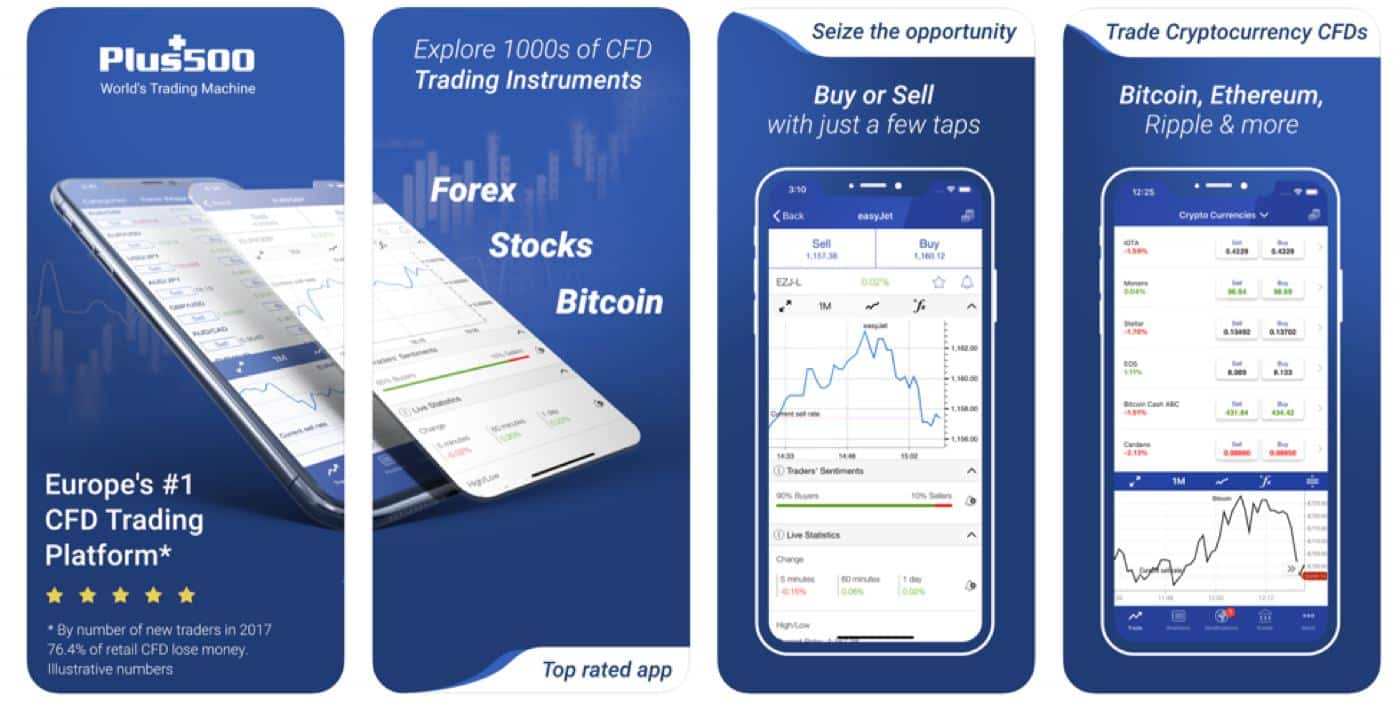 Plus500 is a contract for difference broker that was originally founded in Israel, but now is headquartered in London where they are listed on the London Stock Exchange (LSE) and is a part of the FTSE 250 Index.
But even though that is impressive in itself, it is not the most impressive factor to this online broker.
Instead, it's the reviews that the broker has received from their customers, and especially the reviews received for their mobile trading app, which we will take a closer look at today.
Incredible User Reviews in Google Play
As mentioned, Plus500 has received incredible reviews from tens of thousands of users and, in many ways, it is the highest-rated mobile trading app in Europe at the moment. This is an incredible feat since few online brokers have that many reviews or reviews of this quality on any of the review platforms.
For example, in Google Play where reviews for their Android trading apps are listed, Plus500 has 4.3 out of 5.0 stars based on a whopping 98.500 reviews. This means that a great majority of all the reviews are 5.0 stars closely followed by 4.0 stars and 3.0 stars. They do have a few bad ratings as well, but not enough to affect the overall rating.
This is not easy to achieve for any company regardless of what product, service, or app they offer, and we are really impressed by it.
Similar Ratings in the App Store
Plus500 also has an iOS trading app, which has similar statistics, although not as many reviews. Currently, the Plus500 app has 4.3 stars out of 5.0 in the App Store based on 232 reviews. What's more, this makes Plus500 the 23 highest rated app in the category "Finance" in the App Store.
Combine these two statistics, and it's obvious that Plus500 has one of the highest-rated trading apps of all time.
What Sets Plus500 Apart from the Rest?
Many things set Plus500 apart from other brokers. The main thing is that they have developed all their trading software in-house, unlike many other brokers that rely on third-party software such as the MetaTrader 4 and MetaTrader 5 platforms.
This allows them to optimize and streamline their offerings in the perfect way according to the needs of their customers. It also limits the amount of downtime and lagging that is often caused by third-party apps, services, and maintenance.
In short, it's a way for the broker to provide a platform that works for their customers and not a platform that has been designed to work with several different brokers.
Another thing that has helped this broker gain this much appreciation is that they have limited their selection of tradable assets. Plus500 is a Contract for Difference (CFD) broker with roughly 2,100 financial assets, compared to some of their competitors that have 15,000+ assets on offer.
For traders, this means less choice but also less confusion and the option to focus on a smaller number of assets and more all-inclusive strategies.
Want to Start Trading? Consider This First
Does this sound intriguing? And are you also considering starting trading with Plus500? Then you need to be aware of the risks involved in trading, especially trading derivatives with margin and leverage.
You see, up to 80% of all retail traders end up losing money in the long run. And the use of margin and leverage can greatly increase your potential losses.
For your own sake, please be careful and spend the time needed to understand the ins and outs of trading, develop strategies, and master all the skills needed.
If you do so, you will have a chance to trade and potentially make a profit from one of the best trading apps in Europe.
Have any thoughts on this? Let us know down below in the comments or carry the discussion over to our Twitter or Facebook.
Editors' Recommendations:
Important ways technology is transforming how we trade