Polaroid Cube+ Review – Good things come in small packages
Standing at just 35mm, the Polaroid Cube+ is here to prove that the best things do indeed come in small packages.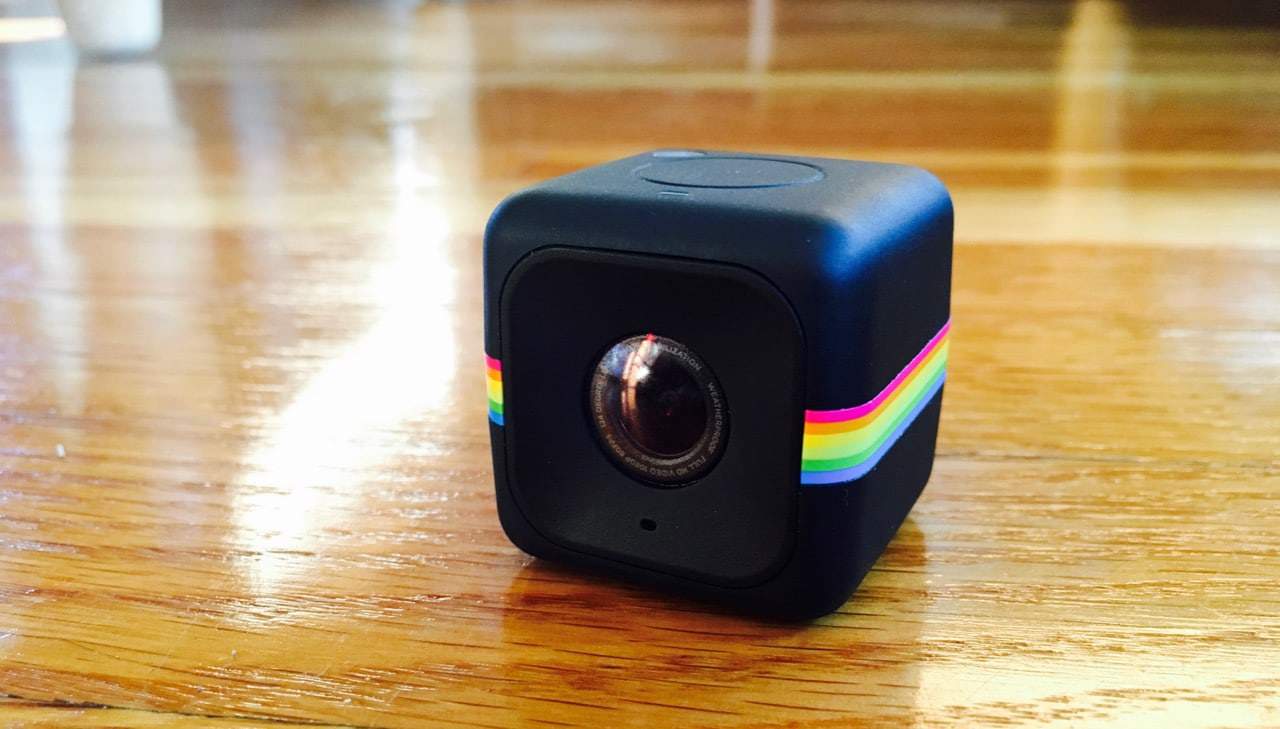 Polaroid and I go way back. Back to the days where instant film pictures were the shit, you know, before digital cameras came into the mix. The feeling of snapping a picture and shaking it off to dry was undoubtedly something anyone in the late 80's and early 90's can remember. Everyone had them. They were simple to use and easy to handle. It was easy to say Polaroid was really onto something, but unfortunately, times have changed and so has Polaroid.
Catapulted into the digital world, Polaroid's name can now be seen on tablets, televisions, headphones, and hell, even a smartphone. So when the company introduced the Polaroid Cube+, a 35mm action camera that's capable of taking still shots and video, I wasn't all that surprised. I mean, after all, they're a camera company. But when I actually saw one in the wild the first time, I thought to myself that it was one of those gadgets that I had to get my hands on.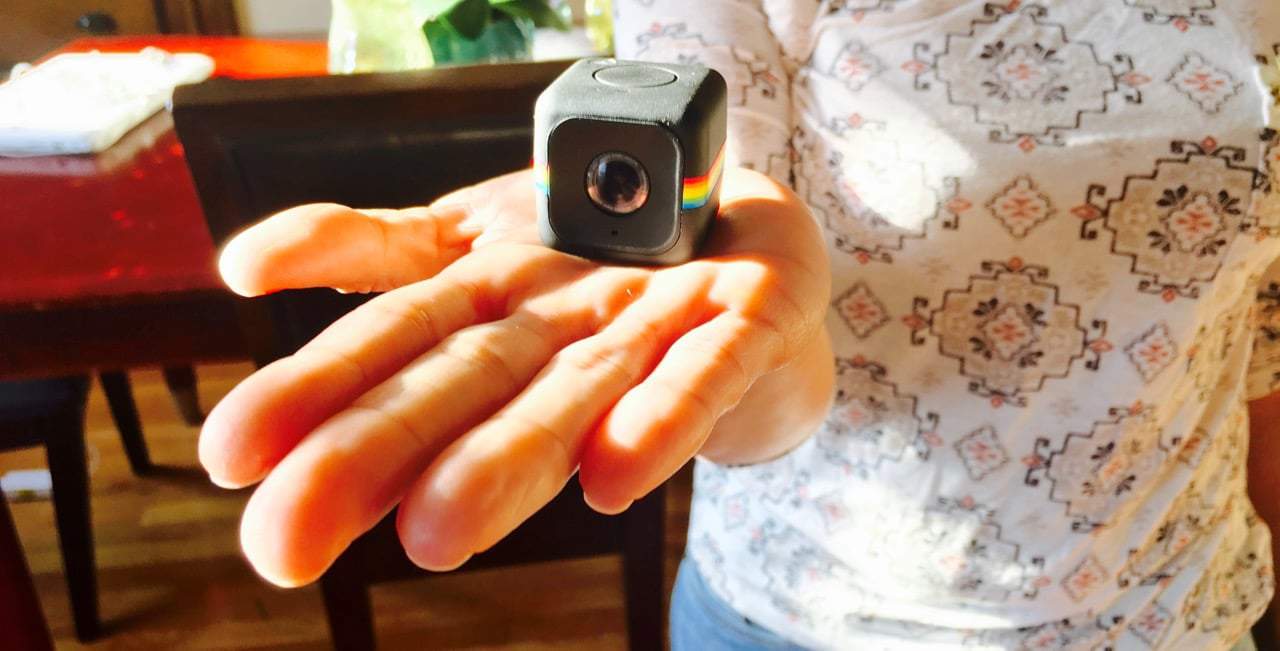 Priced at $149, I can't justify buying one for myself. Truthfully, my life isn't that exciting that it requires a camera constantly recording everything I do. Luckily, Polaroid was kind enough to send me a review unit,  so I took it out for a test spin and answered the question if it's actually worth $149. Let's dive in.
First Impressions
This sucker is small. I mean, it's really small. Measuring in about 1.4 square inches and weighing 1.6 ounces (about 46 grams), this little sucker fits right in the palm of your hand, with tons of room to spare. The device is also wrapped in a smooth hard rubber casing giving the impression the device can take a beating. Meaning, I wouldn't cringe or wince if I dropped this thing on pavement or something. Perfect for outdoor people.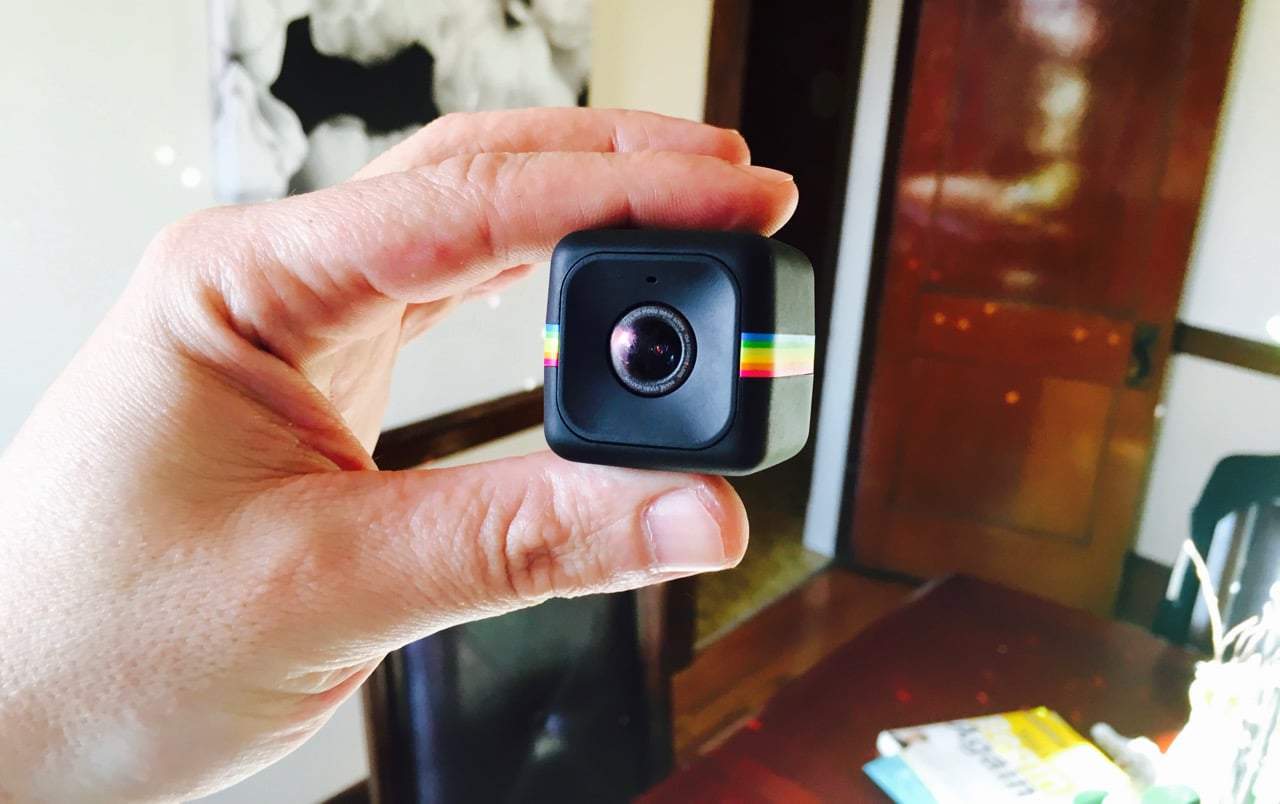 I found a small circular cover on the back which can be removed with the edge of a coin. Underneath you'll find a microSD card slot (up to 32GB cards are supported), a Micro-USB port for charging or transferring video and photos.
"Looking, watching,  judging."
Another interesting feature I immediately noticed was the magnet embedded into the camera. The camera gives you the option to stick the device onto any and all magnetic surfaces. You could stick it on a bike, a car – anything that provides a magnetic field. At the time of writing this, mine is currently plopped on a radiator facing me –looking, watching, judging.
Design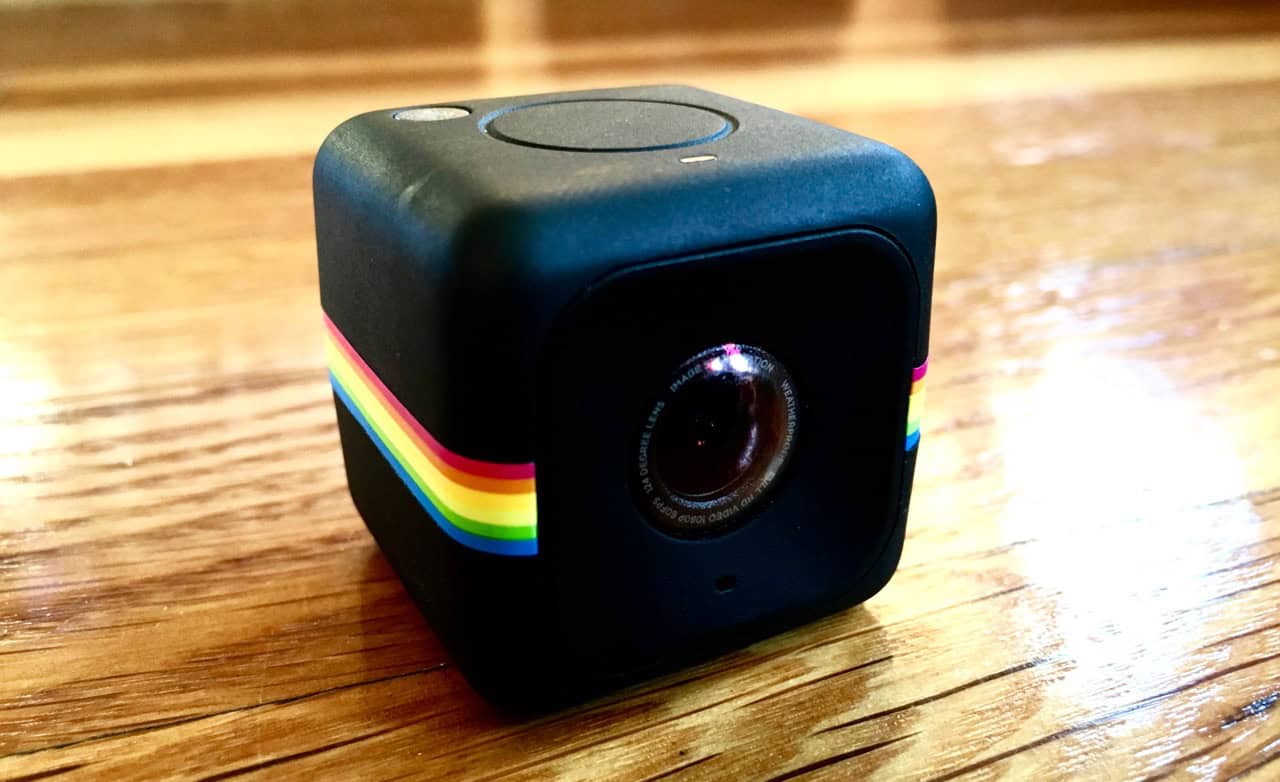 When it comes the Cube's design, Polaroid delivered in pure Polaroid fashion. As I mentioned earlier, the camera is wrapped in a hard rubber casing, feeling similar like a pencil eraser. The sides rock a retro rainbow stripe, similar to the Polaroid brand. The funny thing is that Polaroid didn't even design the Cube. They hired a San Francisco-based studio, Ammunition, to take the helm of its design. Ammunition is also the design studio behind Beats by Dre headphones.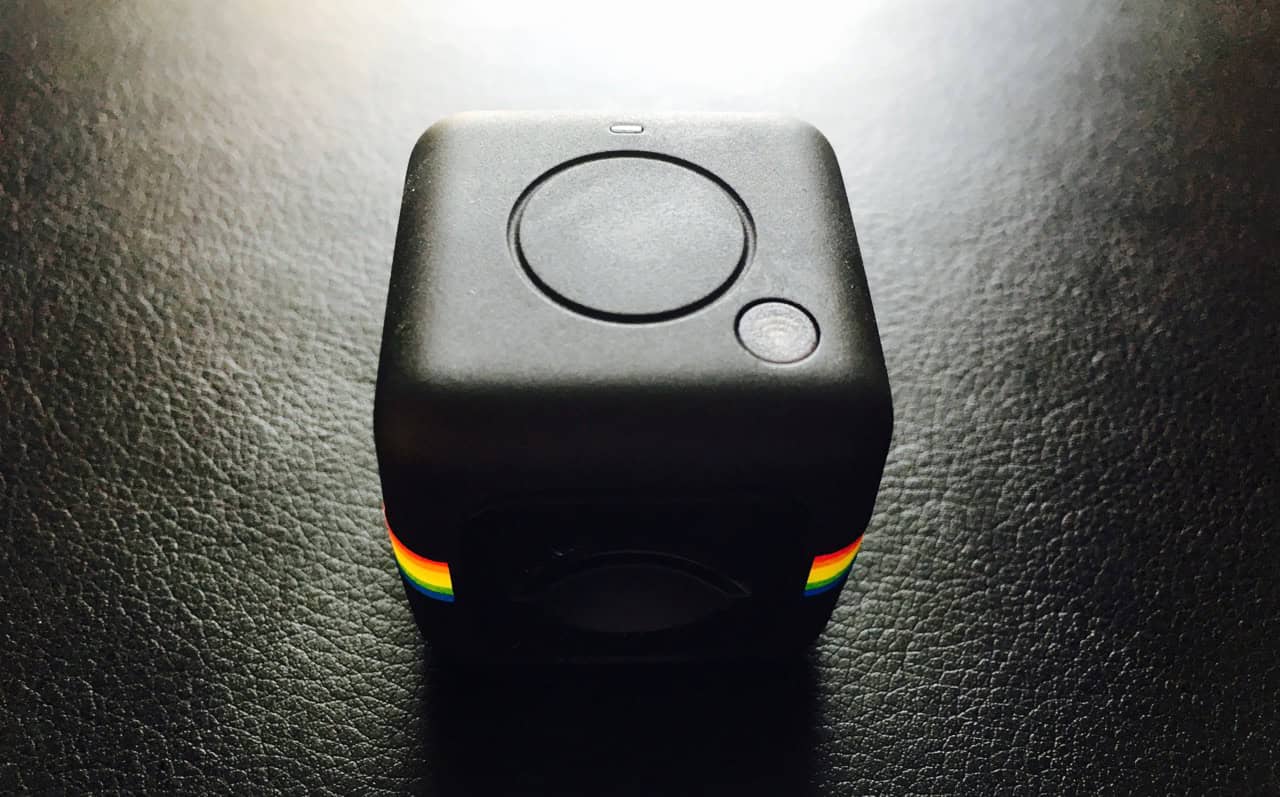 My experience with the Polaroid Cube+
The Polaroid Cube+ is pretty user-friendly. On the device you'll only find one button. That's it. Next to the button is a really tiny light that switches from red to green, flashing or steady to indicate what current mode the camera is in. A series of beeps sounds off when you cycle throughout them too.
"That's pretty much all there is to it, it's that easy."
To get started, pressing the button for a few seconds turns it on and off. When the camera is on, tapping it once will snap a 6-megapixel picture. Tapping the button with two quick presses commands it to start recording, and once more to stop. That's pretty much all there is to it, it's that easy.
When it comes to the camera's quality, it's not that bad. It could be better, but again, if you're only recording 5-minute clips, how crisp do they really have to be? When I watched a video on a mobile device the footage looked pretty good. It's only when you watch it on a larger screen the quality depreciates.
If there's one thing that needs work, it's the Cube's battery life. I found that it lasted roughly around 90 minutes. It's not bad but it can certainly be better. I mean, if there was an option to remove the battery that would be a different story, but unfortunately this isn't the case with the Cube.
Honestly, the camera is aimed more as quick-clip solution, not the absurdly long GoPro videos you find out there. Don't get me wrong, you can keep on recording until the battery is dead or until all of your memory is filled, but the Cube+ will chop up your recordings into 5-minute clips.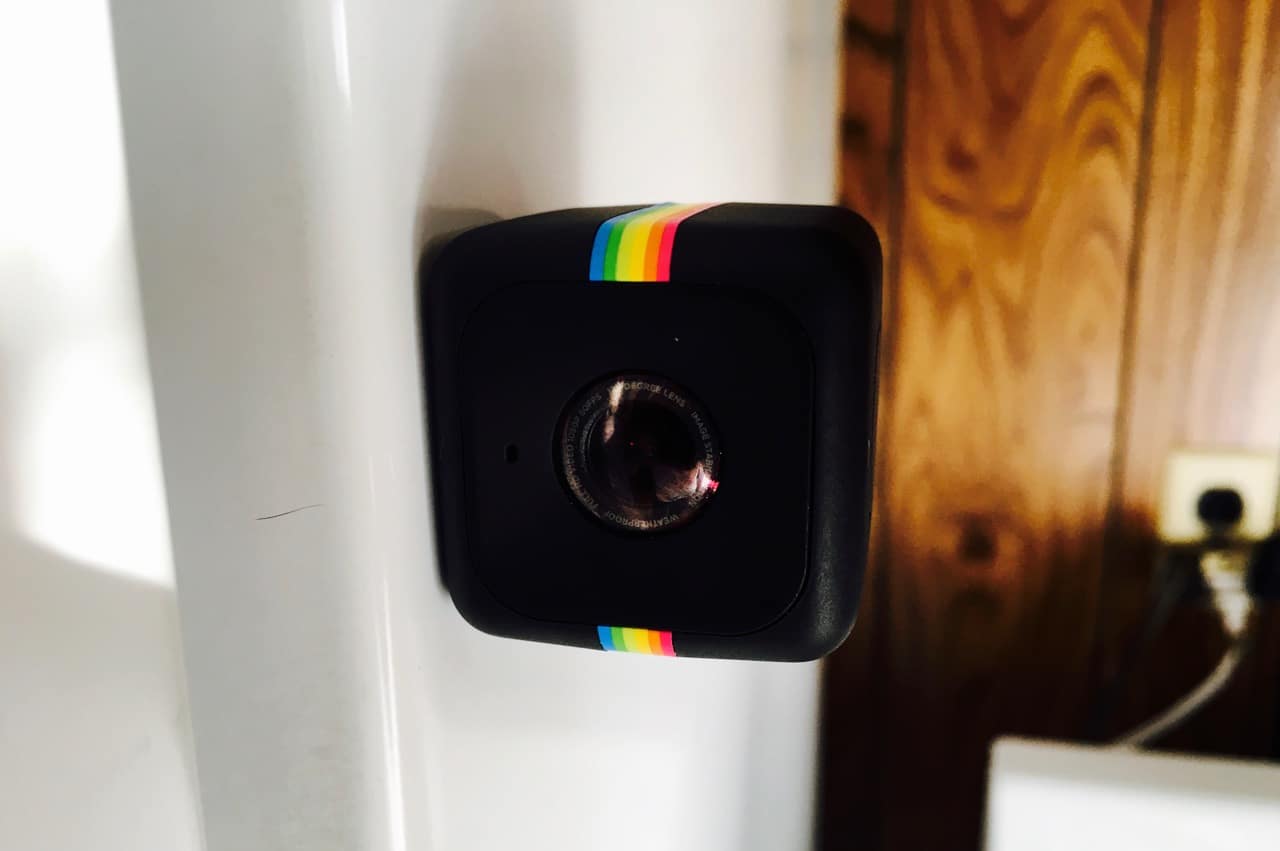 Another caveat is the Cube's magnet. One of the things I found myself running into a lot was finding surfaces I could actually place a magnet on. Most of the time I couldn't find anything with enough magnetic attraction to hold the camera. And when I did, the surface wasn't really horizontal and unfortunately the video doesn't rotate. I can say this, however, when I did find something to stick it to, the magnetic field was strong. Luckily, Polaroid released a bunch of different mounts recently, but that means you'll have to dish out more cash.
Final Verdict
I'm on the fence about this one. It's certainly not a bad camera, but so isn't the one in my smartphone. I guess it all boils down to how you use the Polaroid Cube+. If you're using it for shooting short video clips and stills shots, then it's probably something you should consider. However, if you're the adventurous type looking for a high-end action cam, this probably isn't the best option.
Ideally, I see this as a great camera for the family. It's tough, rugged, and it certainly can take a beating. If I were a parent I would have no problem giving this to my kid without worrying about whether if it will be destroyed or not. Personally, I think that alone is the real value compared to other cameras on the market. But for $149, that's a pretty steep reassurance. 
The Good
It's built pretty tough
It's tiny. I can bring this thing anywhere
Wi-Fi capability and the app makes using this 10x easier
The Bad
Battery life
Video quality could be a little better
Without the app, it's hard to determine if you're actually recording or taking any pictures
It's not really a GoPro
Follow us on Flipboard, Google News, or Apple News