Q&A: Web3 Foundation on the future of the decentralized web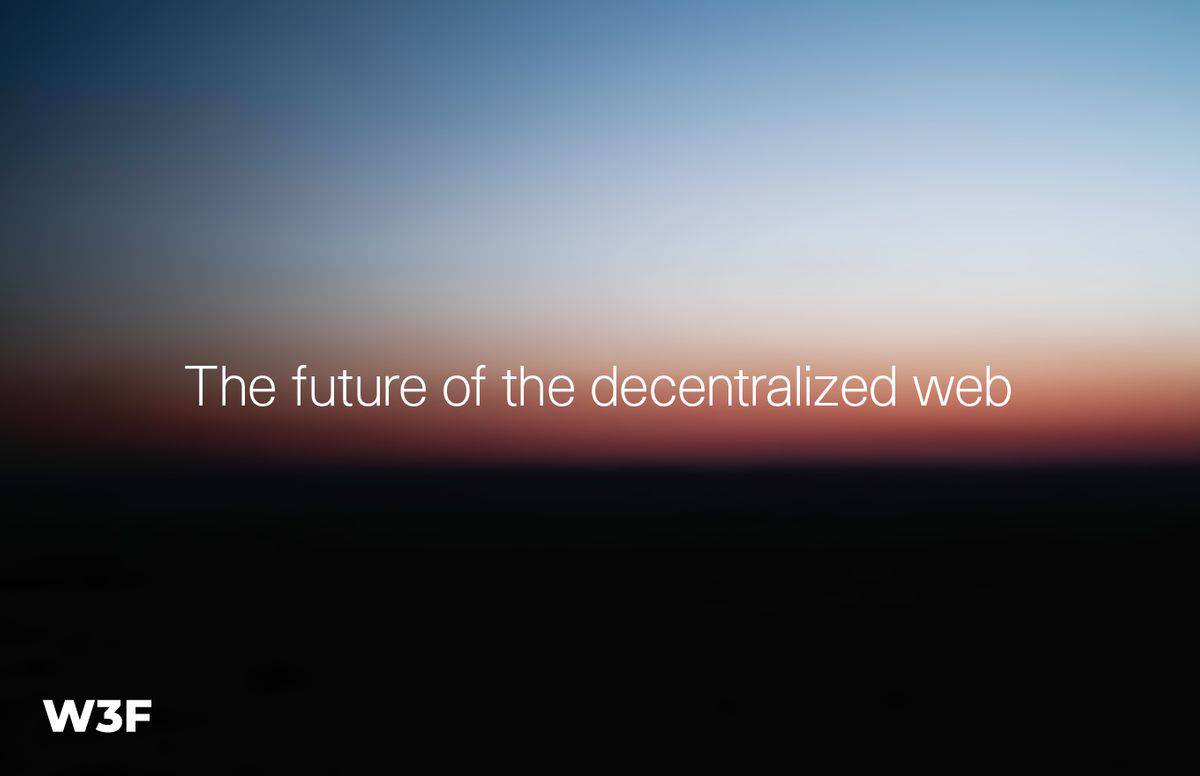 Imagine a fully decentralized web. One that is powered by you and your fellow users and provides everyone with full control of their data. This is what Web3 Foundation says is in store for our future.
Web3 Foundation is an organization founded to help foster the development of a user-friendly decentralized web. They nurture and steward technologies and applications in the fields of decentralized web software protocols, particularly those which utilize modern cryptographic methods to safeguard decentralization. They also aim to bring awareness and adoption of decentralized tech to a mainstream audience.
If you're in the crypto space, you may have heard of Polkadot, a platform built by lead development teams including Parity Technologies that is being led by co-founder and former CTO of Ethereum Gavin Wood. This is the first protocol that Web3 Foundation is funding, so naturally, we wanted to learn more. We spoke with Ashley Tyson, Director of Partnerships & Strategic Initiatives at Web3 Foundation to discuss Polkadot and also their recent Summit.
What is Polkadot?
Polkadot is a platform that allows diverse blockchains to transfer messages, including value, in a trust-free fashion; sharing their unique features while allowing them to pool their security.
Why make Polkadot so important for the future of blockchains?  
We believe that there will be hundreds (or thousands, or hundreds of thousands) of blockchains running in the future. There are already a number of public and permissionless blockchains like Bitcoin and Ethereum. We're beginning to see enterprises and governments experiment with blockchain as well – but public chains aren't always the best for their needs. As the technology continues to get better, we'll see these companies and governments start to create their own private and permissioned blockchains. Even further, we're experimenting with getting real-world data (for example, IoT data, weather, political events, etc) on the blockchain through what we call oracles.
All of these future blockchains and oracle networks will come with their own unique set of properties and use cases – but without a way to connect them, they will sit in silos and have limited capabilities.
Polkadot will make it really easy to build blockchains and connect them to each other. Polkadot reduces the code required to build a blockchain by thousands of lines, thus also drastically reducing development time. Because of this ability to iterate quickly, Polkadot makes blockchain experimentation possible in the same way Ethereum made decentralized application (DApp) experimentation possible. Once you have your blockchain up and running, you can connect it to all other blockchains in the network, sharing data and value across the siloes that exist today. This creates endless opportunities to experiment with new ways of organizing people and governments and businesses.
Can you give us an example use case?
Imagine that a weather oracle indicates a severe drought in a farming area of Kansas. An IoT device that measures rainfall confirms the lack of water over an extended period of time. A private insurance chain is able to gather that data and issue a payout (perhaps even in Bitcoin) to the farmer in Kansas who had significant crop loss, saving time on paperwork, coordination of insurance adjusters, etc.
That's just one easily imagined business use case. But there are entire governmental, economical, and societal shifts that this type of technology can enable that we haven't even begun to imagine yet.
Why did your team decide to start the Web3 Summit?
The blockchain space is oversaturated with noisy for-profit conferences selling $2000 tickets touting "thought leaders" or "blockchain experts" and talking heads giving out bad investment advice. But it seriously lacks places for developers and researchers to convene and share insights, workshop different ideas and collaboratively build together.
So we started planning Web3 Summit, and we aligned on a couple key principles:
1) No sponsors. No logos. No pay to play.
2) Focus on learning and sharing rather than authority. We limited the amount of traditional talks and instead doubled down on creative spaces for people to collaborate.
3) Affordable tickets for all. We had applications for discounted/free tickets for anyone working on the decentralized tech stack that couldn't afford to otherwise attend.
Web3 Summit brought together 1000 of the most brilliant technical minds working on the decentralized web for a 3-day immersive event in Berlin in October 2018.
What were the key highlights?
We had some really great thought provoking talks from people like Juan Benet (IPFS), Amir Taaki (former Bitcoin core dev) and Harry Halpin (W3C). We also had smaller breakout rooms where the conversations could get more interactive, such as the heated governance debate between Gav Wood (Polkadot), Arthur Breitman (Tezos) and Vlad Zamfir (Ethereum) around the best ways to approach blockchain decision making processes.
The coolest part by far though, was our hackerspace where anyone could sign up to host their own 3-day co-working space: organize workshops, arrange for small talks, and generally program their own mini-event within Web3 Summit. At all times of the day, people were hanging out, sleeping on couches, hosting dinners and cocktail parties while helping each other map out new concepts or dive into new code.
We wanted to thank Ashley for her time. We are looking forward to the 2019 launch of Polkadot and next year's Web3 Summit.
To learn more visit Web3.foundation and https://polkadot.network.
Have any thoughts on this? Let us know down below in the comments or carry the discussion over to our Twitter or Facebook.
Editors' Recommendations:
Industries that are likely to be affected by cryptocurrency or blockchain technology
Bitcoin as a bonus tool on gaming sites
Blockchain-based entertainment projects