QRTIGER vs. Beaconstac: Which QR code generator is better for business use?
Comparing QRTIGER and Beaconstac to determine the best QR code generator for business use. Find out which is the best option for you.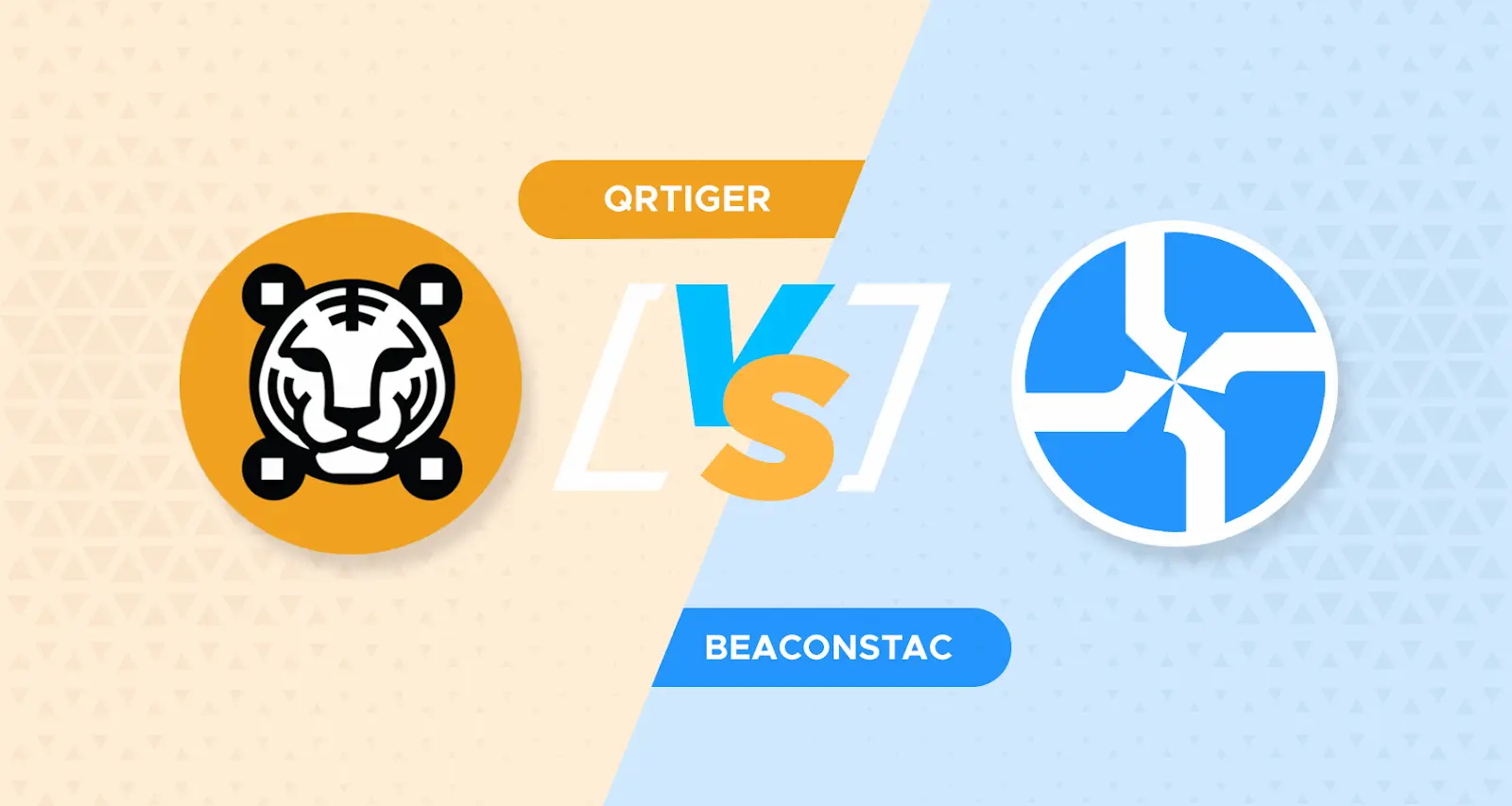 QR codes have become a staple in today's marketing campaigns and business operations, and several online QR code makers have sprung up to offer their own solutions.
The problem is left with the user choosing the best QR code generator to host their QR code-powered executions.
Comparing them all can be overwhelming and time-consuming for the average marketer new to this whole QR code game. Most QR software plans are offered in annual payment terms, leaving very little room for mistakes.
This guide will focus on two of the most popular QR code generators on the market today: QRTIGER and Beaconstac. Let's lay down different factors to consider in choosing the better QR software for your budget and needs.
Factors to consider when choosing a QR code generator
Here are the following factors you can consider when choosing the best QR code generator to use in your operations and marketing strategies today.
With these factors, let us compare the two known QR code generators competing in the market today.
Basic QR code essentials (5 points)
The basic QR code essentials play an important part in every decision businesses need to make when planning a QR code-powered marketing campaign or business process.
With every careful choice being made, it is crucial to consider the basic QR code essentials a QR code generator offers for its new, existing, and prospective customers.
Advanced functions for business use (5 points)
QR codes are mostly used for marketing and contactless business transactions in today's world.
To always get ahead of the latest tech innovations that your business can adopt today, it is important to look for the QR code solution that can cater to their advanced needs for marketing.
Whether a PDF QR code or a social media one, these functions are useful with the QR code maker's advanced features.
Solutions offered for enterprise-based QR code use (5 points)
As the shift towards digitalization of one company requires more resources, settling on one of the basic plans a QR code maker provides sometimes cannot supply the QR code solutions they need for the transformation.
Because of that, many businesses opt to look at the enterprise plan a QR code provider offers.
Pricing (5 points)
Giving value to the solutions a business owner can get is critical.
As they invest money for their company to grow, they need to look at the QR code generator provider with many solutions to offer in a meager amount with a subscription plan they have in mind.
Comparison report
Here is the comparison report our team creates following the possible factors businesses can use to find the best QR code generator for their business needs.
Essentials
Essentials tackle the basic features such as solutions, customization, and other functions that can help a business owner navigate their way when creating a QR code.
Features offered (static and dynamic QR codes)
We will check the static and dynamic QR code solutions that these two competing QR code generators offer. Any business owner can ensure that the QR code generator they subscribe to gives them all the QR code solutions (static and dynamic) they need for their business and personal use.
Both QRTIGER and Beaconstac are doing their best to provide the best solutions a user can get to modernize their QR code journey. And both offer features that a business owner can use, static and dynamic QR codes.
Number of solutions offered
With both QR code generators offering the two types of QR codes, it all goes down to the number of QR code solutions that they can offer. Looking at the table, QRTIGER currently hosts 16 QR code solutions, namely URL, Vcard, Social media, Multi-URL QR code, and Social media links like Facebook, Menu, YouTube, Instagram, Pinterest, Wi-Fi, App Store, MP3, Text, H5 page and email.
Meanwhile, Beaconstac has the basic QR code solutions with a few advanced QR code solutions like the QR Forms and menu.
Customization of the QR code layout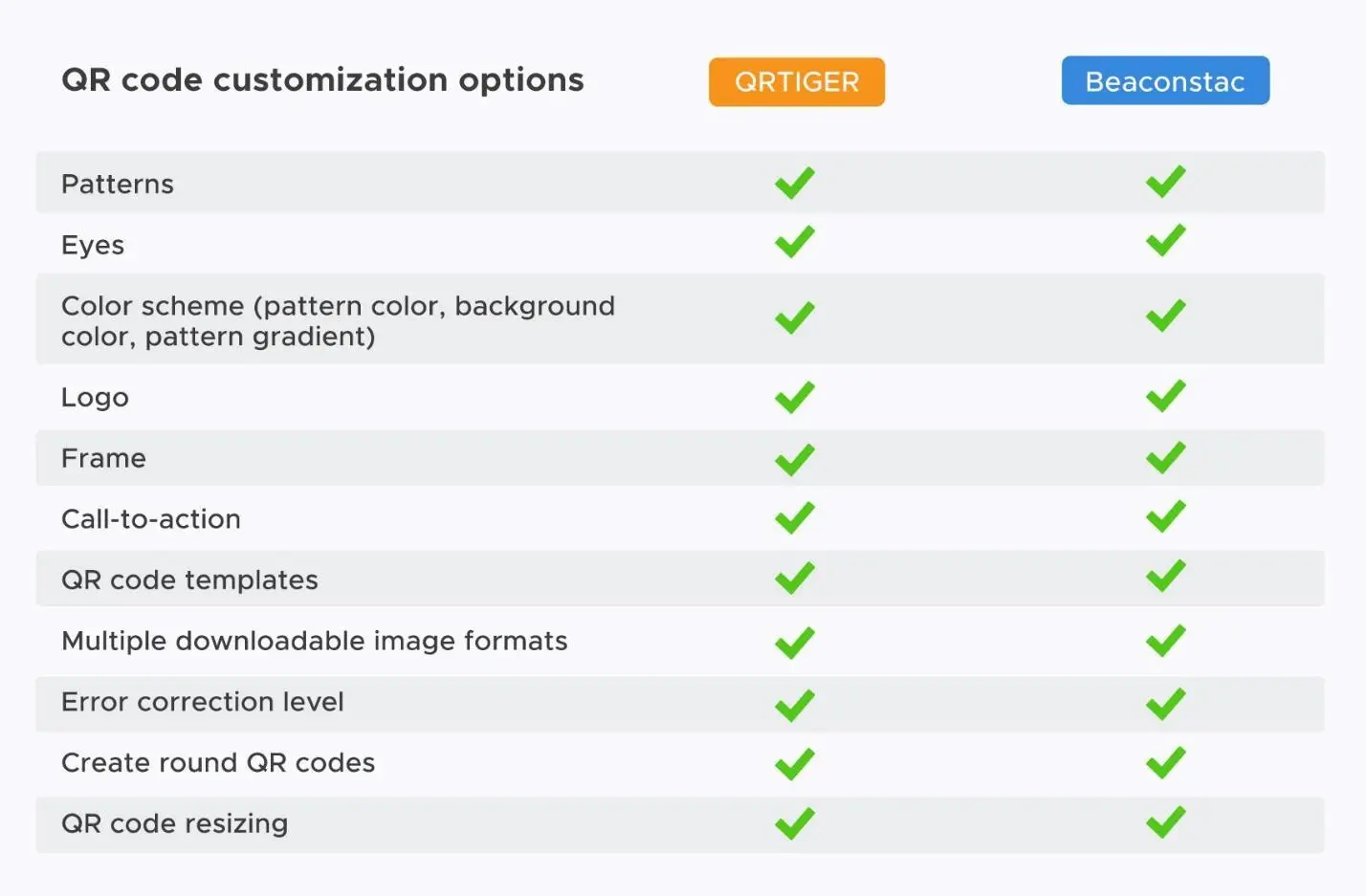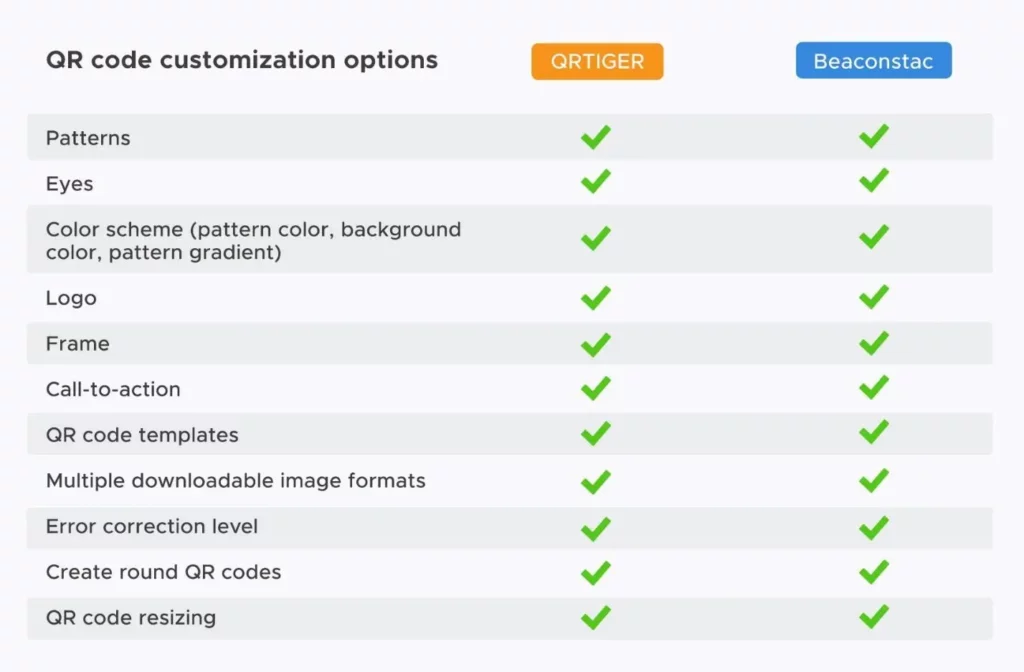 When it comes to the customization phase, both QRTIGER and Beaconstac win. They have all the customization features that a user requires and improve along the way.
Interface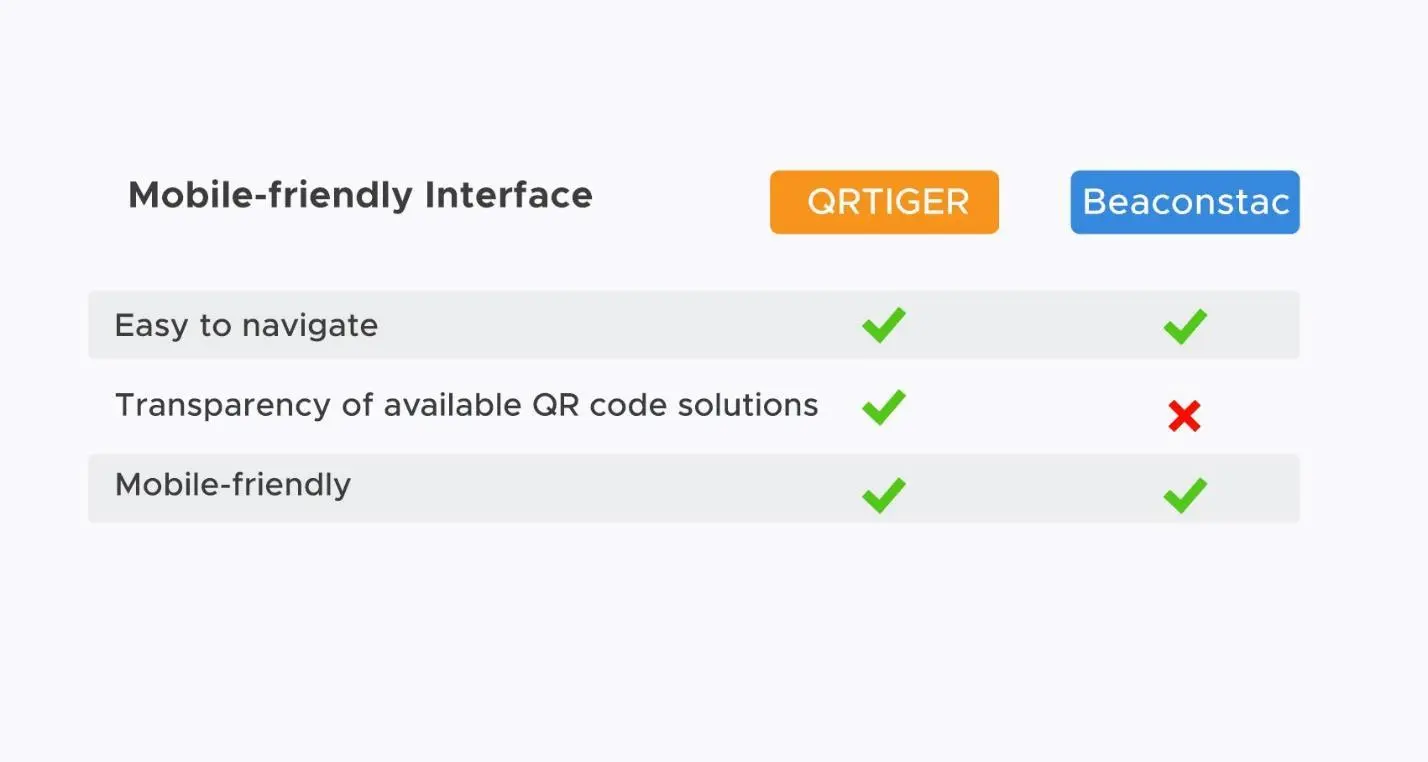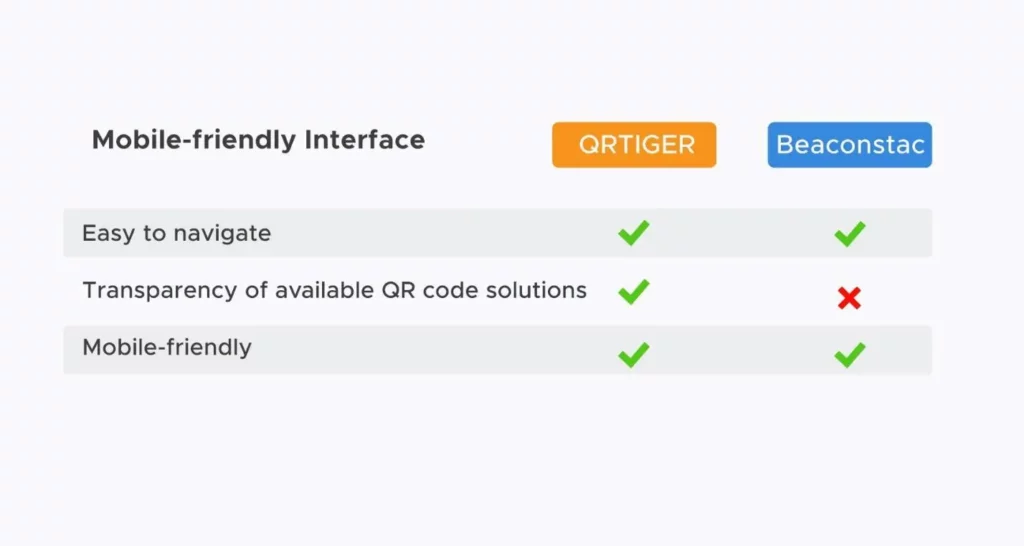 The interface plays an important role in making the software useful for the user, no matter the circumstances. The following factors are considered from a beginner user to an intermediate one.
With navigation, both have points. In the transparency of the QR code solutions offered, only QRTIGER can tick this factor. And for the mobile-friendly site, both offer mobile versions.
Advanced functions for business use
Advanced Dynamic QR code Features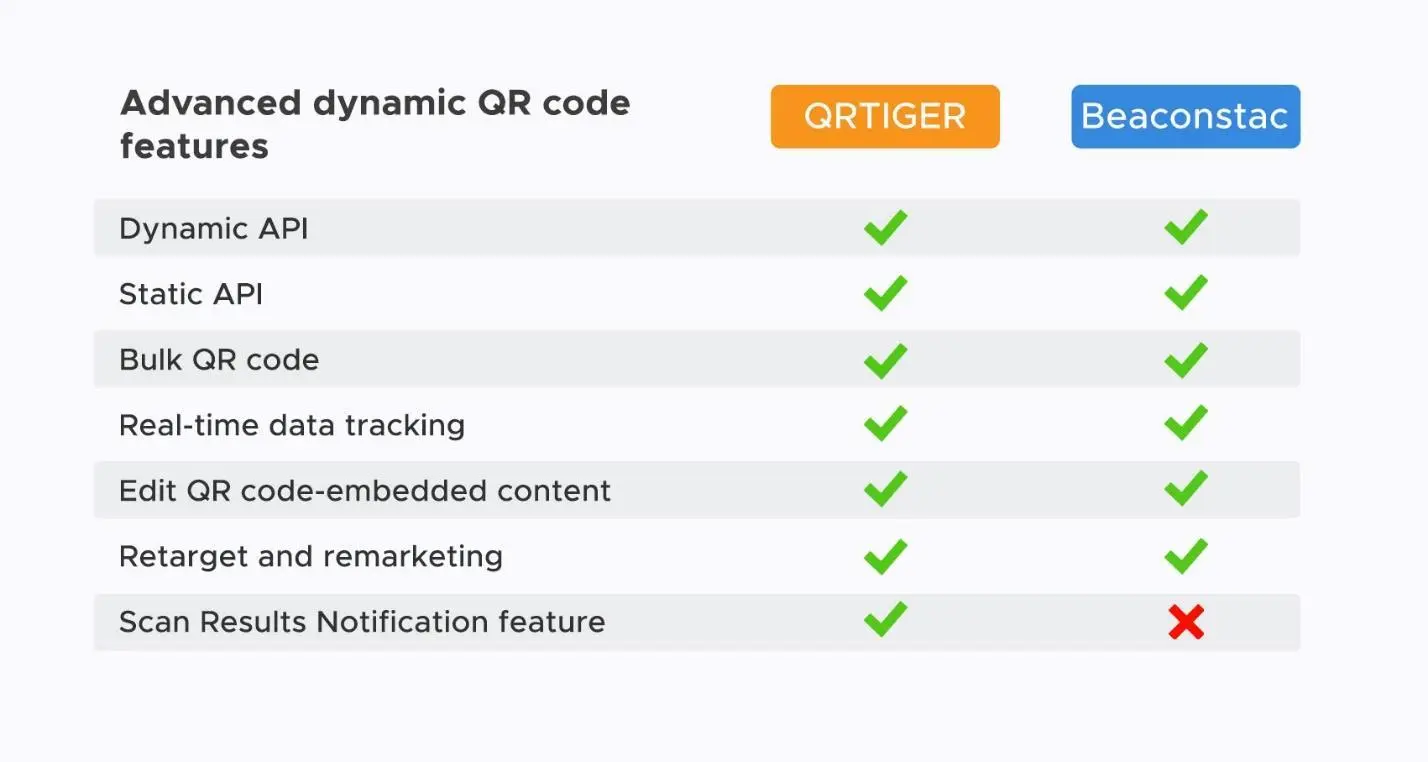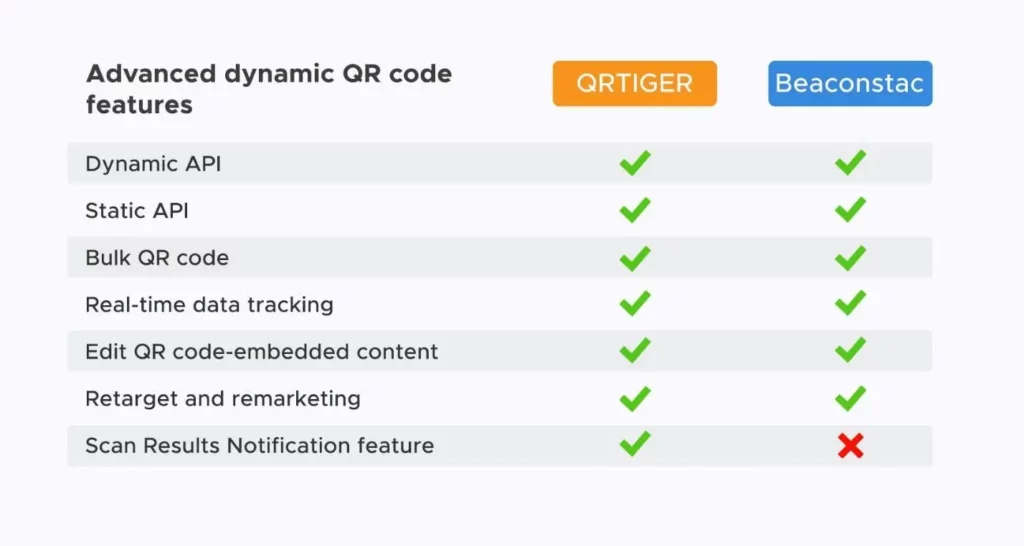 With digitalization fastening the way communication is relayed and processed to people, businesses need to select the QR code maker that provides advanced QR code generator features.
This comparison report shows the features that their dynamic QR code offers to their customers. QRTIGER leads the Advanced Dynamic QR code feature with the categories mentioned above.
The Beaconstac, on the other hand, lacks one dynamic QR code feature, which is the scan results notification feature.
Software and application integrations
The advancement of technology paved the way for applications and software to connect without applying complicated coded sequences to connect easily. And as this advancement is achieved, QR code generators are also adopting the app interconnection technology in their services.
HubSpot, Zapier, and Google Analytics are among the most used online automation and website tracking software today.
We use it to compare the products we create, and we find that Beaconstac is not yet supporting the HubSpot interconnection.
Bulk QR code generation support
With companies printing or manufacturing products in bulk, generating QR codes is possible.
By looking at the chart, we can see that Beaconstac has the most QR code solutions that a user can create in bulk.
This QR code generator has the most QR code solutions. Its function for product verification or authentication is not yet integrated.
QRTIGER's bulk QR code function is tailored for product verification or authentication.
Solutions offered for enterprise-based QR code uses
Information security system certification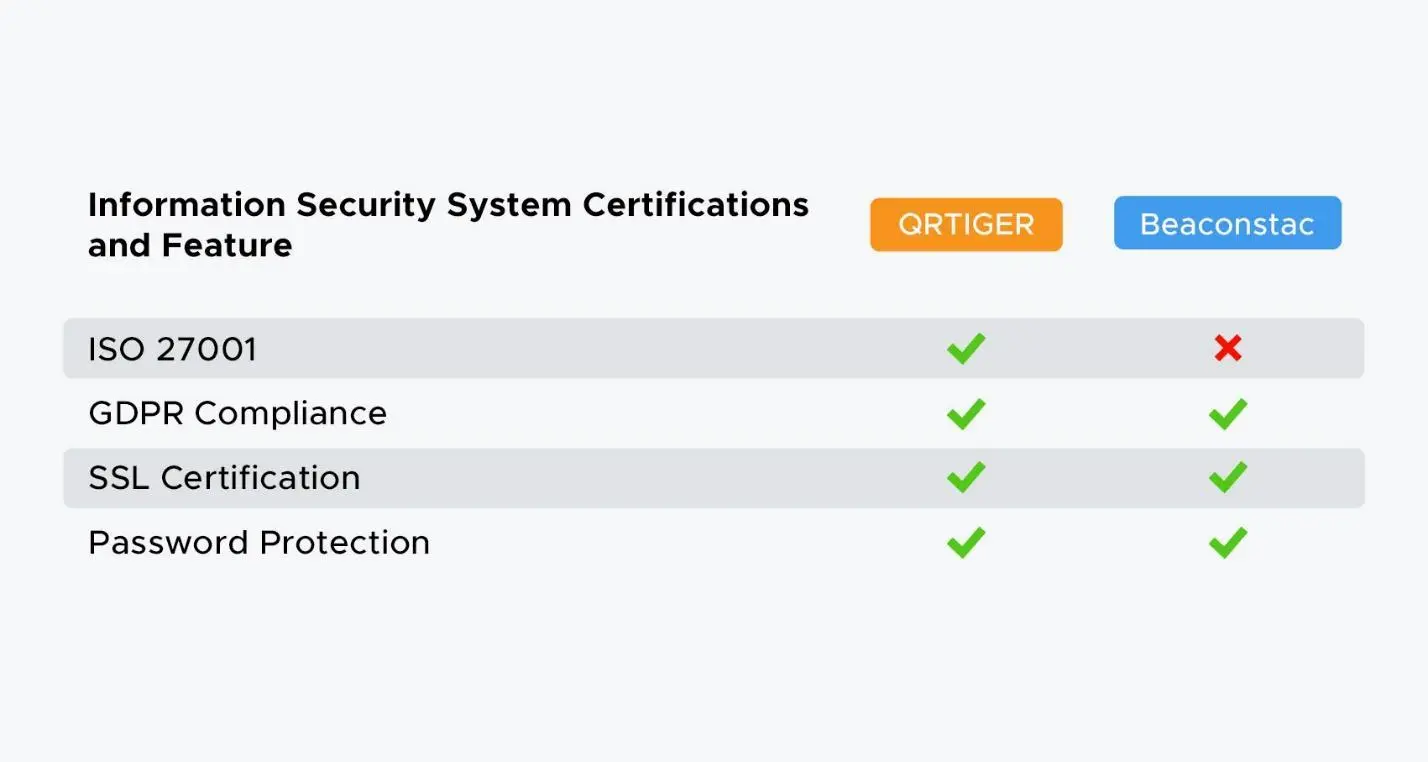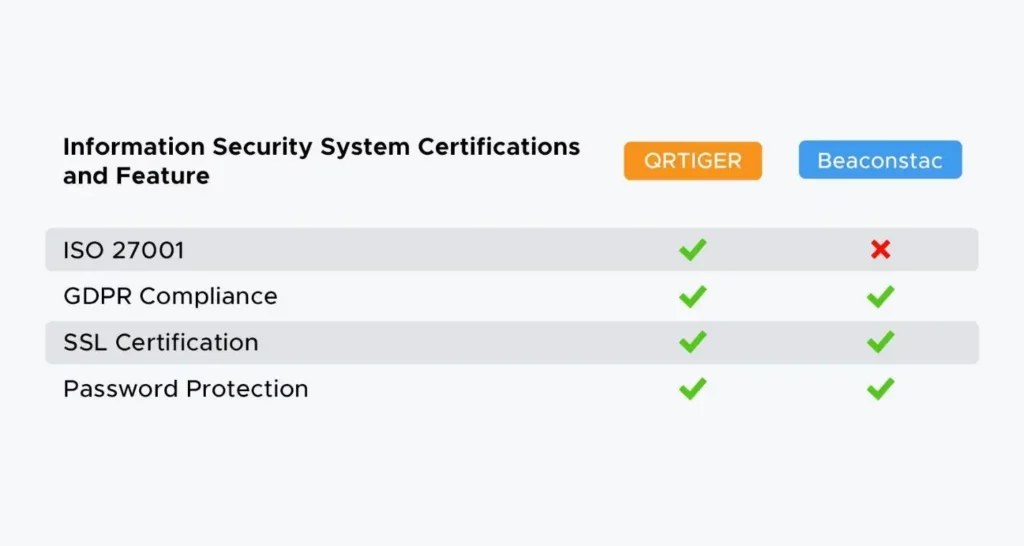 When looking forward to working with a QR code generator using its enterprise offer, it is important to look for a QR code maker secured and accredited by an international security standard system like the ISO 27001. We choose this factor to assess how safe the website is.
Among the given factors, Beaconstac is not ISO 27001 certified but is SOC2 certified, which only has jurisdiction in the US market.
For businesses with an international customer base, it is better to select the QR code generator's certification from the internationally recognized information security and management system standard like the ISO 27001.
Customer support responsiveness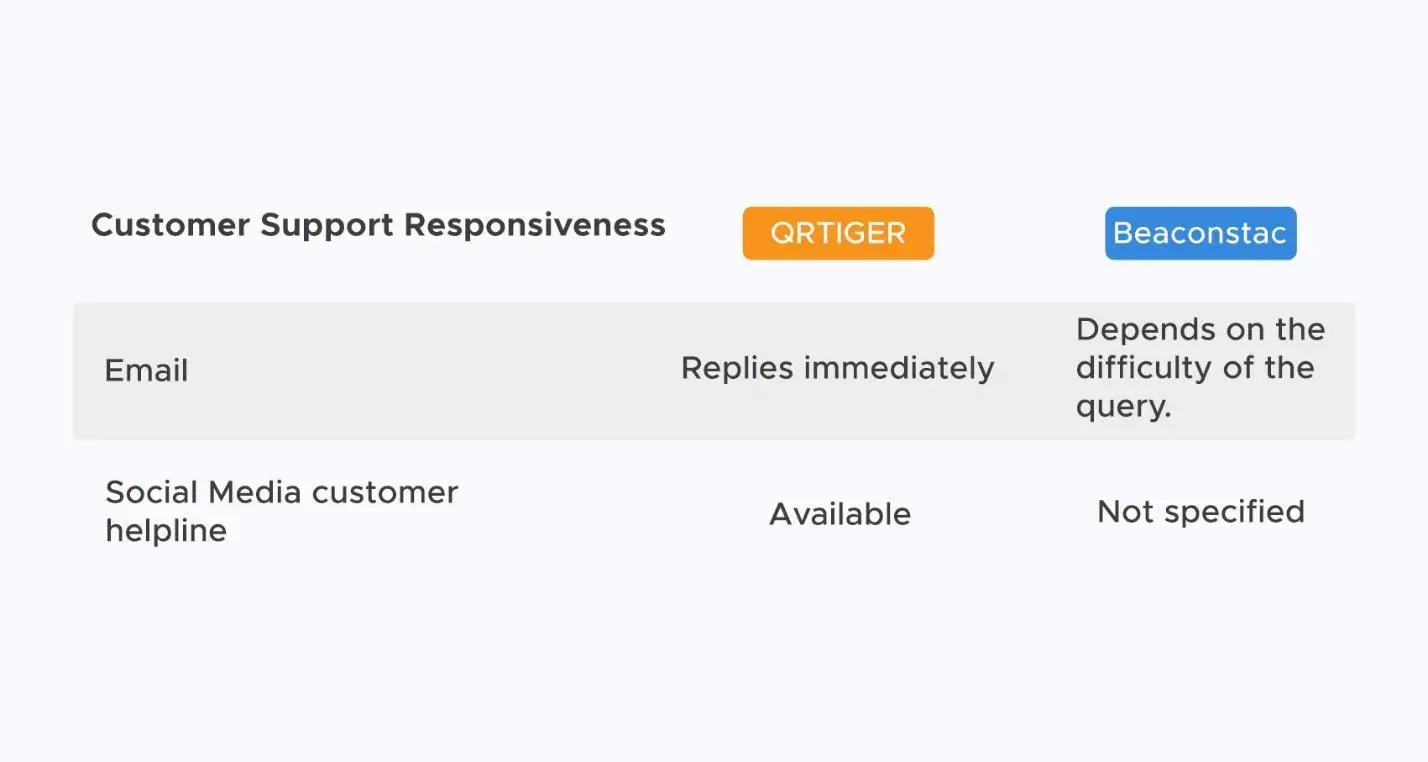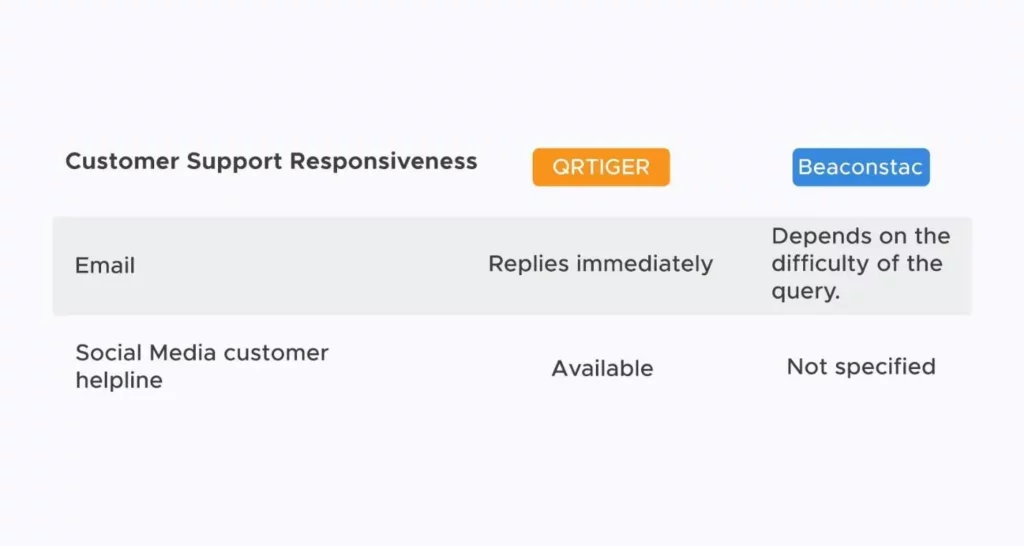 Since enterprises are taking a big risk to partner with the software they officially use in the company, they must have an on standby customer helpline to cater to the questions regarding the QR codes they make and monitor.
Between the two, QRTIGER has a responsive customer helpline via email, and they usually reply immediately and can be reached on social media.
Whereas to Beaconstac, their replies depend on the difficulty of the question, and it does not specify social media reachability.
Pricing
Plans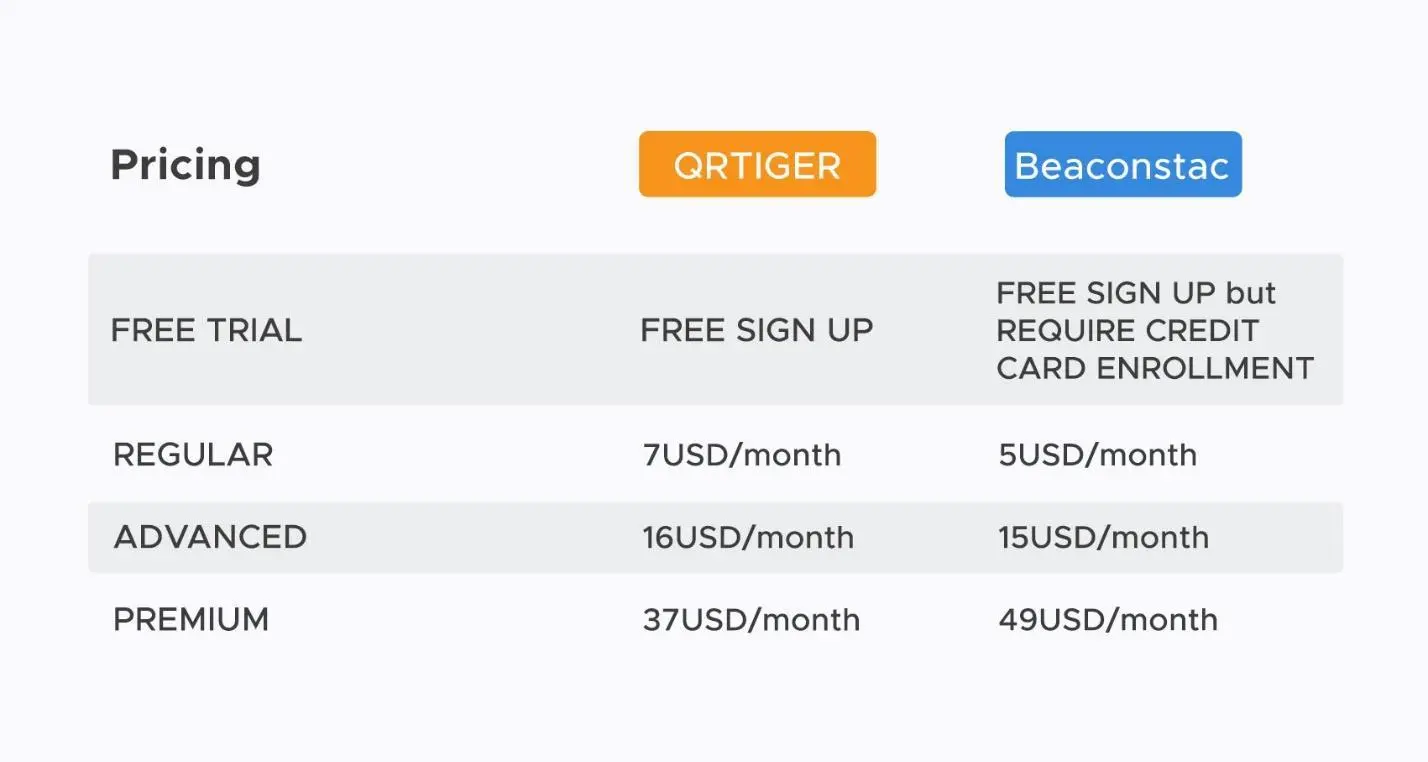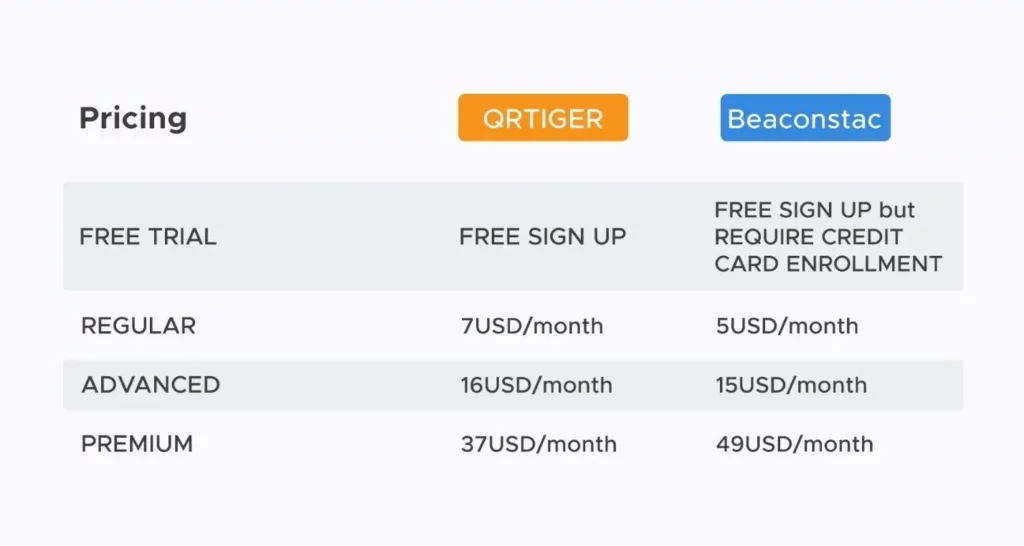 Features offered by plan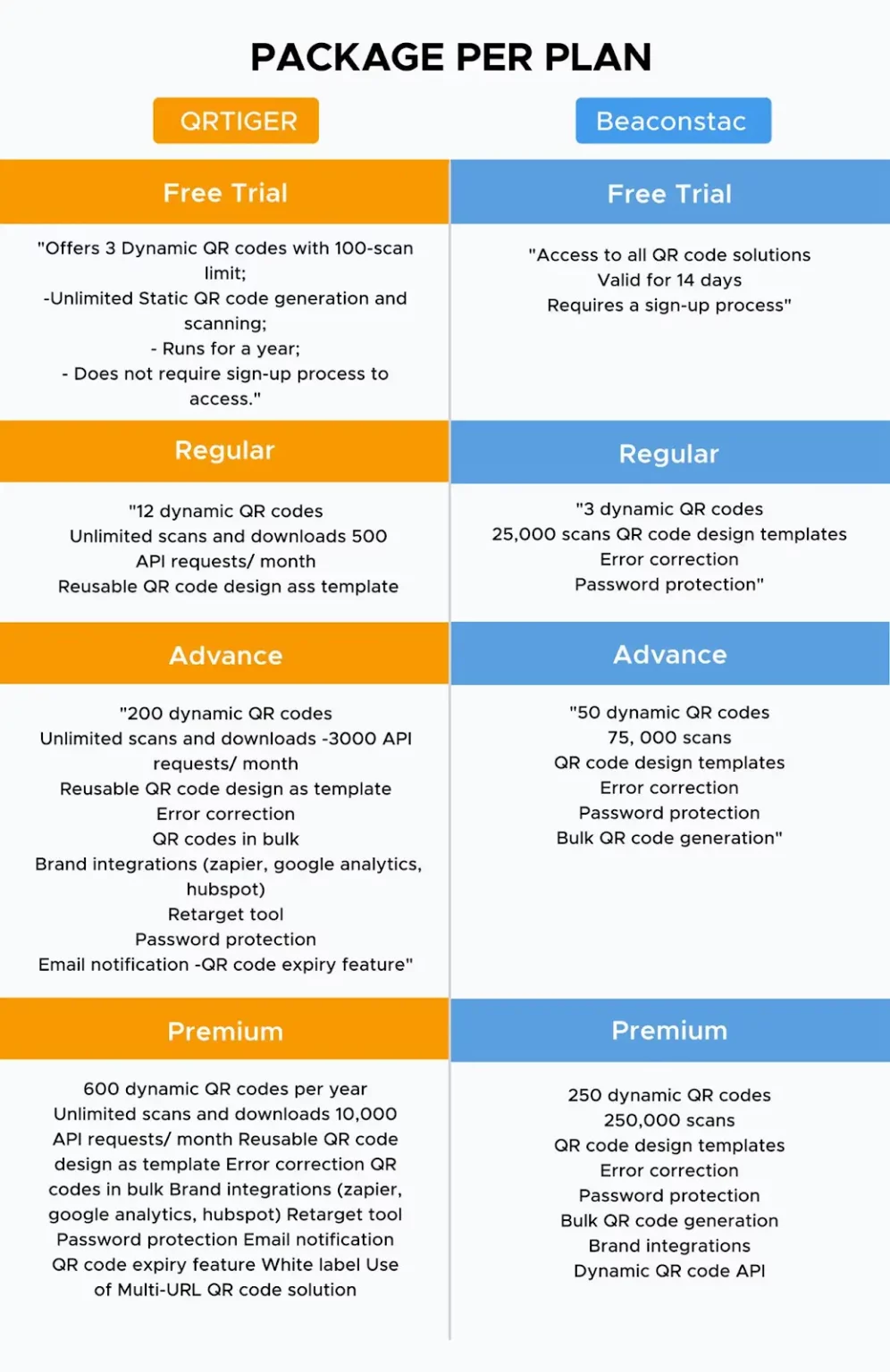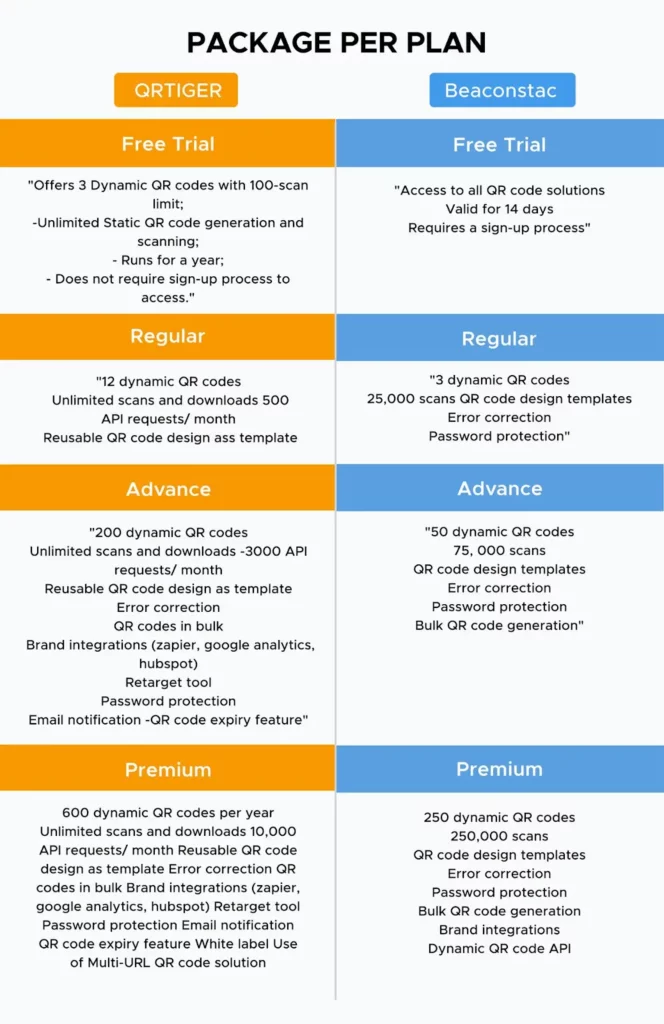 In the features offered by their plans, it is evident that QRTIGER has a lot to offer regarding their subscriptions. As the subscription plan advances, the features it offers increases also. One of which can only be rarely found from other software providers today — the Enterprise Plan.
Comparison summary
By checking out the factors that businesses should note when choosing the best QR code generator online, every company must compare the software competing in the market today.
In the comparison, both QR code generators have useful features with the price tag they put in every usage bundle. But when it comes to getting more features and creative freedom for the users,
QRTIGER wins as the best QR code generator for security, features, layout options, and pricing. As it is a close fight between the two, QRTIGER prevails as the best QR code generator.
Here are the scores that we plot for each factor.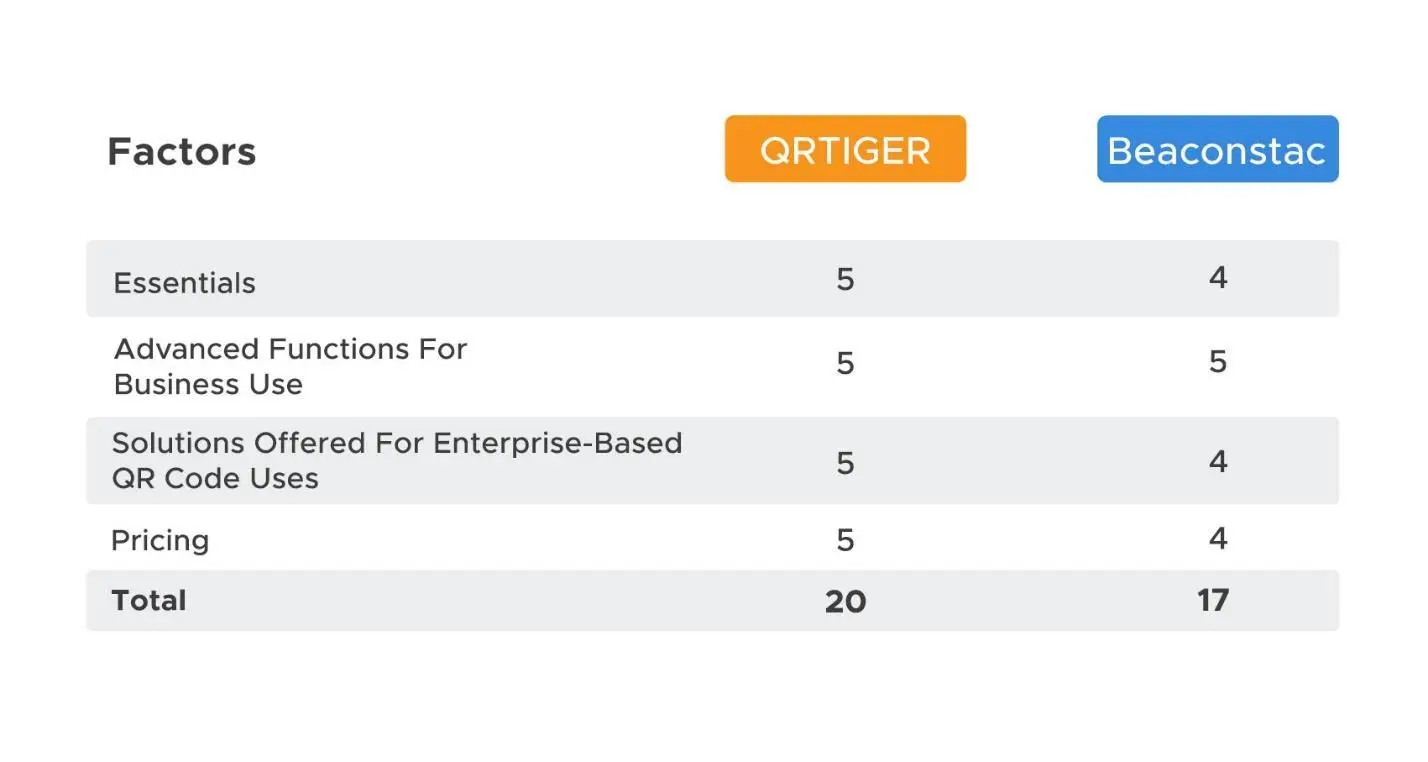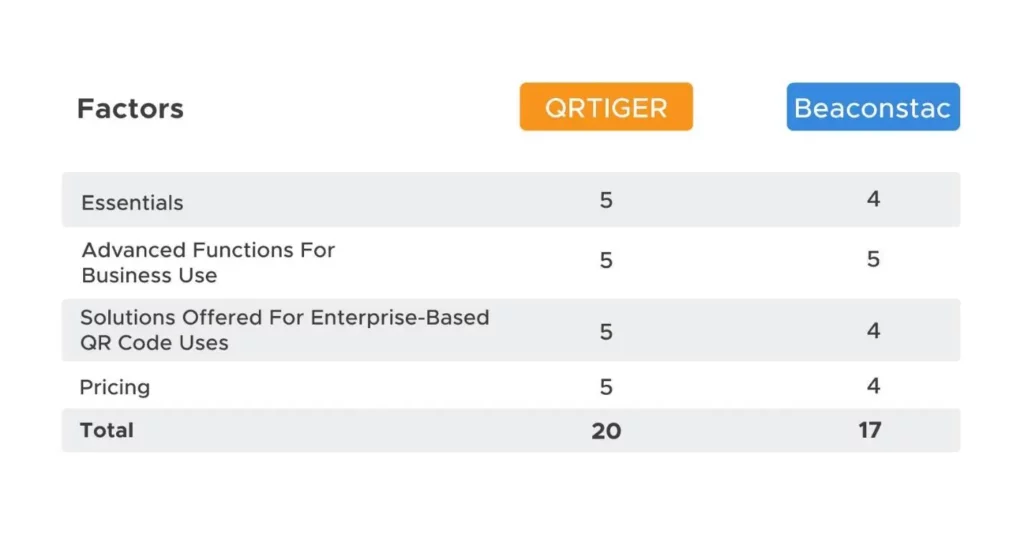 Conclusion
In the market where every QR code generator competes to dominate and gather more users to try out their software and subscribe to their plans, trying all of them can take so much of their time.
Because of that, many businesses resort to looking for comparative articles from reputable websites and blogs and reading to find out which one is the best to try and use.
With the detailed comparison made, the best QR code generator that businesses can use today is QRTIGER.
Have any thoughts on this? Let us know down below in the comments or carry the discussion over to our Twitter or Facebook.
Editors' Recommendations:
---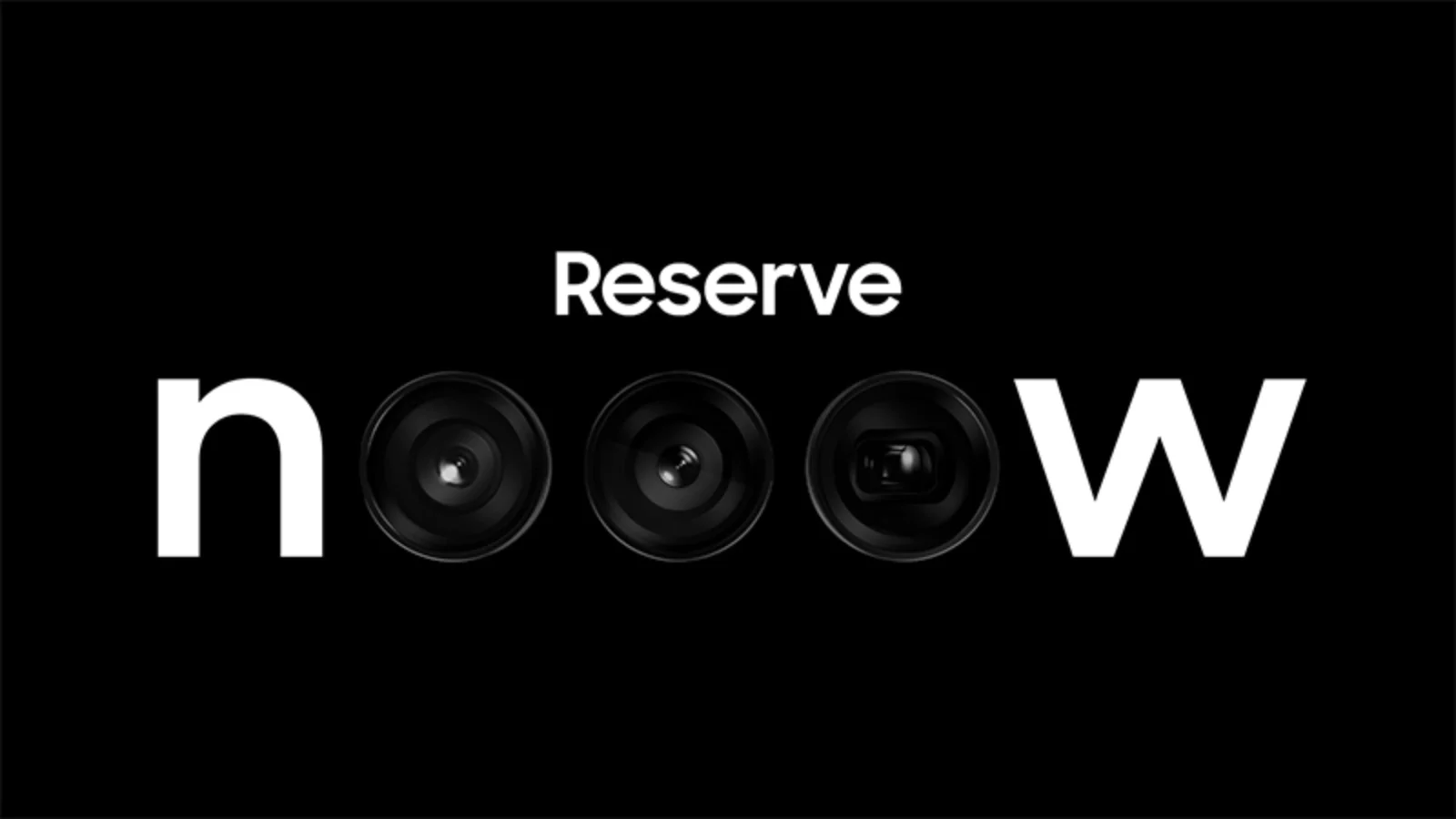 ---