QRTIGER vs. Flowcode: Which is better for your business? 
QRTIGER and Flowcode both compete to offer businesses high-quality QR code solutions. Today we'll help you determine which is best for you.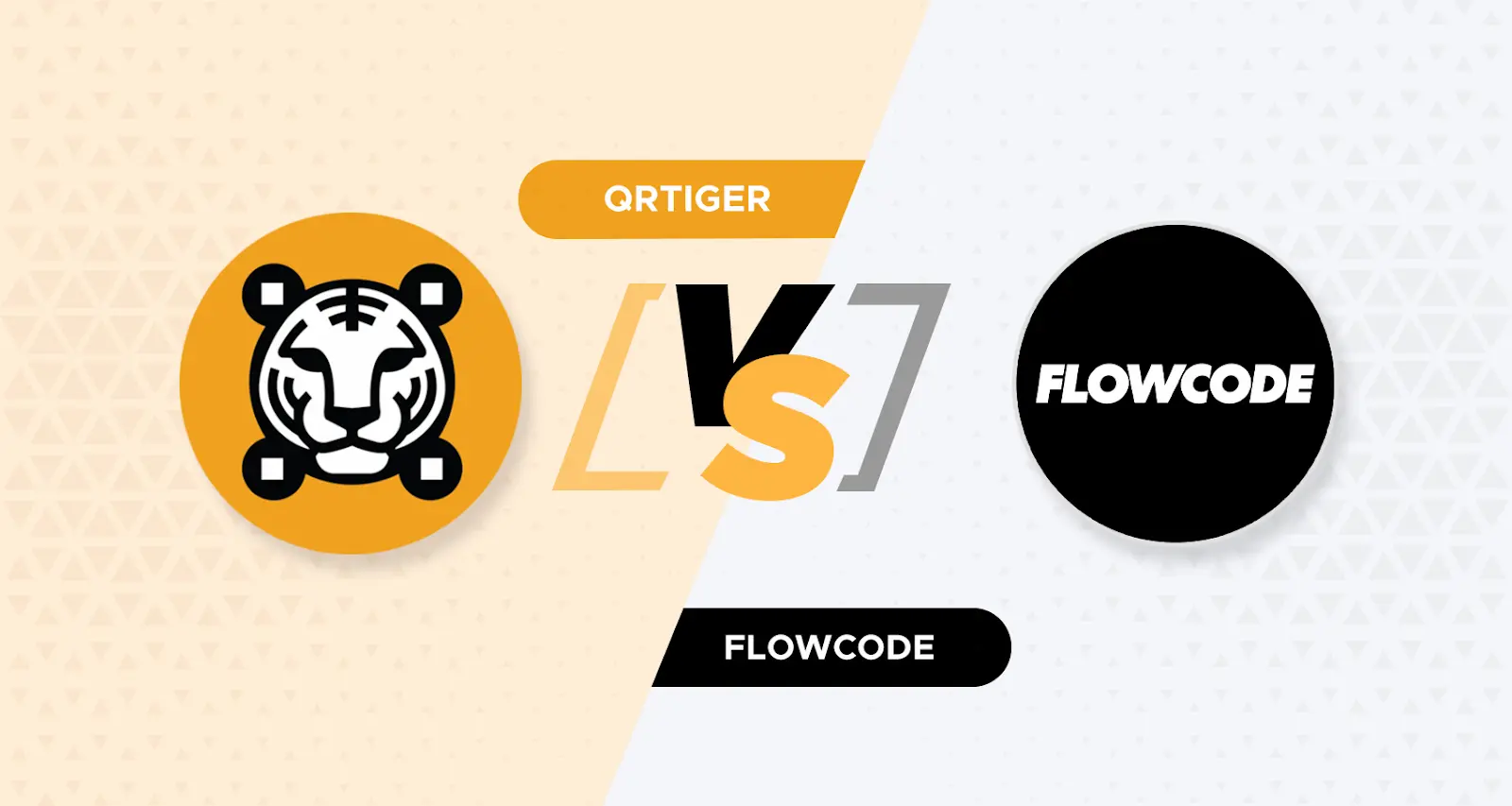 Choosing a QR code generator for your company can be tough.
With so many QR code generators available these days—most of which offer plans on annual payment terms—choosing the best QR code generator may require very careful consideration.
In this guide, we'll focus on two of the most well-known QR code generators available today: Flowcode and QRTIGER. Let's have a look at the many factors to consider when choosing between the two top QR code vendors.
Considerations to make when a QR code software
When choosing the ideal QR code generator for your operations and marketing strategies, keep the following factors in mind:
The essentials of QR codes (5 points)
QR code principles play a critical part in every decision that must be made when organizations plan a QR code-powered marketing campaign or business process.
While making informed judgments, it is vital to always analyze the basic QR code basics that a QR code generator gives for its new, existing, and potential customers.
Advanced features for business usage (5 points)
In today's environment, QR codes are largely used for marketing and contactless business transactions. To keep on top of the most recent technology breakthroughs, your company needs to find a QR code solution that can match its complex marketing needs.
These functions are not limited to the QR code generator's sophisticated features, whether it's a PDF QR code or a social media QR code solution.
QR code solutions for enterprise purposes (5 points)
Because Large corporations' marketing campaigns require custom solutions, opting for one of the QR code generator's basic plans may not meet the needs.
As a result, many businesses opt to evaluate a QR code provider's business plan.
Costing (5 points)
As a business, you want a QR code that delivers the best return on investment. It is vital that you pick a QR code generator service that offers a variety of solutions for a nominal fee and a subscription plan that meets your needs.
Comparing QRTIGER and Flowcode
Here is a comparison between the two QR code generators for each of the categories cited above.
Essentials
These include all the basics such as solutions, customization, and other functions that can help businesses navigate their way when creating a QR code.
Number of solutions offered (Static and Dynamic QR codes)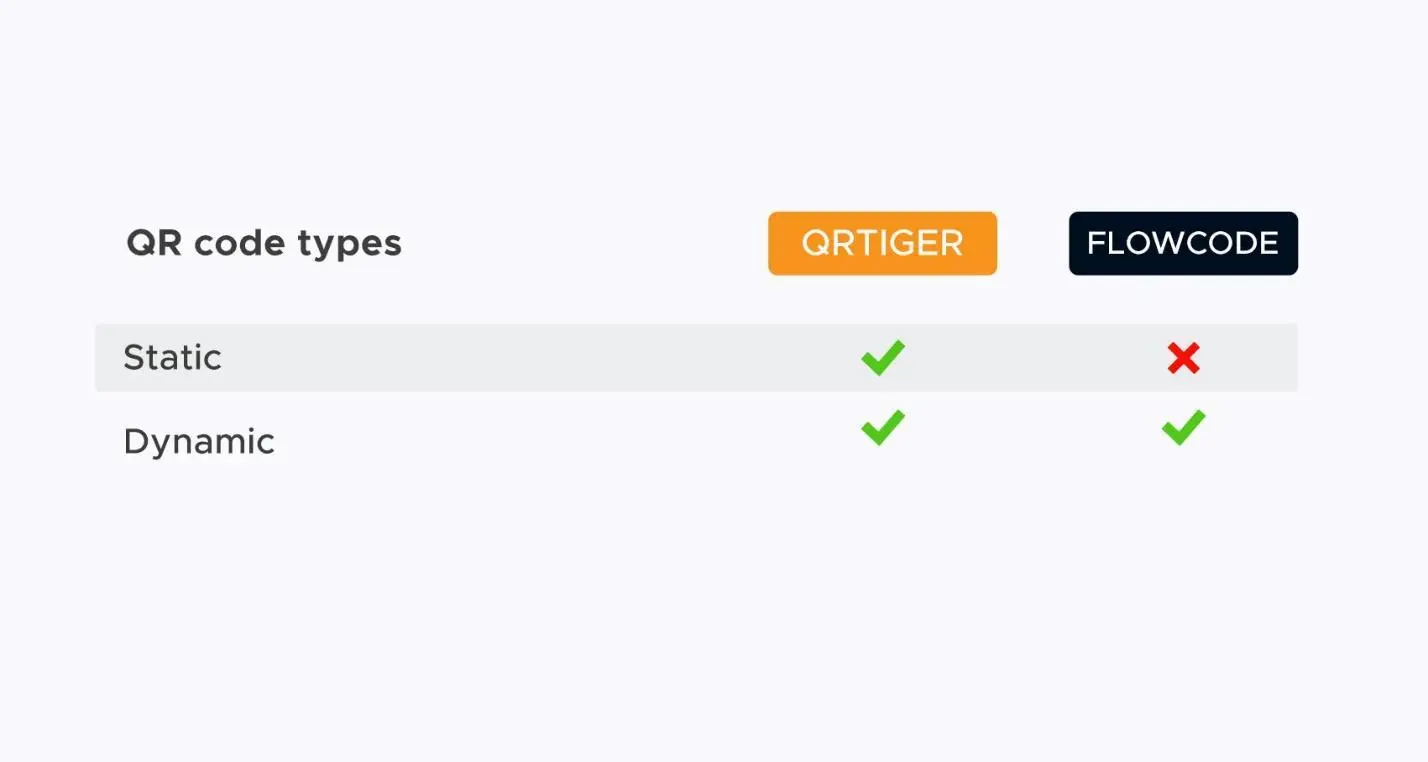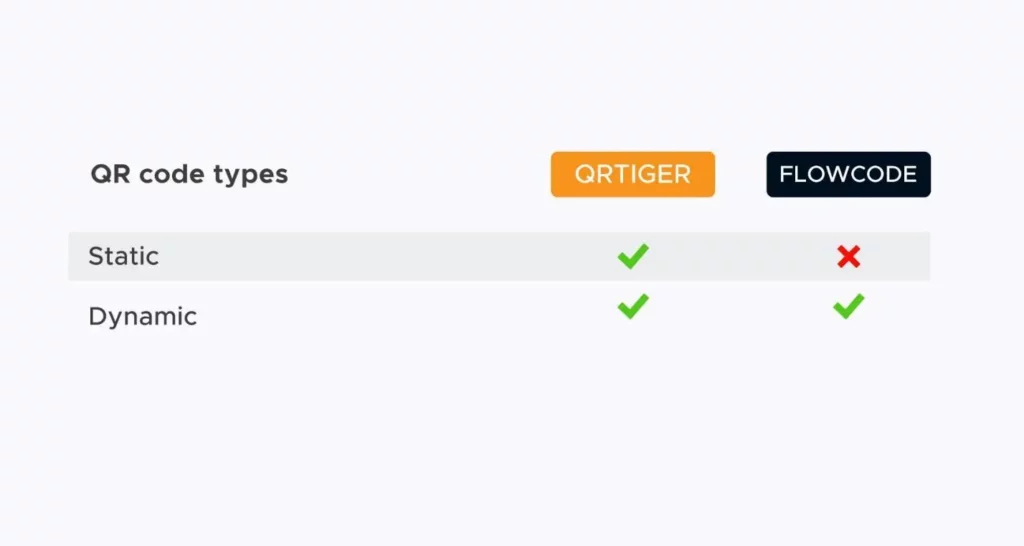 With both QR code generators offering both static and dynamic QR codes, it all goes down to the number of QR code solutions that they offer for each.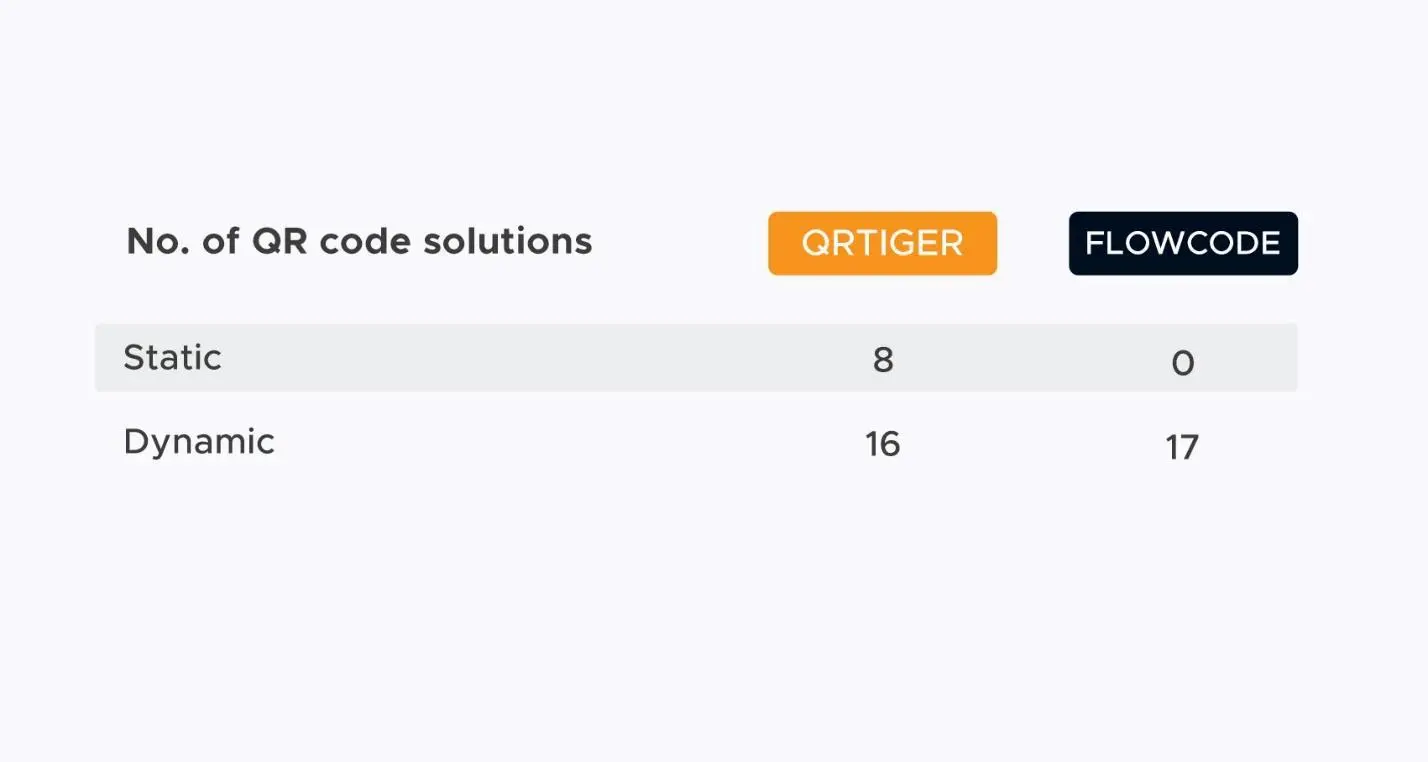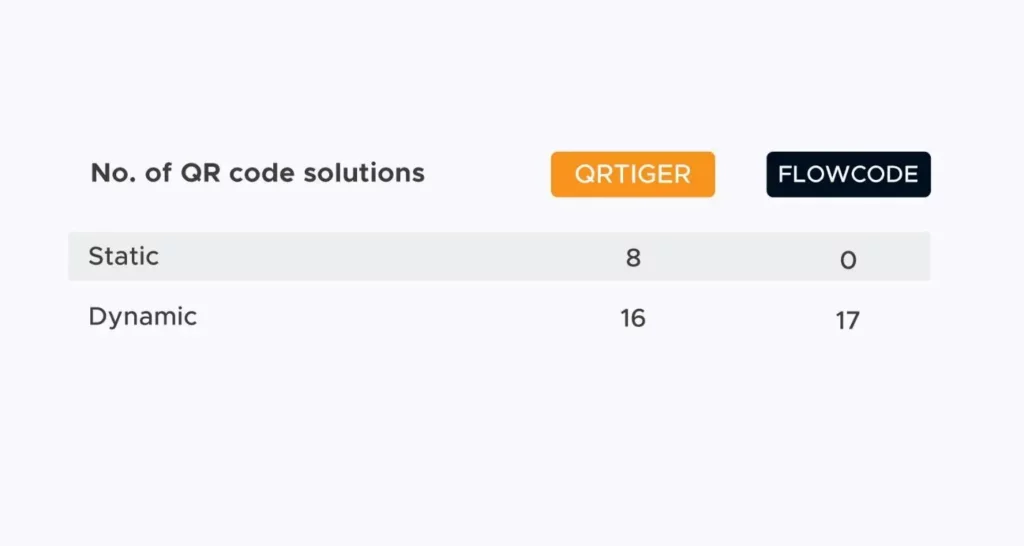 By looking at the table above, QRTIGER currently hosts 16 QR code solutions, namely: URL, vCard, social media, multi-URL QR code, and social media links like Facebook, Menu, YouTube, Instagram, Pinterest, Wi-Fi, App Store, MP3, Text, H5 page, and email.
Flowcode has the basic QR code solutions but does not offer static QR codes. The downside? You are limited to the functions you can get from a free trial plan.
QR code customization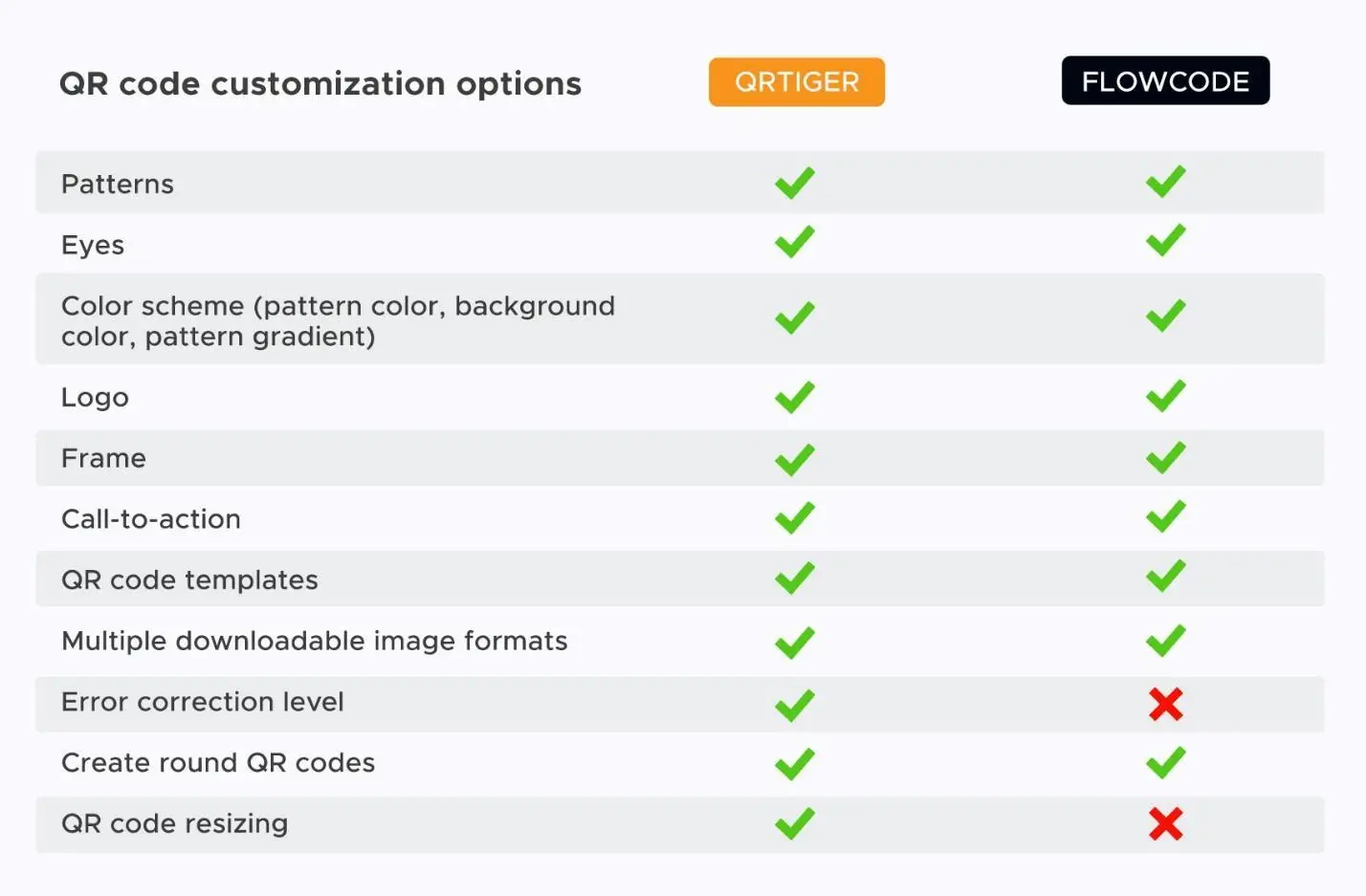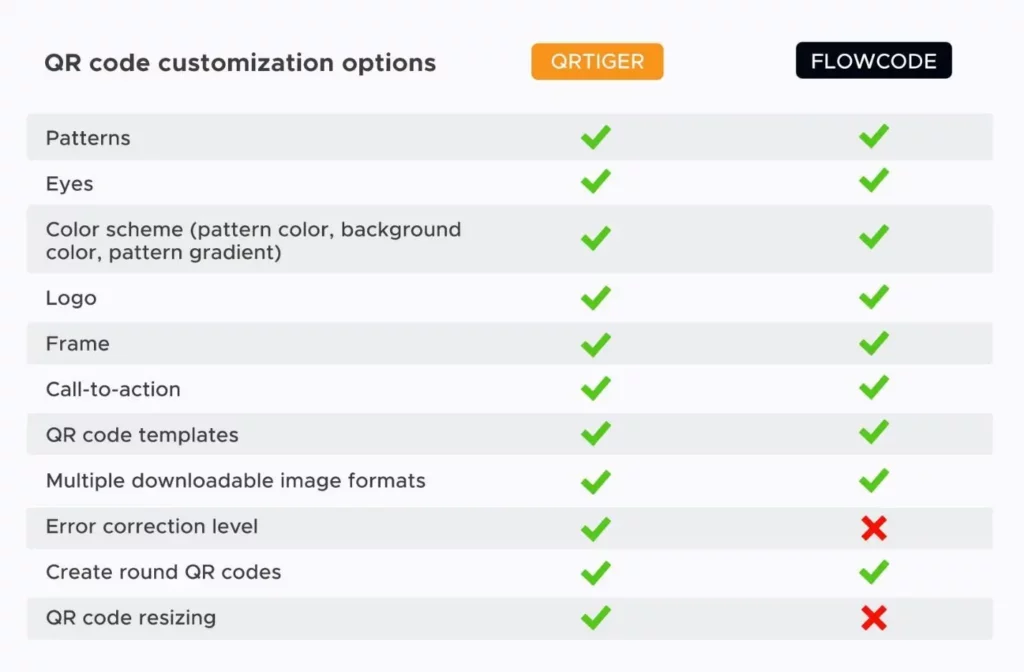 QRTIGER has all the customization options that can be edited and improved over time.
Three major customization choices are missing from Flowcode: QR code resizing, call-to-action addition, and error correction level.
Interface
The user interface plays an important role in making the software useful for first-time users and frequent visitors of the website.
When it comes to navigation, both QR code generator websites get brownie points. QRTIGER and Flowcode both have mobile-friendly sites, and also look great on desktop.
Advanced Features for business usage
Advanced Dynamic QR code Features
With digitalization accelerating the pace of communication, it is crucial for businesses to choose a QR code generator with powerful QR code generator capabilities.
Let's examine the dynamic QR code features that Flowcode and QRTIGER offer their clients.
QRTIGER wins in terms of the number of functionalities offered, succeeding in areas where Flowcode misses out on. These include static API and scan notification, among others.
Software and Application Integrations
With their many use cases, QR codes can be integrated into multiple business processes, online platforms, and offline executions.
Apps like Hubspot and Zapier allow the software to easily connect to other apps with no coding knowledge required.
QRTIGER offers integration with these automation and CRM platforms, as well as Google Analytics. Flowcode, meanwhile, only seems to offer integration with Zapier.
Bulk QR code Generation Support
Bulk operations are used to complete repetitive tasks in one go. If you need to print or generate QR codes in bulk, QRTIGER makes that possible. They even have a function for product verification and authentication.
With Flowcode, bulk QR code creation depends on the subscription. It is unclear if a user can create QR codes by batch on their low-tier plans.
Solutions for enterprise-based QR code applications
Information security system certification
When looking to subscribe to a QR code generator's Enterprise plan, it is important to look for software that is secured and accredited by an international security standard system like ISO 27001. We use this certificate to assess how safe the website is internationally.
Flowcode is not ISO 27001 certified and does not support password protection for every dynamic QR code created. They are, however, GDPR compliant and provide SSL certification.
QRTIGER offers the above security features, including ISO 27001 compliance. This means they are certified to securely manage financial information, intellectual property, and other confidential information entrusted to them.
Customer support responsiveness
Customer satisfaction and support are vital to any B2B software. QRTIGER provides responsive customer service via email and also accommodates queries on their social media.
Flowcode, on the other hand, bases their responses on the difficulty of the question via email support.
Cost
Plans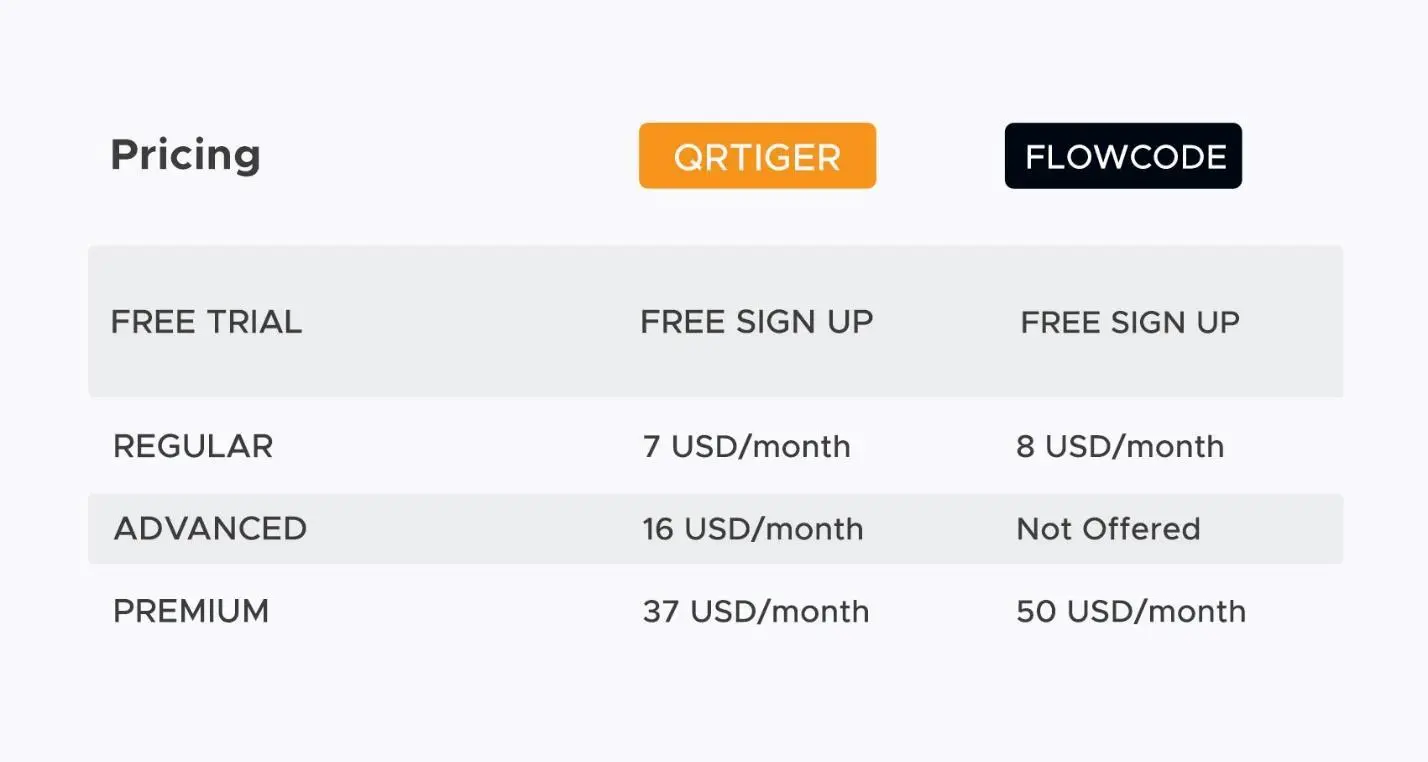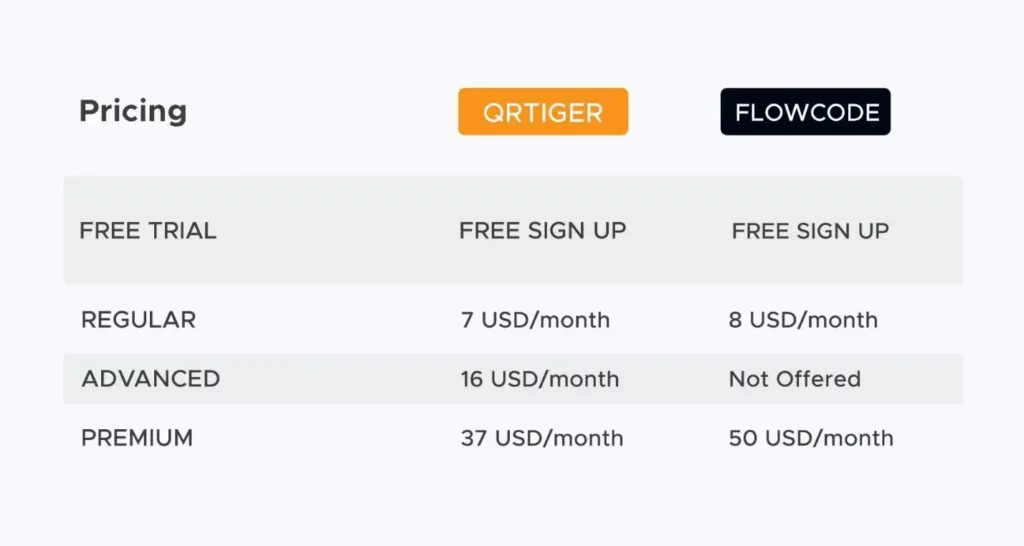 Features Offered by plan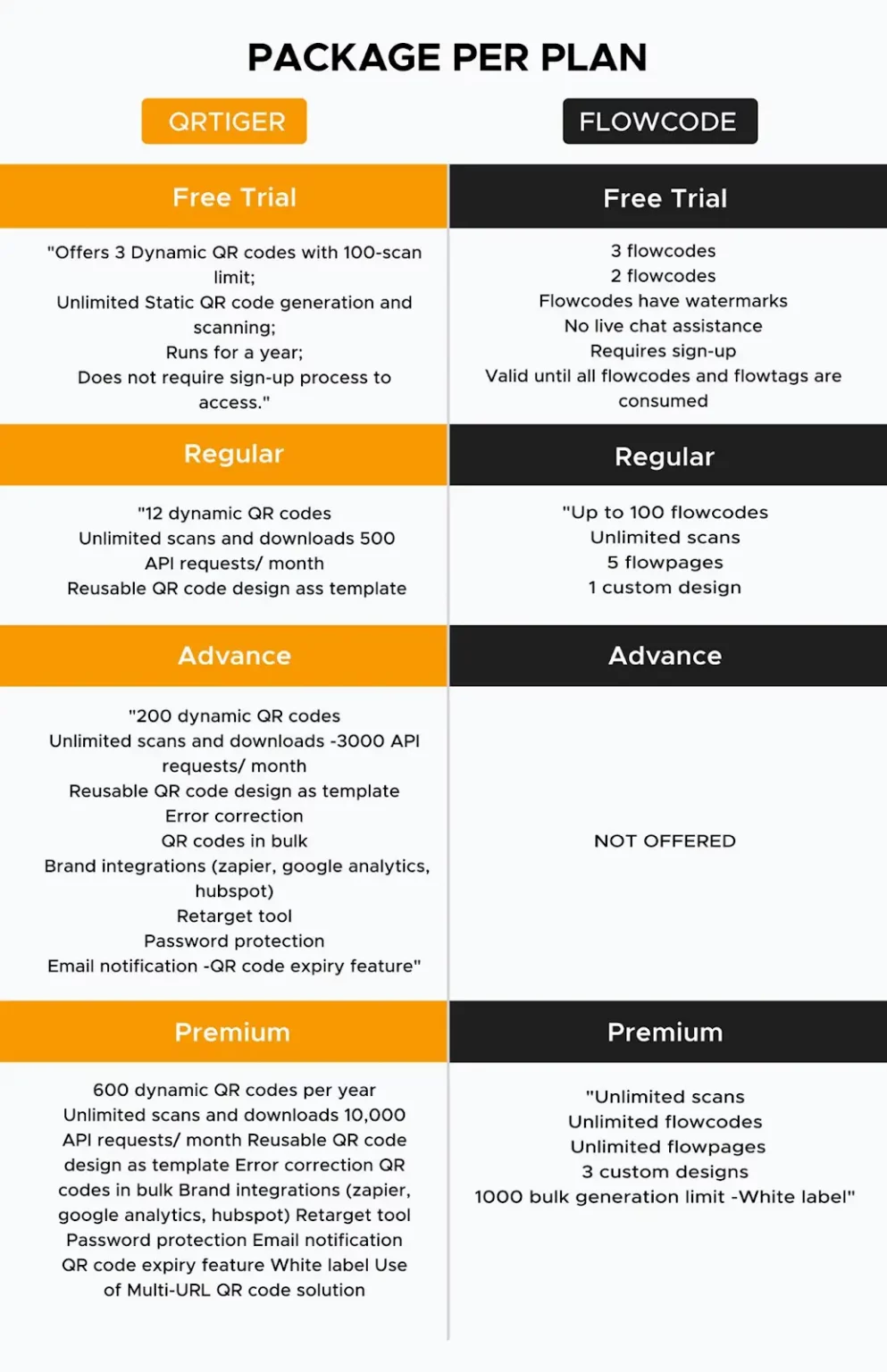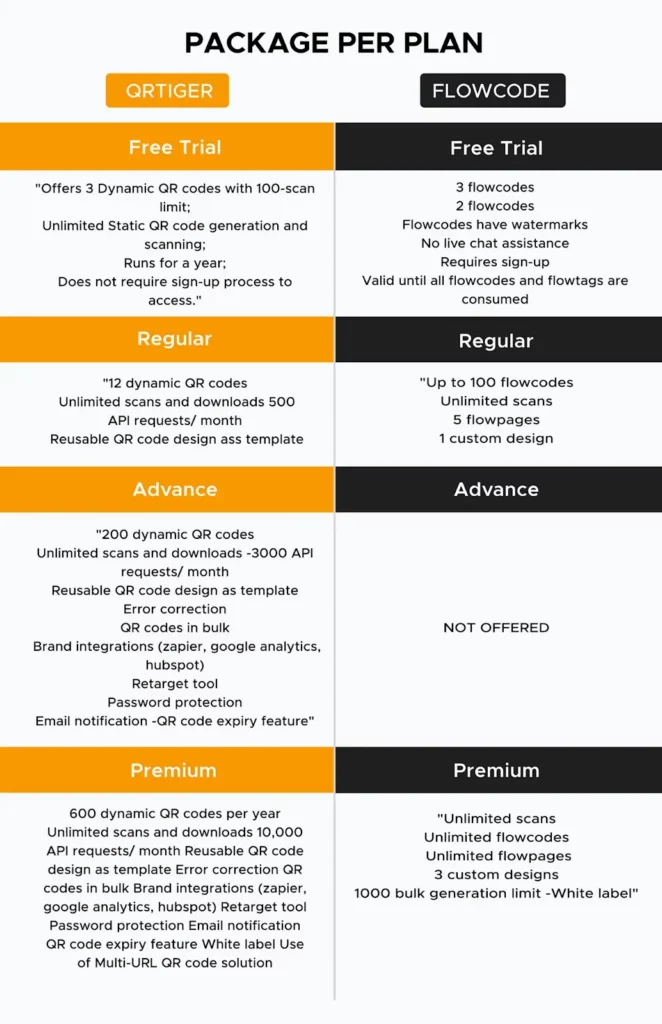 QRTIGER has a lot to offer when it comes to the subscriptions they offer.
It's important to note that Flowcode offers mostly round QR codes, and users don't have the option to remove the 'privacy.flowcode.com' watermark even on a Paid subscription.
Comparison summary
By checking out the factors that businesses should take note of when choosing the best QR code generator online, it is crucial for every company to compare the software that are competing in the market today.
With the comparison article made, both QR code generators have useful features that are offered with the price tag they put in every bundle.
But when it comes to getting more features and creative freedom for the users QRTIGER evidently wins as the best QR code generator to use in terms of security, features, layout options, and cost. As it is a close fight between the two, QRTIGER prevails as the best QR code generator to use today.
Here are the scores that we plot for each factor.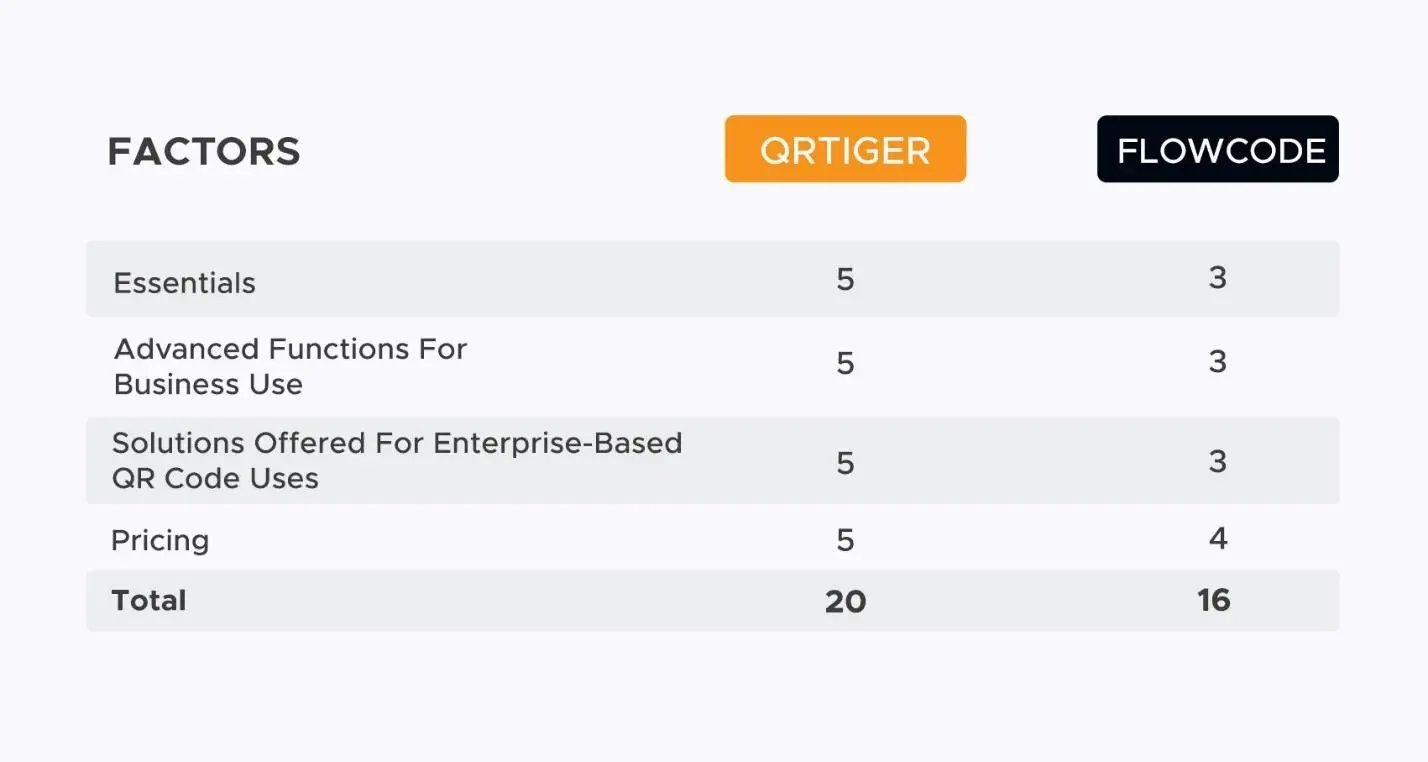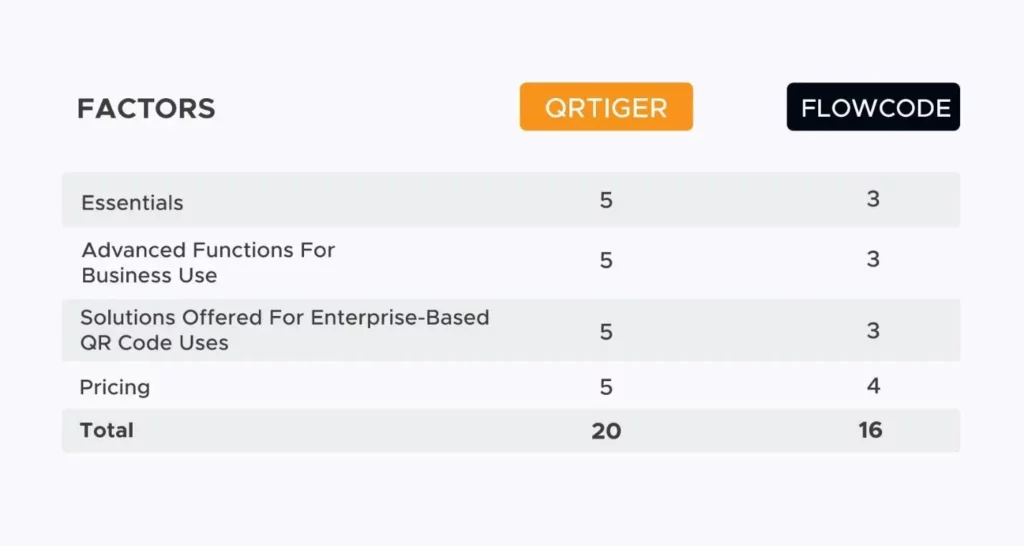 Conclusion
In a competitive QR code generator landscape, trying them all can take up a significant amount of your time.
As a result, many businesses look to reputable websites and blogs for comparative articles, which they research to determine which one is the best to pursue and incorporate into their corporate processes.
Have any thoughts on this? Let us know down below in the comments or carry the discussion over to our Twitter or Facebook.
Editors' Recommendations:
10 safe QR code generators
---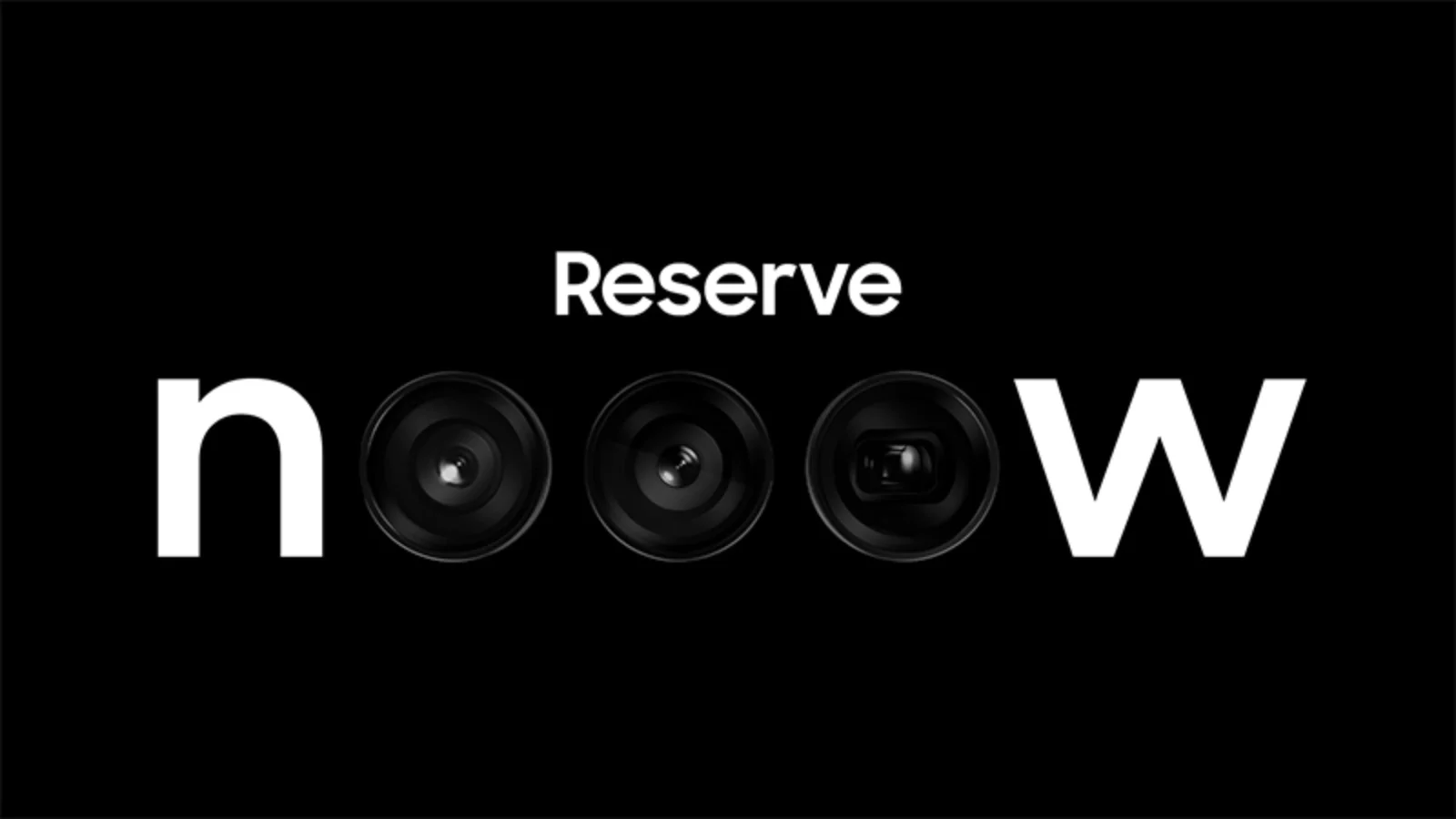 ---