QRTIGER vs. MeQR: which one is best for business use?
Comparing QRTIGER and MeQR to enable businesses to use the best QR code generator. Read to know which one becomes the winner.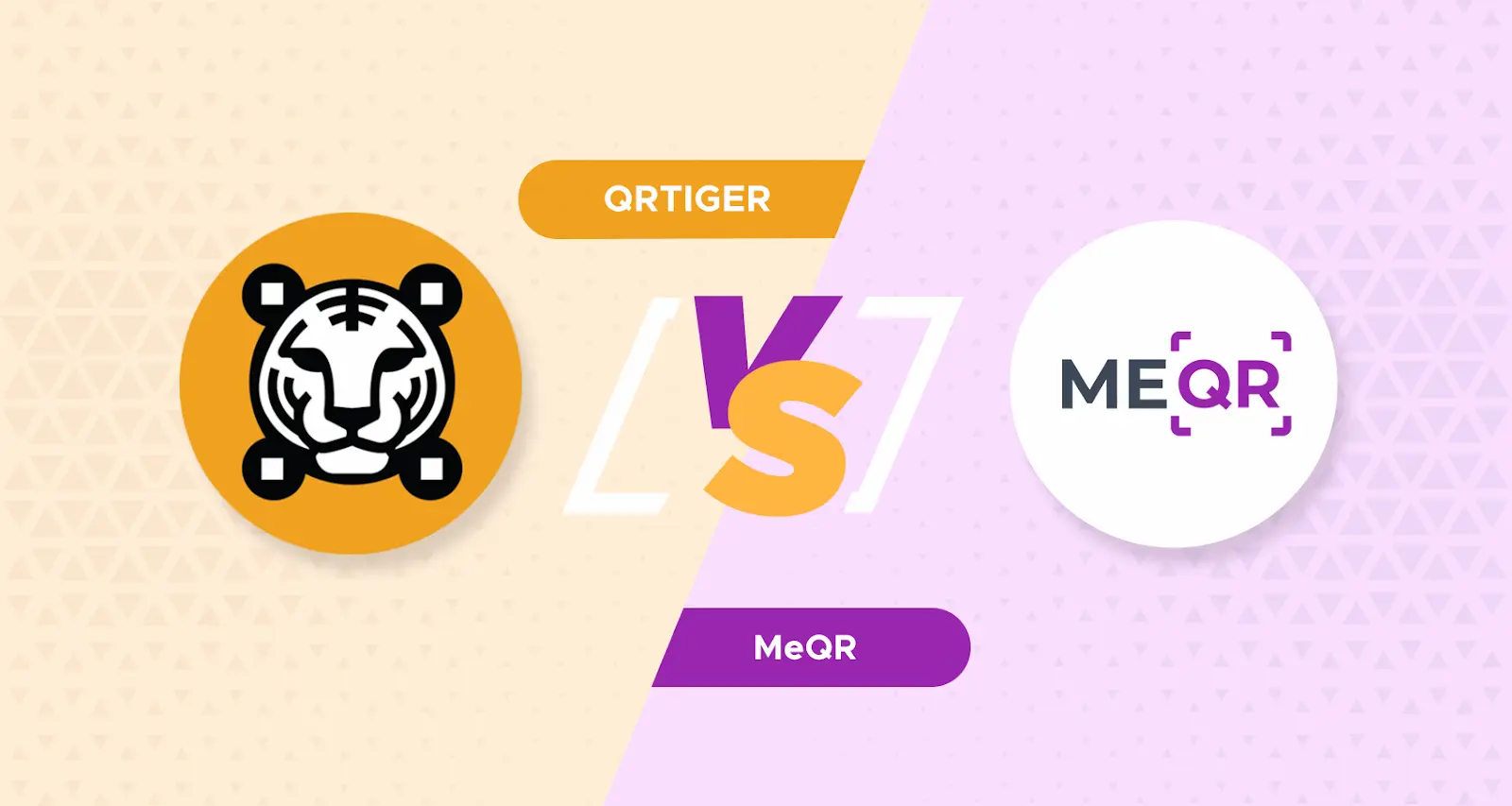 Businesses looking for the best QR code generator should not just look at the price but also at the availability of custom features, data analytics integration, and software security certifications.
This article compares the two most popular QR code generators available today: QRTIGER and MeQR. We'll look at their key elements to help you decide which of the two QR code vendors are worth using for the long haul.
Considerations to make when a QR code software
Consider the following important software features when selecting the best QR code generator for your company's operations and marketing plans.
QR codes: The fundamentals (5 points)
When organizations prepare a QR code-powered marketing campaign, it is critical always to study the basic QR code features and how they can benefit your business.
Advanced QR Code Business Applications (5 points)
QR codes are widely integrated into marketing and contactless business transactions. Your organization must find a QR code solution that can meet your specific needs to stay current with technological advances.
QR code functions for Enterprise purposes (5 points)
Some businesses also happen to manage a lot of businesses under them. And if they want to be on top of their QR code campaigns, they can employ a more advanced QR code software with tiered access and more features to meet all their business needs.
Learn more about QR code generators for the Enterprise level here.
Pricing (5 points)
As businesses continue to expand, they must explore a QR code generator service that provides many necessary features with a subscription plan that matches their budget.
QRTIGER versus MeQR
This is a comparative report based on the important features that businesses need to check when choosing the best QR code generator for their needs.
Take a look at the software features such as solutions, customization features, and other functions that can help a business owner generate a more effective QR code.
QR codes: The fundamentals
Essentials tackle the basic features such as solutions, customization, and other functions that can help a business owner navigate their way when creating a QR code.
Features offered (static and dynamic QR codes)
Check the static and dynamic QR code solutions between competing QR code generators.
Before subscribing, business owners should check that the QR code generator gives them all the QR code solutions (static and dynamic) they need for business and even personal use.
Both QRTIGER and MeQR provide dynamic QR codes that offer the best solutions to customize their QR code journey properly. The only thing is that MeQR does not provide Static QR code solutions for those who might want a much simpler choice.
Number of Solutions offered
Now that both QR code generators offer dynamic, personalized QR codes, it then goes down to the number of QR code solutions they can offer.
Looking at the table above, QRTIGER currently hosts 16 QR code solutions, namely URL, Vcard, social media, Multi-URL QR code, and Social media links like Facebook, Menu, YouTube, Instagram, Pinterest, Wi-Fi, App Store, MP3, Text, H5 page and email.
MeQR, on the other hand, only offers dynamic QR codes. Without the paid option, this QR code maker gives you the occasional Google-based ads in every scan of the QR code, which can be annoying.
Customization of the QR code layout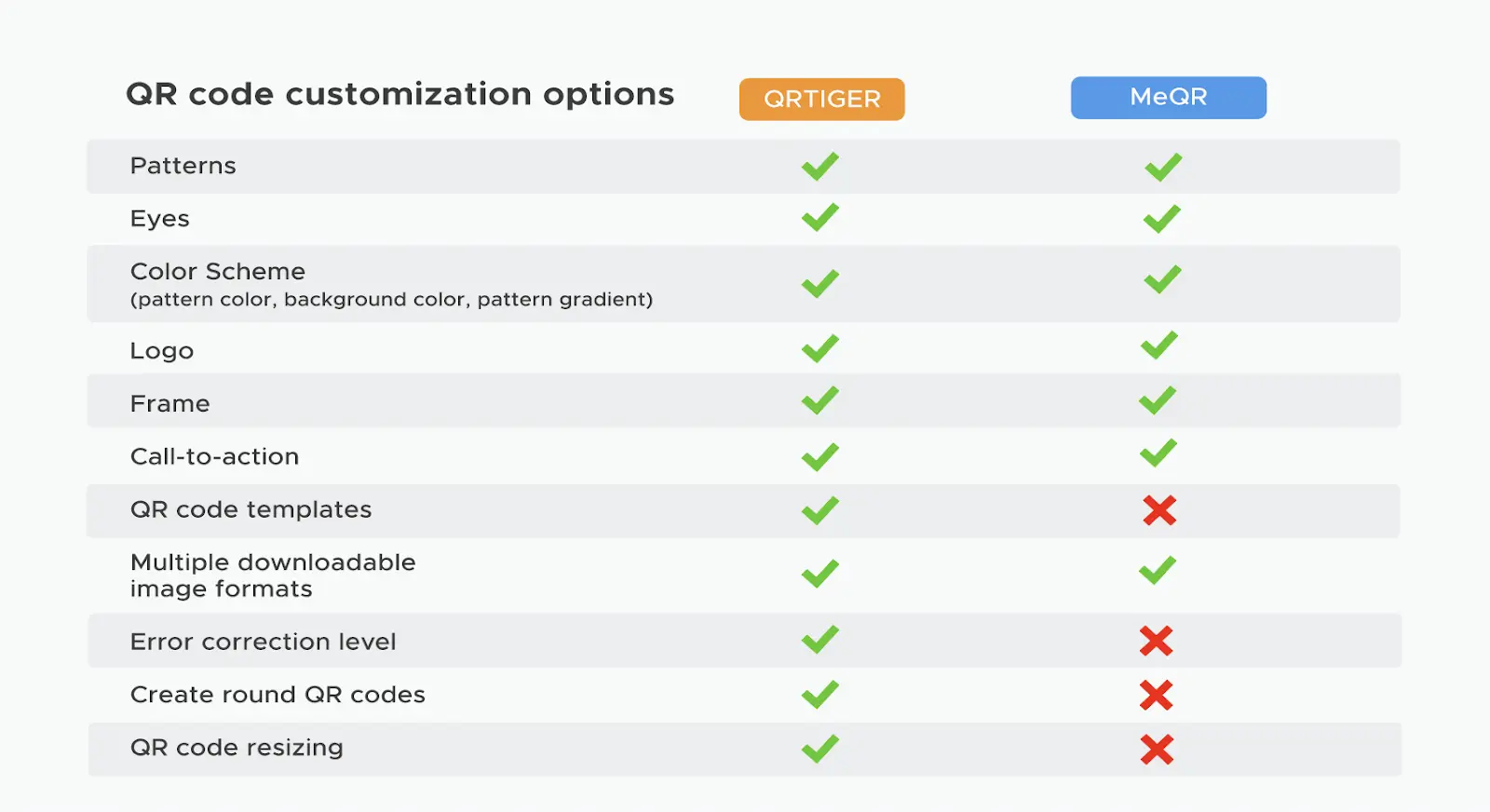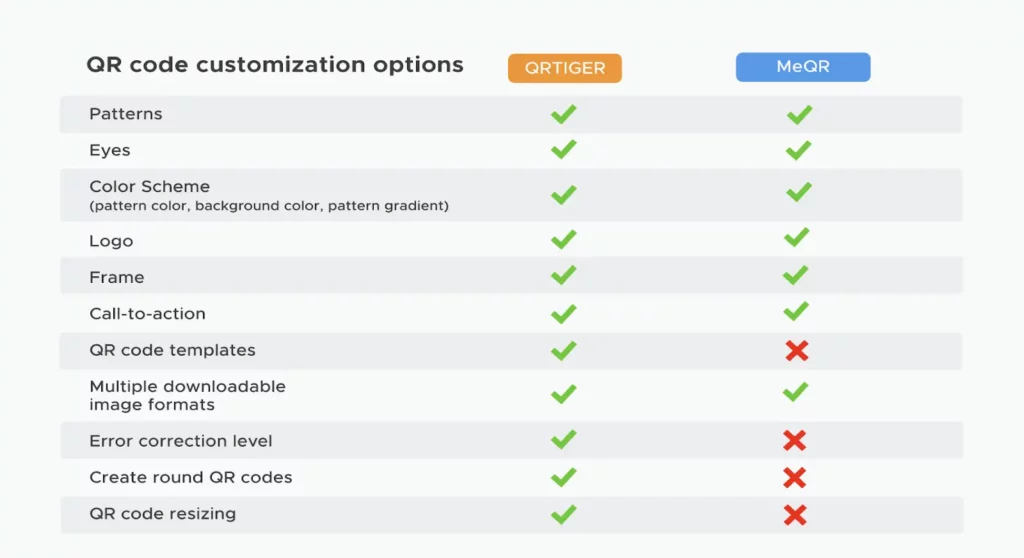 When it comes to customization, QRTIGER comes out on top. They have all the customization options that a user requires and continue to improve over time.
Seven major customization choices are missing from MeQR: patterns, eyes, color scheme, QR code templates, QR code resizing, creating round QR codes, and error correction level.
Interface
The interface plays an important role in making the software useful for the user, no matter the circumstances. The following factors are considered from a beginner user to an intermediate one.
Both QR code generators can be used on mobile.
Advanced Features for business use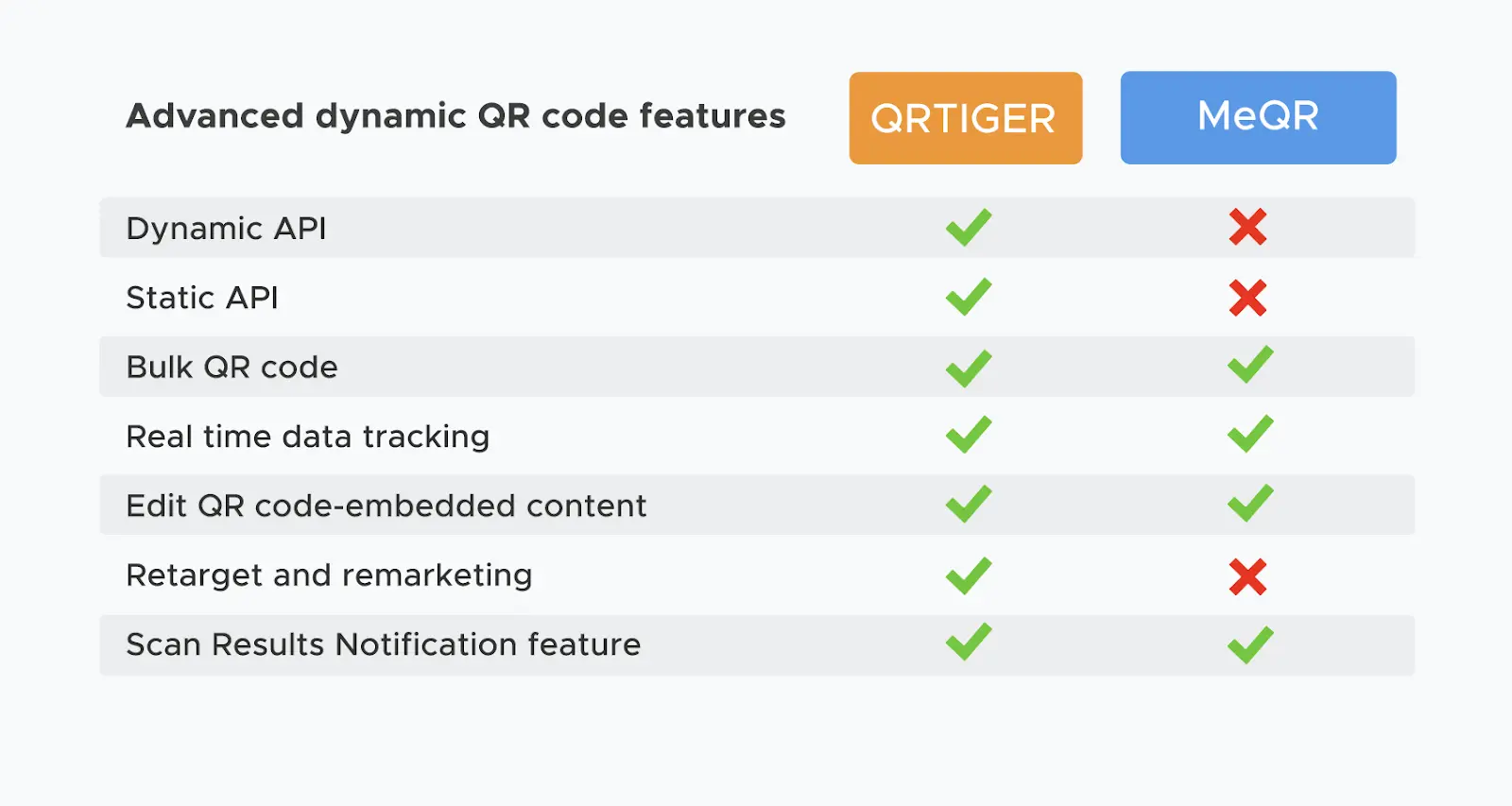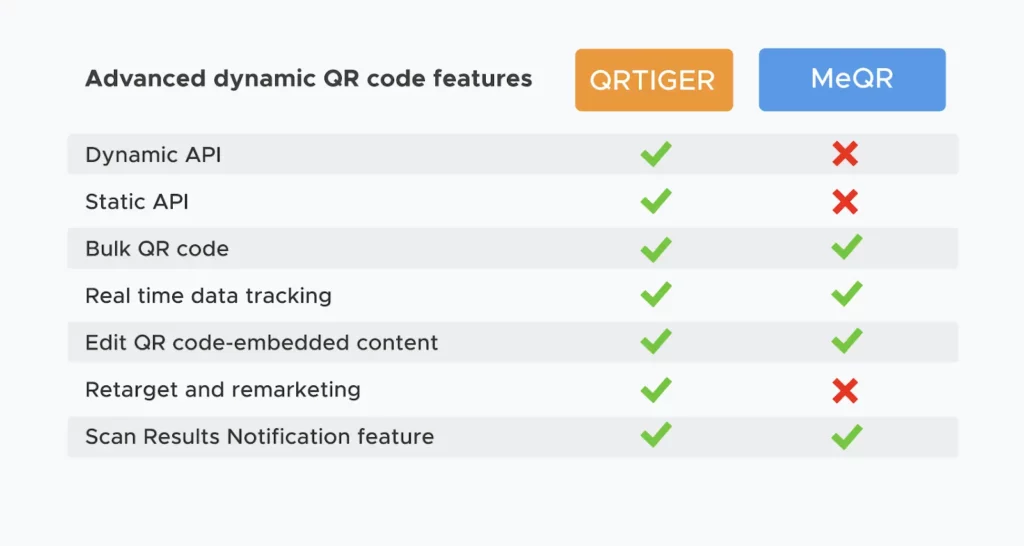 Advanced dynamic QR code features
In this comparative analysis, we will also examine the features of their dynamic QR codes. With these categories, QRTIGER comes out on top of the Advanced Dynamic QR code functionalities.
MeQR misses some important dynamic QR code functions, namely the scan results notification option and the dynamic and static API retarget and remarketing feature.
Software and Application Integrations
HubSpot, Zapier and Google Analytics are among the most used online automation and website tracking software today. Businesses use it to compare the campaigns they create.
Here, we find that MeQR only integrates one app, Google Analytics. Meanwhile, QRTIGER covers all bases and offers integration to the three biggest data analytics tools for businesses.
Bulk QR code generation support
Bulk QR codes are used by companies printing or manufacturing hundreds to thousands of products in one go. QRTIGER appears to be the reliable choice for huge corporations' high QR code demand.
Not only that, QRTIGER comes with updated security features to ensure that the bulk QR codes are safe for business and customer use.
MeQR, on the other hand, states that their bulk QR codes will depend on the subscription, and there is no clear specification or function that a user can make QR codes by batch.
Solutions for enterprise-based QR code applications
Information security system certification
It's important to look for a QR code maker secured and accredited by an international security standard like the ISO 27001. This shows how safe the website is for international use.
Among the given factors, MeQR is not ISO 27001 certified and does not support password protection for every dynamic QR code created.
For businesses with an international customer base, it is better to select the QR code generator's certification from internationally recognized information security and management standards like the ISO 27001.
Customer support responsiveness
As businesses are taking significant risks by partnering with software often used in their organization, it's only right that they have a customer hotline available to answer any queries they may have about the QR codes they create and monitor.
QRTIGER provides responsive 24/7 customer service via email that normally responds quickly. Their response also extends to social media.
MeQR, on the other hand, bases their responses on the difficulty of the question and does not indicate their social media reachability.
Cost
Plans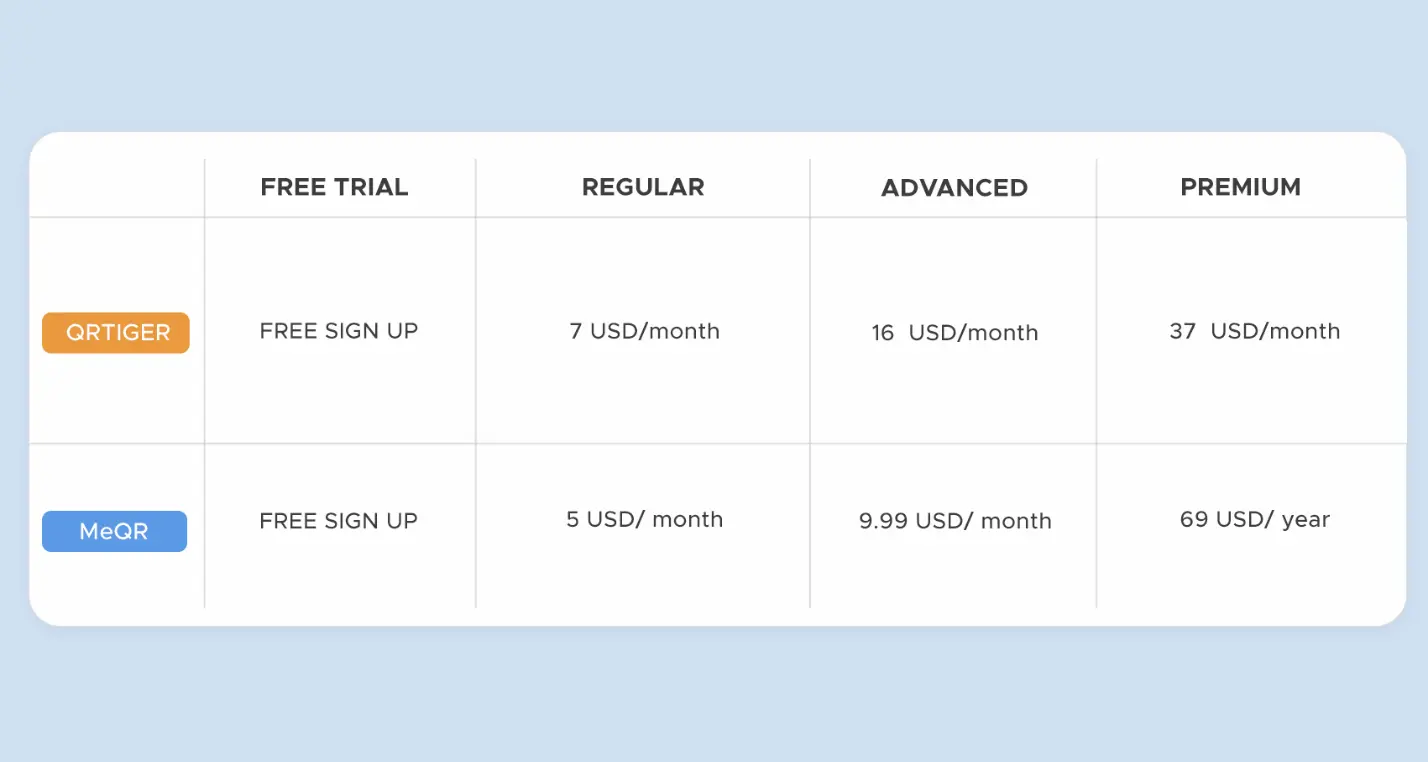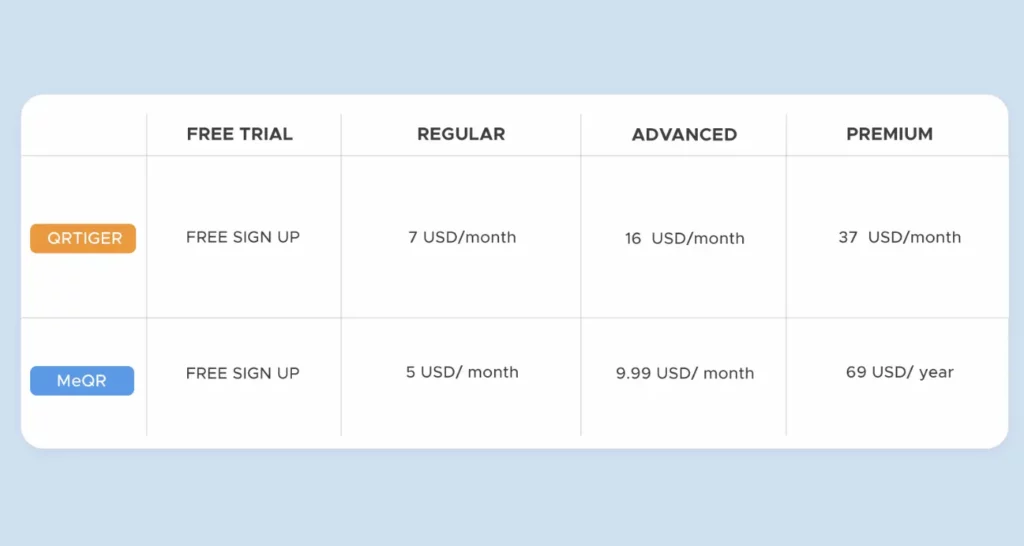 Features Offered by plan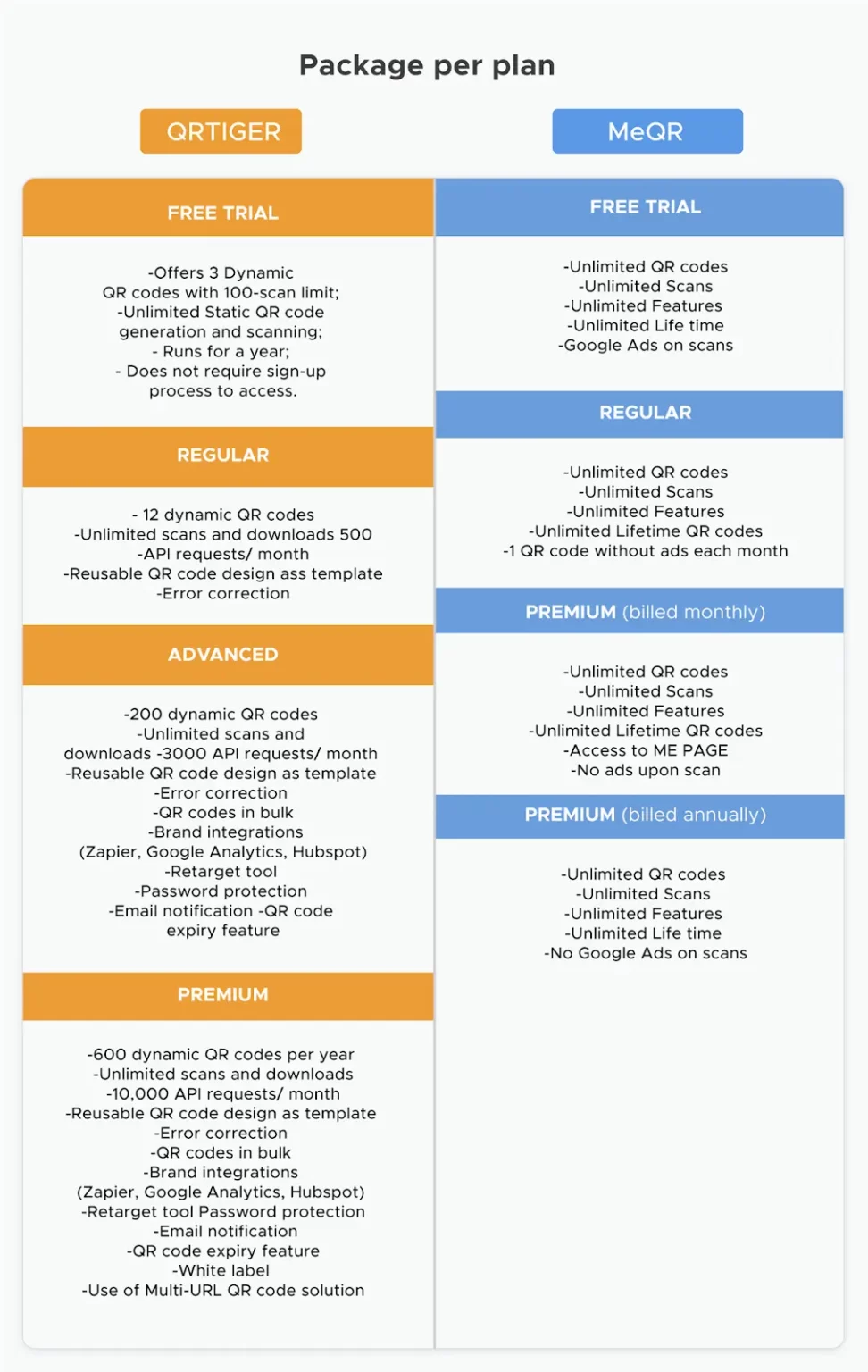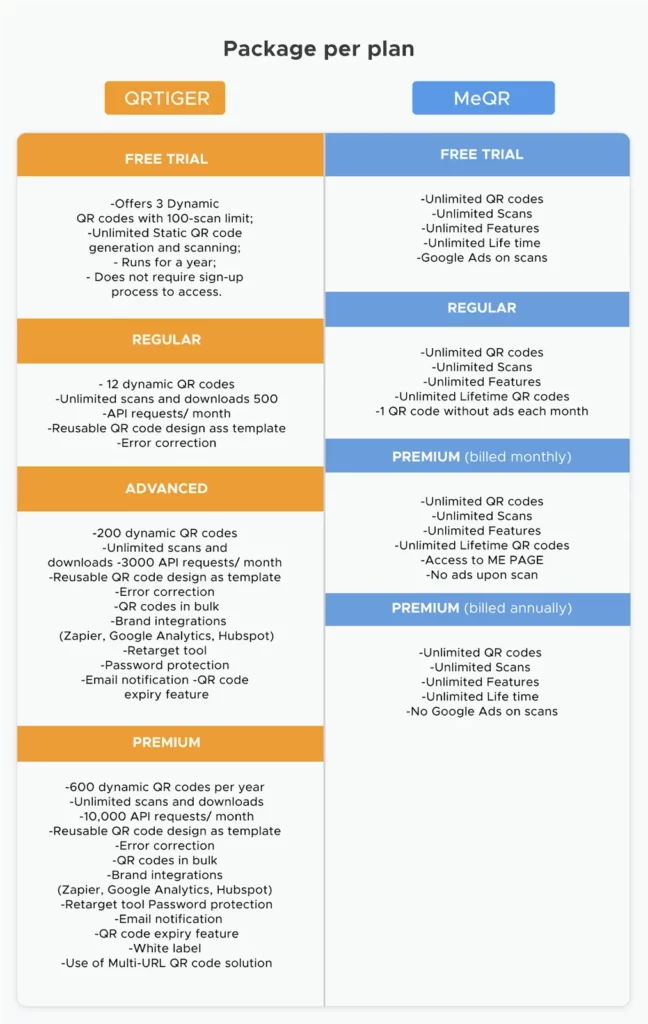 The features of their plans show that QRTIGER has a lot to offer when it comes to their subscriptions. As the subscription plan goes higher, the features get even better.
Summary
Any company needs to compare the top QR code generator software in the market. It is accomplished by checking out the criteria that businesses should consider when selecting the best QR code generator.
The comparison shows that both QR code generators have beneficial features proportional to their pricing.
However, when it comes to acquiring more features and creative flexibility for users, QRTIGER emerges as the winner for being the finest QR code generator in terms of security, functionality, layout possibilities, and pricing.
Despite the fierce competition between the two, QRTIGER has emerged as the most effective QR code generator available.
Here are the scores we came up with for each QR code generator feature.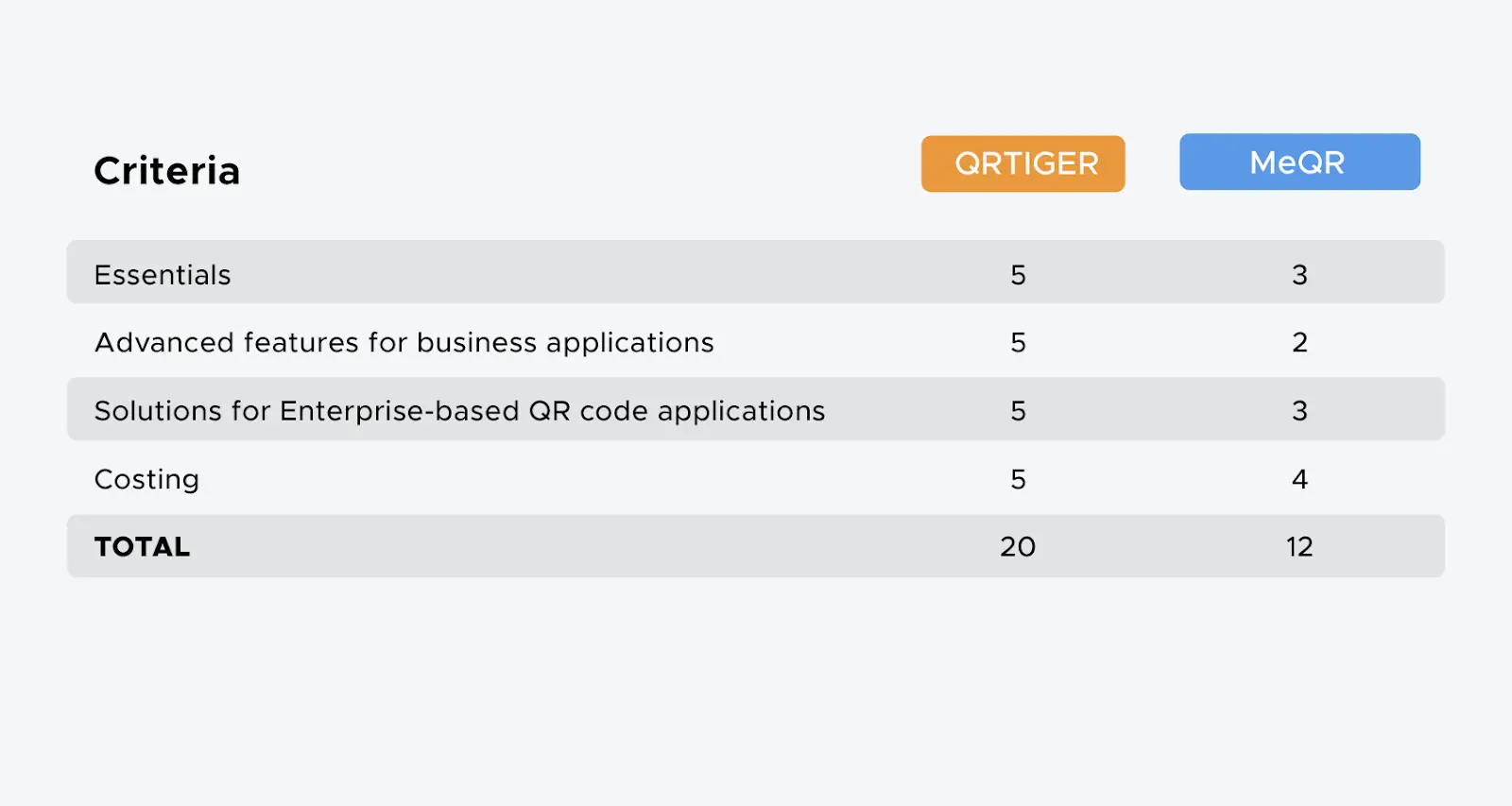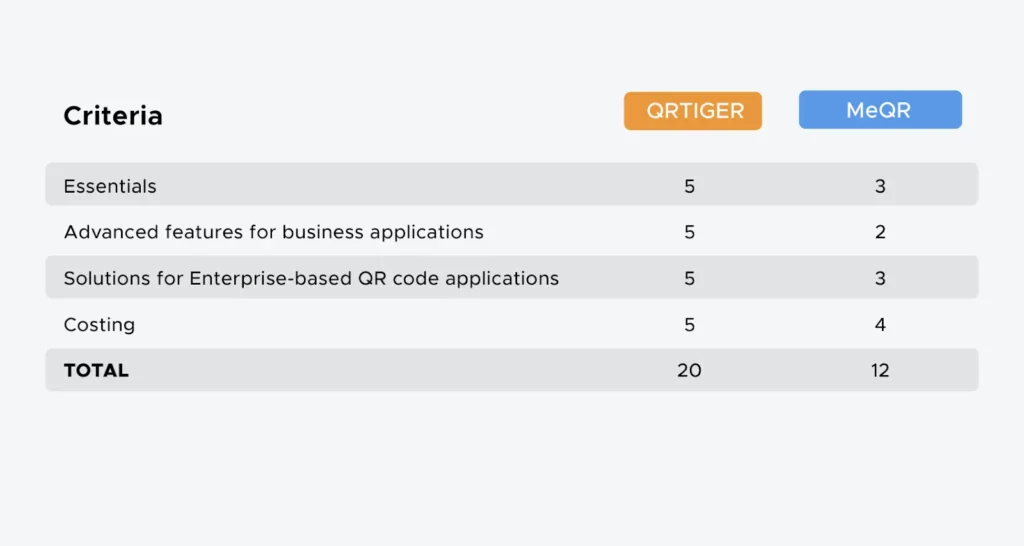 Conclusion
After further deliberation, we've determined that QRTIGER is the best QR code generator available to companies today.
You may check out their tiered pricing or try out the features you need with their free trial version.
Have any thoughts on this? Let us know down below in the comments or carry the discussion over to our Twitter or Facebook.
Editors' Recommendations:
---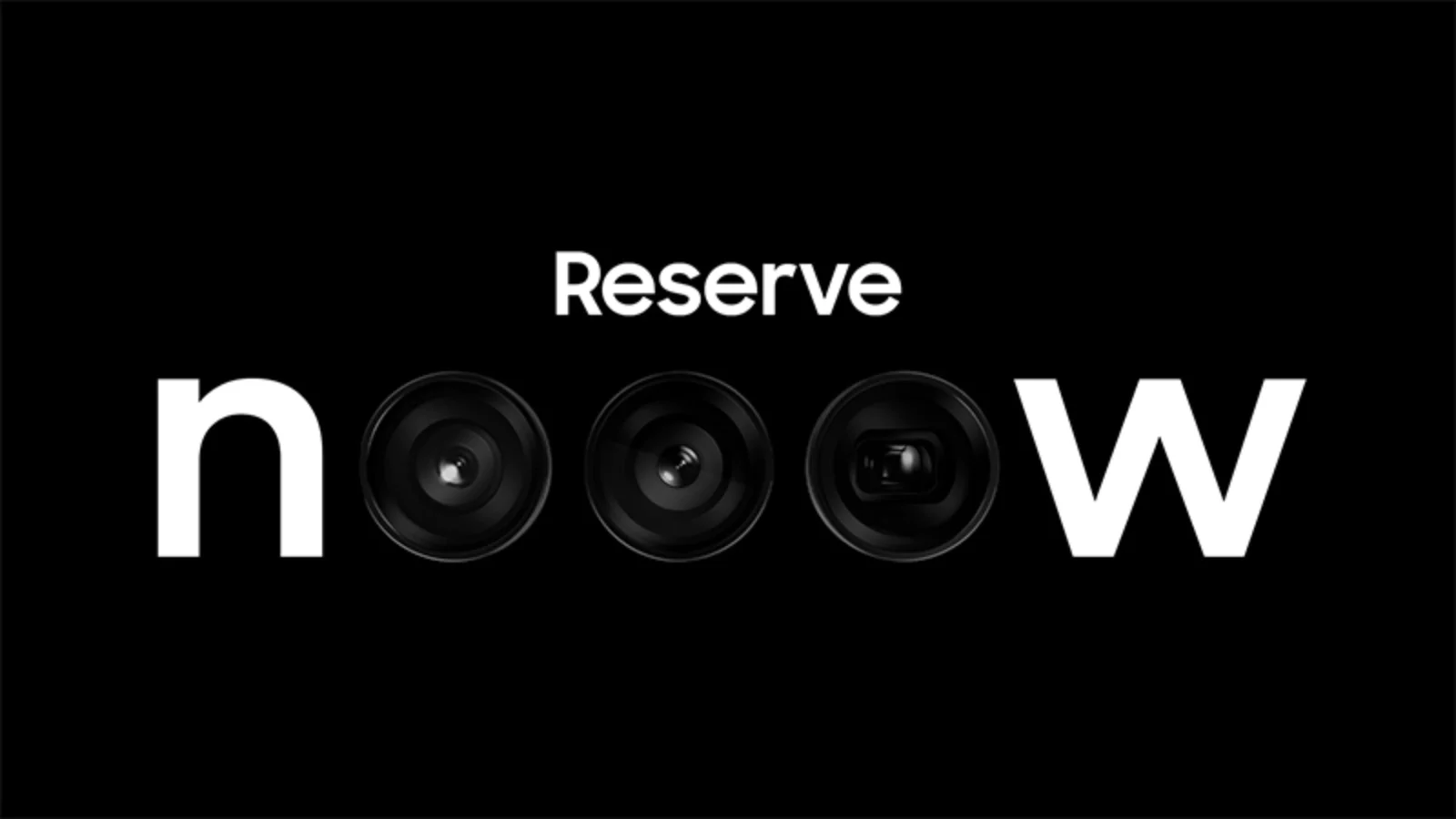 ---