QRTIGER vs. QR Code Generator Pro Bitly: Comparing features, and pricing
QRTIGER and QR Code Generator Pro Bitly both try to market their services to companies. Today we'll look at how they compare to each other: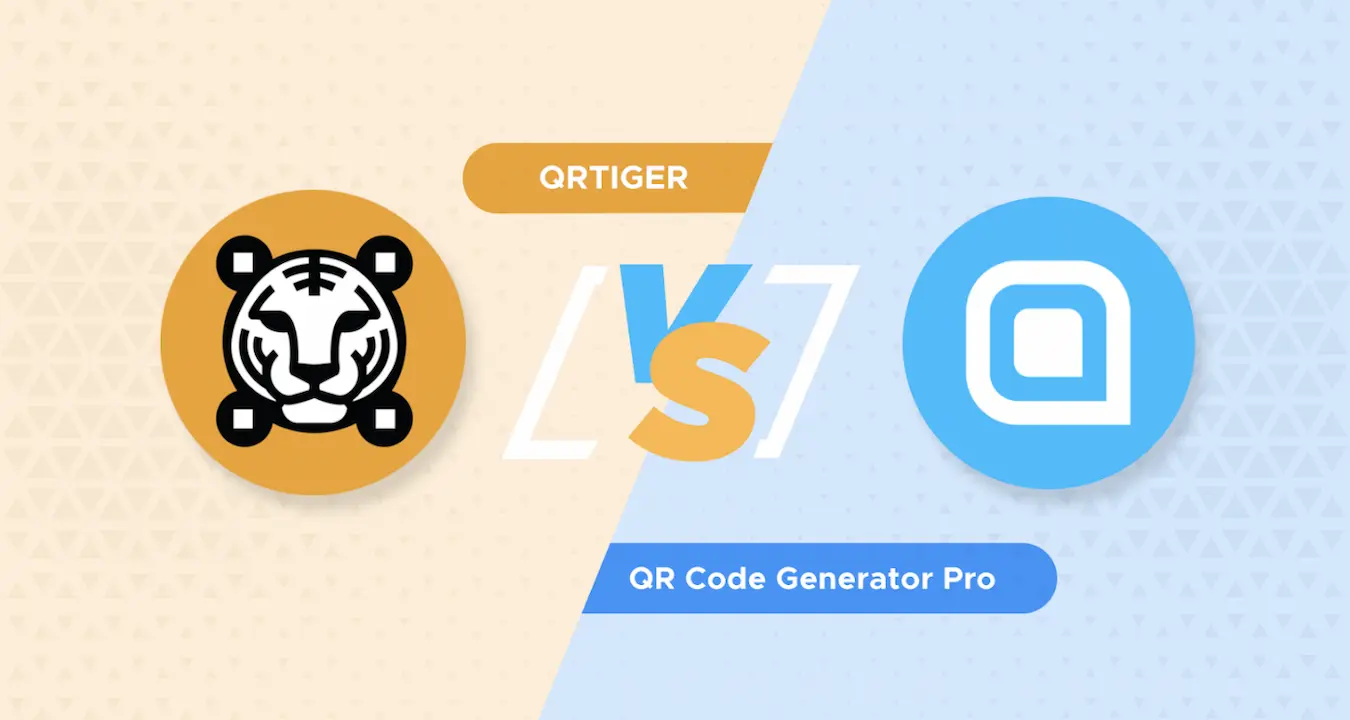 QR code scans have reached 83.4 million in 2022 around the world. It's a good indication that business marketers are now jumping in on the trend of starting their QR code-powered marketing campaigns.
If you're one of those looking for QR code software and somehow find yourself undecided between QRTIGER vs. QR Code Generator Pro, you've come to the right place.
Below is a comprehensive head-to-head comparison of the two QR code generators' solutions, features, integrations, plans, and pricing.
Read on and decide for yourself if you should go for QRTIGER or QR Code Generator Pro.
Availability of static and dynamic QR code solutions
When searching for QR code software for your business and marketing needs, it's important that you first know the two types of QR codes: static and dynamic.
Static QR codes work best for fixed and one-time-use URL redirects. Often, QR code generators allow users to generate this type for free.
On the other hand, heavy users prefer dynamic QR codes because of their extensive, high-functioning features.
With a dynamic QR code, users can edit or update the contents and track the data scans in real-time, which is necessary for keeping hold of accurate analytics.
Without a doubt, every marketer should consider dynamic QR codes.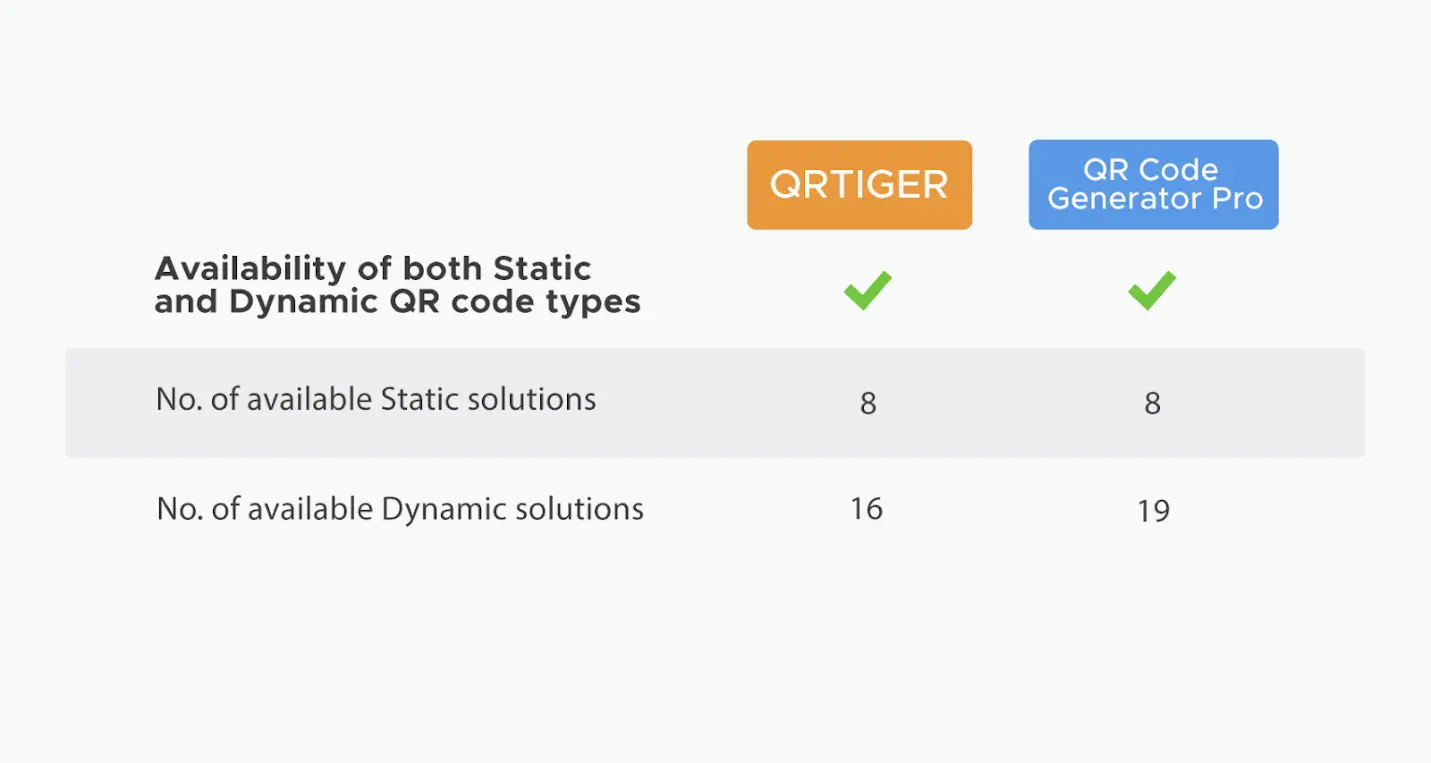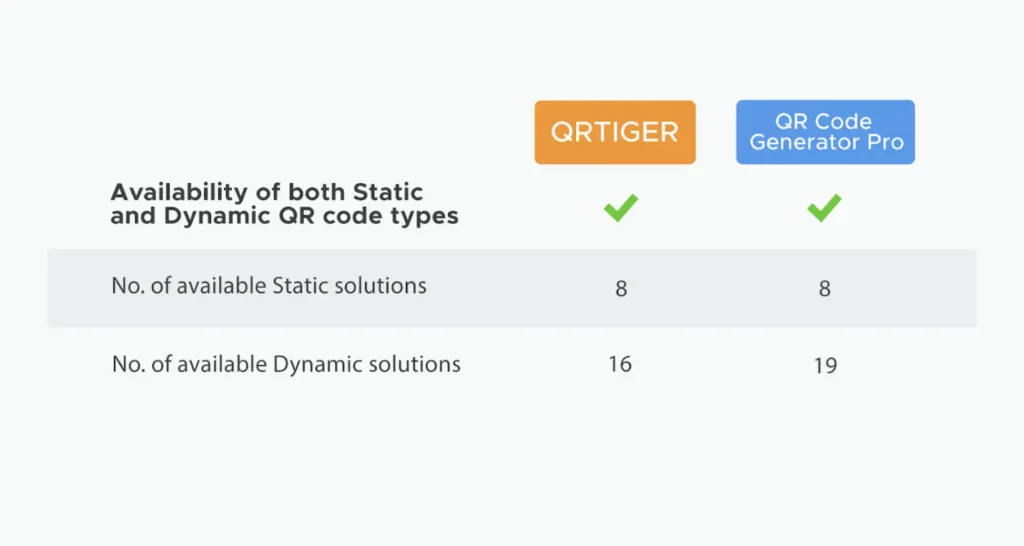 Both QRTIGER and QR Code Generator Pro offer static and dynamic QR code solutions. This basically means both software provides a variety of options to their users, which makes the tracking of the performance of campaigns more flexible.
Both QR code generators also allow their prospective users to experience their QR code solutions under a free trial mode.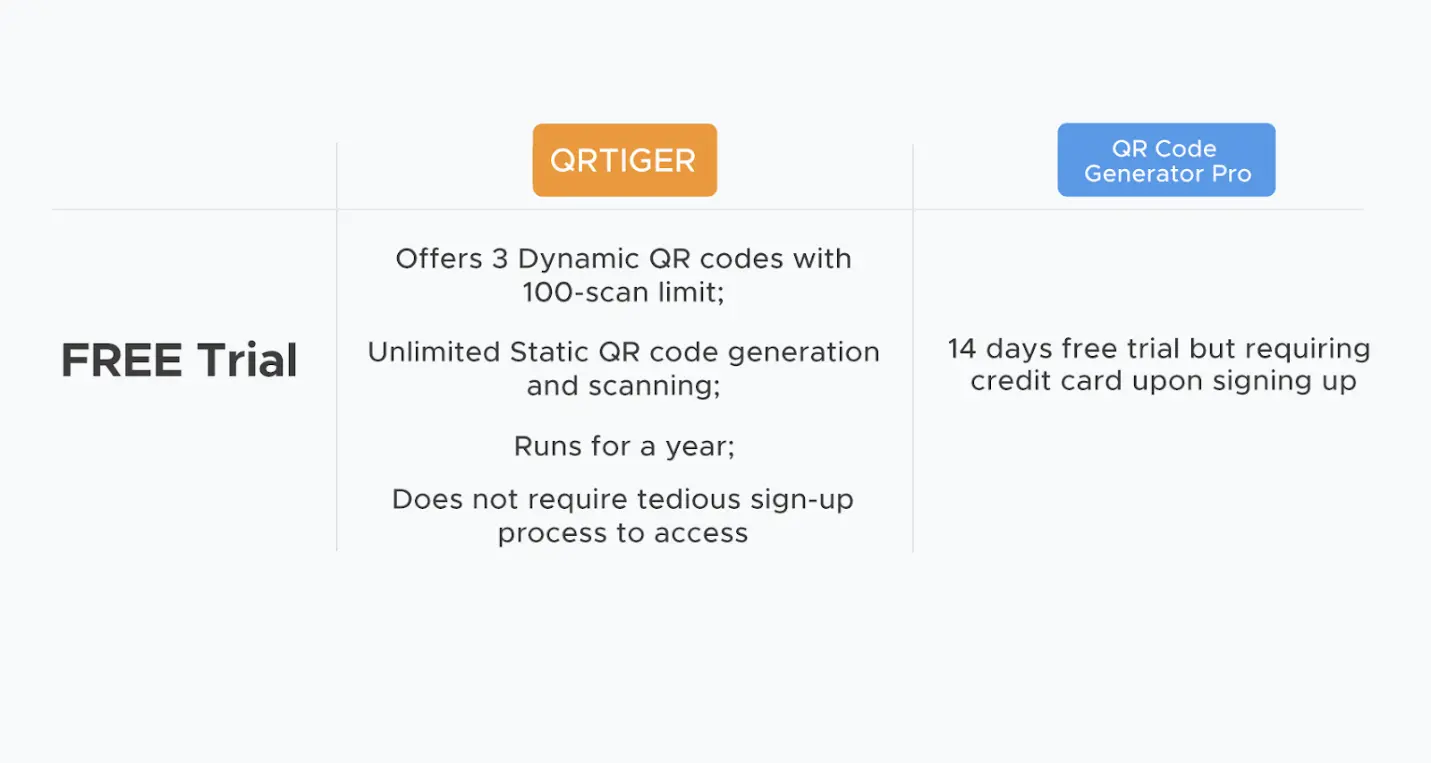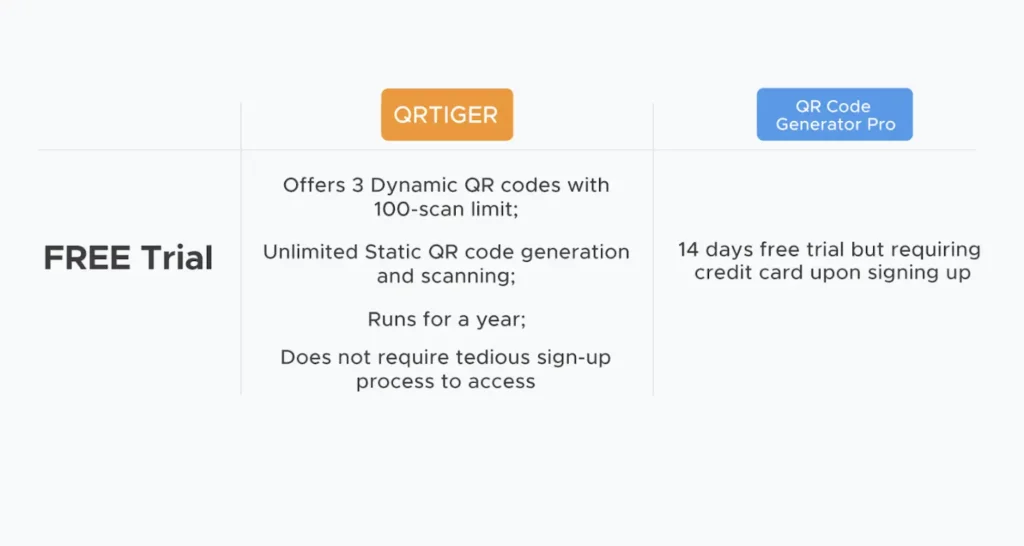 QR Code Generator Pro asks for a number of user information, including credit card details, in order to sign up for their free trial offer, which runs for 14 days max.
As for QRTIGER, registration is not required. Users can simply provide their email address to receive a copy of their QR codes generated for free.
QR code solutions provided
For forging the connection between the physical and digital worlds, which of the two QR code generators provides a broader range of options for QR code-based campaigns?
Choosing a free QR code generator that has more advanced QR code solutions for the long term is often a difficult decision to make.
A number of factors come into play: QR code customization, design, campaign creation, tracking, retargeting, integrations, and lifespan.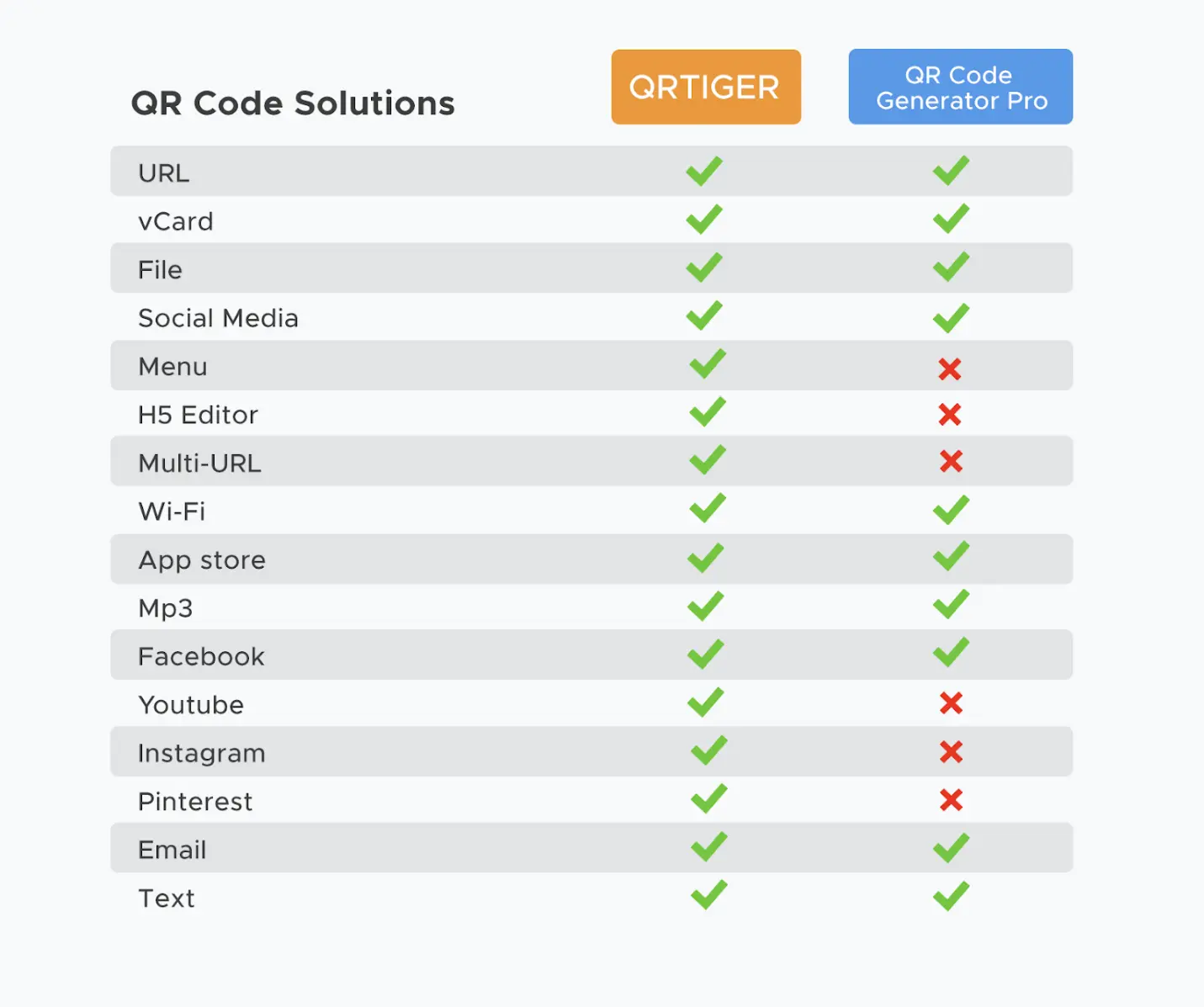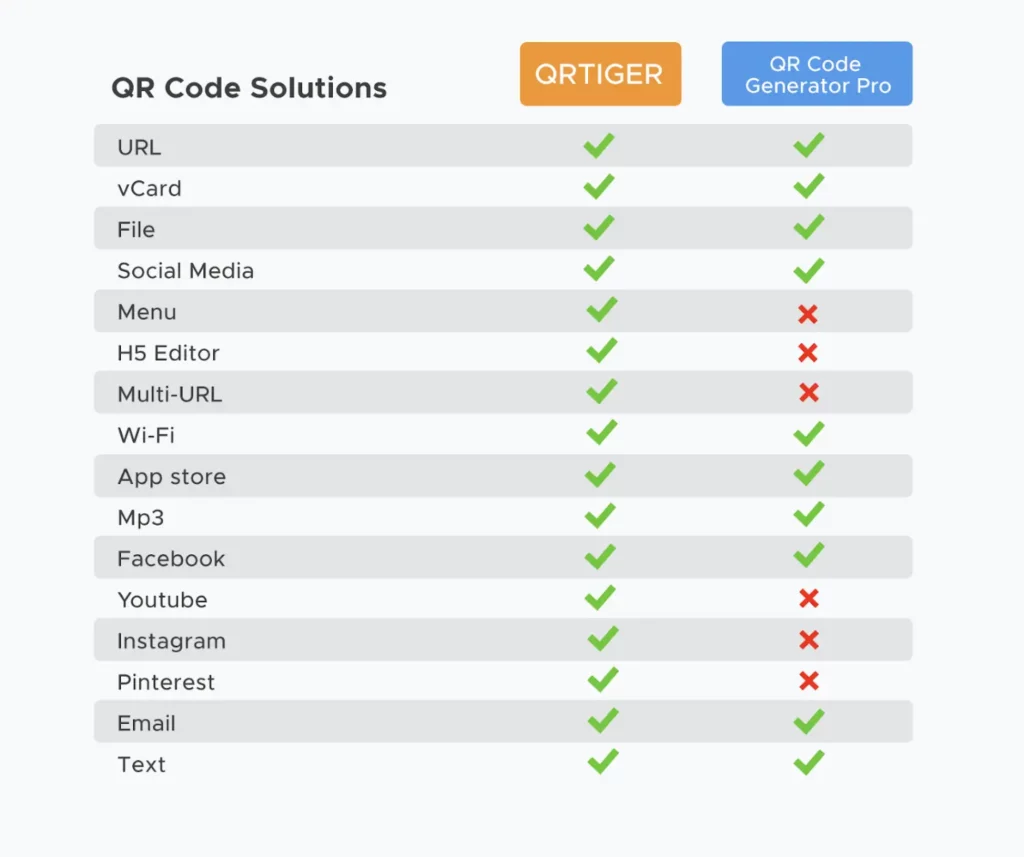 The table above shows that QRTIGER offers QR code solutions missing from QR Code Generator Pro.
In this aspect, QR Code Generator Pro lags behind QRTIGER when it comes to providing social media-specific QR code solutions.
Software security features
All technology is prone to security threats, and QR codes are no exemption.
This is why choosing a QR code generator that offers robust security measures to protect its users' data from cyberattacks and breaches is important. Thankfully, security certificates are something that both software display on their websites.
The question is how QRTIGER and QR Code Generator Pro compare against each other in terms of the number of security measures and certificates.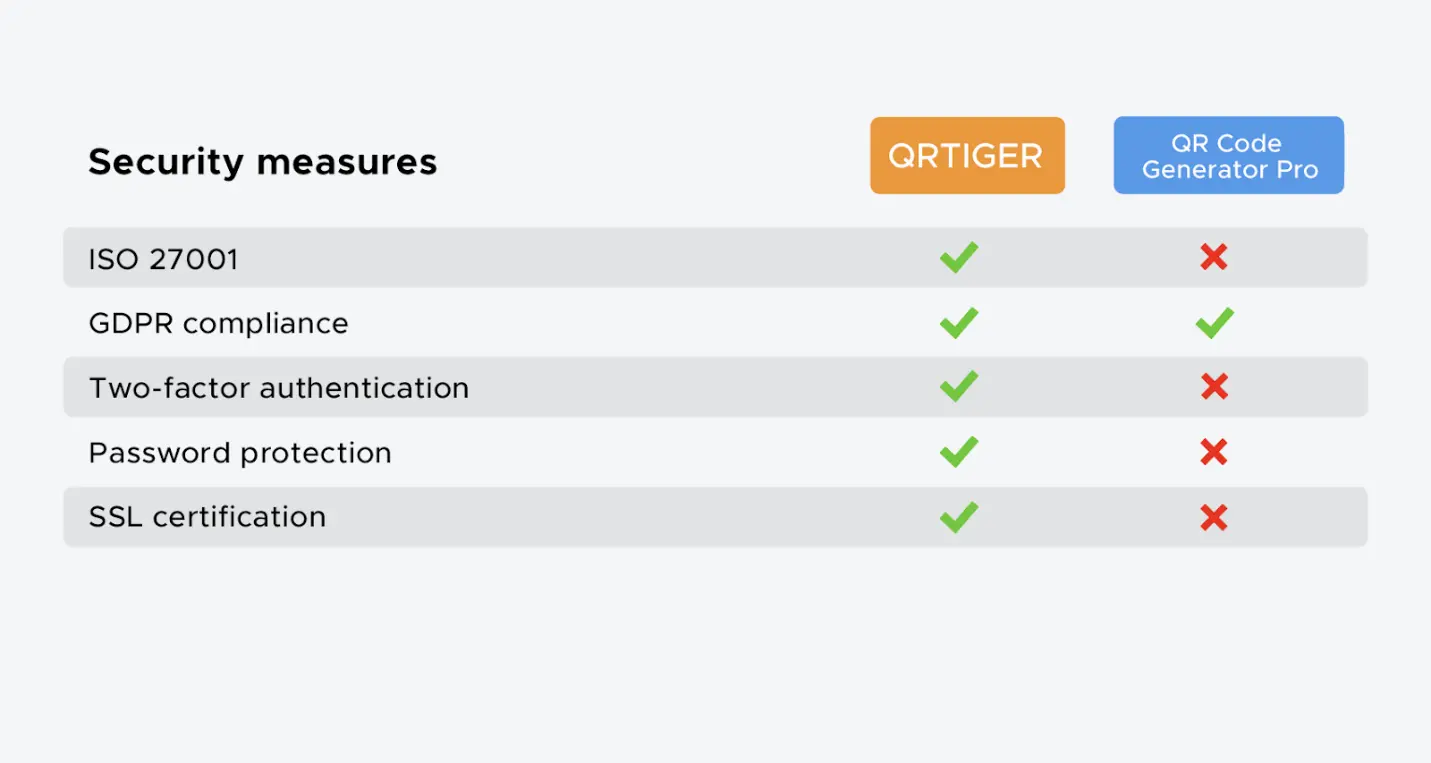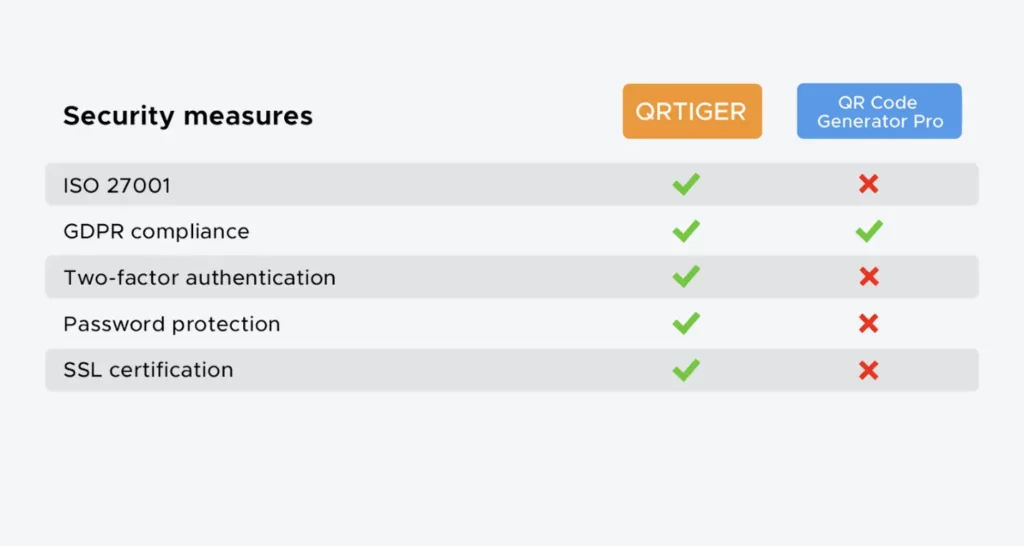 As shown in the table above, QRTIGER provides more complete protection from cyber fraudsters compared to QR Code Generator Pro.
This includes an ISO 27001 certification for data security, GDPR compliance, two-factor authentication, password protection, and SSL certification.
QR Code Generator, meanwhile, doesn't talk about any security features on their website other than GDPR compliance.
Google Analytics and other software integrations
QR code generation software should not only provide QR code solutions and features to their users.
They should allow end-users to quickly automate processes and manage acquired leads for a centralized web application and third-party software integration, particularly for premium and enterprise plans.
And this is only possible with brand integrations such as Zapier, HubSpot, and Google Analytics.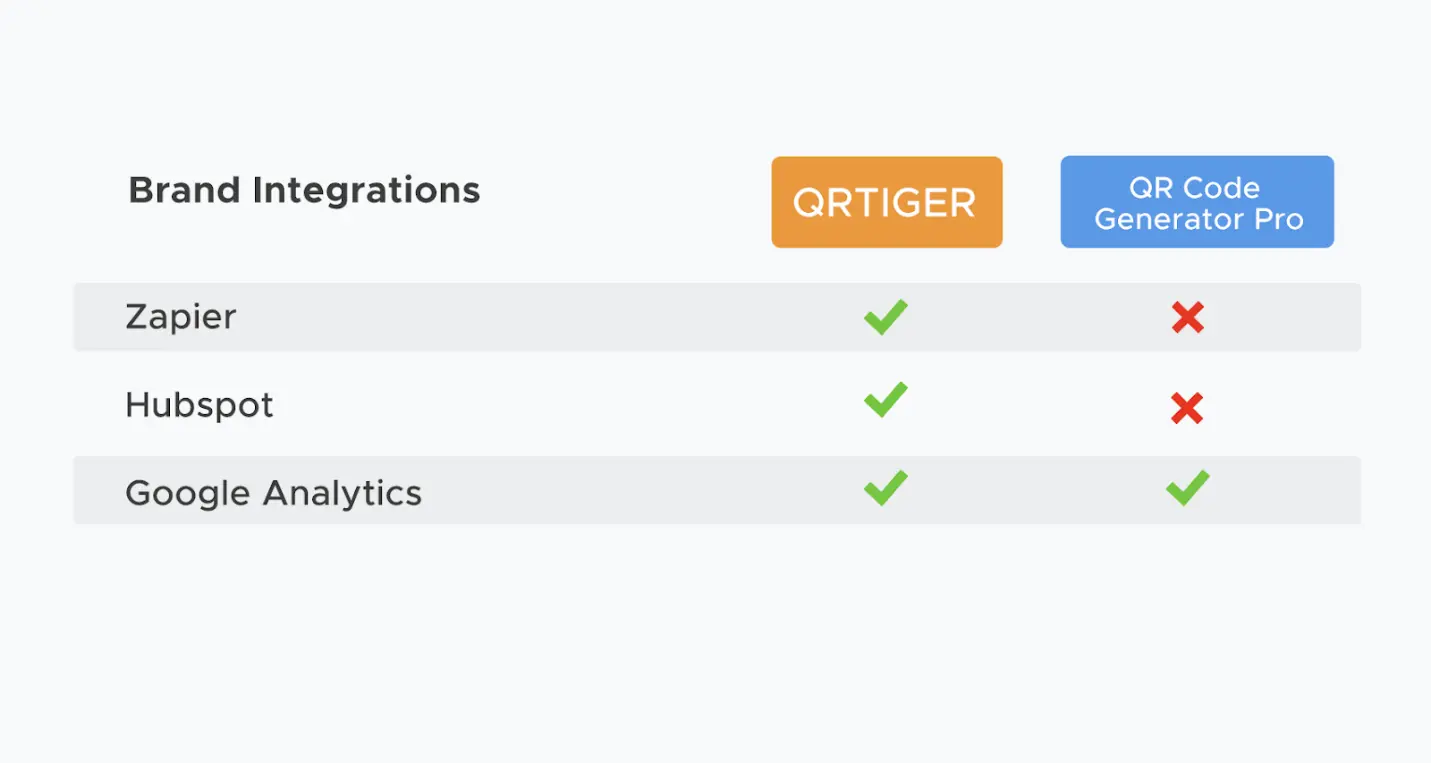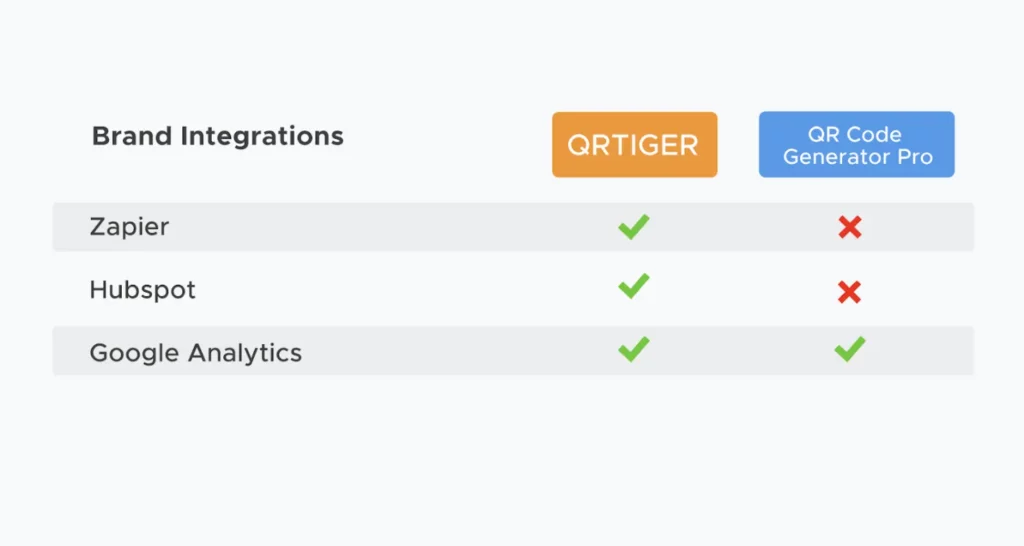 The ability to integrate with Google Analytics makes the performance of QR code campaigns much easier to measure. It's a good thing that both QRTIGER and QR Code Generator Pro offer this option.
QRTIGER also offers integration with a host of other software applications through Zapier or HubSpot. QR Code Generator doesn't seem to have such capability.
Software features optimized for digital campaigns
For large-scale digital marketing campaigns, advanced features such as dynamic API and bulk QR code creation allow for more flexibility.
The ability to retarget customers can also help cut costs per acquisition and increase conversion rates.
These are features that any QR code generation software should have. Check out this table and see how QRTIGER and QR Code Generator Pro stack up against each other: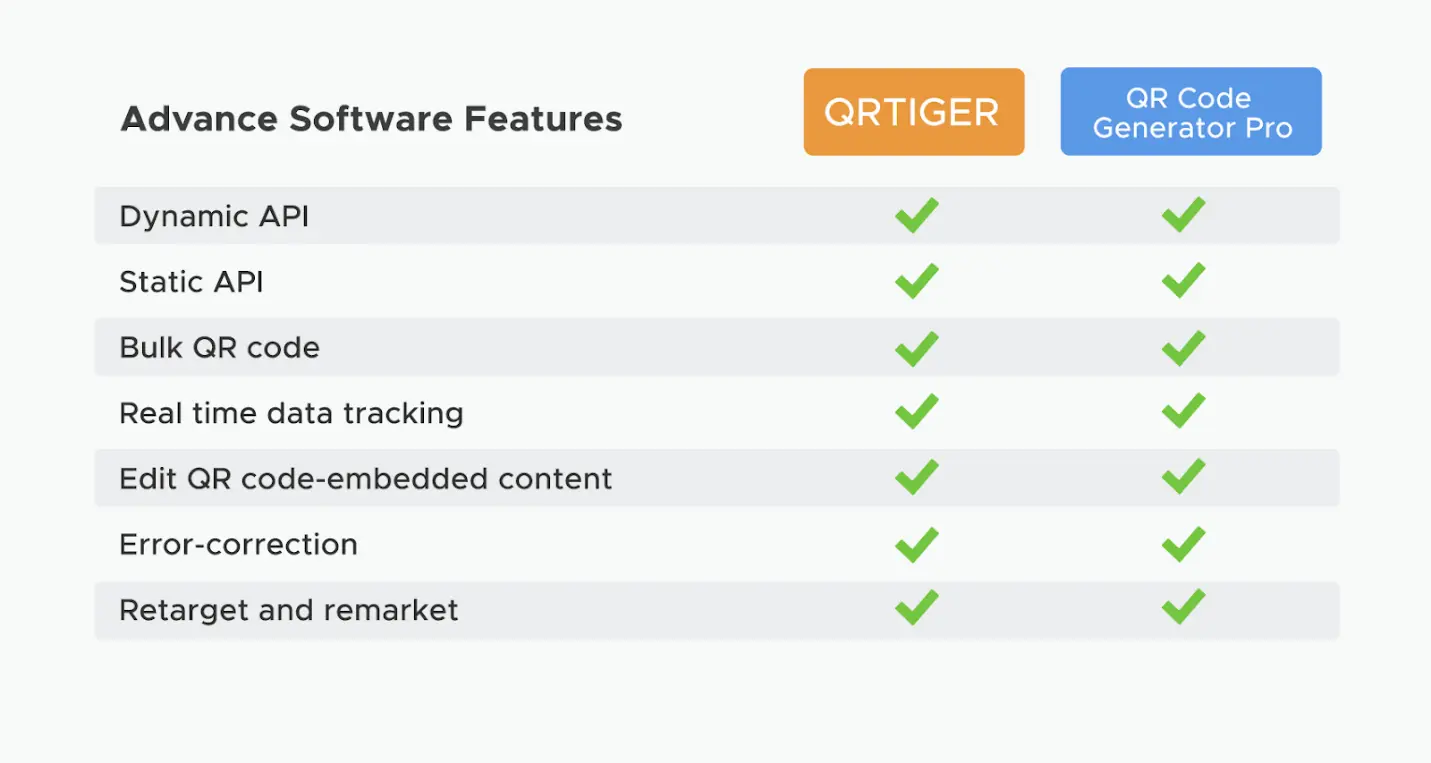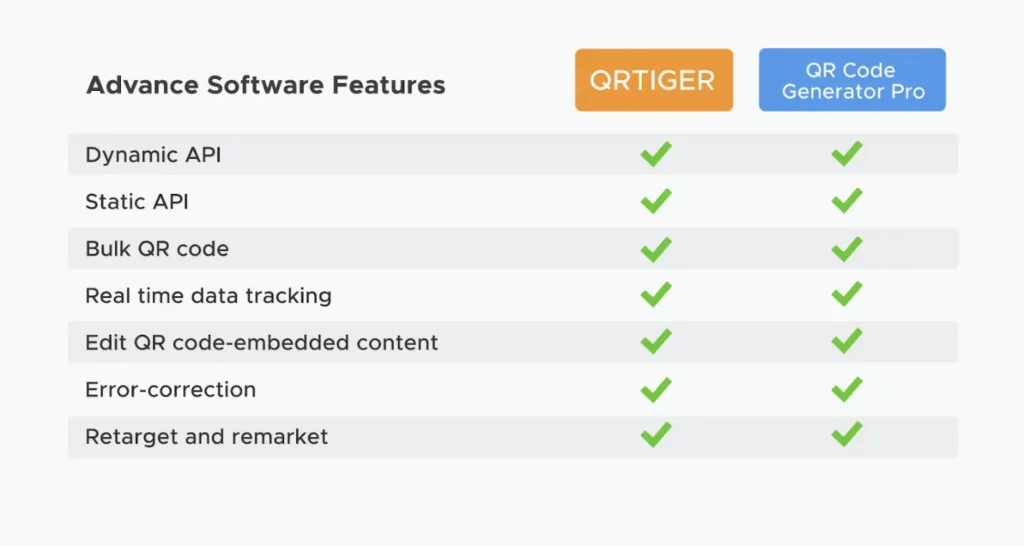 When it comes to providing advanced QR code software features, both QRTIGER and QR Code Generator Pro offer such advanced features.
Bulk QR code comparison
One thing to look for in a QR code generator is its capability to generate QR codes in bulk.
This advanced feature became the talk of town because it promotes efficiency and convenience. Imagine generating thousands of unique QR codes with one click.
In this case, see how the two QR code software compares in this one: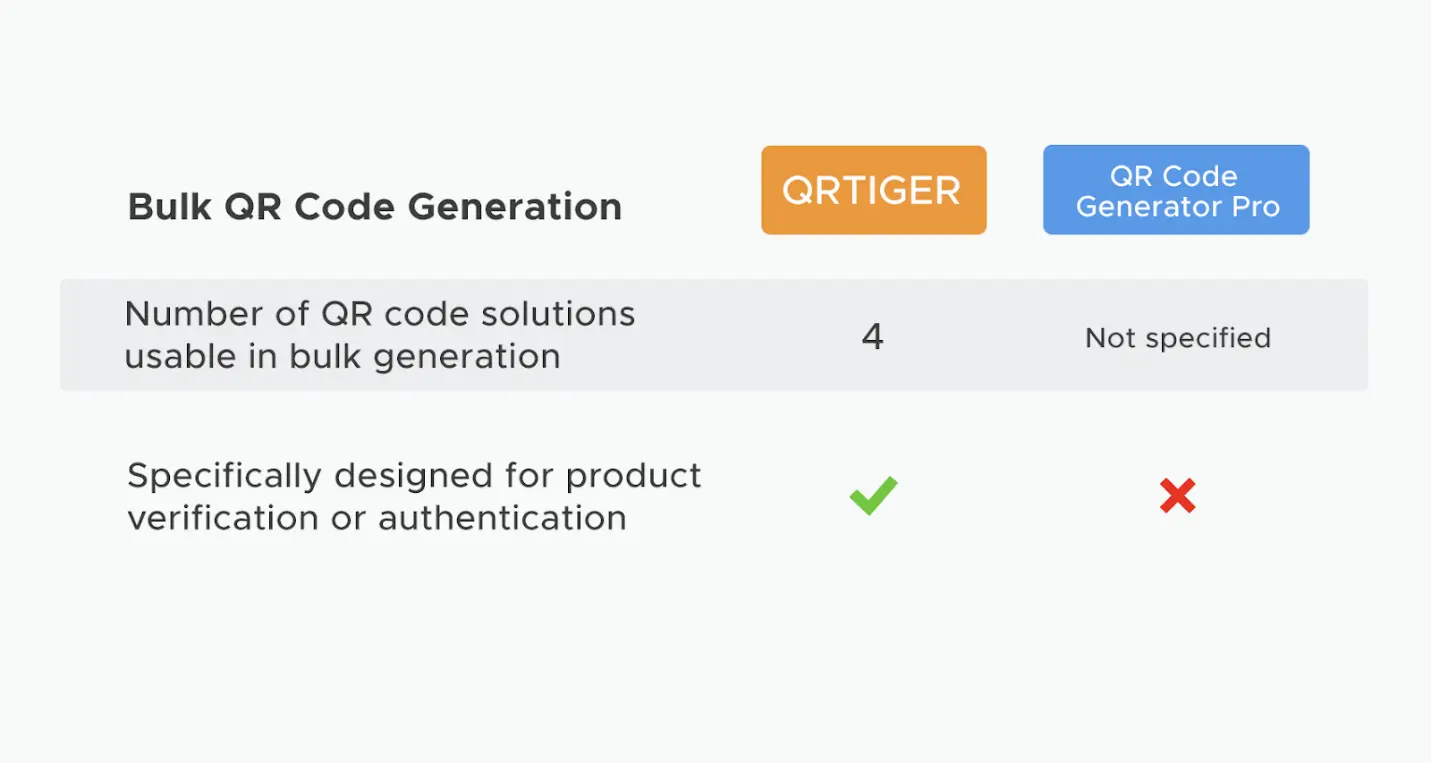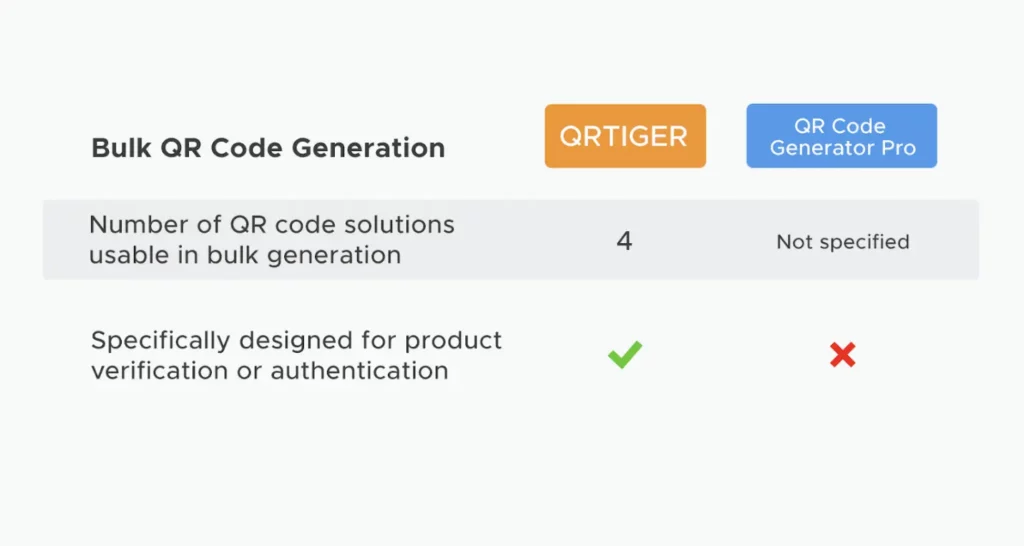 Without a doubt, both QR code generators offer bulk QR code generation.
But here, QRTIGER offers a specific type of bulk QR code designed for product authentication. Now that's one way of assuring their customers that their IP rights are highly valued to help fight counterfeit items.
User interface
Sure, a QR code software can provide users with all the features and solutions they need, but at the end of the day it all boils down to how user-friendly the website is.
Imagine having to deal with pop-up tabs, a dozen required fields, and slow-loading pages in order to generate a single QR code.
How do QR Code Generator Pro and QRTIGER fare in giving users a smooth experience? Have a look at the table below: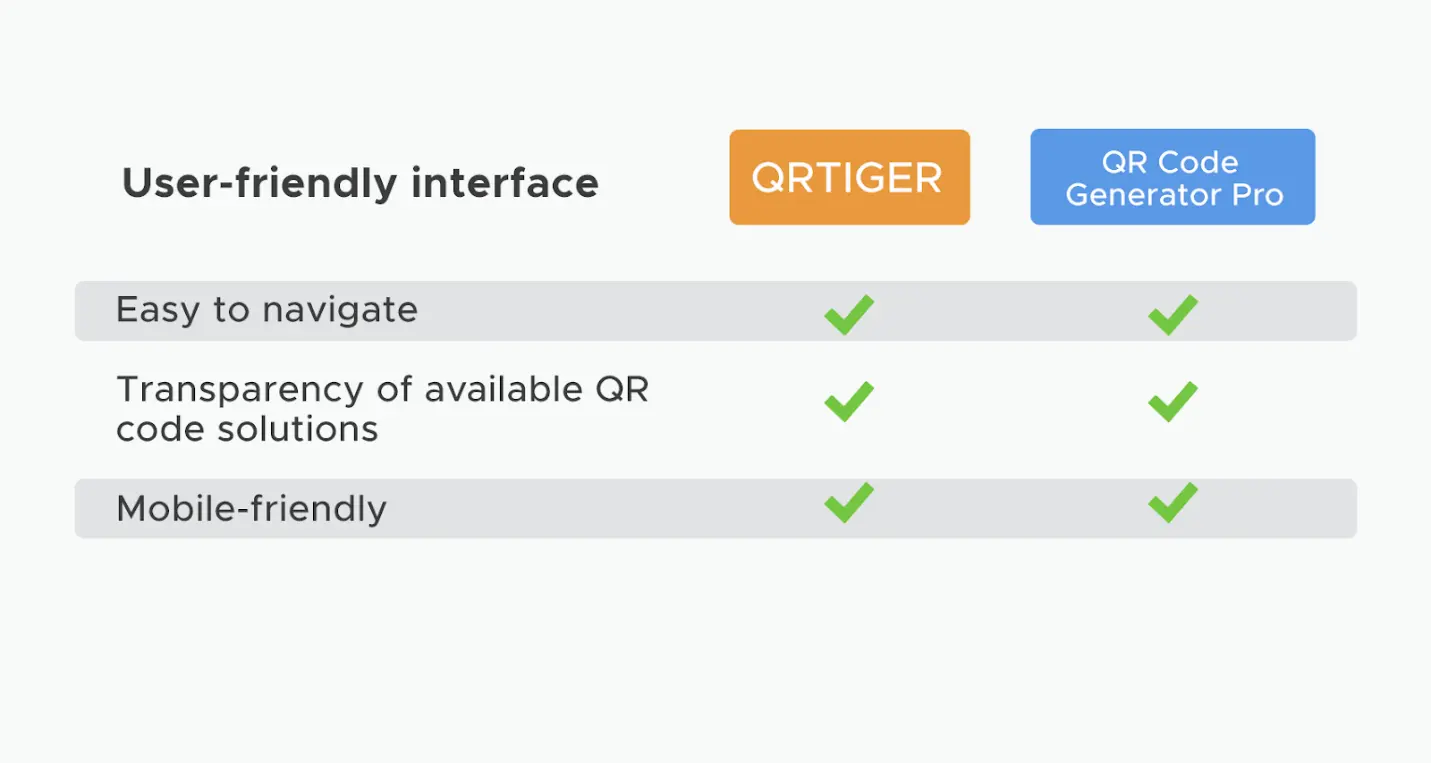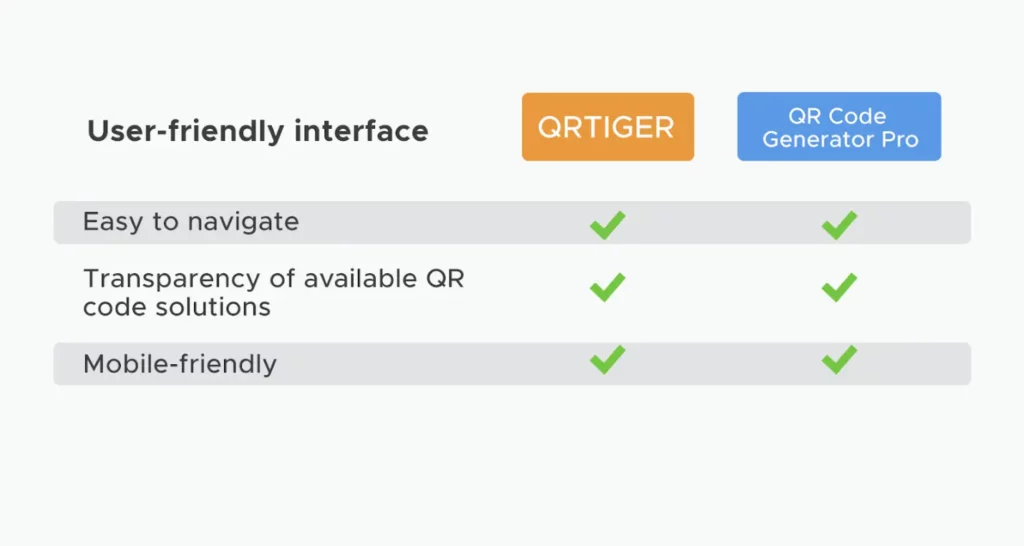 Both QR code software platforms offer a seamless experience on both desktop and mobile, making it easy for users to find and create the right QR code solution for their campaign.
Customization tools
Being able to add personalization touches to QR codes affects how customers perceive the codes. Consequently, it affects the results of the QR code marketing campaign as well.
Taking this into account, having access to extensive customization selections is a plus for the QR code generator at hand.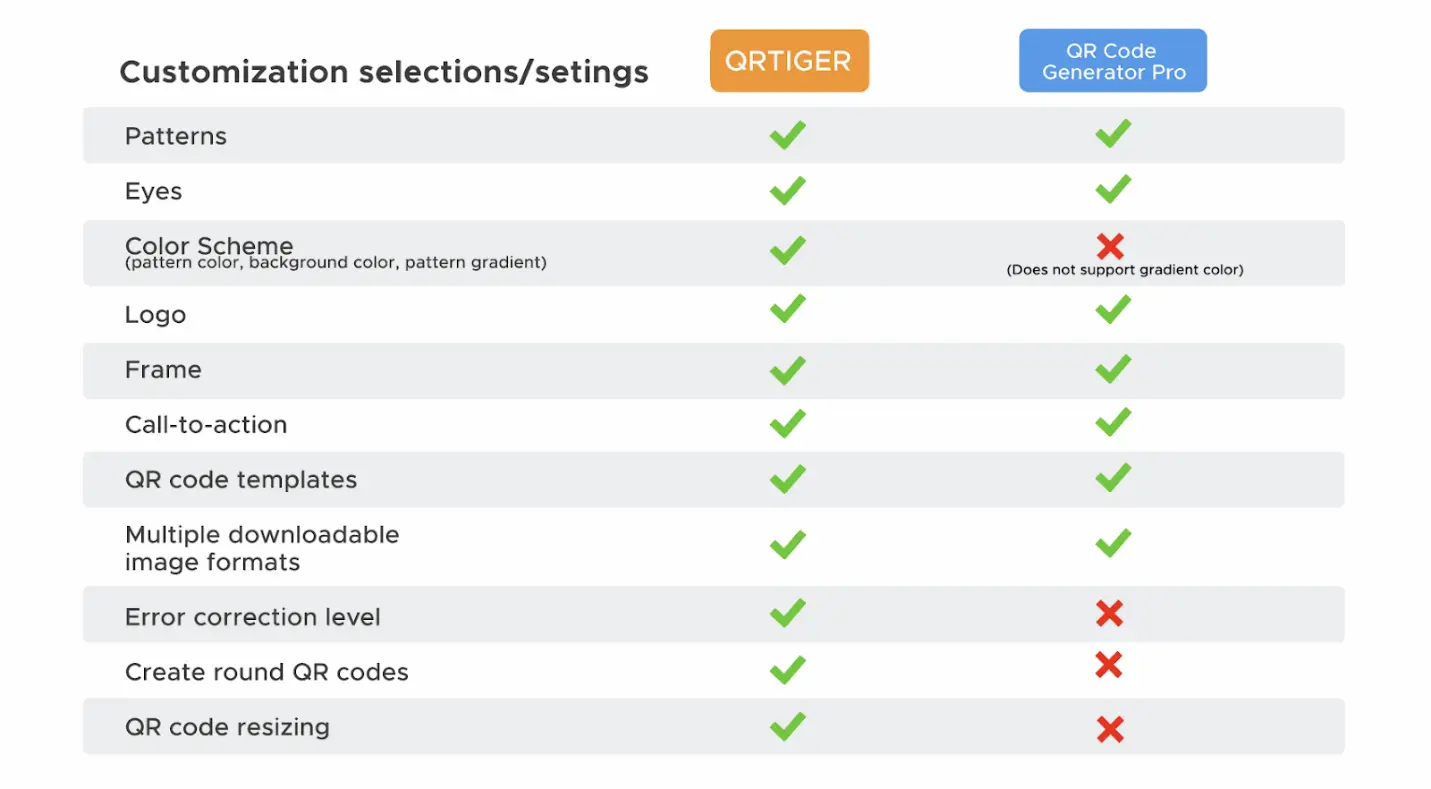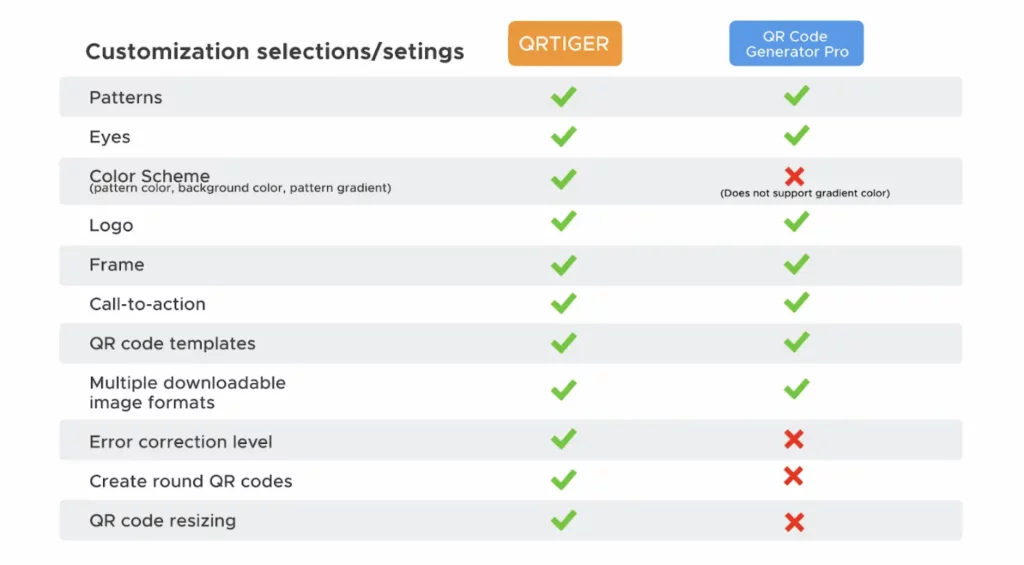 QR Code Generator Pro allows its users to customize their QR codes, but there are a few customization tools not presented in their software.
QRTIGER, meanwhile, went all out in these criteria. For customers that love to do more comprehensive customization with their QR codes, QRTIGER is one of the best QR code generator softwares out there.
Customer support availability
In business, customer support says a lot about the company it represents.
This also applies to QR code generators where it can get a bit techy a stand-by customer support agent is highly beneficial.
According to the website, QRTIGER provides 24/7 assistance to its customers. We looked at QR Code Generator's website and social media and it doesn't seem to offer this service.
However, they have a "Help Center" page that answers frequently asked questions about getting started, setting up one's account, and a free trial, among others.
QRTIGER vs QR Code Generator Pro: Plans and pricing
Which QR code software has better pricing? Which one offers more value for money for top-tier plans?
Comparing their features, integrations, subscription plans, and price range head-to-head, QR Code Generator Pro appears to offer a cheaper "starter" plan at $5 per month, which comes with two dynamic QR codes limited to 10,000.
QRTIGER offers a similar plan at a slightly higher price of $7/month but comes with 12 dynamic QR codes, unlimited scans and download, and tracking. It is worth noting that they offer their Regular plan on a monthly term, while QR Code Generator only allows for an annual scheme.
The same goes for their Advanced plans, both labeled as the best sellers of each platform. QR Code Generator offers theirs at $12.50 per month (billed annually) inclusive of 50 dynamic QR codes and unlimited scans, as well as 100 bulk QR codes.
QRTIGER's Advanced plan comes with a $16/month price tag (billed annually) but covers 200 dynamic QR codes per year, unlimited scans and downloads, bulk QR codes, and integrations with Google Analytics and other software via Zapier and Hubspot.
Both QR code generators offer custom Enterprise plans for large organizations' white labeling, API, and more.
Conclusion
QR code usage continues to grow, and investing in QR code software may be beneficial to your marketing strategy for the long term.
And since looking for the best one among the many top-rated QR code generators known today can be challenging, we hope this comparison helps you decide which one between QR Code Generator Pro and QRTIGER is more suitable for your budget and needs.
Have any thoughts on this? Let us know down below in the comments or carry the discussion over to our Twitter or Facebook.
Editors' Recommendations: