QRTIGER Vs. Visualead: Compare the best QR code generators for your business
Both QRTIGER and Visualead have been gaining popularity amongst companies that are looking for QR solution. Here's how they compare to each other.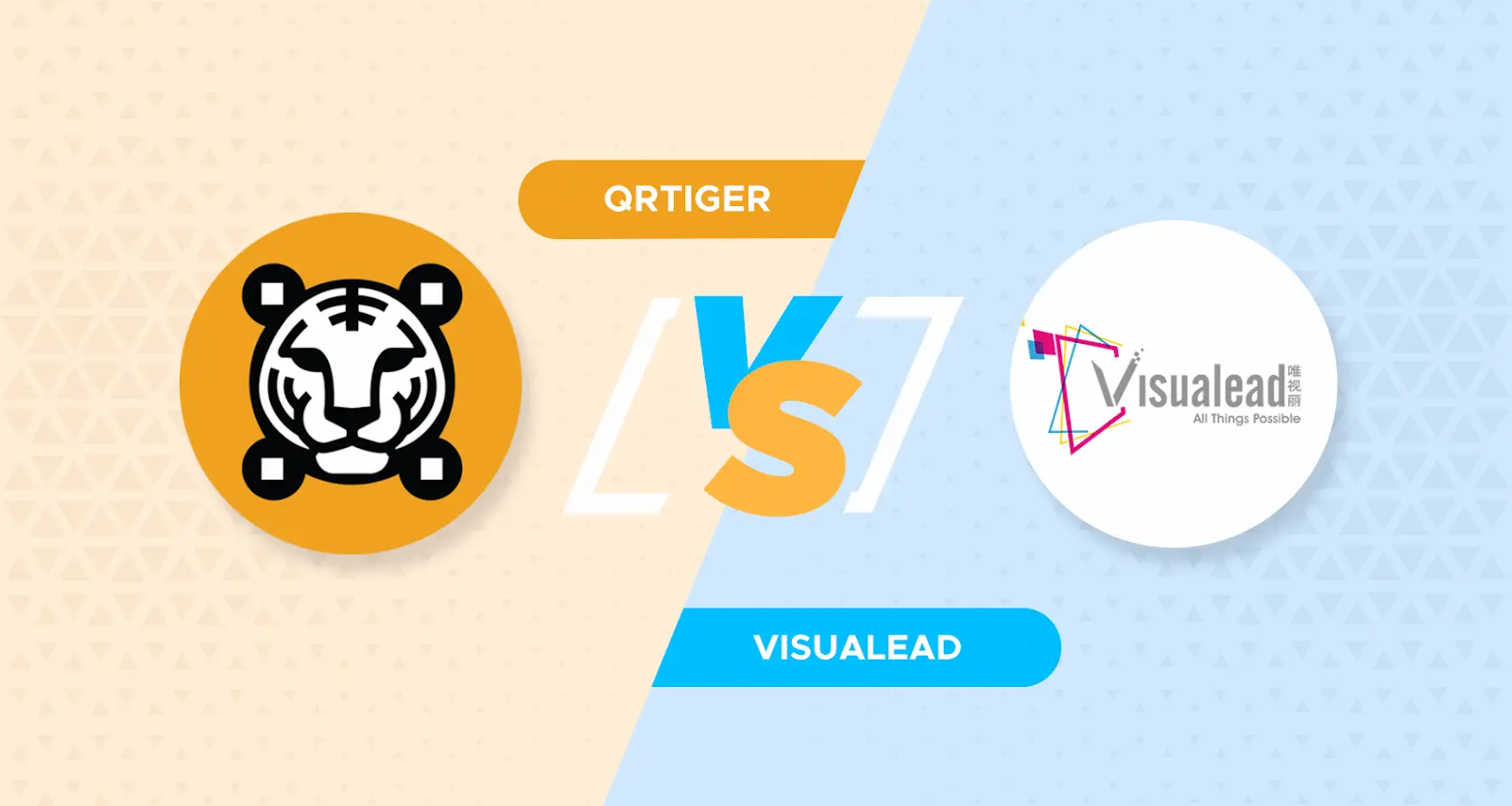 With so many QR code generators available, it can be a challenge for most businesses to choose the right QR code software to entrust their QR code marketing campaigns and day-to-day operations.
In this article, we will focus on the two top QR code generators on the market today, namely QRTIGER and Visualead.
We will examine the most important things to consider when selecting a reliable QR code generator.
Considerations when selecting the most effective QR code generator
Consider the following aspects when selecting the best QR code generator for your business operations and marketing plans.
With these criteria in mind, let's examine the two well-known QR code generators competing in the market.
Basic QR code Essentials (5 points)
When organizations prepare a QR code marketing campaign or business operations, the QR code basics should be readily available.
Can you customize, and can you edit your QR code campaign if need be? These are just some of the questions you need to answer when looking for the right QR code generator.
Advanced features for business applications (5 points)
QR codes are mostly utilized for marketing and contactless business transactions in the modern world.
To stay on top of your campaigns, you also need to check the specifics of a QR code solution. Do they offer a social media QR code solution? How about if you ever need to attach an audio file to one of your campaigns?
It can't just be limited to URLs and PDFs. The market is ever-evolving, and you need to constantly anticipate your customers' needs and determine what excites them.
Solutions for enterprise-based QR code applications (5 points)
As a company's transition to digitalization takes additional resources, settling for one of the QR code generator's basic plans may not provide the QR code solutions required for the transformation.
As a result, many companies choose to look for a premium plan where they can also manage other businesses.
A QR code generator may offer a white-label QR code generator so one business can also cater to other businesses under it. That is called the enterprise plan.
Pricing (5 points)
Is the price at par with the value provided by the QR code software? Sure, QR codes come for free, and even at a minimal cost.
But there may be another QR code generator with a bit of a pricier model, but has all the features you need, plus excellent customer service.
In times of need, you're better off going for the paid QR code generator that's ready to assist you 24/7, and all at a reasonable cost.
Comparison report
Here is the side-by-side comparison between QRTIGER and Visualead.
Essentials
Check the basic features such as solutions, customization, and other functions that can help a business owner navigate their way easily when creating a QR code.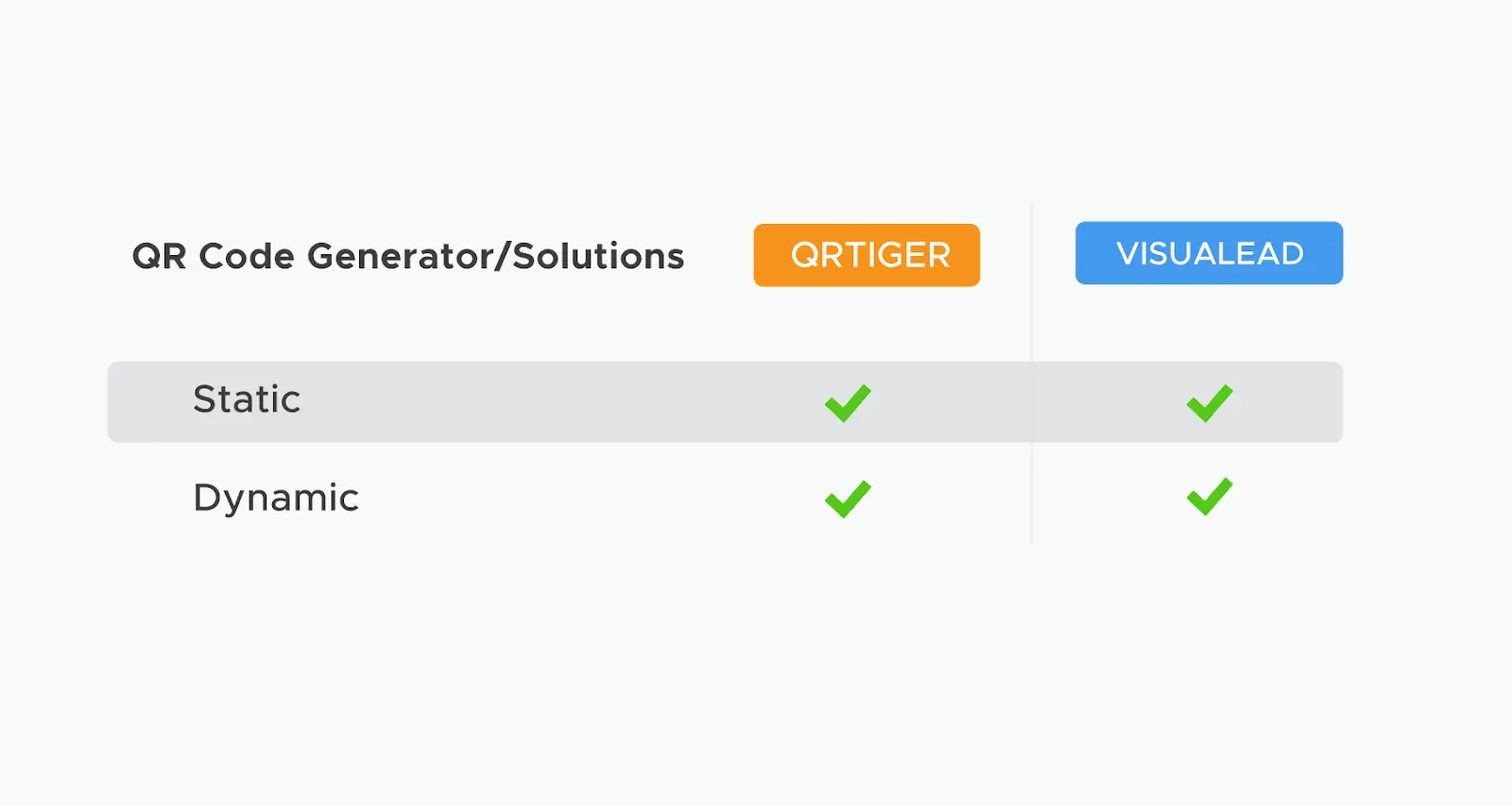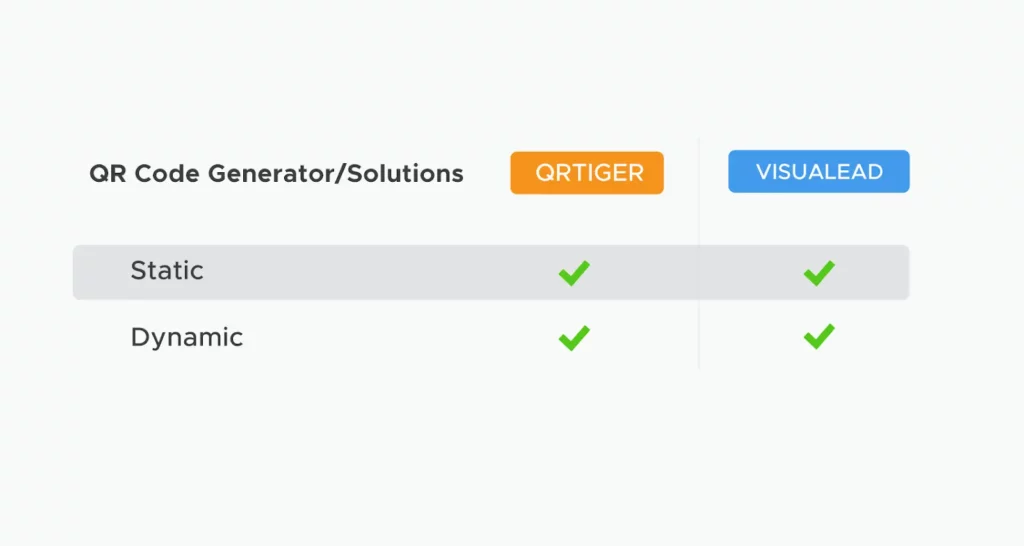 Features Offered (Static and Dynamic QR codes)
In this factor, we will check the static and dynamic QR code solutions for these two competing QR code generators.
Ideally, you should look for the availability of both Static and Dynamic QR code options.
In this category, both QRTIGER and Visualead offer these options.
Number of solutions offered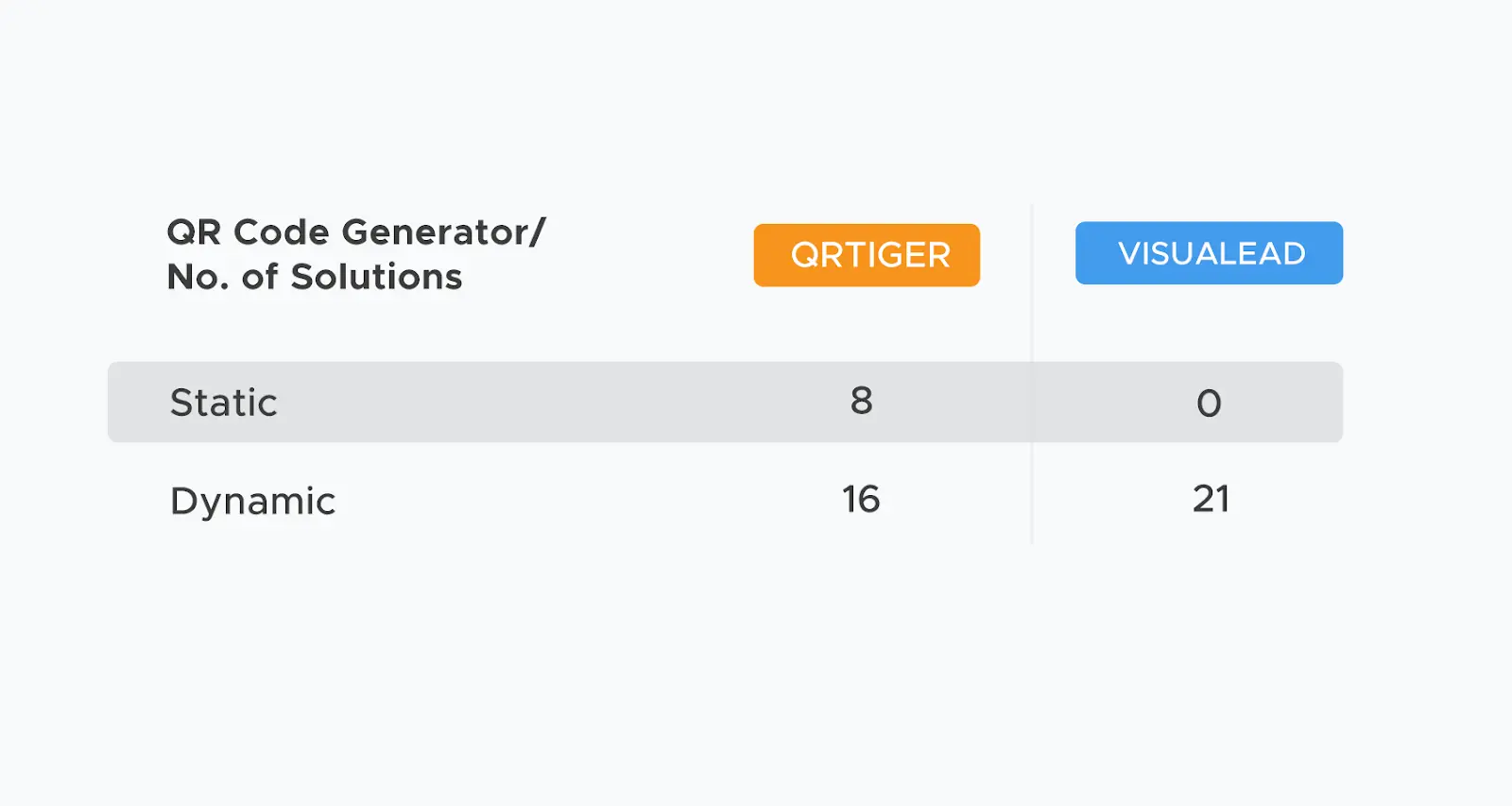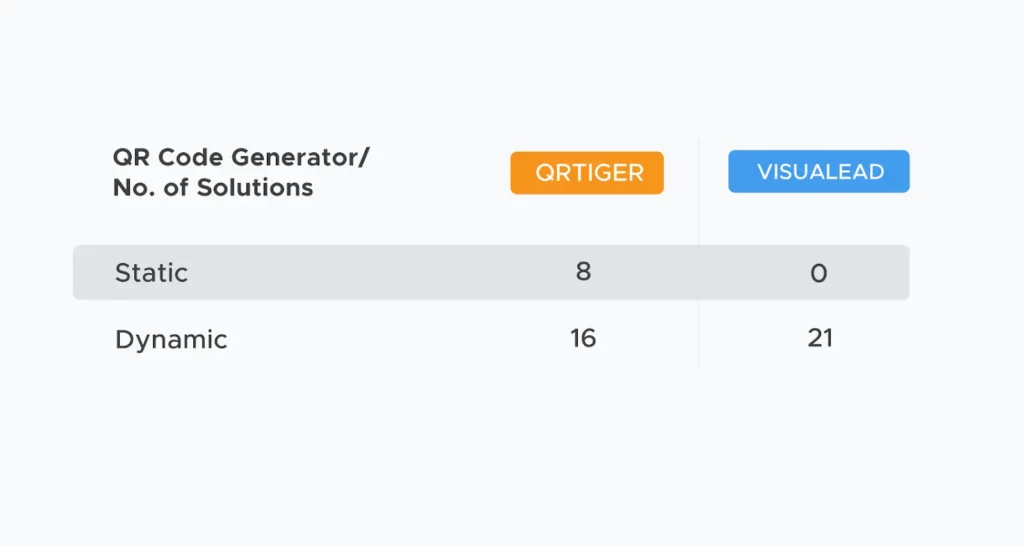 With both QR code generators offering the two types of QR code, it all goes down to the number of QR code solutions that they can offer. By looking at the table made, QRTIGER currently hosts 16 QR code solutions namely URL, Vcard, Social media, Multi-URL QR code, Social media links like Facebook, Menu, YouTube, Instagram, Pinterest, Wi-Fi, App Store, MP3, Text, H5 page and email.
Visualead has the basic QR code solutions like the QR Forms, Link management QR code, and more. The downside of this QR code maker is that you need to first subscribe to make a QR code.
QRTIGER does not require an email registration to create a free Static QR code.
Customization of the QR code layout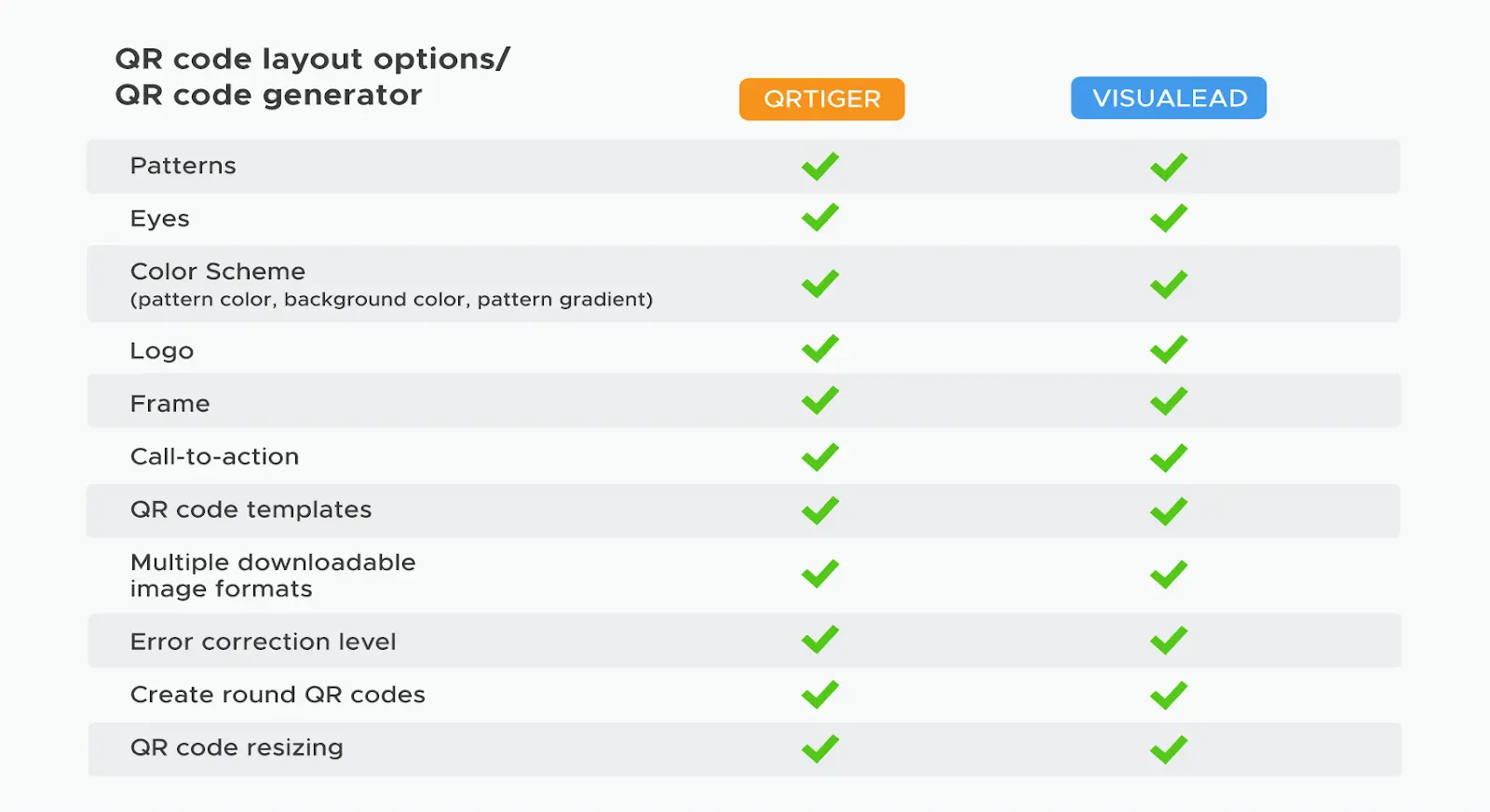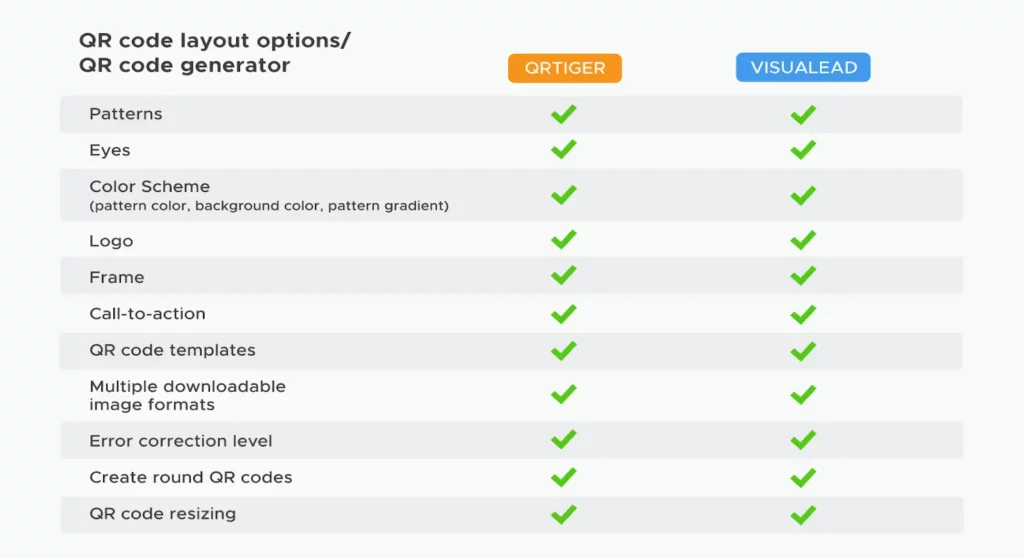 When it comes to the customization phase, both QRTIGER and Visualead win. They have all the basic customization features that a user requires, and also offer some advanced features businesses might need along the way.
Interface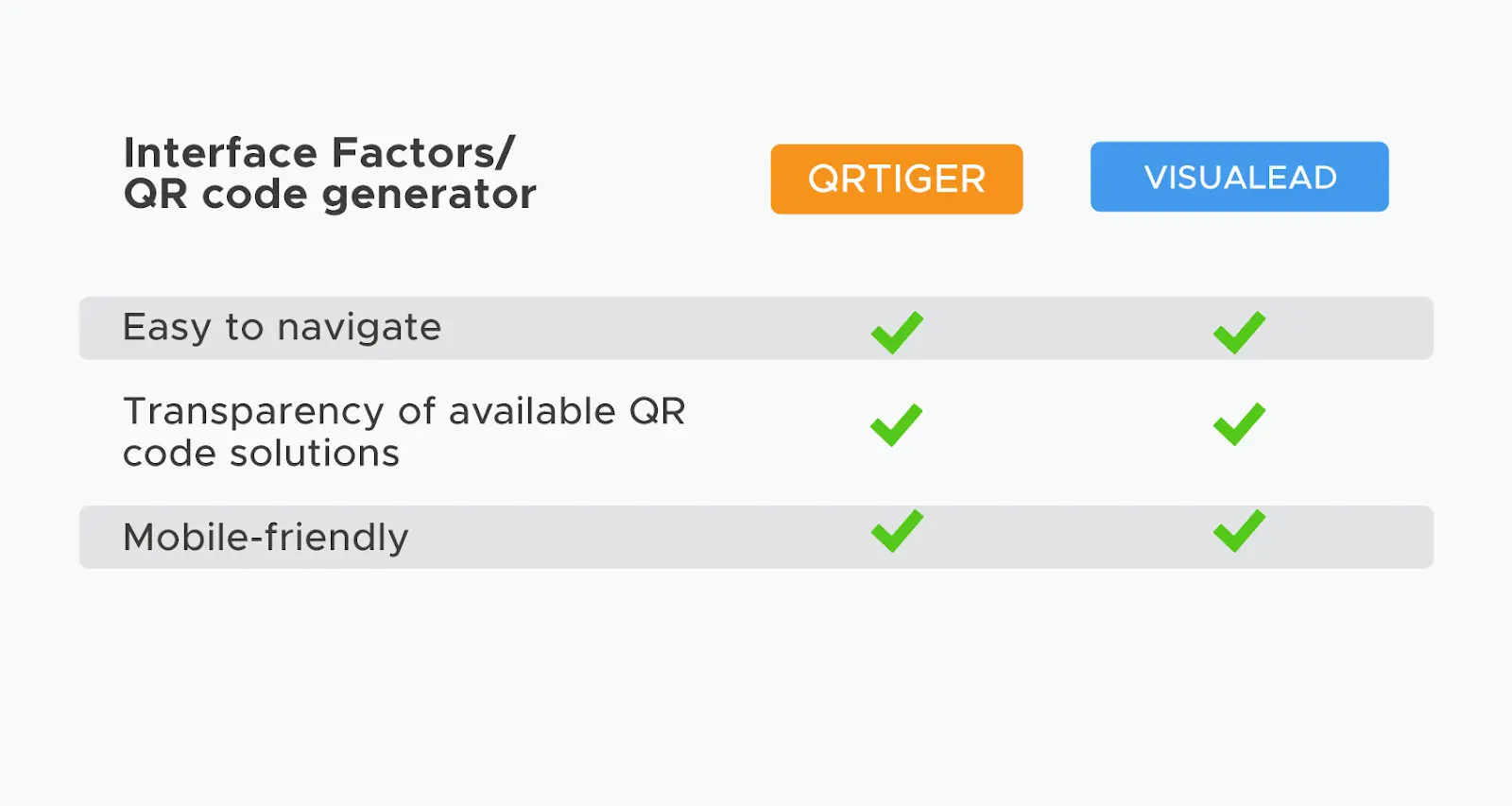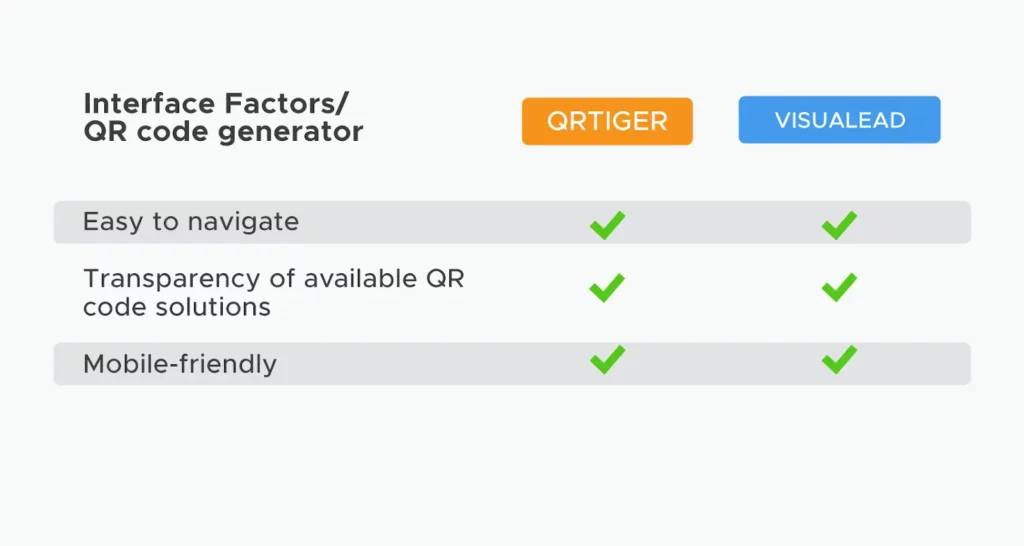 The interface plays an important role in making the software useful for the user, no matter what the circumstances are. Starting beginner users to intermediate ones, the following factors should be considered.
In terms of navigation, both apps score points. In the transparency of the QR code solutions offered, QRTIGER and Visualead are able to tick this factor. Both pieces of software also offer mobile-friendly sites.
Advanced features for business applications
Advanced dynamic QR code features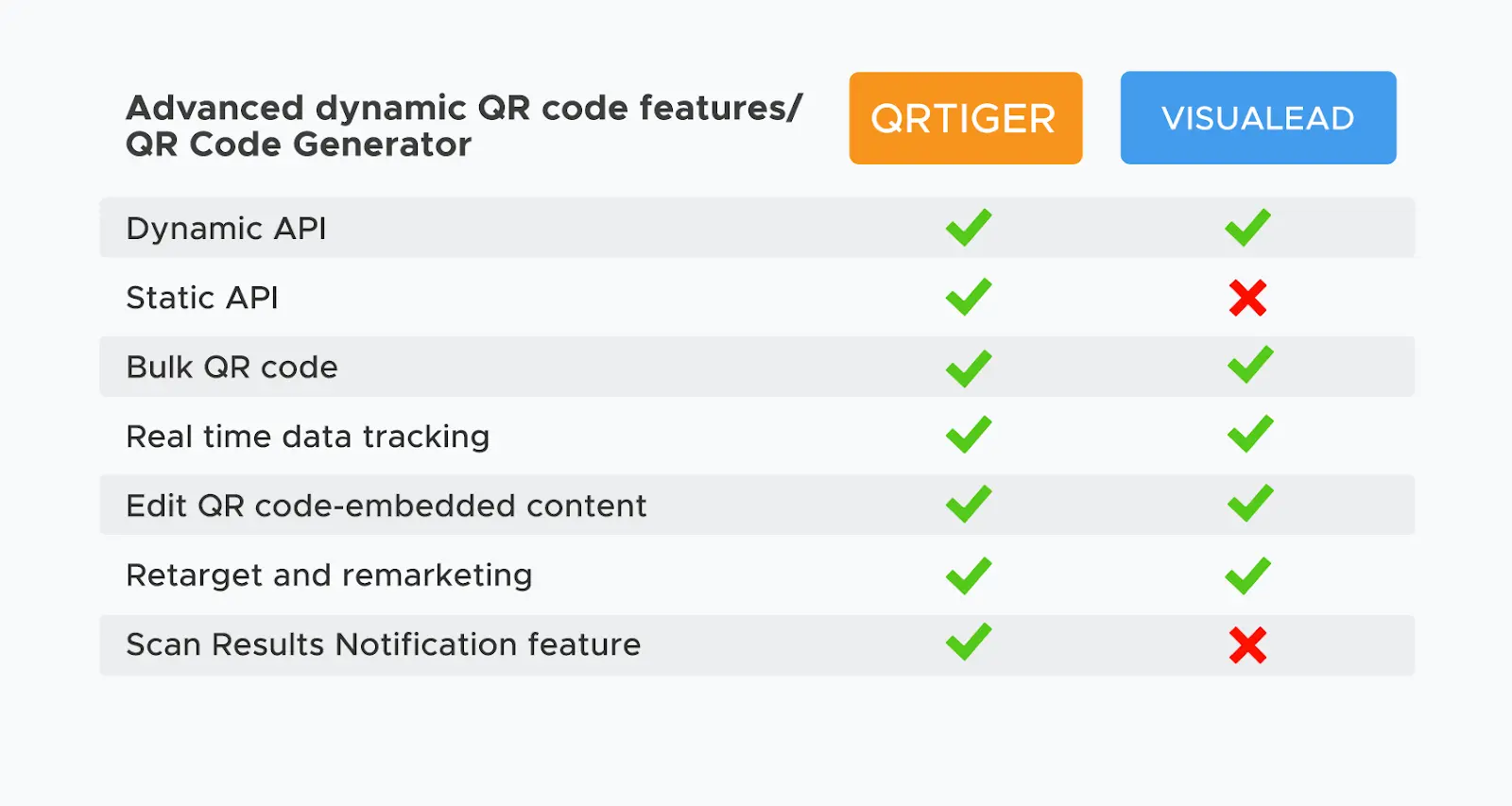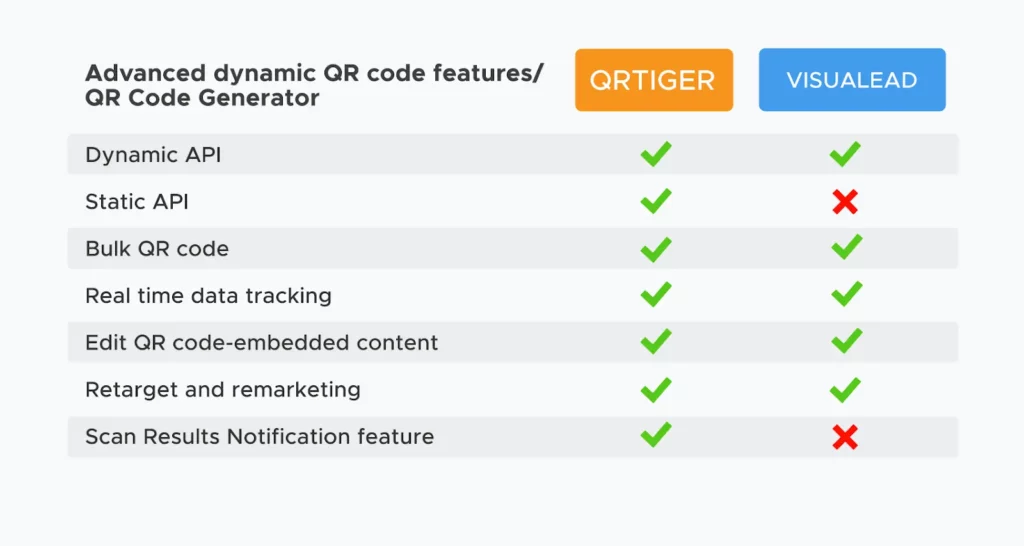 How advanced do you want your QR code generator to be?
There are other businesses that will be happy with free, Static QR codes. If it's just for one-time use, then there's no need to pay for a subscription, right?
But if a business is serious with their QR code marketing campaigns, they should opt and look for one that has advanced dynamic QR code features.
How far will the app allow you to personalize your QR code?
When it comes to personalization, QRTIGER is the leader in terms of Advanced Dynamic QR code functionality.
By contrast, Visualead misses a few dynamic QR code functions, namely the scan results notification option, and static API.
Software and Application Integrations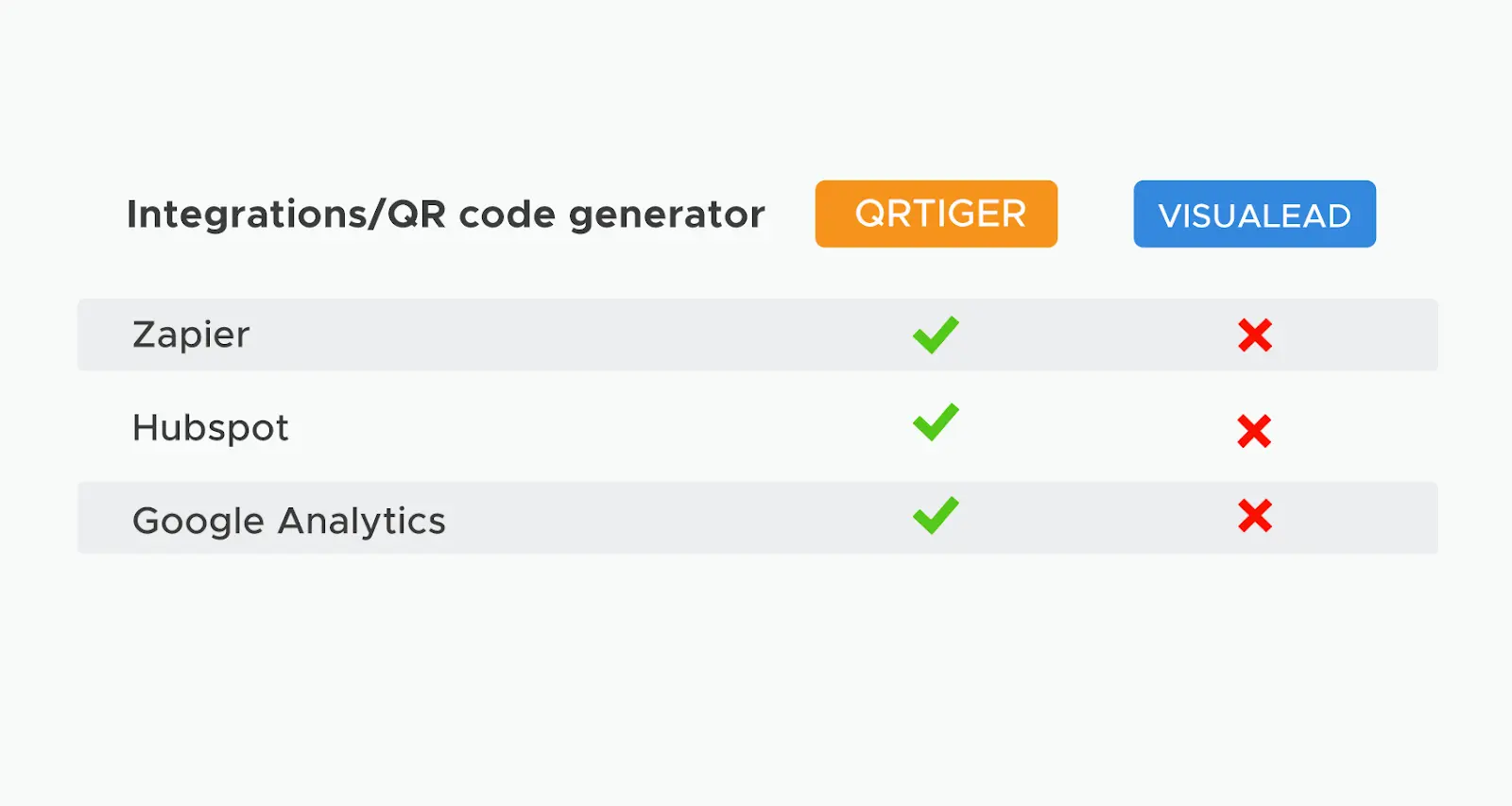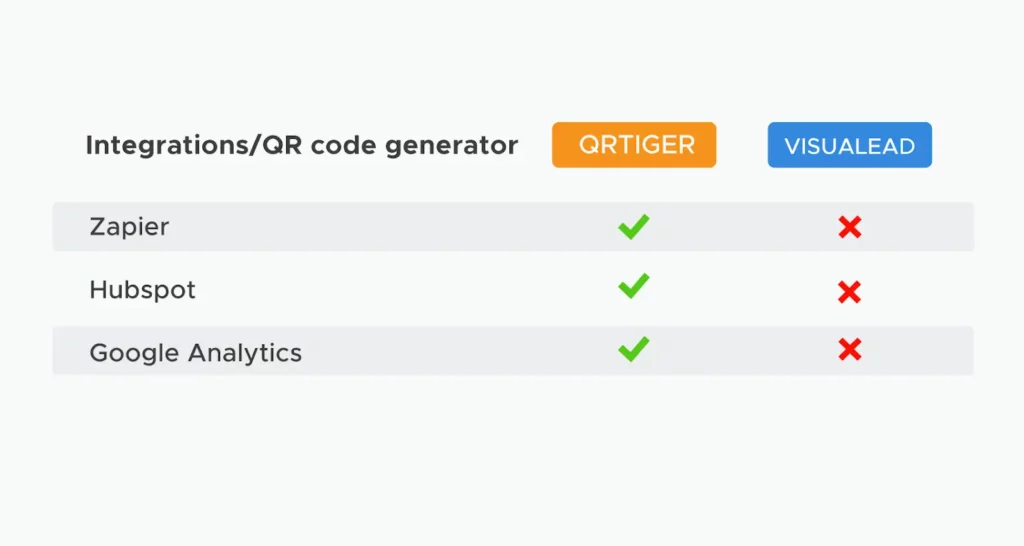 Generally speaking, a business would need data analytics software to track its QR code campaigns. Now the question is, does your QR code generator make it easy for you to track campaigns and edit your changes accordingly?
In this comparison, we see that QRTIGER offers complete integration for HubSpot, Zapier, and Google Analytics. They know how important it is to get to know customers and fine-tune marketing campaigns.
If you want to be more serious and effective in promoting your business, go for the one that offers easy integration to data software.
As of writing, Visualead is not yet supporting any of these connections.
Bulk QR code Generation Support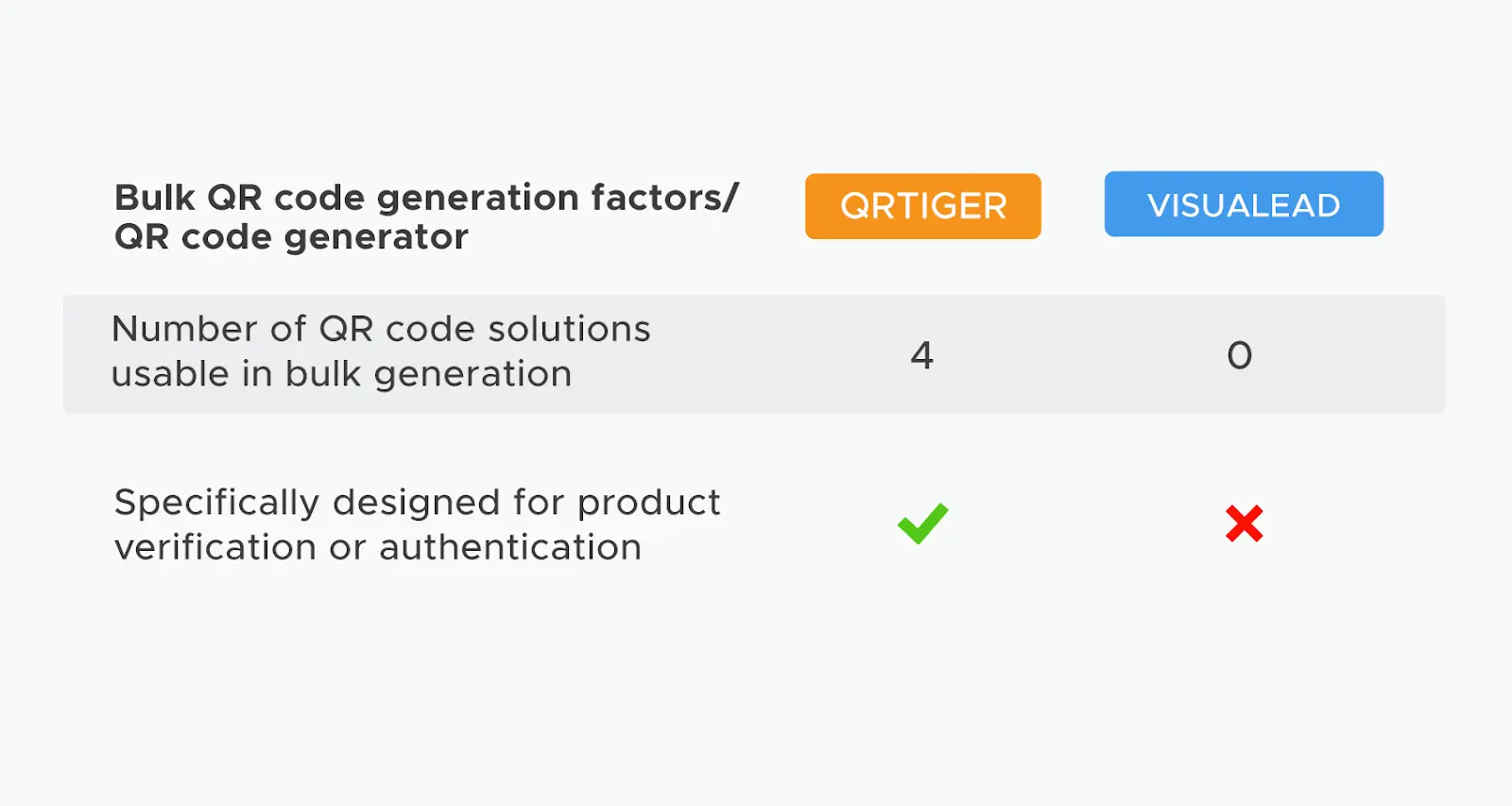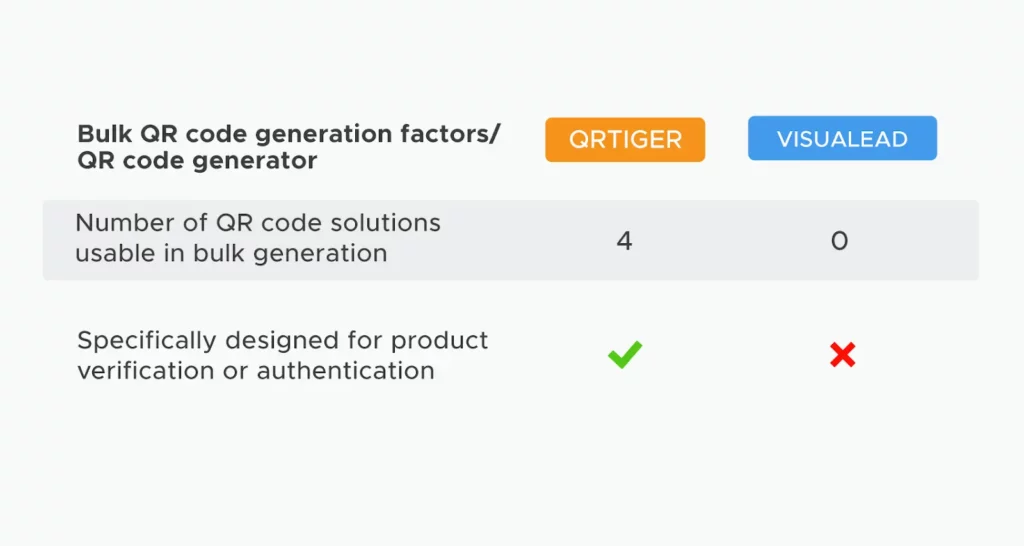 Bulk operations are used to compress repetitive tasks in one go. With companies printing or manufacturing products in bulk, generating QR codes in bulk is possible. We can see that QRTIGER has the most QR code solutions that a user can create in bulk.
While this QR code generator has the most QR code solutions, its function for product verification or authentication is incorporated.
While with Visualead, there is no clear specification or function that a user can make QR codes by batch.
Solutions for enterprise-based QR code applications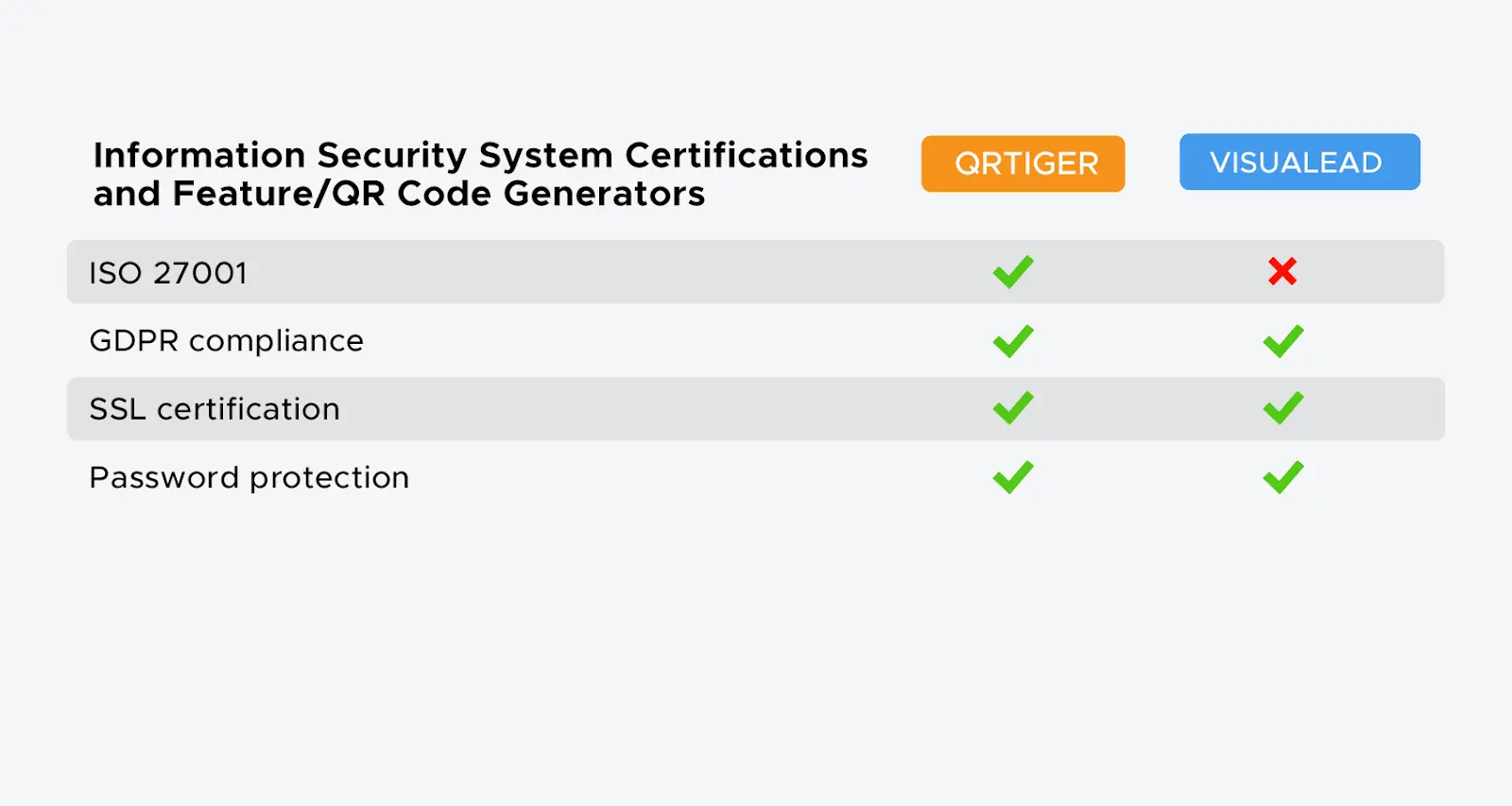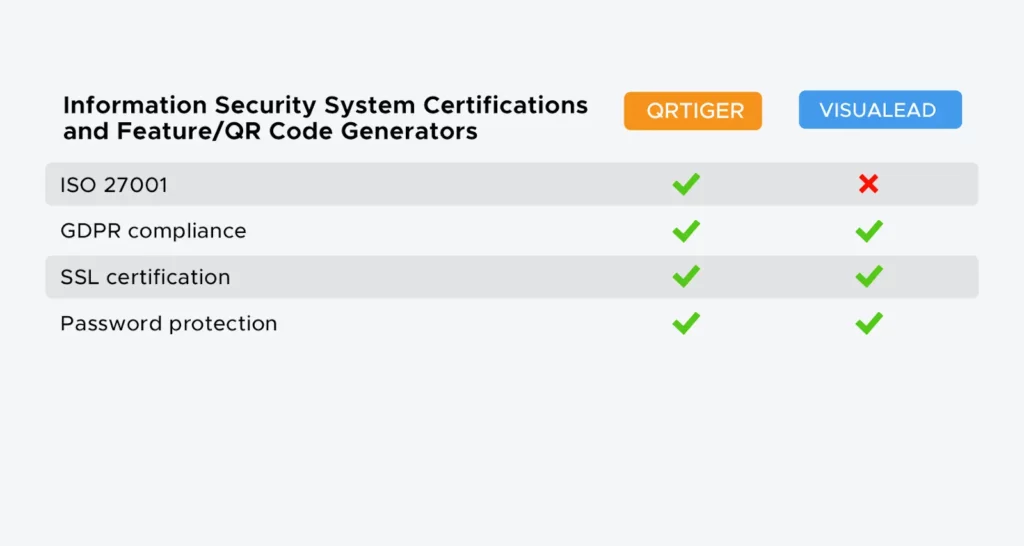 Information security system certification
When looking forward to working with a QR code generator using its enterprise offer, it's important to look for a QR code maker that is secured and accredited by an international security standard system like the ISO 27001. We choose this factor to assess how safe the website is.
Among the given factors, Visualead is not ISO 27001 certified.
Needless to say, for businesses that have an international customer base, it is better to select the QR code generator's certification from the internationally recognized information security and management system standard like the ISO 27001.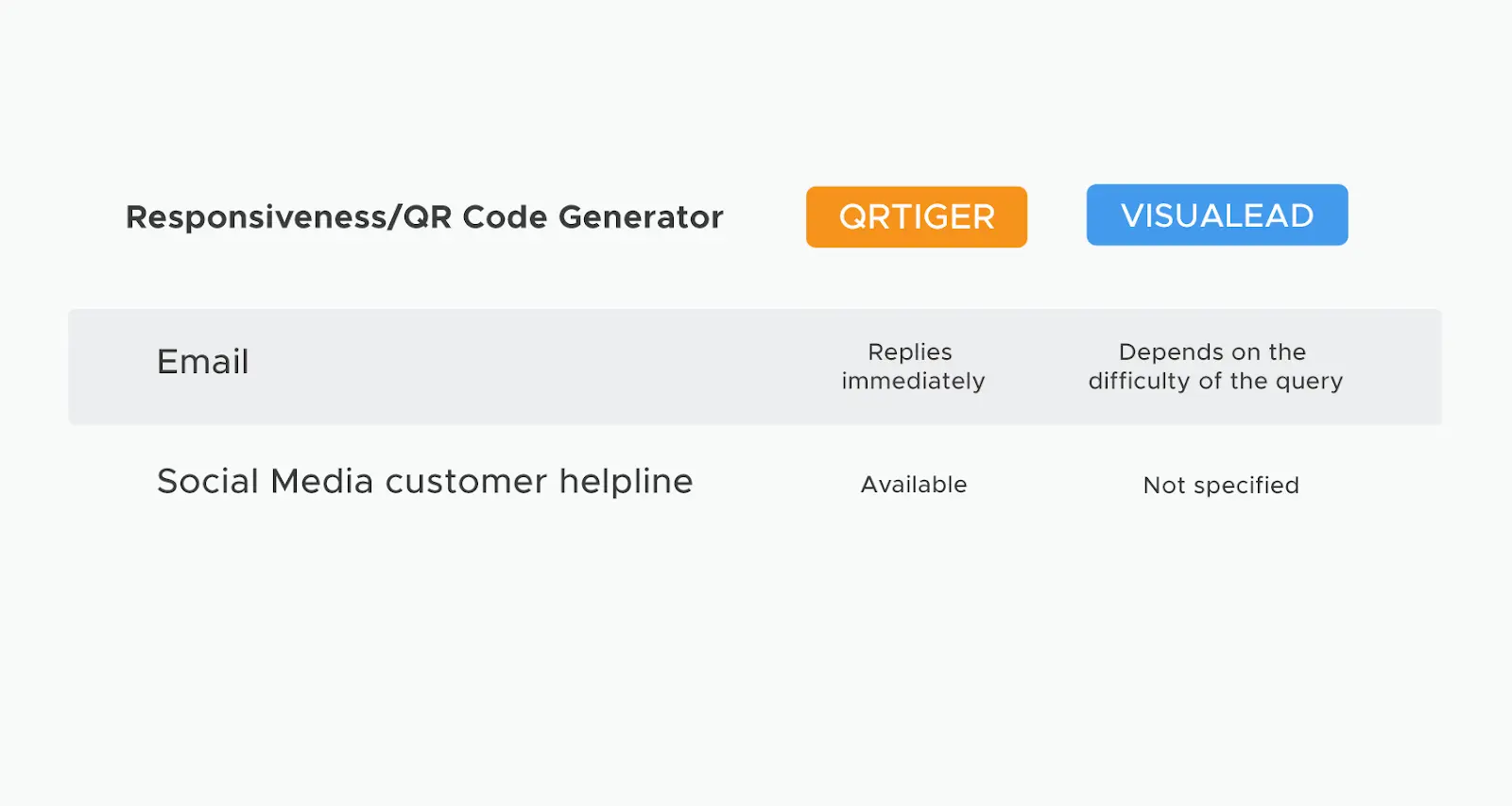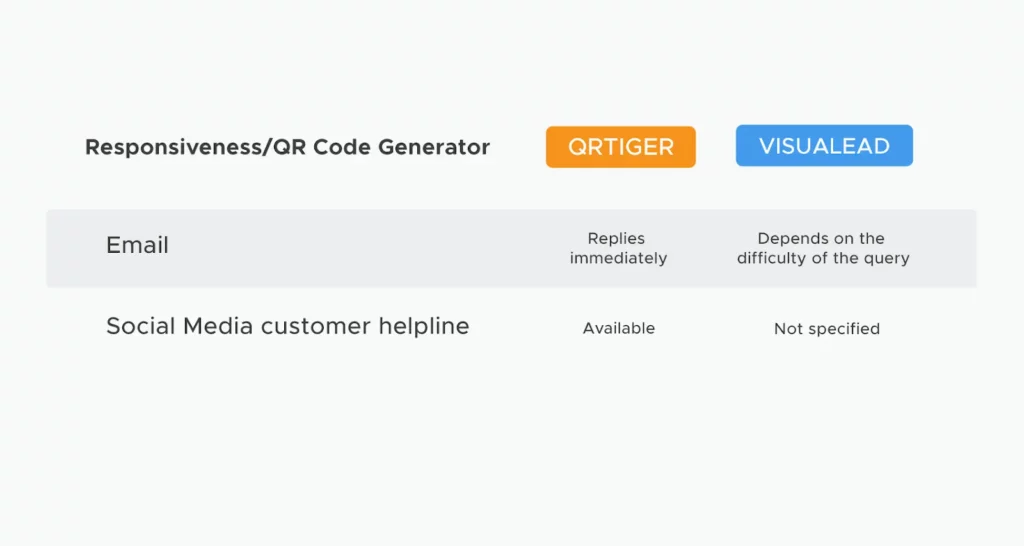 Customer support responsiveness
Since enterprises are taking a big risk when they partner with software they will officially use in the company, it is critical for them to have a customer helpline on standby. This is necessary to answer the questions they have with regard to the QR codes. Between the two, QRTIGER has a more responsive customer helpline via email and they usually reply immediately and can also be reached on social media.
Visualead's replies depend on the difficulty of the question, and they don't specify that they can be reached via social media.
Cost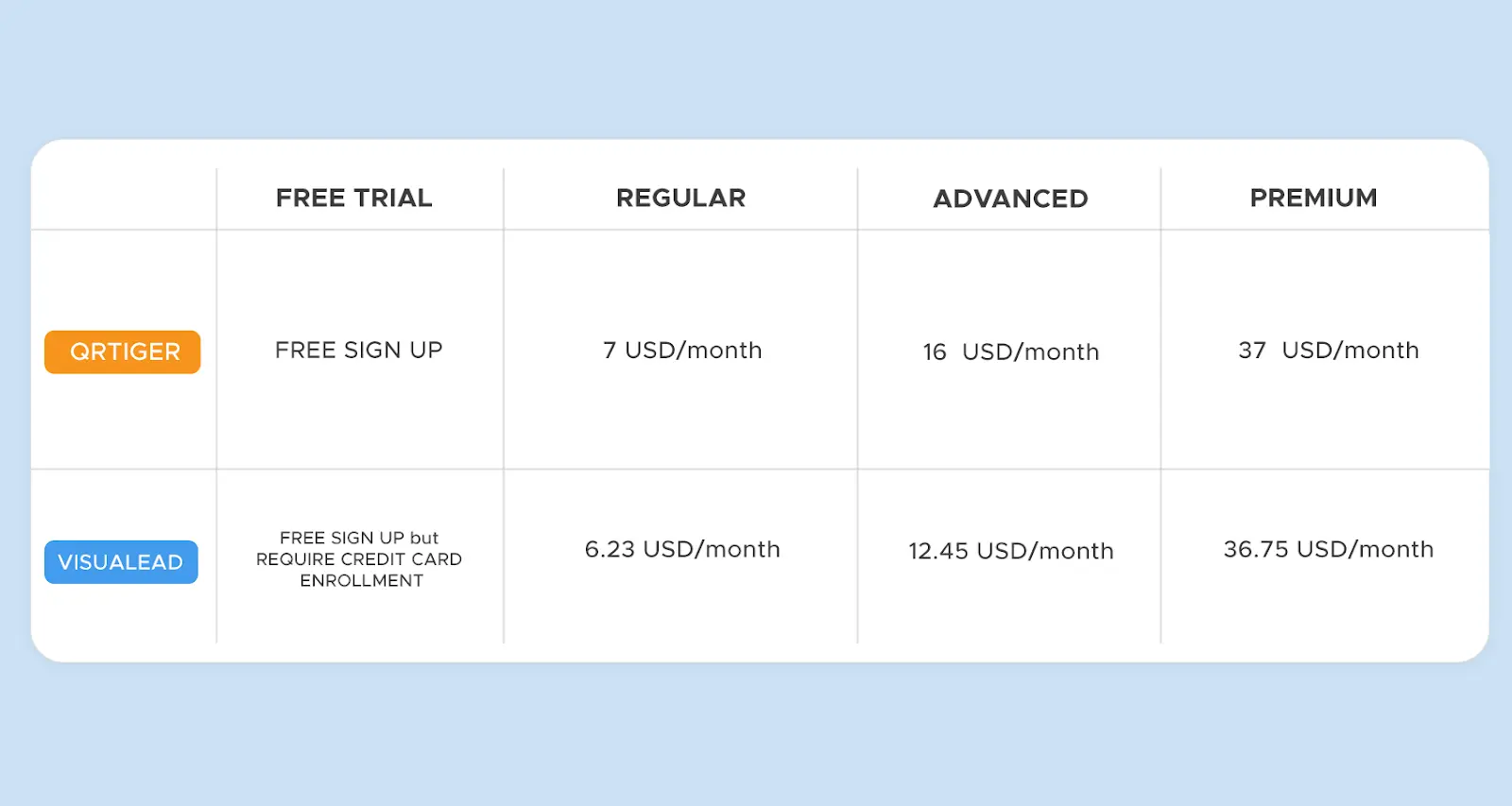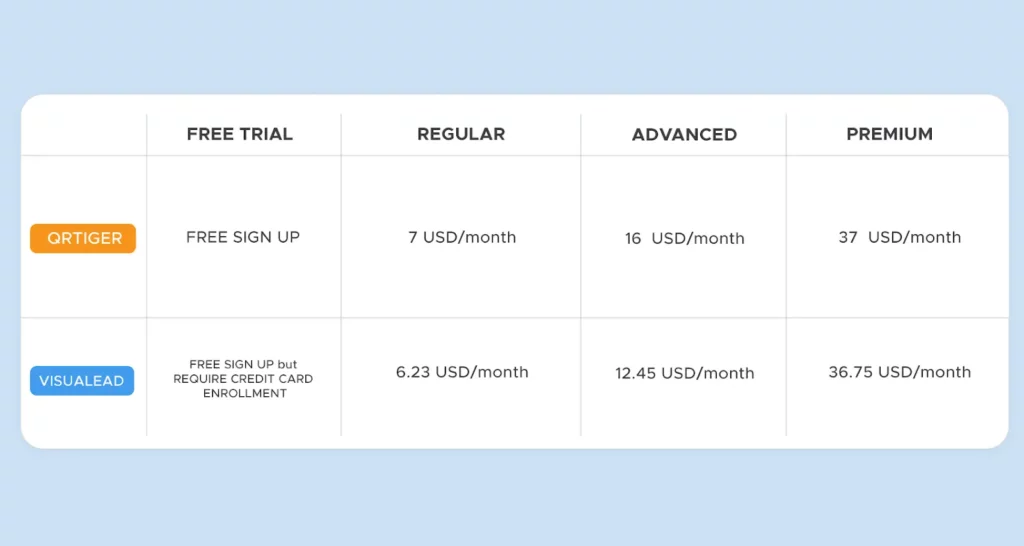 Plans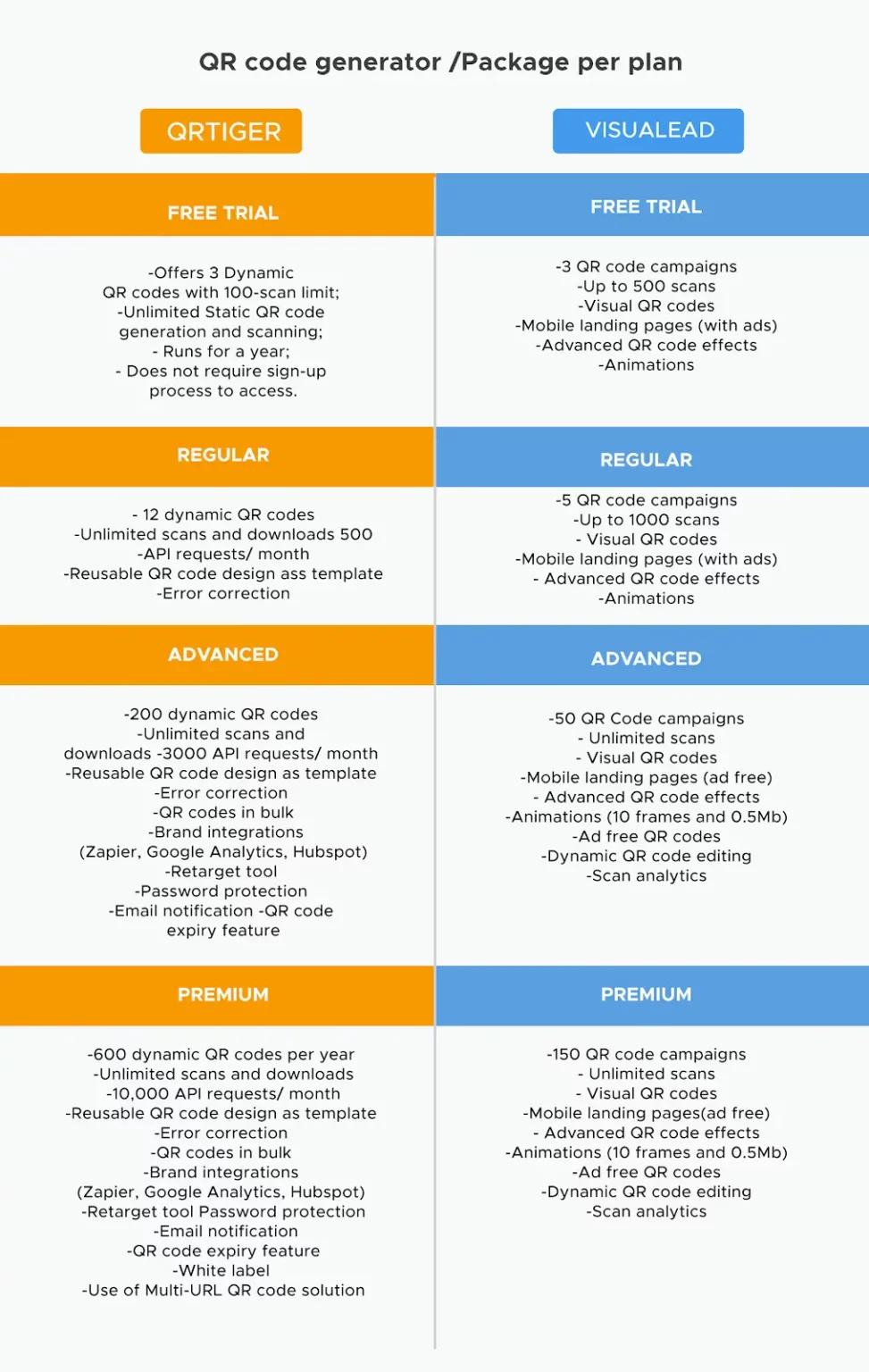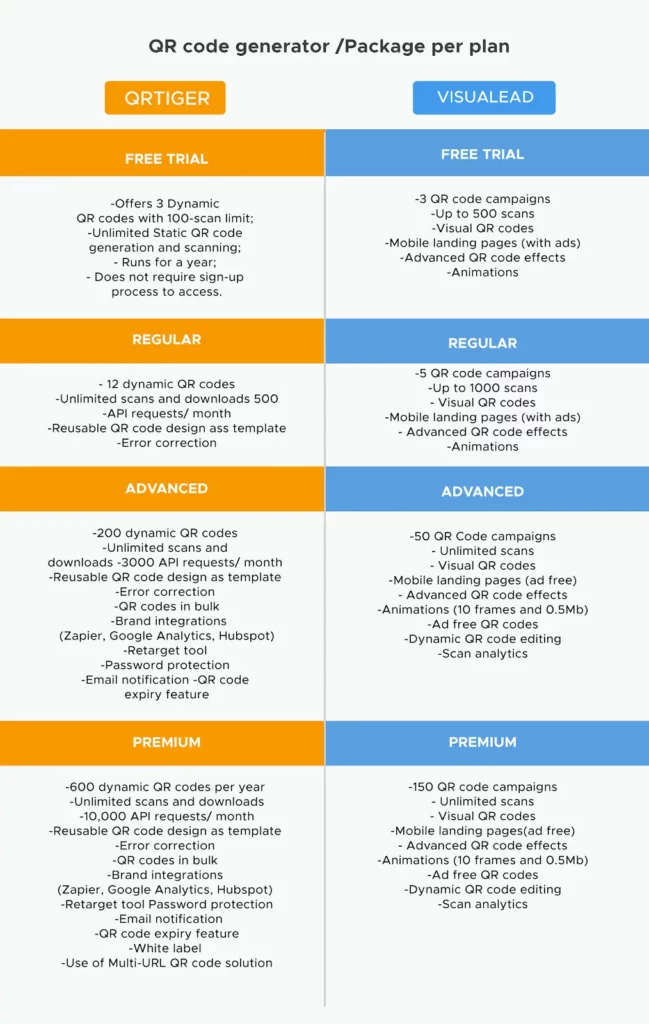 Features offered by Plans
In terms of features offered by their plans, it is evident that QRTIGER has a lot to offer when it comes to its subscription plans. With each pricing tier, the features they offer increase.
Comparison summary
By checking out the factors that businesses should take note of when choosing the best QR code generator online, it is crucial for every company to compare the software that is competing in the market today.
With the comparison article made, both QR code generators have useful features with the price tag they put in every usage bundle.
But when it comes to getting more features and creative freedom for the users QRTIGER evidently wins as the best QR code generator to use in terms of security, features, layout options and cost.
As the comparison comes to a close, QRTIGER prevails as the best QR code generator to use today.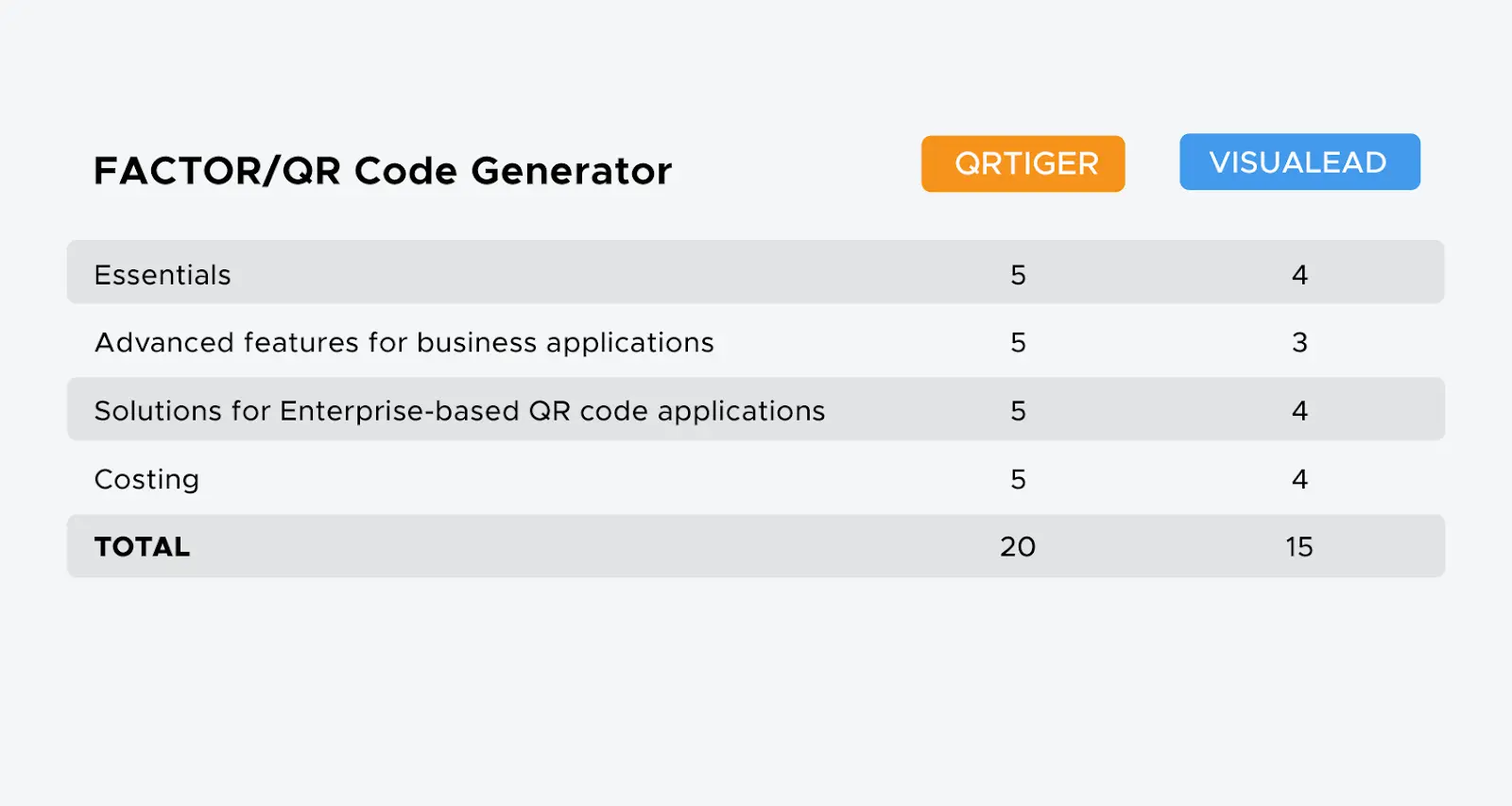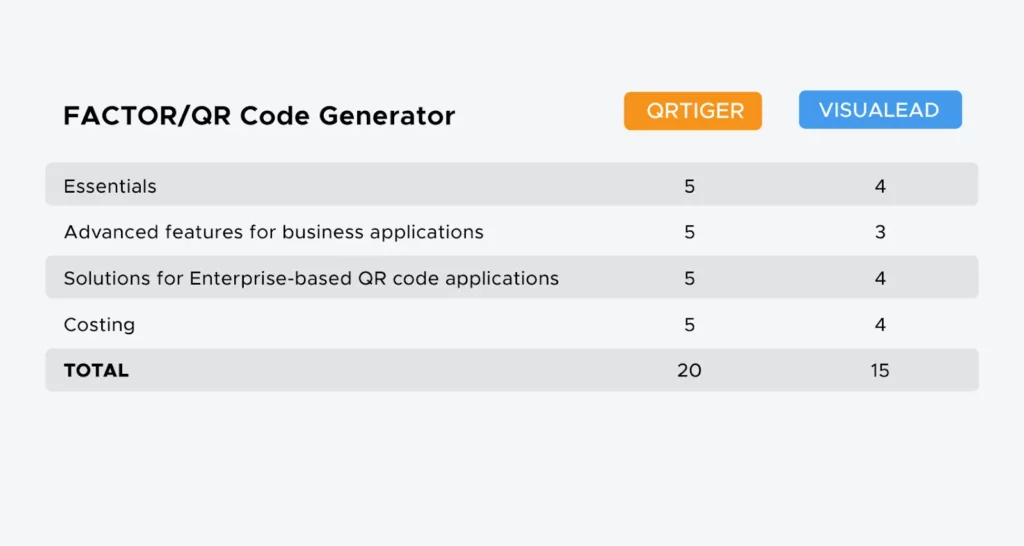 Here are the total scores for each QR code generator.
Conclusion:
In a market where every QR code generator is striving for dominance and more people to try out their software and subscribe to their plans, trying them all can take up a lot of time.
As a result, many organizations turn to reliable websites and blogs for comparative articles, which they can study to determine which is the best.
Following the thorough analysis, the best QR code generator for businesses today is QRTIGER.
Have any thoughts on this? Let us know down below in the comments or carry the discussion over to our Twitter or Facebook.
Editors' Recommendations: