Random Drops – January INVASION Loot Crate
Another month, another Loot Crate deployment. Here's all the stuff included in this months shipment.
Another month, another Loot Crate deployment. Here's all the stuff included in this months shipment.
---
[dropcap]J[/dropcap]anuary's Loot Crate was aptly themed around the return of a slightly popular TV show. Yeah, people are kinda hyped about the return of the X-Files, and even though the show may have lost a step in its old age, people are still enjoying it.
So how does this correlate to the INVASION Loot Crate? This is the first month of Loot Crate's new and improved product offerings and designs. Will Loot Crate still knock it out of the park this month after a below average prior month? Will Scully ever actually believe Mulder's supernatural rantings? Well, let's answer that first question in a second here!
Space Invaders Mini Vinyl Figure – $9.99 via eBay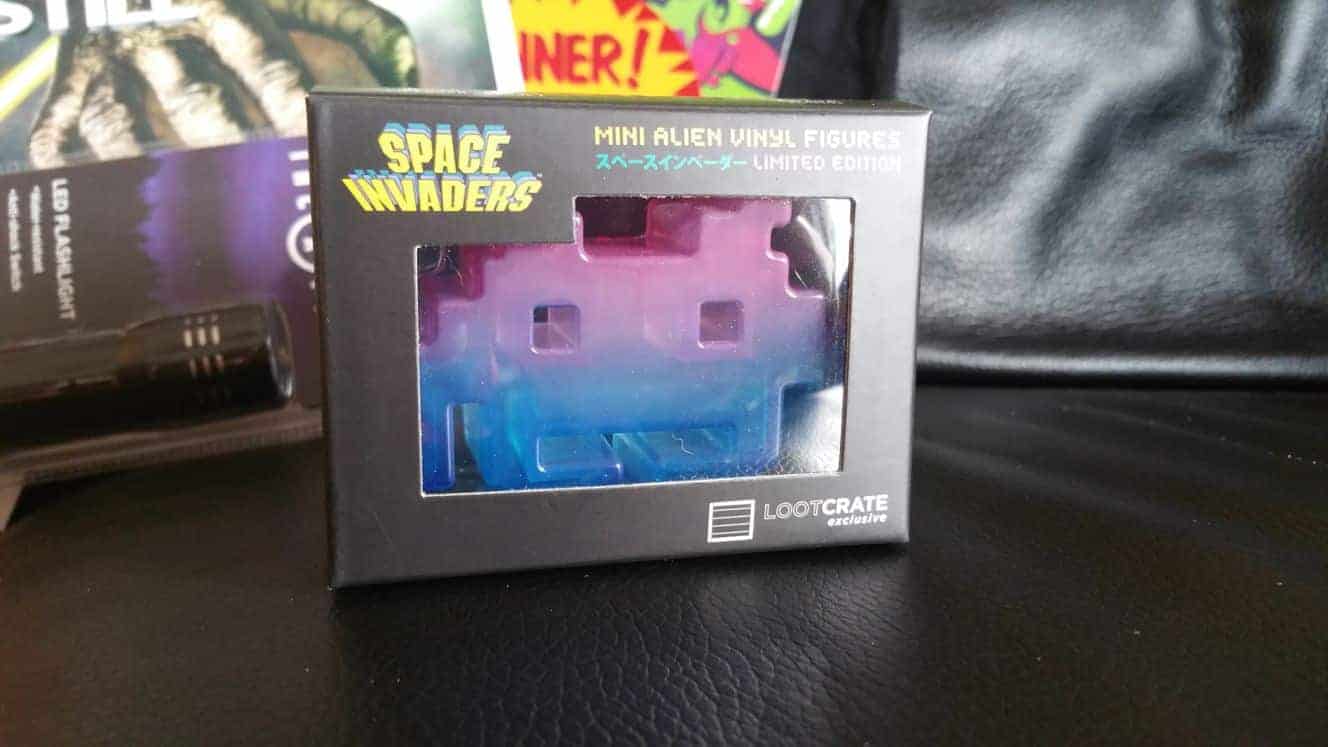 Space Invaders is truly a classic. While I can always appreciate a little vintage gaming love, this small vinyl figure is actually cool for multiple reasons. Yeah, it's incredibly geek-chic, this is something you can display proudly in your office without the shaming eyes of your co-workers. It's also really cool looking, with the multi-colored transparent look to all of this. It's no Pop! Figure, but it is still hella nice.
Fifth Element Multipass Replica/ID Holder 
Guys, this thing is awesome! I don't necessarily see how a Multi Pass fits into an invasion theme, but it's a freaking ID holder that looks just like Fifth Element's fabled Multi Pass. This is pretty cool and I can't wait to dork it up at E3 with this silly thing holing my I.D. so I can wave it in front of security like the putz I am. I like this one a lot.
[AMAZONPRODUCTS asin="B005EGCWHE"]
Kid Robot Aliens PHUNNY Face Hugger – $16.99
For a plush version of a parasitic alien creature that implants its young into unsuspecting hosts bodies through their faces, this guy is pretty cute. In fact, the face hugger also comes with a rubber band so you can simulate your face being hugged by it too. Well made, cute and fun enough to give to the kids. Alien fans will absolutely love this guy.
[AMAZONPRODUCTS asin="B015NKLTHY"]
X-Files LED Flash Light – $1
If the truth is out there, this LED flash light may give you a hand in finding it. Not much different than any LED flashlight that you'd find at Dollar Tree, the X-Files branding apparently adds about $9 of value according to eBay. The Loot Crate also includes batteries for the flashlight, so with that in mind, it's a useful addition that is better than a stupid pack of stickers. Either way, I'm not complaining, flashlights are a real rarity in my house.
Classic Sci-Fi Movie Mini-Prints – $5
I'm not that big of a poster guy, but these classic movie poster prints are fairly neat. I'd imagine that any old film fans would really get a kick out of this classic-mini posters that are printed on card stock and actually look really nice. This is the type of thing I'd put on display if I still had a home office, until then, I think it may just sit in a box.
Loot Crate Magazine and NEW Pin
So, this month's Loot Crate magazine is OK. It offers more substance than last month but spends a lot of time talking about the new features of Loot Crate going forward. Each Loot Crate will now have a t-shirt in it. YAY! Also, Loot Crate has revamped their pin designs and they will all be molded pins now, I don't know about you but I really like that. Also, each pin has some extra features that they will unlock, meaning the Loot Crate just got even better in 2016.
X-Files Glow in the Dark t-shirt 
I'm going to level with you here. This may be the least favorite t-shirt design I've ever gotten from a Loot Crate. It isn't bad, per se, but it really looks like the type of shirt that the weird guy in high school that used to wear velcro shoes and have a rolling suitcase instead of a book bag would wear. However, I'm sure that there are a bunch of X-Files fans out there that won't have any issue rocking this bad boy on Mondays.
[AMAZONPRODUCTS asin="B01B8AE3LW"]
---
Time to tabulate this month's LootScore™
While still rated high, this Loot Crate leaves me hopeful for next month
There was a lot to like about this Loot Crate but I'd hate for them to start throwing dumb shirts into the mix month after month instead of sticking to awesome quality loot as they have in months past.  I really like the concept of the die-cast pins and there wasn't much to complain about here at all. Here's to next month and the awesome DEAD theme of the month (which obviously coincides with the return of The Walking Dead and Deadpool).
Save yourself some money on the next Loot Crate with our invitation code. If you think you'd like to get in on next month's Loot Crate, follow this link and use the code RANDOMDROPS to get a discount on your order.