Review: Drevo Calibur Mechanical Keyboard
How does this new entry to the world of mechanical keyboards stack up?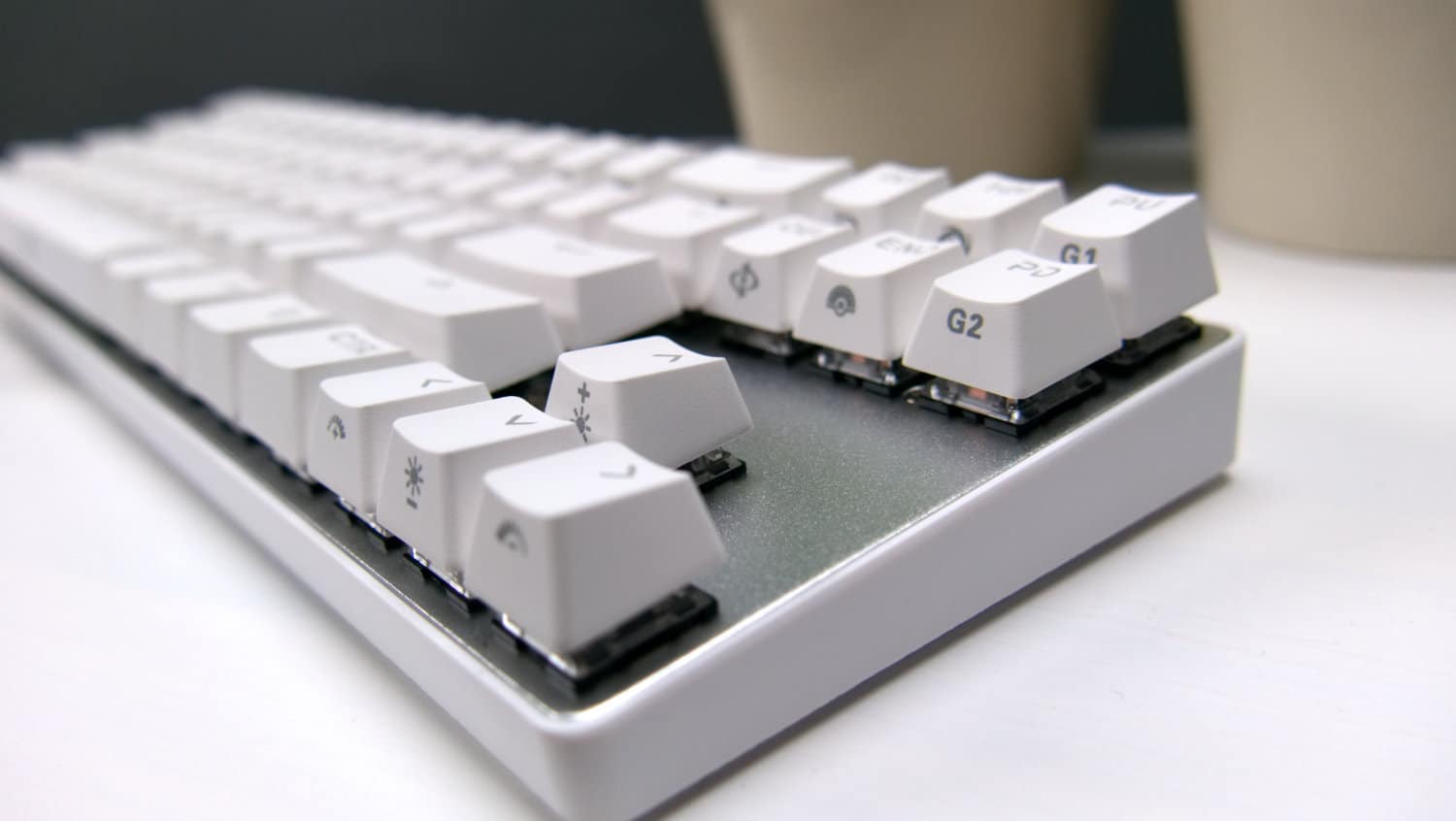 On the review block today is a keyboard from a fairly new company in the marketplace, Drevo. Under the tagline "Game With Cool Tech," they're trying to make a name for themselves in a crowded market. Let's see how well this keyboard fits that theme.
Design and Features
The Calibur is a 71-key (72 in Europe) Mechanical Keyboard with RGB Backlighting and both Bluetooth 4.0 and USB connectivity. It also has NKRO anti-ghosting and high-quality keycaps in ABS. It's available in Black or White and offers a variety of Mechanical switches (Black, Brown, Blue, and Red). These are a Cherry clone, rated to 50M keypresses. I really like this level of choice, so many keyboards on the market only offer a choice between two options for switches and with how personal a preference switch type is, it often stops me from considering that keyboard.
Thankfully that's not an issue here, so if you're a tactile typer or a speed gamer; you can choose the switches to suit you. The model I was sent to review was equipped with black switches, and they feel great to type on, especially with the soft-touch covering on the keycaps. With Bluetooth it's compatible with PC/Mac/Android/iOS, and worked spotlessly with all the devices I tested it with. It's also able to connect via USB, and while connected it recharges the internal battery.
A nice touch here, the LEDs in the spacebar go red to show that the battery is charging, then goes solid green to signify fully charged, then return to your selected backlight effect after a short time.
The keyboard came well-packaged, with plenty of protection. It's nice to see that Drevo included a keycap puller, both for ease of cleaning and for swapping keycaps. I know the company is planning to release keycap sets in the future.
The key puller came in handy while I did the thing I always do on any new mechanical keyboard — add o-rings. I learned to type a long time ago, and I find that I bottom the keycaps out without them and make a lot more noise than needed. Perhaps this can be an optional accessory that Drevo includes in the future, these ones came from eBay for about a dollar.
The keyboard itself is solidly built, with little to no flexing when I tried to twist it. Using standard keycap sizing was a good move, as many mechanical keyboard fans look to customize their keys to suit their own preferences. Personally, I don't miss the dedicated F-key row on this keyboard, and it's easy to use the Fn key to use the alt-keys on the number row. Many of you may be used to doing this anyway from your laptops. I really like the extra desk space that this form factor affords.
Performance and Conclusion
Typing on this keyboard is a joy, and I find that I can mostly touch-type at my usual rate. The soft-touch covering on the keycaps is a nice touch and stops my fingers from slipping from their designated places. There's a pleasing amount of noise feedback, and the black switches linear feedback helps me cut down on the number of typos I make.
The backlight is nice and bright and really makes the keycaps feel like they're floating in a sea of light. This is one of the nicest RGB implementations I've used, and while it's not fully addressable all the colors chosen are pretty accurate.
For $60.99 at time of writing, this is a great multi-platform keyboard.
The Drevo Calibur is a well-made, well thought out mechanical keyboard that punches above its price point, and for that reason, I'm going to give it a recommended award.
You can find it on Amazon.
A sample unit was provided to KnowTechie for the purpose of this review. Just a heads up, if you buy something through our links, we may get a small share of the sale. Click here for more. This article originally was featured on Medium.
Follow us on Flipboard, Google News, or Apple News