Review: MailOptin
MailOptin is a list building plugin for WordPress. It is bundled with premium features that enhances your list building approach and makes it a lot easier.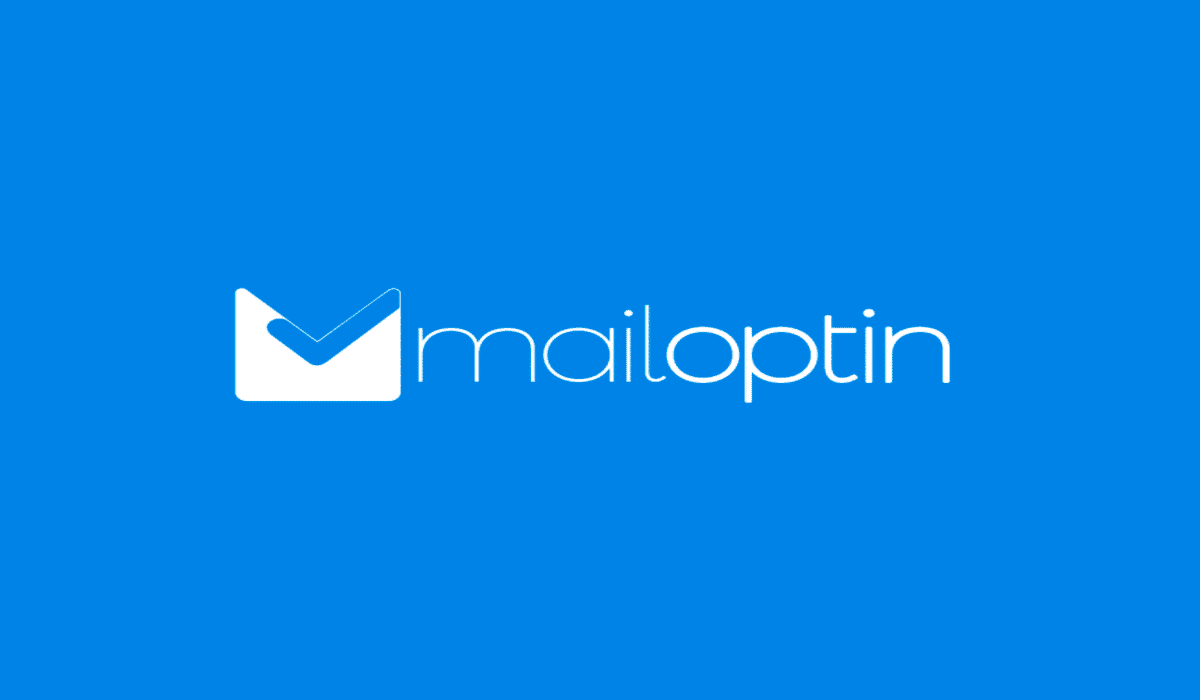 Do you want to build a profitable email list? If your answer is yes, then you need the best set of tools to make it happen. Building a profitable list is no longer done the way email marketers did it in the past, hence you have to become acquitted with the current tools to make your list building strategy work effectively.
So, in other to begin, especially if you are a WordPress user, you only need to install a lead generation plugin and start creating popups. Quite easy as it sounds right? But it doesn't really end there, a lot of folks who have installed just about any plugin haven't really gotten headway in the list building journey.
What you need is a WordPress lead generation plugin that does more than just giving you the ability to create popups. A WordPress list generation plugin with tons of features to create dynamic optin forms with multiple trigger optins and A/B split test engine is what you need, if you ever want to master the list building strategy. One of such WordPress plugins is MailOptin.
What Is MailOptin?
MailOptin is a list building plugin for WordPress. It is bundled with premium features that enhances your list building approach and makes it a lot easier. With the plugin, you start collecting email addresses from anywhere within your site; either through a predefined section in your site or embedded via shortcodes.
Hands-on with the ever-popular exit-intent technology, page level targeting, automated newsletters and click lunch triggers are easy to access in the plugin. I'd talk about these features extensively down the review.
Furthermore, you can use the plugin's array of analytical data and A/B split engine to determine the best strategy for your list building.
Pricing & License
MailOptin has three pricing options:
Standard plan: $69 – 1Site, $99 – 3Sites (unlimited optin campaigns, exit-intent, click launch trigger and one-year support).
Pro plan: $199 (access to everything on the standard plan, including access to adblock detection, optin scheduling, WooCommerce integration).
Agency plan: $269 (advanced WooCommerce integration, advance EDD integration, third-party app integrations, priority support).
You can head over to the plugin's pricing page for a complete list of features you can get per license. You can also try MailOptin for free.
Building Your First Optin Form
Bearing in mind that list building is all about communicating an offer to your visitors with the intent of collecting their email addresses, it is important that you make it less intrusive and simple for anyone to easily signup.
To begin, assuming you have installed and activated MailOptin in your WordPress site, the first thing you need to do is integrate the plugin with your email service provider of choice.
And the plugin comes with support for the leading email service providers in the industry, they include MailChimp, Sendy, Constant Contact, Campaign Monitor, Drip, ConvertKit, AWeber, GetResponse, MailerLite etc.
There are tabs in MailOptin that contains every settings and options required to make the plugin work for the purpose it was built – to build a profitable list.
Click on the "Connections" tab to connect your website with any of the aforementioned email service providers. The plugin will guide you through the process of establishing a working connection.
Connection to MailChimp is successful – and this happens within a few minutes.
Creating Your Optin Forms
The 'Optin Campaigns tab' s where you can start creating stylish optin forms. There are several option form types available in the plugin like:
Lightbox (Popup)
In-Post optin forms
Notification Bar optins
Slide-In
Sidebar/Widget optins
Each of these optin form types comes with built-in templates that can be customized. Every element of the optins can be customized, allowing you to realize your optin design language while synching it with your site's existing style.
Optin Form Customization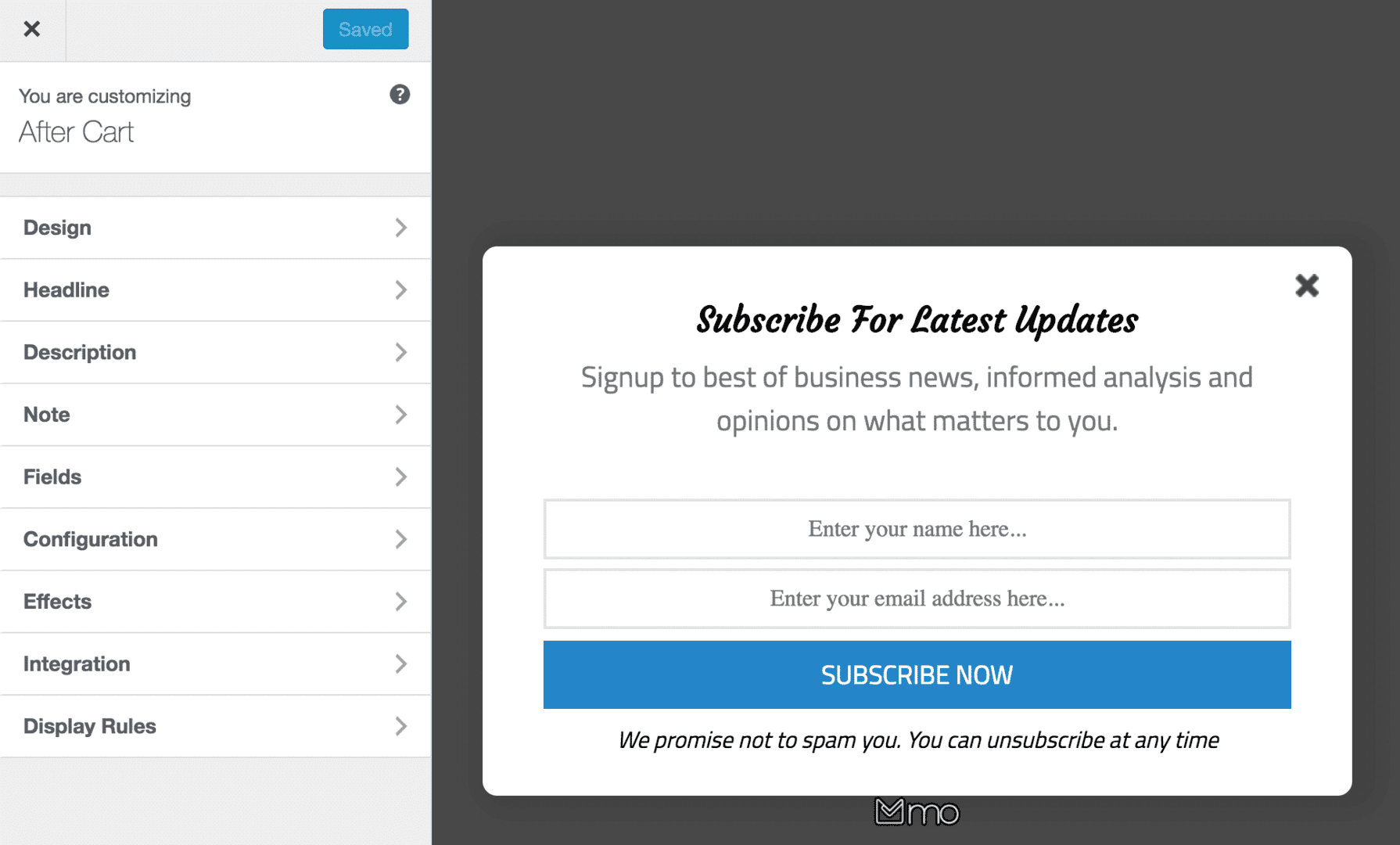 Every element of your optin form is open for customization, this means that elements like the message, the image, the image orientations, borders, effect and colors edited. While you are editing your optin forms, the live editor gives you a glimpse of your changes without ever reloading your main site. When you are done, you can then save settings and see your changes on your live site.
Now, you have created an optin form which can be deployed immediately to your site but that won't be sufficient to maximize conversion. Here is where some of the core premium features come into place, by using them smartly, in next to no time, you'd be on your way to building a profitable email list.
Let's use the plugins display rules to harvest email addresses.
MailOptin Triggers
Without mincing words, there are a good number of trigger options in MailOptin that will you make you a pro list builder. Not to forget, these triggers options are called "display rules" in the plugin. Nevertheless, your display rules would only be triggered based on the response or action of your visitors on your site.
Here are some of the trigger settings available in the plugin:
Click Launch
After X seconds
Exit Intent
After scrolling down X percent
A visitor has viewed X pages
Schedule
We'd look at some of the trigger options to see what benefit they are to your list building journey.
Exit Intent
Exit intent allows MailOptin to trigger less intrusive popups by monitoring your visitor's mouse behaviour. When they are about to leave your site, the optin is triggered! Amazingly, this handy feature greatly helps in maximizing conversion.
To activate this feature, go to "Display rules" > "Exit Intent"and turn it on and save your changes.
After Conversion
After conversion in MailOptin gives you the freedom to configure what happens when a visitor subscribes to your mailing list. You could decide to do either of the following:
Display a success message
Redirect them to another page
Close the optin form
Close optin and reload the page
Click launch trigger
Do you have some kind of extra content that visitors will need after going through what you have in your site? Assuming you have a freebie up for grabs, you could use the click launch trigger to lure your visitors into subscribing to your mailing list. They don't literally have a choice, because the link to get the offer would be sent to their inbox. So, ultimately, they have to subscribe, only if you have something mouth-watering to offer. And I tell you, if this feature is used discretely, it works like a charm.
Targeting Optin Forms
Needless be told that a profitable email list strives for targeted approach. This means you would be able to reach a target audience with relevant information. MailOptin makes building a segmented email possible using its page targeting feature.\
To generate targeted email leads, navigate to "Display Rules"> "Page Targeting."From here, you can start building a targeted email list.
Okay, here is the deal, assuming you own a gaming website, it is possible to display an optin form on PlayStation page and another optin form on Xbox page. Only fans of either console would subscribe to the optin form of relevance and in turn, you can start sending targeted emails. Imagine promoting Xbox exclusive games to PlayStation fans, that would bring low conversion, but sending out PlayStation game sale promotions to PlayStation fans using your generated segmented email list would greatly maximize conversion.
Eventually, the plugin will help you create a system where relevant emails can be sent to your target audience which in turn improves click-through-rate.
Digging Deep
Here are some couple of things you can also do in MailOptin:
Email Automation – If you just published a new post on your blog, you can let MailOptin automatically send out newsletters to your mailing list.
Schedule – Control the time or period you want your optin form to be displayed.
Scroll Trigger: Decide to display your optin form only when a user has scrolled a fixed percentage of your content.
Cookies– Either global or campaign-specific cookies can be set. This would determine how you want to trigger your optin form.
New vs Returning Visitors – This is a handy feature that lets you trigger your optin forms to only new visitors or returning visitors.
Visitors Using Adblock– It doesn't matter if your visitors are hiding behind an Adblock, you can still force your optin forms to them. This can be easily activated in the plugin's display rules.
Enable Your Optin
Alright, basic settings are done. Important trigger options activated, email service integration established and optin form fully customized.
What next? Let's deploy the optin form to your live site and start building a profitable list.
Just in the "Optin Campaign" tab in the plugin, you will find a list of your optin forms, locate the optin form you want to activate by using the toggle button. A blue button means that the optin form is turned on while a grey button means its disabled.
Yeah! The image above is our live optin, already harvesting email addresses. Pretty awesome right? That's more like it.
Wait…
We are not done yet. Our optin form is deployed and that's great but we can push this a bit further to get even more better conversions using the plugin's built-in A/B split engine.
Split Test Engine And Analytics Reporting
You can carry out A/B split test in next to no time and start scaling up with your result without needing any add-on or a separate plugin.
To start off, go to "Optin Campaigns" and select the optin form needed for a split test. Then, click the "More Options" and create an A/B Split Test. A new form will be displayed where you can give the split test a name and write notes about the changes you have made.
On clicking the "Create Split Test" button, you will be redirected to the optin form live editor where you can make changes for the second variation, third variation and more. With the data, you can pick a winner and scale things up.
In terms of analytics, data like the number of impressions, subscriber's count and conversation rate can be tracked in your dashboard. This gives you a clue to how your strategy is working.
Wrapping Up
MailOptin is an all-around list building WordPress plugin that gets the job done. It really doesn't matter if you are a newbie or a professional, the plugin's got you covered. Thanks to its array of premium features, you won't lose sleep in building a profitable list.
The plugin has a user-friendly dashboard, making it easy to use, it also comes with a great support. The documentation area of the plugin simplifies all of its features and breaks them down so your understanding is fruitful.
MailOptin is value for your money, it's really worth whatever amount you are going to invest in it because, in the long run, a profitable list built with this solution would keep sending you to the bank.  Click here to buy MailOptin.