Review: Octopath Traveler – Old school cool
Square Enix and Nintendo show that the greatest JRPG studio in the world has still got it, even if they've lost a few steps.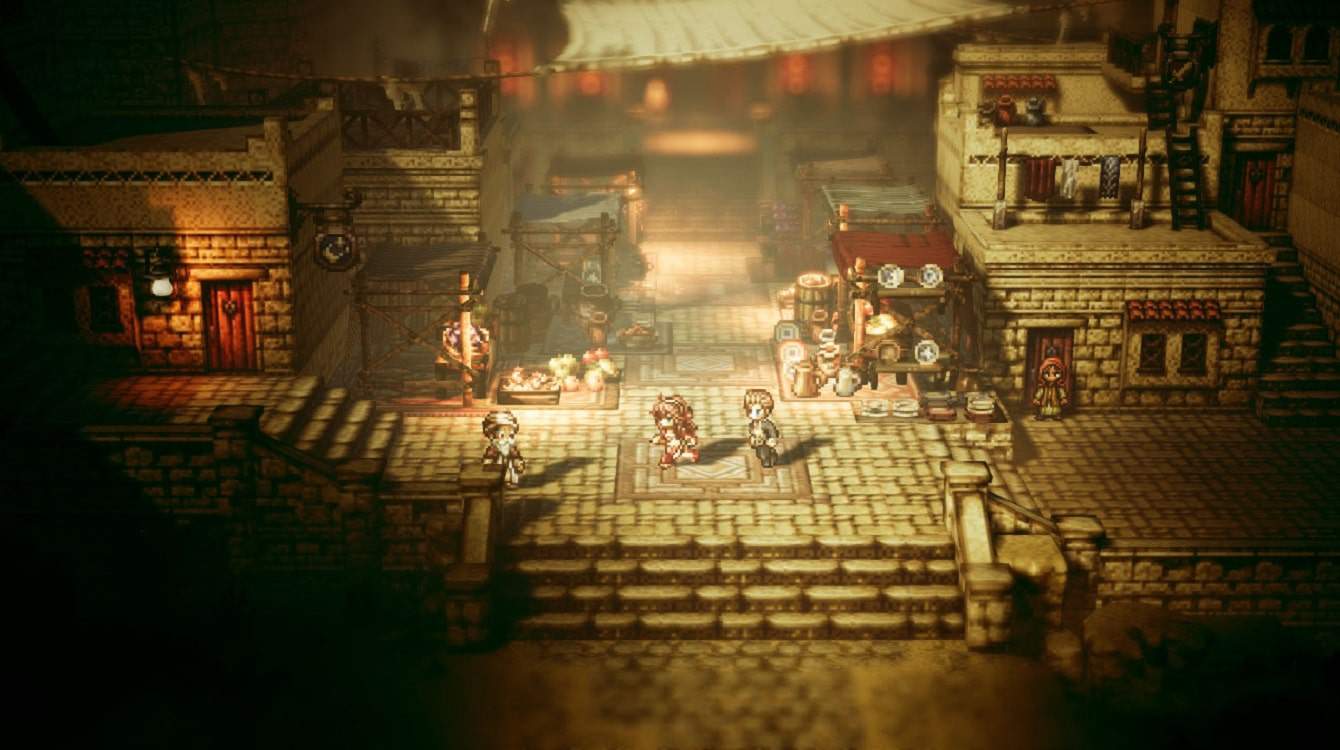 The Good
There is a lot to do and I still haven't scratched the surface in about 60 hours
The character abilities and extra jobs make sure there are no "bad" characters
This game is such a visually and aurally pleasing experience
The Bad
My 10 year old could write a better story
You don't have any connection to characters because they aren't fleshed out enough for you to care
Octopath Traveler is a reminder that Square Enix can still churn out an incredible JRPG (Japanese Role-playing game) when it wants, but may have lost the art of storytelling over the last decade.
Octopath Traveler checks a ton of boxes for those poor souls that have missed traditional JRPG games. It's also a very clear indication that Japan is slightly out of touch with what makes a good JRPG these days because, while Octopath Traveler hits on so much nostalgia that this should be a perfect game, it misses key elements that could have really tied the whole experience together. Nintendo and Square Enix have a winning combination on their hands, but this one wasn't executed all the way through.
When Octopath Traveler was originally announced, everyone who cared about JRPGs was chomping at the bit to see a project by the Square Enix team that was responsible for Final Fantasy Tactics, one of the best games ever. After some name uncertainty and a lack of info initially, the mystique of the game skyrocketed with the first of a few playable demos. I was hyped for it, apparently so was everyone else, because the game is hard to find in Japan and also on Amazon.
What is Octopath Traveler?
Octopath Traveler tells the stories of eight different people.
No, there's not really more to that statement.
There's Olberic, the disgraced knight that was betrayed by his brother in arms. Cyrus, the scholar, who is forced to vacate his educational role when he becomes embroiled in controversy and he conveniently takes that opportunity to track down an overdue library book. Therion is a world-renowned thief that has made dangerous enemies over his exploits and discovers the keys to incredible treasure. Ophilia is an adopted priestess who throws tradition to the wind to help the only family she's known. Primrose is a noble-turned exotic dancer that has turned her back on her wealth and influence to exact revenge on the men that murdered her father. There are a few other far less interesting characters in Alfyn and Tressa, whom would probably be reoccurring sidequest characters in more traditional JRPGs. Finally, there's H'aanit, the huntress that speaks in old English and is on a hunt for her old mentor. H'aanit is really cool, Ophilia is probably the traditional main character.
With all of those characters, the biggest glaring flaw in Octopath Traveler is that none of the eight character stories connect in any meaningful way. Each character's story is completely independent of another and only light themes and the underlying evil ties most of them together. Every so often they do interact with each other in little dialogue scenes that fill in info on characters. For example, I chose H'aanit as my main character and at one point she starts talking with Primrose about what she wants in a man. It's an interesting moment because H'aanit is possibly the strongest hunter in the world, but she will only settle down with a man that is stronger than her, then she kind of hints that she would be willing to keep different company until then. It adds depth to characters but sadly leaves you wanting more overall.
Gameplay
Combat in Octopath Traveler is about as traditionally turn-based as you can get while throwing in some twists to keep its own identity. Enemies with have strengths and weaknesses to different weapons and elements, which is shown next to them on the battle screen. When these weaknesses are uncovered and used, they not only take more damage but also have their defenses dropped a bit each time they are hit. Once their defenses hit zero, they are broken and stunned for a turn, allowing you to lay down heavy damage and utilize special character skills.
These character skills are what helps each character stand out from one another. H'aanit has beast lore, which allows her to capture wild animals like Pokemon and use them in a limited capacity later in combat. Therion has thief skills, allowing him to steal from and debuff the enemy. These skills are improved with each BP charge you use, which build up when making singular actions in combat. BP will also allow you to lay down heavier damage or exploit an enemy weakness to stun them for a turn. Combat truly is where Octopath Traveler shines its brightest.
When you aren't in combat, your characters also have special skills that allow them to interact with the world. These skills allow them to recruit NPCs to do their bidding, fight villagers, acquire items or get information on subquests and treasures. While each character has their own "unique" path action, they have a counterpart on the other side of the moral compass. H'aanit can provoke a villager into battle, whereas Olberic will challenge them to a duel. Primrose seduces people into doing her bidding, while Ophilia asks them to follow her on her holy mission. Cyrus goes all Sherlock Holmes to get information while Alfyn asks questions. Tressa can buy special items while Therion can steal them out from under their noses. This is neat, but there are only really four path actions and using the more aggressive options never changes the way things work. I wish there was more to this system, as having consequences and benefits would make using characters with the same path actions feel more interesting and less like you are wasting a party spot.
Characters do have the ability to later bolster their current set of skills with an additional job as you go throughout the game. These jobs will add additional abilities to characters in combat to make them much more versatile. For example, I was able to take a character like Olberic, whose strength is straight out physical damage and let him learn the Runelord job which allowed him to combine his strength with elemental attacks. I haven't unlocked all the jobs yet but its fun to play with the combinations for flesh everyone out and make them as useful as possible.
Presentation
Finally, when it comes to presentation, Octopath Traveler does everything in its power to be the best. The visuals are an amalgamation of 16-bit with 3D, much like a Paper Mario game, while battles use a side-view tilt-shift that is pretty incredible. The soundtrack is absolutely incredible, adding depth to simple conversation and motivation to battles and tense scenes. I loved visiting new areas and fighting tough enemies while uncovering more of each character's story as I was treated to more eye and ear candy as I progressed.  While on a limited scope, the world of Octopath Traveler feels so much more robust with unique visuals and an A+ soundtrack to accompany it. This game rivals Final Fantasy VI in presentation alone and that's the best game ever created.
As I already said, the audio is incredible and the game features some amazing voice acting. I really like Therion, Olberic and Cyrus' voice acting and Primrose sounds just like I'd imagine. Their work only goes on to bolster an incredible in-game experience and you can't help but get hyped when Olberic yells, "My blade is bending," or Therion shouts, "I'm coming for you," as it not only fits their personalities so great but gets you excited for the wave of damage you are about to inflict.
I mean check this battle theme out!
https://www.youtube.com/watch?v=aVxrBTBE4t0
In conclusion
As a JRPG, Octopath Traveler falls short of what I feel is expected from a good story-driven game. I've completed half of the character stories and it is becoming obvious that the underlying story of the game isn't of the heroes, but the evil and their god that are in the post-game dungeon. Part of me wonders if Octopath Traveler was originally intended to be a SaGa game because they way Octopath's main story is told feels very similar to the chopped up and directly indirect story methods that series has leaned heavily on. As I stated before, Ophilia so far seems to be the only person whose story is directly running against the evil of the cultist that seem to be influencing much of the world's evil. On the other hand, I may be missing something, but Primrose's story is just one of revenge and doesn't seem to tie to any part of the overarching story. I'd be lying if I said that in my roughly 60 hours of play, there weren't times I felt sorely disappointed.
Octopath Traveler is a good game in an amazing package with a ton of great ideas. It really gives me hope that Nintendo and Square Enix look at the successes of Octopath and decide to make this an ongoing series that fixes the issues in storytelling. There just doesn't seem to be any reason for a party of characters to interact with each other as much as a random party in an MMO would, as this is the only major blemish on an otherwise wonderful JRPG that should be on the must play list for anyone that is a fan of the genre.
Octopath Traveler is available for Nintendo Switch and runs about $60.
For more gaming reviews, make sure to check out:
The Good
There is a lot to do and I still haven't scratched the surface in about 60 hours
The character abilities and extra jobs make sure there are no "bad" characters
This game is such a visually and aurally pleasing experience
The Bad
My 10 year old could write a better story
You don't have any connection to characters because they aren't fleshed out enough for you to care
Follow us on Flipboard, Google News, or Apple News