Review: PureVPN – A clear winner in the lot
An overview of PureVPN.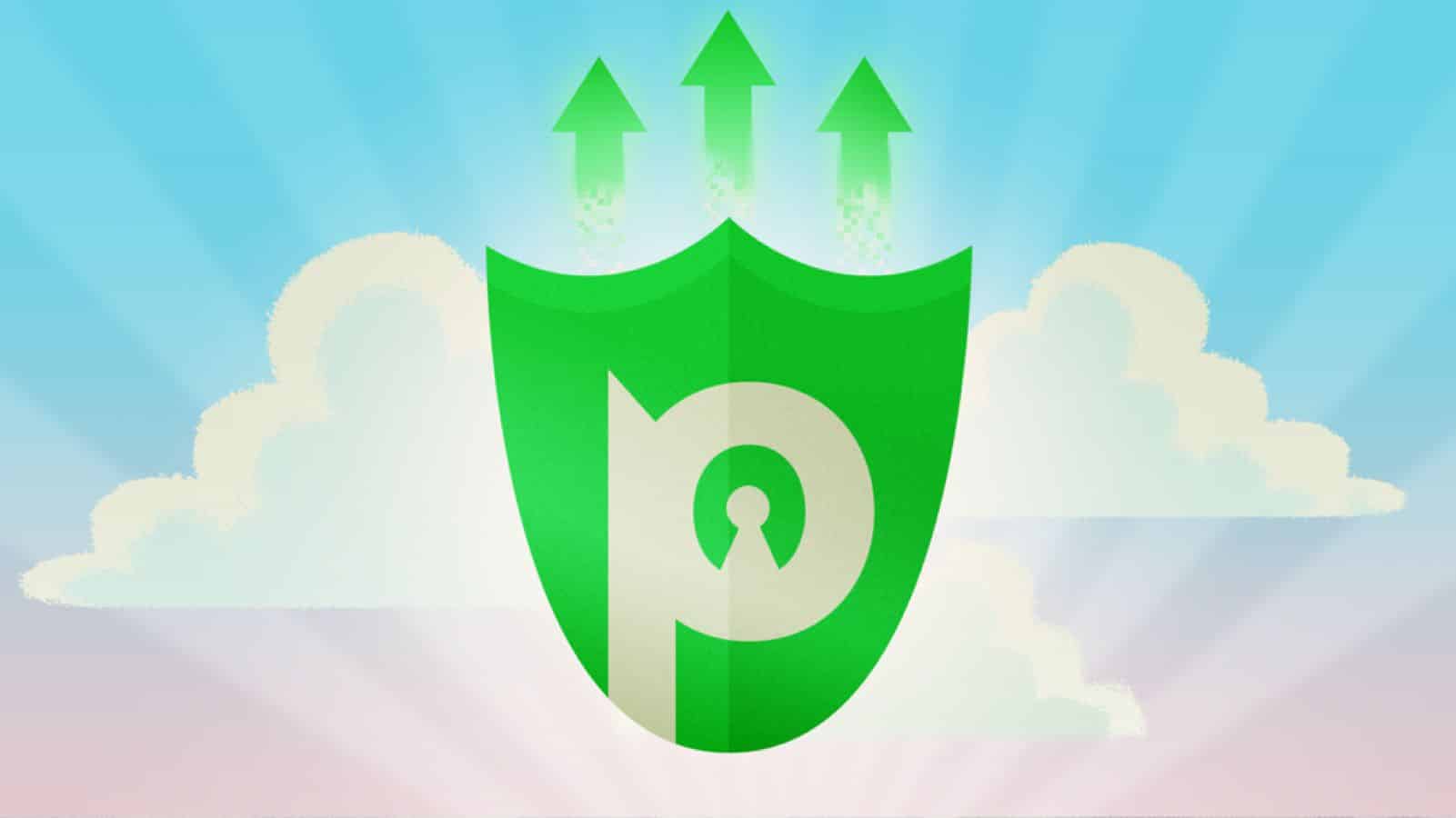 Whenever anyone talks about the pioneers of the VPN industry, they cannot miss mentioning PureVPN. Headquartered in Hong Kong, PureVPN is a very well-known service that ensures the privacy and security of its users on the web.
PureVPN has a self-managed and self-owned network of highly optimized 2,000+ servers located in more than 140 countries across the globe. With PureVPN, internet users can get access to an IP pool of more than 300,000 IP addresses from around the globe and I must say, one of the best Windows client for a VPN service out there.
One of the main reasons why PureVPN became so popular is its security features, which have gotten very sophisticated upgrades for the ultimate security and privacy of the users. These security features now include an ad-blocker, antivirus, app blocker, IDS/IPS and URL Filter as part of its Ozone umbrella. To accommodate the needs of businesses and gamers, PureVPN offers solid protection against DDoS attacks along with some innovative features for better protection of their privacy.
In addition, the analysis of their privacy policy unveiled that they do not keep any logs of any of the users' activities and it is one of the most stellar privacy policies we have read. The transparency and trust of users are what made PureVPN a giant and it has over 3 million active subscribers to date.
Now, let's look at some of the good points and the bad ones about the service in small points below:
Pros
PureVPN is affordable! Prices starts from as low as $3.33/month.
Owns a network of 2,000+ servers in 140+ countries!
Offers protection against DDoS attacks.
Offers multiple advanced add-ons (Dedicated IP, Port Forwarding, Internet Kill Switch, etc.)
24/7/365 live customer support for everyone.
31-day money-back guarantee.
Does not keep logs.
Up to 5 simultaneous VPN connections with a single account.
Compatible with a wide range of devices.
Offers P2P optimized servers.
Nucleus of servers based in the US, UK, Canada and Australia.
Protocols including PPTP, L2TP/IPSec, SSTP, OpenVPN and IKEv2 are supported.
Cons
Doesn't offer any free trials.
Features

PureVPN is one of the most features filled VPN service provider in the industry. The users of PureVPN get a lot of features, which complement the quality of the service in the best way. If I have to make a verdict, I would definitely vouch for PureVPN because of its unmatched features. Here're some of these features.
Worldwide Servers
PureVPN owns one of the biggest networks of servers in the whole VPN industry. Their network has more than 2,000 servers in 180+ locations. A total of 140+ countries are covered, which pretty much includes almost all the major countries of the world in all continents. All these servers are specifically optimized for exceptional speed, reliable connection, best performance, and strong security.
The main reason why PureVPN offers more internet freedom than others is this network of servers that offers a large IP pool to users from anywhere in the world. This helps them to have a true taste of internet freedom which they deserve.
Streaming
Many of the VPN servers owned by PureVPN are highly optimized for streaming. This helps users to have an amazing streaming experience without any buffering issue or hassles. The speed is the key and PureVPN understands it well, which is why it has focused on optimizing its servers.
Apart from giving an exceptional streaming experience, PureVPN's server also ensures that users do not face any trouble in getting access to their desired streaming channel or content. Be it Netflix, Hulu, Amazon Prime or any other, PureVPN will easily unblock it for the user.
Unlimited Access to the Web
One of the main reasons why users use a VPN service is to get access to various sites which are either geographically blocked or censored. In order to get access to these sites or services, a VPN comes really handy. However, the VPN you are using should be a reliable one.
This is where the reputation and performance of PureVPN comes in as it has 2,000+ servers in more than 140 countries that are highly optimized to unblock any site that the user wishes to access from any location on earth. As mentioned above, a true taste of internet freedom!
Split Tunneling
It is not something very unique when it comes to the high-class VPN services, however, it certainly is one of the most significant features. It helps users to escape the hassle of disconnecting and reconnecting the VPN to access the local network.
With Split Tunneling, you can choose which internet traffic will go through the encrypted VPN tunnel and which will use the local network i.e. your ISP network. If you wish to use a local service or access a local site or FTP service by your ISP, while simultaneously be able to access a site which is not accessible in your region, you need to use Split Tunneling.
It comes really handy for gamers and streamers who have to use both, the VPN connection and the ISP network, simultaneously.
Internet Kill Switch
Internet Kill Switch or IKS is another not too rare yet important VPN feature which helps protect users' privacy in the instances of unplanned disconnections. It works as a failsafe button to keep the privacy of the user safe even if the VPN connection drops.
An effective Internet Kill Switch will immediately kill all the connections to the web, if the VPN connection drops. This way all the internet traffic gets blocked and the true IP of the user stays protected. It is very important for this failsafe to work at all times and PureVPN's Internet Kill Switch is one of the most reliable ones which we have tested.
Ozone
The unique set of advanced features offered by PureVPN are dubbed as Ozone, which include malware protection, app filtering, website filtering, intrusion detection and prevention system, and ad blocking features. It ensures the ultimate protection of the VPN users.
Strong Encryption
One of the most significant elements of a VPN service is the level of encryption it offers. We all live in an era where the protection of our own privacy has become more important than ever. In this case, PureVPN does really well as it offers the best in class encryption which is often dubbed as the military-grade encryption.
In addition to offering the highest level of encryption as per the standard of VPN industry, PureVPN also allows users to lower it or end it if they are looking for faster speed on a not too risky internet connection.
Various Protocols
PureVPN offers various VPN protocols to accommodate different purposes of the users. From high encryption and security to high-speed connection, all the protocols are available for the users. These include SSTP/IPSec, PPTP, IKEv2, OpenVPN, and more.
It is recommended to use OpenVPN because it is the most secure and reliable VPN protocol. However, it is not the fastest, so for regular browsing and fast speed, you can go for PPTP protocol. It does offer low-level security but with above average speeds.
If you want to go for security then IKEv2 is another brilliant option as it provides the maximum encryption available. But, you should not be expecting a very good speed. You can always try different protocols if you are having any troubles in speed or connection.
Dedicated IP
PureVPN is among those handful of services which offer dedicated IP address to users for just a couple bucks extra. It is basically a fresh IP address which is only assigned to a single user and only dedicated for their use only.
Normal VPN users get shared IP addresses and the dedicated IP users can also utilize those shared IP addresses. However, for special purposes, the dedicated IP addresses are really useful. For instance, it can help in particular IP whitelisting, remote server access, and to access your banking accounts or other sensitive accounts which require a single IP address to access.
Port Forwarding
Port forwarding is a pro PN feature which helps in remote access to any device with a VPN running simultaneously. PureVPN is one of the few which offers this feature in the most functional way.
Port forwarding is offered as an add-on, which is for those users who have to access other devices or networks remotely while having the VPN running simultaneously on their machines and devices. Another huge benefit is that the encrypted tunnel of VPN stays there for security.
Customer Support
For any ace service, one of the most important factors to determine the quality of service is the quality of customer support. In fact, it is the key element for the success of 99% of businesses. It not only helps improve the reputation but also helps in making and improving relations with the customers as well.
PureVPN seems to understand it really well and that is the reason why their customer support is so brilliant. Their customer support agents are available round-the-clock to help users. The VPN service also offers the option to reach to them using email and Support Tickets. Also, users can get help from FAQs and Support Center.
Software Compatibility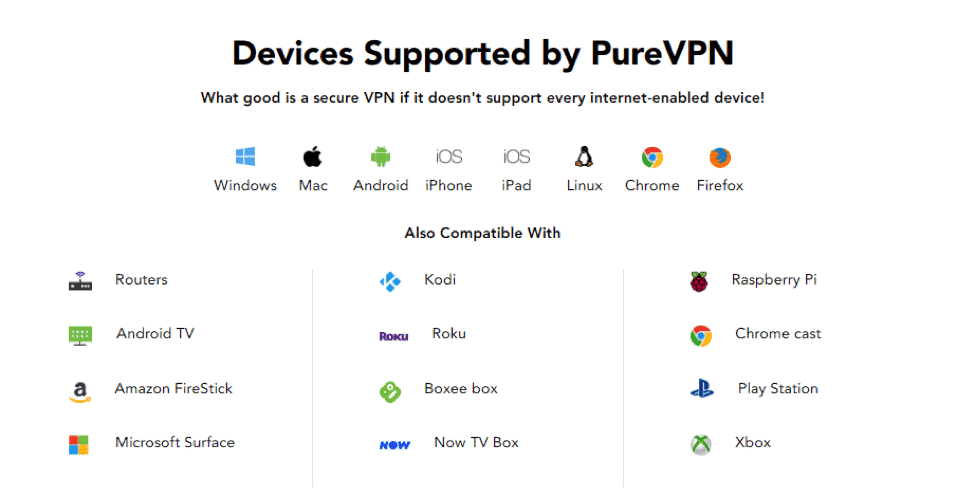 PureVPN offers numerous features which also includes its wide-ranging device support. You think of a device and would find PureVPN working on it flawlessly.
Apart from its features, PureVPN has a wide-ranging device support which is quite remarkable. Moreover, to configure PureVPN on these devices, there are dedicated support articles as well as pretty detailed blogs available on its website. If we dissect it more, PureVPN is compatible with these devices:
Windows
Mac
iOS
Android
Amazon Firestick
Android TV
Routers
Gaming Consoles
Kodi
Roku
Apple TV
Final Words
PureVPN has proved to be a five star VPN after a critical evaluation of all its features and aspects. It not only provides strong security and protects its users' privacy, but it also offers them great VPN speed as well.
Another commendable thing is the feature set offered by PureVPN. From all the basic VPN features to advanced security features, PureVPN gives everything to its users. In addition, the large network of servers owned by PureVPN also gives it an edge over others.
Lastly, PureVPN has made the service available at quite a reasonable price customized into decent packages. You can get it at a price of $3.54/month which makes for a total of $84.95 for its 2 years plan – a whopping 68% discount from its normal price. It certainly is an ace VPN service and worth a shot.
Have any thoughts on PureVPN? Let us know down in the comments.
Editors' Recommendations: